It's good to see how NFL is helping people gain success at a young age. One such athlete who gained fame young is Adam Thielen, a wide receiver for the Minnesota Vikings. You must have heard of Adam and his achievements if you are an NFL fan.
Adam is the first player in the history of the NFL to record eight consecutive game wins of 100 plus receiving yards.
Also known as the legend of the Minnesota Vikings, Adam has won Pro Bowl twice in his career. Undoubtedly, you might be well aware of his career, but what about his personal life, net worth, childhood, and other personal details?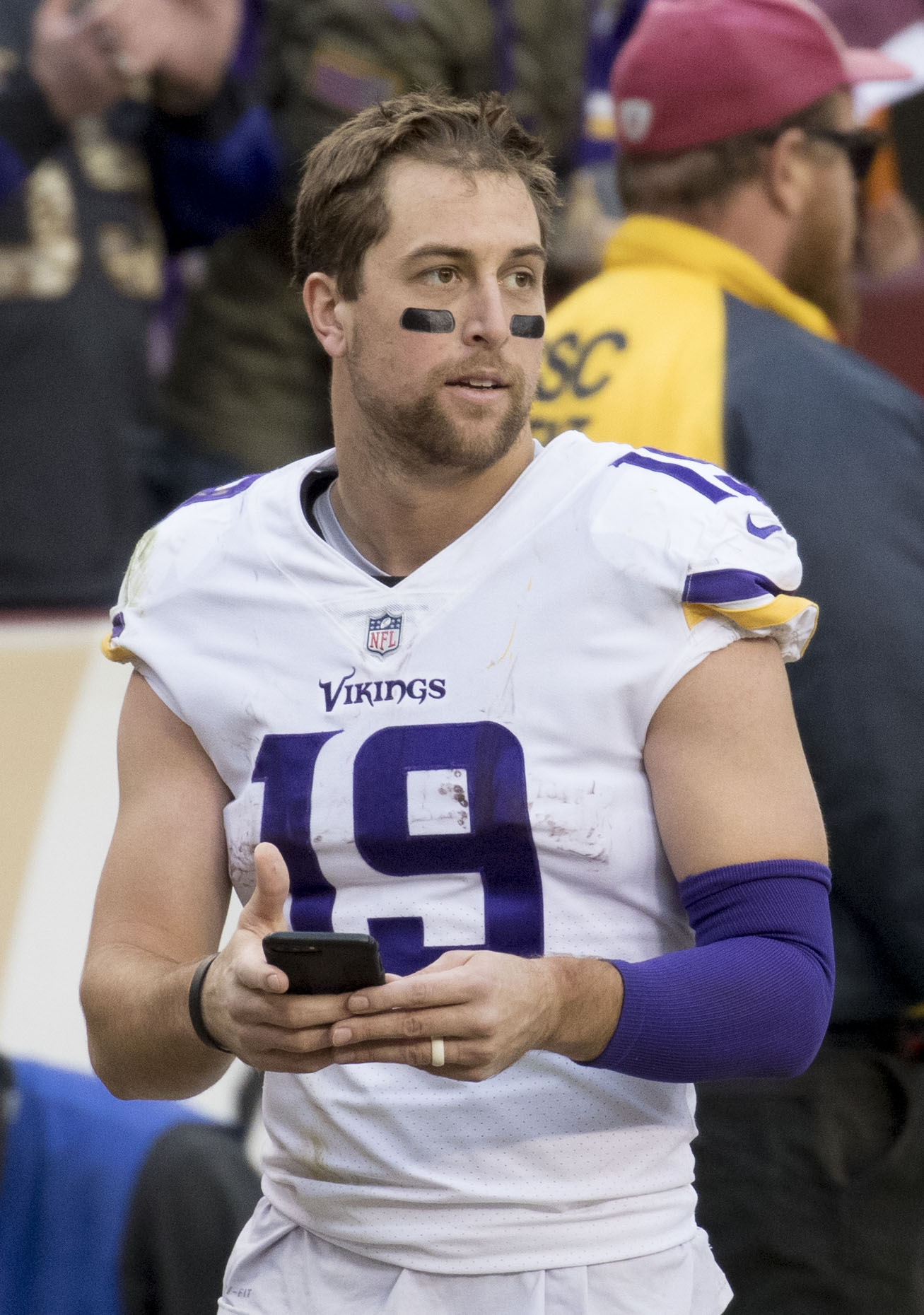 This article will discuss the tiniest detail of Adam's personal life. So, please stick with us till the last of this article to know Adam better.
But before we start, here is a glance at the quick facts.
Adam Thielen | Quick Facts
Full Name
Adam John Thielen
Date of Birth
August 22, 1990
Place of Birth
Detroit Lake, Minnesota, United States
Age
33 Years Old
Famous As
Adam Thielen
Education
Minnesota State University
Mankato University
Detroit Lakes High School
Nationality
American
Religion
Christianity
Ethnicity
White
Father's Name
Pete Thielen
Mother's Name
Jayne Thielen
Siblings
Amanda Walken
Angela Thielen
Height
6 ft. 2 inches/1.88 m/188 cm
Weight
91 kg/200 lbs.
Eye Color
Brown
Hair Color
Brown
Professional
Professional Football Player
Affiliation
NFL
Position
Wide Receiver
Current Team
Minnesota Vikings
Net Worth
$5 Million
Sexual Orientation
Straight
Wife
Caitlin Thielen
Children
Asher Thielen
Hudosin Thielen
Cora Hean Thielen
Merch
Signed Helmet, Bubblehead
Social Media
Instagram, Twitter
Last Update
November 2023
Adam Thielen | Childhood & Education
Adam Thielen was born Adam John Thielen on 1990 August 22 to Pete Thielen (father) and Jayn Thielen (mother).
He was bought up in Minnesota and raised alongside his sister Amanda Thielen Walker.
From an early age, Thielen was very interested in sports. As a child, Adam considered Cris Carter and Randy Moss of Vikings his idols, and he would often wear their jersey and practice football in the backyard of his house.
He went to Detroit Lakes High School, where he played football, basketball, baseball, and golf.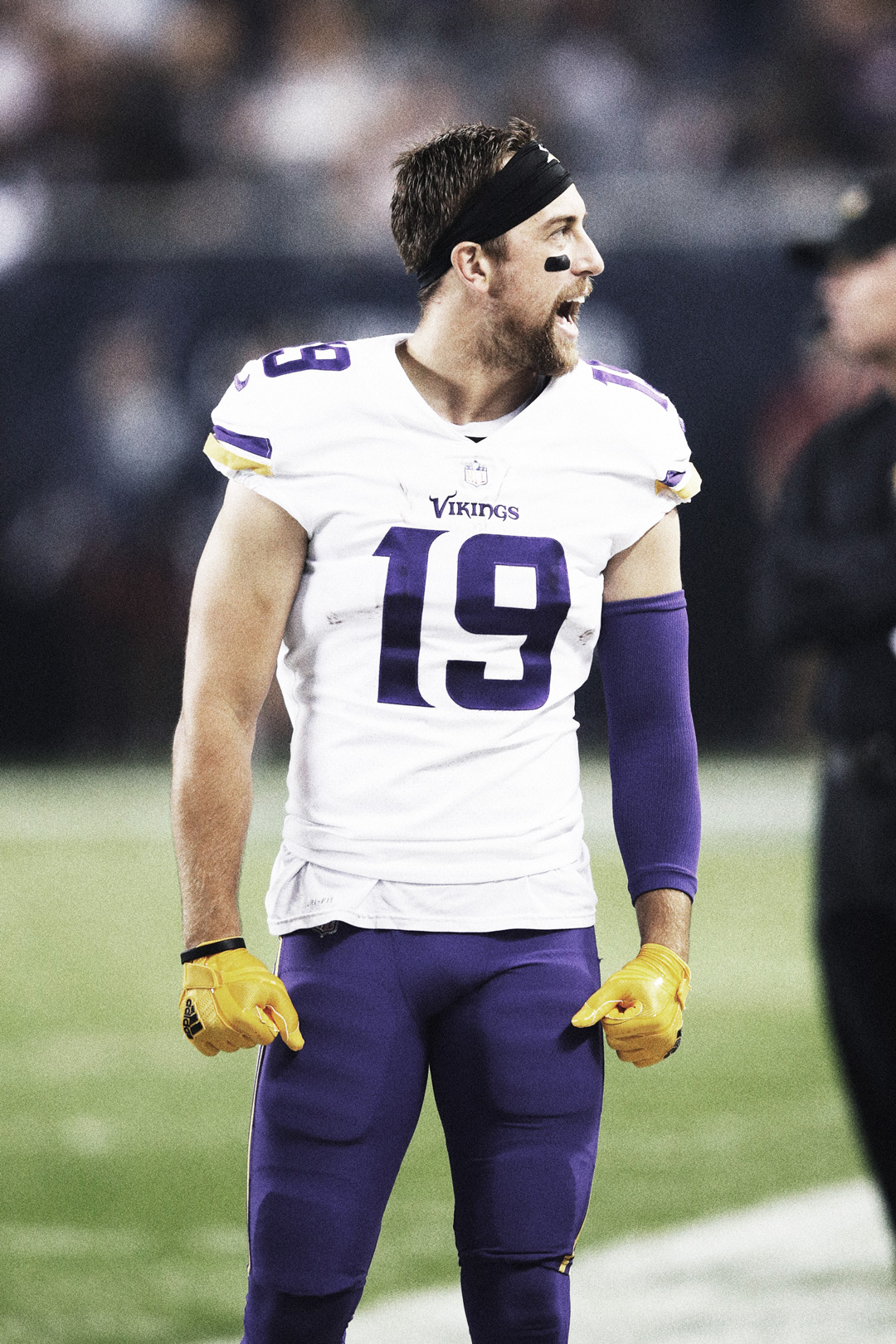 Of all those games, Adam was good at golf and football. In his senior year, i.e., in 2008, Adam won All-conference and All-state selection. That same year, Thielen and his Lakers golf team won the 2A State Championship.
After graduating from Detroit, Adam joined Minnesota State Mankato University, receiving a scholarship worth $500. He completed his studies at Mankato with a degree in management.
Calvin Johnson, a Detroit Lions player, holds the NFL record for most 100-yard games in a season. Learn more about him here>>>
Adam Thielen | Career
College Career
Adam played nine games for Minnesota State Mankato University in his first season and caught 21 passes for 252 yards.
In 2010, he was awarded the Minnesota State's Offensive Player of the Year and Second-Team All-NSIC South Division.
In his senior year of college, Adam made several records, including winning five consecutive 100 receiving yards. After 2013 he completed his studies, and then came his time to take his career to the next level.
Professional Career
Every football player dreams of being a part of the NFL, and Adam was no exception. But unfortunately, he was left undrafted in the 2013 NFL Draft.

However, Adam's good records came in handy as the Vikings signed him as an undrafted free agent.
With his exceptional performance in both special teams and offense, Adam also earned a spot on the 53-man roster to start the 2014 campaign.
Furthermore, in his very first match as an NFL pass, he was named the NFC Special Player of the Week.
The year 2019 was a bit hard for Adam; he was out from the game until Week 14 due to his injury.
In 2020, he even broke the record of his idol, Randy Moss, for having the most touchdowns in one season.
Awards and Accolades
NFC Special Teams Player of the Week, in 2014

100+ Receiving Yards Winner for Eight Times Straight

100+ Receiving Yards Winner to Begin a Season, eight times

One-Time Second-Team All-Pro

Pro Bowl, Twice

2017 Vikings Offensive Player of the Year
Adam Thielen | Social Work
Along with being an outstanding player on the field, Adam has proved his generosity time and again with his charitable deeds out of the field.
Adam participates actively in social work, which shows how much of a good human he is. In 2018, Thielen and his wife Caitlin launched Thielen Foundation.
Thielen Foundation's main motive is to provide education, help the needy, and inspire youths to know their capability and reach their full potential.
To date, the organization has raised around $1,305,000 for needy people, and some reputed brands, like Adidas, Choice Bank, State Farm, etc., are the prominent sponsors of the foundation.
Similarly, in 2020, he organized a fundraiser on Vikings Flagship Station KFAn for COVID-19 relief and collected $280,000.
Adam Thielen | Net Worth
Without a doubt, as an American ball player, Adam Thielen has earned an enormous fortune.
His estimated net worth as of November 2023 is $5 million.
His football career is the primary income source contributing to most of his net worth. Apart from that, Adam earns a good amount of money from brand deals and endorsements.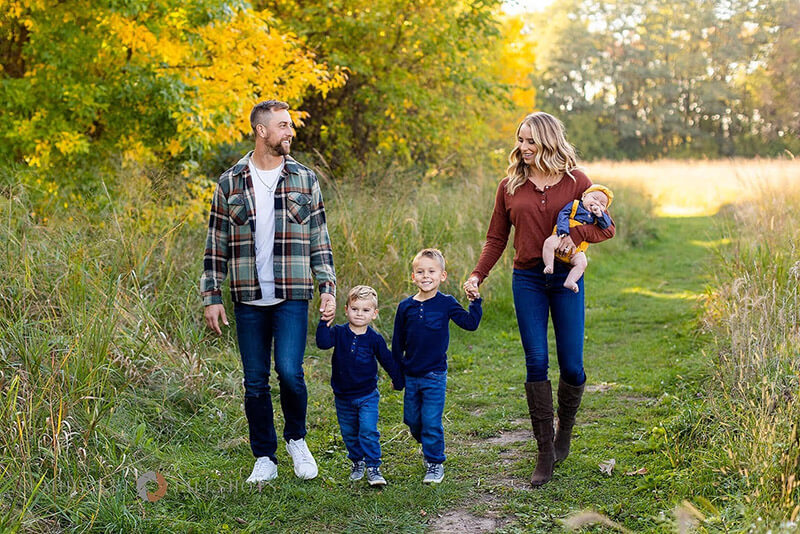 As supported by his NFL salary, Adam leads a lavish lifestyle. Recently, in 2022 he purchased a 3,498 square feet Lake Nona Golf Course home for $2.19 million.
Apart from that, he also maintains a home in Glen Crest worth $2 million.
Similarly, Thielen is fond of exotic cars and owns a few of them bad boys.
His collection of wheels includes a GMC Acadia worth $46,300 and Cadillac Escalade worth $100,285.
Regarding his yearly income, his ongoing contract with the Vikings pays him an average annual salary of $16,050,000.
Adam Thielen | Body Measurements
Currently, 33 year old Adam stands 6 ft. 2 inches (1.88 m) tall and weighs around 91 kg (200 lbs.).
As an athlete, Adam has to take special care of his physique, so he workouts and eats nutritious and high-protein food as much as possible.
However, he does have a sweet tooth and enjoys ice cream or skittles every once in a while.
For breakfast, Adam eats Greek yogurt with granola, toast with almond butter, and blueberry oatmeal.
Similarly, for lunch, he eats chicken quesadillas, mac and cheese, and leftover food from last night's dinner.
He likes to eat grilled chicken, fish, red potatoes, asparagus, and homemade nachos for dinner.
In the 2018 summer, Jordan Mickey traveled to Europe to play baseball. He played collegiate basketball for Louisiana State University until the Celtics selected him with the 33rd overall pick in the 2015 NBA Draft. Learn about him here>>>
Adam Thielen | Wife and Children
Adam Thielen is married to lifestyle blogger Caitlin Thielen. Together they have three kids, Asher Thielen, Hudson Thielen, and Cora Hean Thielen.
Adam and Caitlin met at Minnesota University and fell in love, and after dating for two years, the couple tied the knot in 2015.
The Thielen Family (Source: Instagram)
They welcomed their first son Asher a year after and, in 2019, welcomed their second son Hudson.
In 2021, the lovely couple welcomed their third child, a daughter Cora.
Adam's wife, Caitlin Thielen, is known as Mrs. T in the blogging world. Similarly, she also serves as the vice-president of The Thielen Foundation and works for various social causes.
J.J. Watt is the epitome of a gentleman. The top NFL player of 2015 has been with the Houston Texans since his first draft. Here's all you need to know about Watt>>>
Social Media Presence
Adam Thielen is quite active on social media and often shares his major life events via Instagram and Twitter with his followers.
View this post on Instagram
Adam has around 467k Instagram followers and approximately 215k followers on his Twitter as of this writing.
Frequently Asked Questions (FAQs)
What is the Jersey number of Adam Thielen?
Adam Thielen wears a jersey number 19.
Is Adam considered a good player?
Adam Thielen is considered one of the greatest players in the NFL.
As a matter of fact, he was ranked #80 on the NFL Top 100 Players of 2021.
Is Adam Thielen retiring?
Adam has renewed his contract with the Vikings and will play for them until 2024. For now, Adam has no plans of retiring.
Also, Read About Kellen Mond Bio: Girlfriend Parents & Career