A'ja Wilson's brother, Renaldo Wilson, is an on-air personality and previously graduated from Benedict College. Renaldo is an older brother to the WNBA star.
Renaldo might have been older than A'ja, but their dad, Roscoe, had always been strict with A'ja since childhood. Even Renlado played collegiate basketball, but the family knew it would be A'ja making a name for herself in basketball.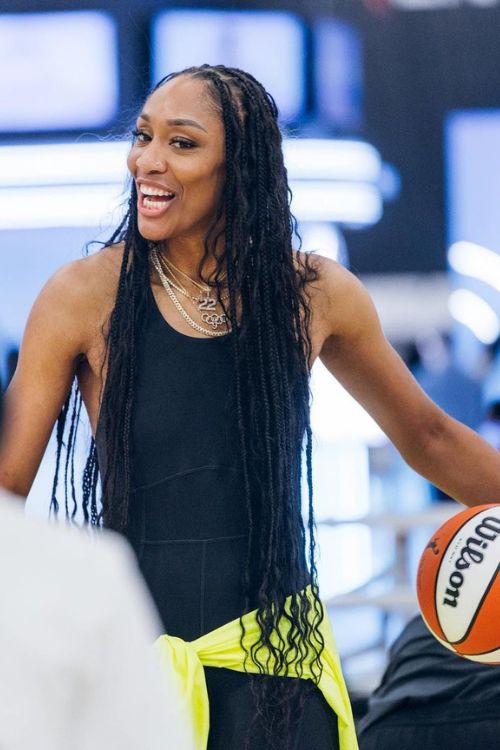 Just outside the University of South Carolina stands A'ja's more than 11 feet tall statue. Her maternal grandmother, Hattie Rakes, grew up four blocks away from where the statute is placed.
Previously, Roscoe has admitted to staring at his daughter's statue for 15-20 minutes. The basketball player's brother, Renaldo, keeps himself out of the public spotlight.
Wilson was recently named to her fifth All-Star WNBA team. The Las Vegas Aces power forward finished No.1 in the fan voting, followed by Breanna Stewart at No.2. She had teammates Jackie Young, Chelsea Gray, and Kelsey Plum join her for the event.
A'ja Wilson Brother, Renaldo Wilson
A'ja Wilson's older brother, Renaldo Wilson, graduated from Benedict College with a degree in Therapeutic Recreation.
Renaldo previously played basketball in high school and collegiate level. At the high school level, Renaldo was involved in multiple sports, including football, basketball, and track and field. But unlike his dad, Renaldo chose to make a career away from basketball.
Before becoming an on-air personality/DJ Mixer with Alpha Media USA in 2015, Renaldo worked as a retail sales associate at Foot Locker.
He was also a park supervisor in the City of Columbia and a licensed insurance agent with Liberty National Life Insurance Company. The older brother of the WNBA star has kept himself away from the limelight and is also not available on social media.
A'ja Wilson Parents, Roscoe Jr, And Eva Wilson
A'ja Wilson's parents, Roscoe Jr, and Eva Wilson, raised their two kids in Columbia, South Carolina.
The power forward comes from a family with a history in the sport. Her father, Roscoe Jr, played basketball in Europe for ten years. He never had the chance to play in the NBA but has now lived his dream through his daughter.
A fan of the American band Steely Dan, Roscoe thought that one day, if he ever had a daughter, he would name her after his favorite band's album Aja.
Growing up, Roscoe was strict in his training with A'ja. He would put her through the Mikan Drill, making her wear a 20-pound vest. He would then make her shoot layups.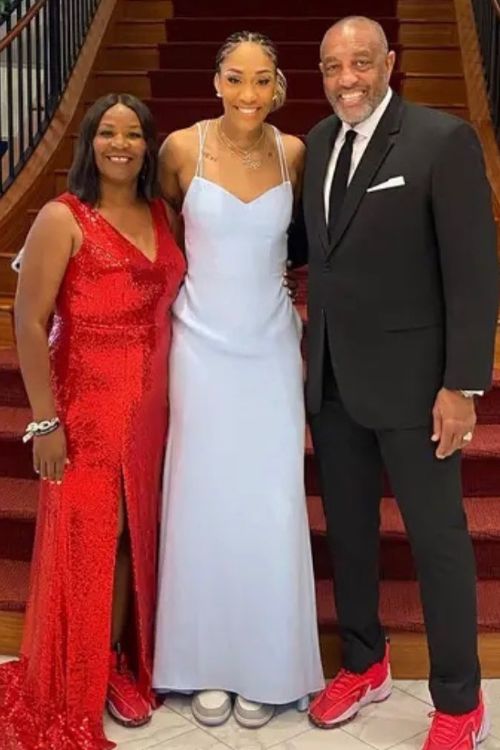 In her past interview, A'ja said it felt like punishment, but now she feels grateful to her dad. Standing at 6ft 8, Roscoe grew up in a religious household, and so did his daughter.
Born in 1952, Roscoe's father, Roscoe Sr, was a minister at St. John Baptist Church in Columbia, and his mother, Ethel Wilson, was a professor at Benedict College and a missionary.
A former basketball player at Benedict College, Roscoe said he wanted to play for the University of South Carolina. But during those days, there were no African-American athletes.
A'ja's mother, Eva, handles her Burnt Wax candle company and tries to keep her daughter in check about her finances.
She is also the co-founder of the A'ja Wilson Foundation and is available on Instagram with the username @eva.r.wilson. Most of her posts are dedicated to her highly successful daughter.