Although he has retired from competitive skiing, Aksel Lund Svindal is easily one of the greatest Norwegian alpine ski racers in history.
Svindal competed in 17 World Cup seasons, and he slowly but steadily made his way to the top of the international circuit. During the peak of his career, he won two overall World Cup seasons and five World Championship events.
Moreover, Svindal became the first male alpine ski racer to win at least one title in four consecutive World Championships.
The road to becoming one of the greatest male alpine skiers was not plain sailing, but he overcame all the challenges life threw at him.
To learn more about the two-time Olympic gold medalist, don't forget to read the article until the very end.
Quick Facts: Aksel Lund Svindal
| | |
| --- | --- |
| Full Name | Aksel Lund Svindal |
| Nick Name | Aksel |
| Date Of Birth | December 26, 1982 |
| Birth Place | Lørenskog, Akershus county, Norway |
| Residence | Oslo, Norway |
| Age | 40 |
| Gender | Male |
| Sexual Orientation | Straight |
| Height | 6'2″ (1.89 m) |
| Weight | 97 kg (213 lbs) |
| High School | Oppdal videregående skole |
| University Name | Not Available |
| Horoscope | Capricorn |
| Religion | Christianity |
| Nationality | Norwegian |
| Ethnicity | White |
| Father's Name | Bjørn Svindal |
| Mother's Name | Ina Lund |
| Siblings | Simen Lund Svindal |
| Hair Colour | Dark Brown |
| Eye Colour | Green |
| Skin Colour | Fair |
| Marital Status | Unmarried |
| Partner | Amalie Iuel |
| Kids | None |
| Profession | Alpine Ski Racer |
| Status | Retired |
| Net Worth | $1.5 million |
| Salary | Not Available |
| Social Media | Instagram, Twitter |
| Merch | Ski Equipment, Autobiography |
| Last Update | December, 2023 |
Aksel Lund Svindal: Early Life, Family, and Education
Aksel Lund Svindal was born on December 26, 1982, in Lørenskog municipality of Akershus county, Norway.
When Aksel turned three years old, his parents, Bjørn Svindal and Ina Lund, gifted him a pair of skis for his birthday. Bjørn and Ina were both skiers, so they encouraged their children to learn the sport.
His grandparents owned a cabin in Geilo municipality, so his family spent their winter in the ski resort town every year. Geilo is a popular tourist destination because of its ski resorts and mountain trails, and it was the place where Aksel learned to ski.
Svindal lived in Fetsund, Lillestrøm Viken, until the age of six. After that, his family moved to Skedsmo municipality, where he spent the rest of his childhood.
Unfortunately, his mother, Ina, passed away because of complications right after giving birth to her third child. The newborn also passed away after a while.
Since Aksel was only eight years old, his grandparents often came to his house to take care of him and his younger brother, Simen.
Svindal moved to Oppdal municipality after he turned 15, where students were allowed to attend high school and practice skiing.
Then, he joined the Norwegian Junior Team and participated in European skiing competitions.
You may also like: Chris Froome, the Cycling Sensation from Kenya >>
Aksel Lund Svindal: Career
Early Years
Aksel Lund Svindal was 18 when he made his World Cup debut on October 28, 2001. He participated in the 2002 World Junior Championships in Tarvisio, Italy, winning a gold medal in combined and silver in the super-G event.
Moreover, he won a bronze medal in downhill and slalom each. Svindal competed in the World Championships for the first time in 2003, but he did not record any top three wins until 2005.
Aksel Lund Svindal participated in the 2007 World Championships in Åre, Sweden, winning gold in downhill and giant slalom events.
Injury
On November 27, 2007, Svindal suffered a terrible injury in Beaver Creek, Colorado, when he was on a first training run in the Birds of Prey downhill ski course. After crashing into a safety fence, he had broken bones in his face and a deep gash in his groin and abdomen.
Unfortunately, he could not return for the rest of the 2008 season. But in October 2008, Svindal swiftly made his way back to the 43rd World Cup season, and he was better than ever.
After his comeback, he recorded a downhill and super-G win at the same ski course where he was seriously wounded the previous year.
Svindal competed in the 2010 Winter Olympics, and he won a silver medal in the downhill competition on February 15. It was the hundredth silver medal for Norway at the Winter Olympics, a feat no other country has achieved yet.
On February 19, 2010, Svindal won his first Olympic gold medal in the men's super-G competition. Likewise, he won the bronze medal in the giant slalom on February 23.
He won a super-combined once again at the 2011 World Championships held in Germany. Then, he won gold in the downhill and bronze in the super-G event in 2013.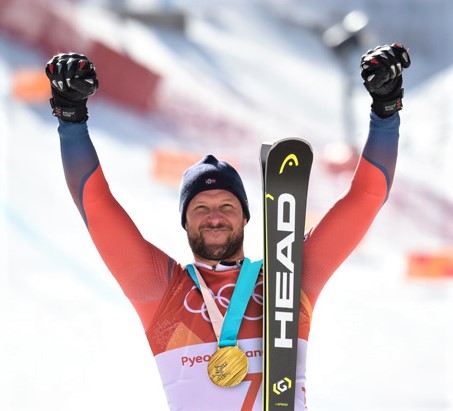 After his recovery, Svindal entered the 2018 Winter Olympics held in South Korea and won his second gold in the downhill event. Moreover, he became the oldest alpine ski racer to win an Olympic gold medal.
Retirement
In January 2019, Aksel Lund Svindal shared the news of his retirement from alpine skiing.
However, he did compete in the 2019 Ski World Championships in Åre, Sweden, and finished second in the downhill competition. Then, he officially retired on February 9, 2019.
To sum up, Svindal won five gold, two silver, and two bronze medals in the World Championships. Additionally, he won two gold, one silver, and one bronze medal in the Olympic Games.
Svindal earned two World Cup overall titles and nine discipline titles; he won two downhill, five super-G, one giant slalom, and one combined event. Likewise, Svindal won 36 World Cup racing competitions in 17 seasons.
Related: Hermann Maier Bio: World Cup, Ski, Wife & Net Worth >>
Aksel Lund Svindal: Girlfriend
Svindal is currently dating Danish-Norwegian hurdler Amalie Iuel. They became public about their relationship in May 2020, although it is unclear when they started seeing each other.
The pair has a labradoodle named Molly, and they are both very fond of the dog. Aksel and Amalie enjoy traveling together and love to go adventure-seeking now and then.
As of 2021, the two do not have any kids.
Past Relationship
Svindal was in a relationship with retired American alpine skier Julia Mancuso for four years, but they separated in September 2013. The two appeared in many public events as a couple.
The cause of their breakup is unknown, but both Svindal and Mancuso have moved on with their lives. She is now married to an American surfer Dylan Fish (2015) and has a son named Sonny.
Aksel Lund Svindal: Net Worth
The two-time overall World Cup champion won more than 30 racing competitions in his professional career. So there is no doubt in our minds that he earned handsome prize money after each win.
Moreover, Svindal has multiple sponsorship and endorsement deals with Porsche, Nordkapp Boats, Samsung, HEAD Ski, etc. He owns a $150k Porsche Taycan Cross Turismo.
Aksel's estimated net worth is $1.5 million.
Svindal also released his ski equipment collection called AkselWear in October 2021. He created the brand in collaboration with Sweet Protection, a ski equipment manufacturing company in Norway.
Film Documentary
On October 15, 2021, Aksel, a film documentary based on the life of Aksel Lund Svindal, was released in Norway. The documentary followed Svindal through some of the most challenging moments of his life and his determination never to give up.
During the 2016 World Cup season, Svindal suffered from a permanent knee injury after a drastic fall. As a result, he could not participate in several ski racing events.
The process of his recovery and his resolve to continue skiing has also been included in the film. Additionally, some personal moments from the last few seasons of his career have been shared in the documentary.
Filip Christensen and Even Sigstad directed Aksel, and the film has received positive criticism from the audience in Europe.
Autobiography
Aksel Lund Svindal published an autobiography titled Greater Than Me in 2019. The book narrates his journey of becoming one of the most renowned alpine skiers and the hardship he had to experience to reach his level of success.
Likewise, Svindal has shared the principles he followed as an athlete and how he learned to handle both sports and business in his career.
Aksel Lund Svindal: Social Media
You can find Aksel Lund Svindal on different social media sites, including Instagram and Twitter. He is very active on Instagram and shares bits and pieces of his life with his fans and followers.
However, he has not used Twitter since 2018, so you will only come across some old tweets from before his retirement.
Although Svindal has quit competitive skiing, he continues to ski as a recreational activity. Therefore, he still shares pictures of his skiing trips on his social media.
Instagram: 507k followers
Twitter: 157k followers
Check out: Nic Roldan Net Worth | Lifestyle, Career & Investments >>
FAQs
Is Aksel Lund Svindal married?
No, Aksel Lund Svindal is not married. He is committed to Amalie Iuel, but the couple has not hinted at a possible marriage anytime soon.