Alan Griffin, who went undrafted in the 2021 NBA Draft, is a rising basketball player who has already played for two NBA-G league teams and is currently playing for the CEBL team Newfoundland Growlers.
He is an active roster of Growlers for the 2023 CEBL season that runs from May 24 – July 30, 2023.
Alan Griffin has played for Syracuse Orange (2018–2020) and Illinois Fighting Illini (2018 to 2020.)
As a high school senior with Orange, he led his team to its first-ever New York State Federation Class A.A. title and was named Player of the Year for Westchester County and Putnam County by The Journal News.
Well, it seems the athletic genes run in the family! Alan is the son of a former basketball player and current NBA basketball coach, Adrian Darnell Griffin.
Adrian Griffin played nine NBA seasons with five teams and won a gold medal with USA Basketball at the 1997 Tournament of the Americas.
Please stick with us to know more about the player; let's start with the quick facts.
Quick Facts
Name
Alan Griffin
Full Name
Alan Darnell Griffin
Date Of Birth
April 14, 2000
Age
23 Years Old
Birth Place
Waltham, Massachusetts
Zodiac
Taurus
Nationality
American
Body Type
Athletic
Skin Type
Brown
Hair Color
Black
Eye Color
Black
Parents

Adrian Griffin
Audrey Griffin

Siblings

Vanessa (Sister)
Aubrey (Sister)
A.J (Brother)

Height
6'5″/1.96 m/196 cm
Weight
86 kg/190 lb.
Build
Athletic
Relationship Status
Unknown
Girlfriend/ Wife
No
Current team
Syracuse Orange
Affiliated Team

Archbishop Stepinac High School Team
Illinois's Team (2018–2020)
Syracuse Orange (2020–2021)
Rio Grande Valley Vipers (2021)
Westchester Knicks (2021–2022)
Newfoundland Growlers (2022–Present)

Position
Small Forward/
Shooting Guard
Net Worth
Around $1 Million
Last Update
November, 2023
Early Life
Alan Griffin was born on April 14, 2000, to his father, Adrian Griffin, and his mother, Audrey Griffin.
He grew up with his siblings: Vanessa, Aubrey, and A.J., in Waltham, Massachusetts.
Apart from Vanessa, his elder sister, both the other siblings are into sports. Aubrey is a sophomore with Connecticut's basketball program and averaged 6.4 points and 5.4 rebounds per game as a freshman.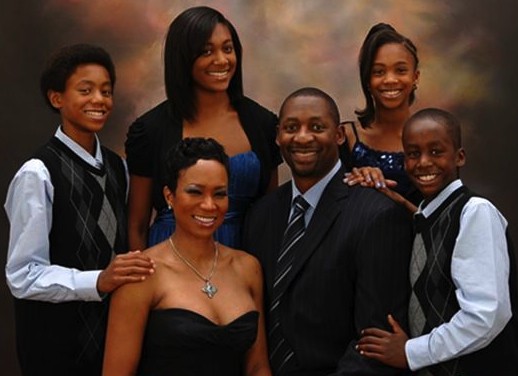 Likewise, his brother, Adrian Jr., is a senior on the basketball team at Archbishop Stepinac.
As for education, he attended Oak Park and River Forest High School in Oak Park, Illinois, and then for his final two years, he transferred to Archbishop Stepinac High School, located in New York.
Meet Alan Griffin's
Family
Father
As stated already, Alan's father is Adrian Darnell Griffin, born on July 4, 1974, in Wichita, Kansas.
He played collegiate basketball at Seton Hall University and was a starter for three-year.
Consequently, he was inducted into the Seton Hall Athletics Hall of Fame.
After his college career, Adrian went undrafted in the 1996 NBA Draft. Nonetheless, he played in Italy for teams like Cordivari Roseto in 1998.
Shortly after, he started his career with Boston Celtics in 1999. After that, Adrian would represent Dallas Mavericks, Houston Rockets, and Chicago Bulls.
On February 21, 2008, he was traded to Seattle SuperSonics as an 11-player deal. It also involved players from Cleveland Cavaliers, Chicago Bulls, and SuperSonics.
Similarly, Adrian was traded again to the Milwaukee Bucks on August 13, 2008. Shortly after the 2007-08 season, he retired in 2009.
After his retirement, Adrian started working as a coaching assistant. He has coached for Orlando Magic, Milwaukee Bucks, Chicago Bulls, and the Oklahoma City Thunder.
Moreover, he has been serving as the assistant coach for the Raptors since 2018.
Mother
Audrey Griffin, the mother of Alan Griffin, is a blogger and author by profession.
She is the author of "The Day I Tool Off My Cape," a contemporary parenting book.
She is also a lifestyle parenting blogger for a popular parenting site known as "Removing the Cape." Audrey's blogs address issues concerning child-rearing, parenting, marriage, and sex.
Moreover, Audrey is the former Vice President of 'Behind the Bench,' a National Basketball Wives Association.
Alan Griffin's
Parents Divorce
As stated, Alan's parents' love life was not precisely cookies and creams. The two are now divorced; his mother, Audrey, accused Adrian of physical and emotional abuse.
Additionally, Audrey revealed that her husband refused to follow a court order to pay child support.
Adrian stated they are involved in a longstanding legal dispute over alimony and child support arrangements.
Professional Career
High School Highlights
Young Alan attended Oak Park and River Forest High School in Oak Park, Illinois. Later, he moved to Ossining High School in Ossining, New York. There he played alongside Obi Toppin.
Alan transferred to Archbishop Stepinac High School for his final two years. As a senior, Alan recorded 9.9 rebounds per game, 19.2 points, and shot 48 percent from the three-point range.
He led his high school team to the New York State Federation Class A.A. title. Besides, he contributed to Stepinac's winning of Class A.A. and Catholic High School Athletic Association Archdiocesan titles.
Furthermore, Griffin was named player of Putnam County and Westchester Country player by The Journal News.
College Stats
Griffin chose Illinois over Iona, Fordham, and La Salle, and in his first year, averaged 2.8 points in 8.1 minutes per game.
Alan became the team's sixth man as a sophomore but was suspended for two games on January 23, 2020.
It was after he stepped on Sasha Stefanovic's chest, who was an opposing guard of Purdue.
Despite this, Alan recorded a season-high six three-pointers and 24 points in a 74-66 win against Northwestern. Additionally, he went on to average 4.5 rebounds and 8.9 points per game.
After his transfer to Syracuse, Griffin filled out paperwork with the NCAA to grant him immediate eligibility and got approved by Syracuse Athletics for the 2020-21 season.
During his first five games at Syracuse, Alan averaged 18.4 points per game. He led Syracuse, further tallying 23, 20, and 22 points against Rider, Rutgers, and Boson College.
However, on December 16, 2020, Alan finished a game scoreless against Northeastern.
He made a massive comeback against Buffalo on December 19, 2020, recording ten rebounds, 24 points, two steals, three assists, and three blocks.
Moreover, his involvement in the match sent the game into overtime. It eventually led Syracuse to an 11-point victory.
Following the season, he declared for the 2021 NBA Draft but went undrafted and joined Rio Grande Valley Vipers of the NBA-G league.
However, he was waived on December 14 after 4 games, and Griffin signed with the Westchester Knicks on December 19, 2021.
After being waved, he signed with the Newfoundland Growlers of the CEBL on May 18, 2022.
Alan Griffin played only three games with the CEBL team in the 2022 season. He is an active roster of Growlers for the 2023 CEBL season.
What Does Alan Griffin's Eligibility Mean For Syracuse?
After his eligibility, Alan looked forward to strengthening the team's starting roster. He transferred to Syracuse after scoring nine points per game last season with Illinois.
Further, the team was concerned about who would fit the small forward position before Alan was deemed eligible. It led to Quincy Guerrier's recognition as an option despite his lack of range and offensive skills.
However, Syracuse believed Quincy would provide support for rebounds.
Similarly to last season, the team spaced out Girard, Boeheim, and Griffin. The lineup was considered perfect along the three-point line, with Bourama Sidibe and Marek Dolezaj in the down-low.
The Three A's: A Trio Of Division Prodigy
Many siblings, such as the Lopez twins, have established themselves in the pro ranks in the league (Brook & Robin).
The Morris twins (Markieff & Marcus) and Ball brothers (LiAngelo, Lonzo & LaMelo) are perfect examples.
They have made a statement and left a mark on the basketball scene for the last few years.
The Griffin trio comes from the Griffin family, with three basketball-playing kids. The family has been together in Ossining, New York, for a few decades.
Like Alan, the Griffin family has two other members (Aubrey & Adrian Jr.) actively participating in basketball.
Aubrey Griffin
Aubrey is the sibling of Allan Griffin, who plays for Ossining High School. She was part of the powerhouse program under head coach Dan Ricci.
Aubrey Griffin led her team to a sectional title and recorded 8.7 rebounds, 28.3 points, and 3.2 steals per game, winning the Section 1 Miss Basketball Award.
The award is among the highest honor given to the best female player in Westchester County.
Furthermore, Aubrey reached the 1,000-point milestone during her freshman year. She was a sophomore in the powerhouse women's basketball team at the University of Connecticut (2020-21).
As a Junior for the 2021-22 season, Aubrey did not play due to injury.
Adrian Jr. Griffin
The Stepinac's freshman is a younger sibling of Alan, who has high motor skills and is explosive in the game. His performance on the court makes him a candidate for the top players in his class.
He recorded 11.6 points per game and was the third-leading scorer for the team's Crusaders.
Besides, he was one of the top 10 recruits in the 2021 class and committed himself to Duke.
Age, Height & Weight
Alan Griffin is 23 years of age. He has a muscular physique, ideal for playing the forward position in basketball.
For those curious, young Griffin stands at 1.96 m and weighs around 190 lb. Likewise, he has a wingspan of 84 inches.
Alan is a good shooter despite his immense build and scoring mid-range. Due to his physical attributes, the American-born has decent rebounding skills too.
Net Worth & Dating
Alan has signed with the Newfoundland Growlers of the CEBL but is yet to leave a mark.
However, Griffin's net worth is around $1 million as of 2023. Most of his income came from his previous contracts with NBA teams.
Nonetheless, as the son of the former basketball star Adrian Griffin, Alan lives a comfortable and lavish lifestyle.
Because of his impressive collegiate performance with Fighting Illini and Syracuse, he got rather smaller deals.
Moreover, Alan has collaborated with Athlete Direct, which provides game-used or autographed basketball collectibles directly from the NCAA star and future pro.
Alan is most probably focused on his career; no reports of his dating life or girlfriend have ever made highlights.
The basketball player barely talks about his relationship. Therefore, sources proclaim that he is currently single.
Net Worth Of Alan Griffin In Different Currencies
Here is the net worth of Alan Griffin in different currencies, including the Euro and Dollar.
| | |
| --- | --- |
| Currency | Net Worth |
| Euro | €948,920 |
| Pound Sterling | £844,960 |
| Australian Dollar | A$1,515,841 |
| Canadian Dollar | C$1,375,730 |
| Indian Rupee | ₹82,015,500 |
| BitCoin | ฿45.31 |
Frequently Asked Questions (FAQS)
Who is Alan's father?
His father is Adrian Griffin, a former NBA basketball player and current assistant coach of the Raptors.
Where is Alan currently affiliated with?
Alan joined Newfoundland Growlers after being waived by the Westchester Knicks on January 23, 2022.
Is Griffin a free agent? What is his Illinois statistic?
Griffin is an undrafted player who signed with Newfoundland Growlers in 2022. During his tenure at Illinois, Alan Griffin played 28 games and maintained a field goal percentage of .483, a three-point percentage of .416, and a free throw percentage of .861.