The wrestling world is filled with several talented fighters across the globe. One of the famous Mixed Martial artists is Aleksander Emelianenko.
Likewise, Aleksander is a Russian MMA fighter who is a 3x Russian national Combat Sambo champion and 3x World Combat Sambo Champion.
Apart from his fighting career, Aleksander holds a very controversial image.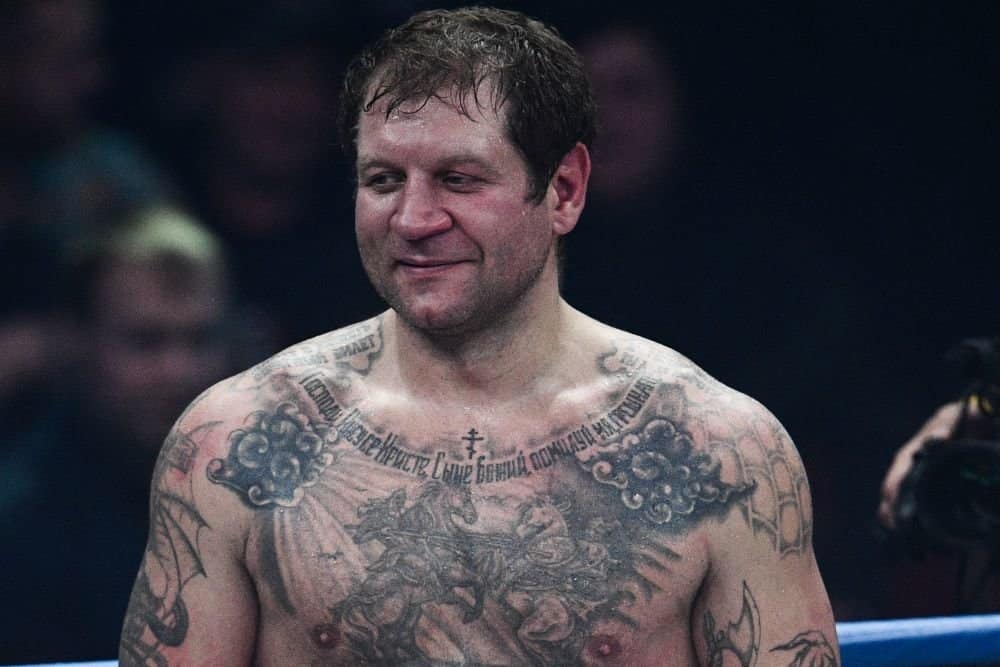 Although he is known for being very skilled and determined in his fights, he is renowned by various other names like Red Devil, The Grim Reaper, and The Warrior.
All of these names portray his personality during the fights.
Moreover, let's get to know more about a very controversial MMA fighter Aleksander. First, let's move into some of the quick facts about the Red Devil.
Aleksander Emelianenko | Quick Facts
Full Name
Alexander Vladimirovich Emelianenko
Birth Date
2nd August 1981
Age
41 Years Old
Birth Place
Stary Oskol, Russian SFSR, Soviet Union
Nickname
Red Devil
The Grim Reaper
The Warrior
Religion
Russian Orthodox Christian
Nationality
Russian
Education
Not Disclosed
Horoscope
Leo
Father's Name
Vladimir Alexandrovich Emelianenko
Mother's Name
Olga Feodorovna Emelianenko
Siblings
Fedor Emelianenko, Marina Emelianenko, Ivan Emelianenko
Height
6'4" (1.93 m)
Weight
256 lbs (116 kgs)
Build
Muscular
Shoe Size
Not Available
Eye Color
Blue
Hair Color
Brown
Marital Status
Married
Spouse
Olga Emelianenko
Children
Polina Emelianenko
Ksyusha Emelianenko
Profession
Mixed Martial Artist
Division
Heavyweight, Super Heavyweight
Reach
203 cm
Years Active
2003-2014
2017- Present
Net Worth
$5 million
Awards and Achievements
ProFC Heavyweight Championship
2006 FIAS World Combat Sambo Championships Gold Medalist
Russian Combat Sambo National Championship etc.
Social Media
Instagram, Facebook
Last Update
June, 2023
Aleksander Emelianenko | Early Life, Family & Education
Aleksander was born on 2nd August 1981 in Stary Oskol, the Soviet Union, to Olga Feodorovna Emelianenko and Vladimir Alexanderovich Emelianenko.
His mother Olga was a teacher, and his father Vladimir was a welder. Moreover, Aleksander has three siblings: Marina Emelianenko, Fedor Emelianenko, and Ivan Emelianenko.
Aleksander is the third child of the Emelianenko family. Both of Aleksander's parents would be working during the day, and he spent a lot of his time outside in the rough streets.
Likewise, young Emelianenko used to get involved in street fights and also get himself into riots.
As his family used to be very short on money, the Emelianenko siblings' mother prepared only a single meal for the whole week; and the brothers often had to share clothing.
Furthermore, when Aleksander was a teen, his brother was part of the Russian Army, and after his parents were separated, he rarely spoke to his father.
According to the zodiac, Aleksander's birthdate falls under the sun sign of Leo. People with Leo as their sun sing are mostly known for their fierce and protective nature.
Fedor Emelianenko
Aleksander's older brother Fedor is a renowned Russian Martial Mixed Artist. Similarly, he has won multiple championships and made it to the top MMA fighters in 2000.
According to Celebrity Net Worth and Forbes, Fedor falls on the list of the Top 20 richest MMA fighters with a net worth of $18 Million, giving him rank 8.
Moreover, Fedor's significant achievements throughout his career were – the Fighter of the Year, Knockouts of the Year, Fight of the Decade, The heavyweight of the Year, and many more.
Age, Height, and Body Measurements
The MMA fighter is 41 years old. He is born under the sun-sign Leo. Leo-born people are creative and intelligent.
Talking about the physical appearance of the fighter, he possesses a muscular physique. With his regular exercise and diet plan, he weighs around 256 lbs (116 kgs).
His physical look is incomplete without his outstanding height of 6'4" (1.93 m). Moreover, he has blue eyes and brown colors hair.
Not to mention he belongs of the Russian nationality and follows the Christianity religion. His ethnicity is still unknown at the moment.
Education
As for his education, Aleksander attended a vocational school and wanted to become an electrician. He completed his school and became an electric welder in 1999.
However, he had to transfer numerous times to various other technical specialties due to his bad behavior.
Jesse Marsch- Early Life, Career, Wife, Liverpool & Salary >>
Moreover, he learned English attended Belgorod State University. There Emelianenko graduated with a Bachelor's degree in 2009, majoring in Economics courses.
Aleksander Emelianenko | Career and Profession
Early Career
As Aleksander's parents worked the entire day, he often stayed with his brother. At the time, his brother, Fedor, practiced Sambo. Aleksander's brother brought him along not to miss any of his practices.
Thus, this is how Emelianenko started practicing martial arts at a very early age. Initially, he observed older kids practicing and soon picked the moves himself and started mimicking them.
Also, Aleksander began his formal Sambo training with Vladimir Mihailovich Voronov during elementary school.
Aside from Sambo, Aleksander practiced wrestling, judo, and boxing and was also active in sports like football and basketball.
Moreover, Aleksander's mother didn't allow him to practice boxing. However, he practiced martial arts in secret. When he turned 16 years old, Aleksander became Judo's Russian Master of Sport.
The year he graduated, he also won the European Sambo championships. Likewise, he also won the World Combat Sambo championships in 2002, 2003, and 2006.
Similarly, he participated in the Russian Cup of Combat Sambo, representing the city of Saint Petersburg in 2010. And won the tournament's heavyweight category.
After his win, Aleksander earned the right to represent his county Russia during the World Championships.
After winning the Russian Cup of Combat Sambo, he competed at the Sport accord Combat Games 2010 held in Beijing.
Also, the Russian fighter won the silver medal for the category of +100 kg.
During an interview, he stated that "his punches are similar to electric trains, and if he missed, his opponents would catch a cold."
Professional Mixed Martial Arts Career
Aleksander made his professional debut as an MMA (Mixed Martial Arts) fighter on 5th October 2003 against a Brazilian MMA fighter, Assuerio Silva.
Likewise, Aleksander defeated him through the judges' split decision. He was one of the youngest fighters at the Pride Fighting Championships.
Moreover, he kept winning matches until his fourth match, where he was defeated by a Croatian MMA fighter, Mirko Cro Cop.
Similarly, the opponent was also one of the leading heavyweight contenders during the Pride Final Conflict 2004.
Aleksander returned to Pride on 31st October 2004 and defeated British MMA fighter James Thompson within 11 seconds. Also, this fight is the shortest one where he defeated an opponent to date.
Likewise, on 3rd April 2005 at Pride Bushido 6, Aleksander defeated Ricardo Morais within fifteen seconds. It became his second-shortest fight.
After the match, the Russian stated that he fractured one of his hands while punching the opponent.
Affliction Controversy
Affliction: Banned, an MMA event signed Aleksander to make his United Stated Debut on 19th July 2008.
However, he couldn't make it as during the weigh-ins, it was stated that he didn't meet the licensing standards for the CSAC.
The rumors circulated that he couldn't meet the standards as he was positive for Hepatitis B.
However, Aleksander declined the rumors and exclaimed that he was late for the medical checkups issued by the CSAC, which is why he couldn't make it to the event.
Likewise, because of California's privacy rules, the CSAC couldn't reveal why he couldn't get the license.
However, a member from the CSAC stated that he would not be cleared for a license in California or any state of the USA.
Furthermore, Aleksander was also supposed to be part of another Affliction event on 11th October 2008, which he still couldn't attend due to his licensing problems.
KSW Controversy
There were talks about Aleksander joining the KSW for a possible fight with Mariusz Pudzianowski in July 2010.
However, the co-owner of KSW stated that Aleksander would not fight in the KSW as he is suffering from Hepatitis C.
Likewise, Aleksander denied the accusation and demanded an official apology from KSW. The Polish MMA made the results of Aleksander's medical tests public on 10th August 2010, which showed none of the Hepatitis varieties.
Retirement From MMA
After the controversy created by the KSW, Aleksander fought with various opponents in the Polish MMA Strefa Walk.
On 18th December 2012, Aleksander announced his retirement from MMA's with an open letter to his fans.
In addition, Emelianenko stated that he was suffering from a chronic injury and didn't have much time for his family.
Likewise, three months after his retirement announcement, Aleksander stated that he decided to make a comeback.
For his first fight, Aleksander fought the American professional wrestler Bob Sapp.
Other Controversies
Aleksander returned to fight at the professional MMA after a long three years and over absence. Reportedly, during this time, he was in prison for a sexual assault case.
Moreover, after his return, he fought with Gerônimo Dos Santos and won during the first round.
Kristina Mladenovic- Boyfriend, Coach, Net Worth & Ranking >>
Furthermore, Aleksander was supposed to be part of the Russian Cagefighting Championship 6 happening on 4th May 2019.
However, he was arrested for crashing into two cars in the process of fleeing the police for driving under the influence. After the case, his participation was canceled.
Likewise, the MMA fighter was being found guilty of drug trafficking offenses in St. Petersburg. It was revealed that he had been engaged in the sale of drugs in St. Petersburg through bookmark caches.
Aleksander Emelianenko | Sexual Assault Conviction
On 2nd May 2014, Polina Stepanova, Aleksander's former housekeeper, accused Aleksander of assault and rape. Besides, she stated that he had stolen her passport.
However, Aleksander was not guilty at first and stated that the sex was consensual. The Prosecutors then asked for five years of prison for Aleksander, and on 19th May 2015, he was found guilty by the court of the accusations.
The court also sentenced him to four and a half years of imprisonment with a fine of $1000.
Furthermore, in October 2016, Aleksander was released from prison on parole. Aleksander made his comeback at MMA in 2017.
Aleksander Emelianenko |
TV appearances
Similarly, Aleksander has made few appearances in several TV shows, including the Russian show Big Races.
Unfortunately, Emelianenko lost two of his teeth during a competition against a bull. Likewise, he also appeared in a Korean comedy show.
Similarly, he was also part of the Russian TV series called the Olympic Village.
Aleksander Emelianenko | Awards and Achievements
Mixed martial arts
ProFC Heavyweight Championship
Sambo
2010 SportAccord World Combat Games Combat Sambo- Silver Medalist
2006 FIAS World Combat Sambo Championships- Gold Medalist
2004 FIAS World Combat Sambo Championships- Gold Medalist
2003 FIAS World Combat Sambo Championships- Gold Medalist
1999 European Championships Sport Sambo- Gold Medalist
Russian Combat Sambo National Championship- 2003, 2004, 2006, 2010
2004 Dagestan Open Combat Sambo- Silver Medalist
Russian Combat Sambo National Championship Runner-up- 2012
2003 Union of Heroes Cup Combat Sambo- Silver Medalist
Russian Combat Sambo National Championship- 2003
2003 Moscow Open Combat Sambo- Silver Medalist
Aleksander Emelianenko | Net Worth
Apart from various controversies around the Russian Mixed Martial Artist, Aleksander Emelianenko has had a successful career.
Although his exact career earnings are not available, looking back at his achievements, we can state that-
The presumable net worth of Aleksander Emelianenko falls around $5 million and more.
Net Worth of Aleksander Emelianenko in Different Currencies
Let's have a look into Kim Kardashian's net worth in different currencies, including the cryptocurrency BitCoin.
Currency
Net Worth
Euro
€

4,213,365

Pound Sterling
£

3,595,830

Australian Dollar
A$

6,807,350

Canadian Dollar
C$

6,238,675

Indian Rupee
₹

371,896,500

BitCoin
฿

120
Aleksander Emelianenko | Wife and Children
Aleksander is married to Olga Emelianenko. Reportedly, the MMA fighter met his wife in 2003 in Saint Petersburg. It was after he moved from Stary Oskol.
Moreover, Olga and Aleksander got married on 4th September 2004. Together, they have two children named Polina Emelianenko and Ksyusha Emelianenko.
Likewise, Olga has another daughter from his previous relationship. Furthermore, there is not any information about it.
Aleksander Emelianenko | Social Media Presence
Instagram– 1.1 million followers
Facebook– 3 thousand followers
Interesting Facts about Aleksander Emelianenko
Aleksander has numerous tattoos on his body. However, he states that none of the tattoos hold any meaning, and he has them as a hobby.
Moreover, Aleksander likes hunting, and during an interview, he stated that he hunted a bear in the traditional Russian bear hunting method.
Aleksander went to train in South Ossetia after the 2008 South Ossetia Conflict to prepare for the fight against Sang Soo Lee.
Some FAQs
When did Aleksander Fight with Mikhail koklyaev?
In November 2019, Aleksander fought with Mikhail, where Mikhail lost the match via Knockout.
When did Emelianenko Fight Join the Bare Knuckle Fighting?
The MMA fighter joined Bare-knuckle fighting in the year 2019.
Is Aleksander Sick?
He has got Hepatitis C, which is a serious disease.
What are Emelianenko's Fighting styles?
He is a prototypical brawler and enjoys trading punches whenever possible.