Max Verstappen is one of this generation's most popular and accomplished Formula One drivers. Verstappen also carries the Dutch flag in Formula One, despite his Belgian-Dutch ancestry.
Coming from racing family background, Max has competed in numerous races since childhood.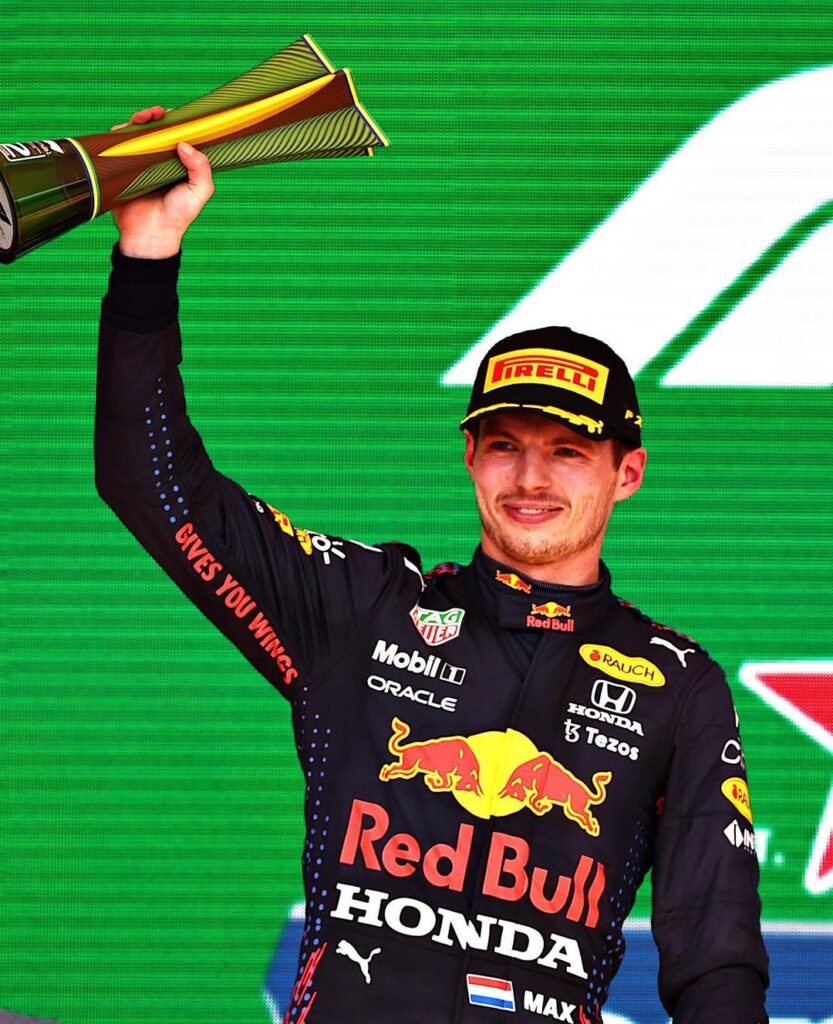 Many believe his driving style to be aggressive, but that's far from the truth. Upon closer inspection, Max's driving comes out as refined.
To vouch for it, he has won 15 races in his career, has 50 podium finishes, and has a total of 1349 points.
Max Verstappen: Quick Facts
Full Name

Max Emilian Verstappen

Nickname
Mad Max
Birth Date

September 30, 1997

Birth Place

Hasselt, Belgium

Residence

Belgium

Nationality

Belgian-Dutch

Religion

Catholic

Ethnicity

White

Hobbies

Playing video games & watching movies

Food Habit

Non-vegetarian

Zodiac Sign

Libra

Father's Name

Jos Verstappen

Mother's Name

Sophie Kumpen

Siblings

Sister Victoria

Age

26 Years Old

Height

181 cm/5'11"

Weight

72 kg/159 lbs

Hair Color

Light Brown

Body type

Fit

Profession

Formula One Racer

Associated Teams

Red Bull

Marital Status

Unmarried

Girlfriend's Name

Kelly Piquet

Active Years

2014-Present (Formula One only)

Children

None

Net Worth

$60 million

Social Media

Facebook

,

Instagram

,

Twitter

Merch
Caps, Hoodie
Last Update

November, 2023
Max Verstappen: Early Life, Family, and Education
Emilian, the Formula 1 racer, was born on September 30, 1997, in Hasselt, Belgium.
Jos Verstappen, who was also a former Dutch Formula One driver, is his father, and Sophie Kumpen, a Belgian who participated in karting, is his mother. Max also has a younger sister named Victoria Verstappen.
Not to mention, he has been a Kart racer since he was four years old. Then, at nine, Max won his first national championship.
Due to racing preparations, Max had a private instructor and only went to school once a week. His parents also supported him in following his passion for racing.
Body Measurements
The Belgian-Dutch race car driver is 5 feet 11 inches (181 cm) tall and weighs around 158.5 pounds (72 kg). As expected, he has maintained his overall health.
Likewise, Max has got stunning blue eyes and honey blonde hair that compliments his fair complexion.
Max Verstappen: Career
Max began his career in karting, winning the Belgian title in 2006 and the Dutch Minimax title in 2007.
Following that, Mad Max confirmed his racing debut in the Florida Winter Series on January 16 of 2014. He won his first ultimate formula race at Palm Beach International Raceway on February 5, 2014.
Then, on February 19, he won his second race at Homestead-Miami Speedway, beating Nicholas Latifi by 0.004 seconds.
After that, he raced in the FIA European Formula 3 Championship for Van Amersfoort Racing.
Formula One Career
In August of 2014, Verstappen joined the Red Bull Junior Team.
Mad Max WAS THE YOUNGEST DRIVER TO START A WORLD CHAMPIONSHIP RACE AT THE AGE OF 17 AND 166 DAYS AT THE AUSTRALIAN GRAND PRIX OF 2015.
However, due to an engine issue, he was forced to retire and settle for 11th place in China. But he did finish fourth in Hungary, his highest performance of the season.
As a result, during the FIA Award Ceremony, he was named Year's Rookie, Personality of the Year, and Action of the Year.
Bradley Wiggins's Net Worth: Career & Controversy >>
Red Bull
Then, on May 5, 2016, Red Bull announced that Verstappen would take over for Daniil Kvyat in the Spanish Grand Prix. He finished in the fourth position in Spanish Grand Prix and won his maiden Formula One race.
He struggled to acclimate to the weather after qualifying fourth at the 2016 Brazilian Grand Prix.
Furthermore, he retired from seven of the first 14 races, four of which were due to technical issues, and three were due to opening-lap incidents.
Out of the 14 races he competed in, he finished third in China. He had a regular racing season after that.
Then, just a day after his 20th birthday, he won the 2017 Malaysian Grand Prix, his second Formula One race. He then finished second in the next event in Japan. Then he won his third Formula One race at the Mexican Grand Prix.
However, he bounced back with his first comeback in Spain, finishing third despite being involved in another minor accident. Then he finished third in Canada, setting the fastest lap of the race. Later, in France, he rose to second place.
Finally, he started fourth on the grid in Austria and went on to win his fourth race of the season. He finished fourth in Germany after that.
Following that, he finished on the podium in Belgium, Singapore, Japan, and the United States.
Shift from Renault to Honda
Then, for the 2019 season, Red Bull moved from Renault to Honda. After that, they won their first race in Austria with Verstappen and Pierre Gasly.
As a result, this was Honda's first race win since the 2006 Hungarian Grand Prix.
Then, at the German Grand Prix, Verstappen won his second race of the season. Following that, he won his third race of the season at the Brazilian Grand Prix.
Finally, he finished the season in second place in Abu Dhabi. He finished third in the championship this time, with 278 points, a career-high.
Tyson Fury: Early Life, Mental Health & Comeback >>
The 2020 season
Max extended his contract with Red Bull until 2023 during the 2020 season. He won the Anniversary Grand Prix at Silverstone, held for the 70th time after a rough start.
Mad Max finished eleven times on the podium this season, with two race victories and three fastest laps. He eventually finished third in the championship with 214 points.
In addition, Verstappen and Lewis Hamilton had a fierce rivalry in the 2021 season. The race was delayed on lap 33 after Verstappen grabbed the lead over Hamilton in the Emilia Romagna Grand Prix.
Nonetheless, Hamilton's championship lead over Verstappen was down to just one point.
After the Spanish Grand Prix, though, the margin grew to 14 points. Verstappen, on the other side, won the race in Monaco, while Hamilton finished ninth.
For the first time, Verstappen was able to take the lead in the Drivers' Championship. He was four points ahead of Hamilton at the time. Verstappen led Hamilton by 8 points at the end of the British Grand Prix after a few ups and downs.
Max Verstappen: Controversies
Slurs
The remarkable career of Verstappen has been clouded by controversy. He commented on the radio during the free practice for the Portuguese Grand Prix in 2020, using terminology like "retard" and "Mongol."
Verstappen then accepted his error, stating that his wordings were "not correct."
On the other hand, the Mongolian government demanded that Verstappen apologize for his remarks and that the FIA take measures against him.
The FIA, on the other hand, took no action.
Crash with Hamilton
Then, in 2021, during the British Grand Prix, Verstappen and Hamilton crashed as Hamilton attempted to overtake him.
Verstappen was then forced to withdraw from the race. On the other hand, Hamilton was given a 10-second penalty and went on to win the race.
On the other hand, Verstappen termed him "disrespectful" for celebrating the victory while in the hospital.
Hamilton should have been disqualified instead of receiving the penalty, according to Max's father, Jos. Meanwhile, Hamilton acknowledged he had no idea Verstappen was in the hospital and wished him well.
Max Verstappen: Relationships
Verstappen is currently dating Kelly Piquet. She is German by blood, but she also has Brazilian ancestors.
She is also the daughter of three-time Formula One world winner Nelson Piquet.
They also posted details about their romance on social media.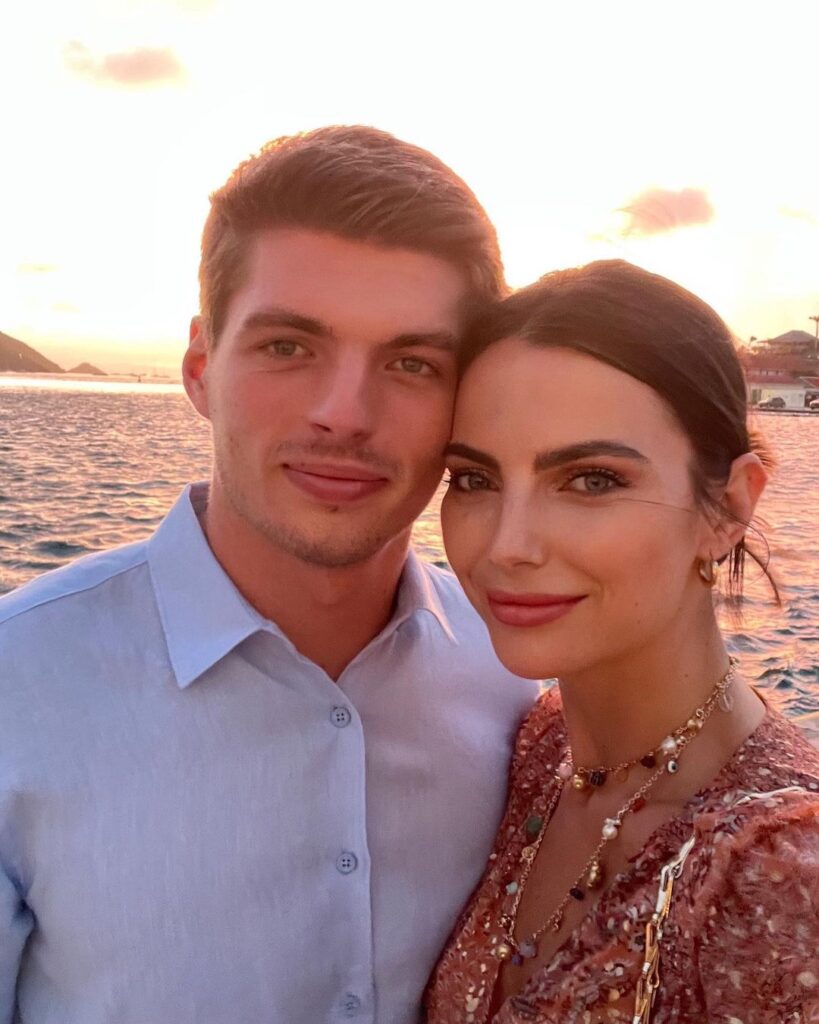 However, both of these two were dating others. But Kelly ended her relationship with Kvyat in December 2019, while Verstappen ended with Dilara Salik later that year.
Kelly is also a professional motorsports blogger and columnist. She also manages the official Formula E website's blog blogging and social media departments.
Max Verstappen: Net Worth, Salary, and Sponsorships
Verstappen has a total estimated net worth of $60 million as of 2021 and a big contract with Red Bull through 2023.
Max is also the fourth highest-paid driver in Formula One, with a salary of $26 million. His other primary sources of income are numerous endorsements.
Ziggo, CarNext.com, G-Star Raw, Jumbo Supermarkets, and Red Bull are some of his sponsors.
Brad Gushue: Early Life, Career & Family >>
Max Verstappen: Social Media Presence
Verstappen is currently the world's second most popular racer. As a result, he has a significant social media following.
As of December 2021, Verstappen has over 1.7 million Facebook fans and over 1.9 million Twitter followers. His Instagram followers, on the other hand, are over 5.5 million.
Max primarily uses his social media accounts to share information about his racing.
Max Verstappen: Interesting Facts
Max's parents had already been divorced for an extended period, but he had never dealt with the consequences. Instead, the couple was the most supportive of their son.

The car racer is a health-conscious individual. As a result, he routinely visits the gym and cycles.

Max absolutely hates spiders and shark sightings the most.
Max Verstappen: Frequently Asked Questions
Which footballer is Max's favorite?
Johan Cryuff is Verstappen's favorite footballer. He predominantly played for Barcelona and the Netherlands National Team.
Which video game is Max's favorite?
Max is a FIFA fanatic. Max enjoys playing FIFA on the PlayStation.
Who all has the star dated?
Max has dated quite a few women. Sabre Cook, Mikaela Ahlin-Kottulinsky, Joyce Godefridi, Roos Van Der Aa, Maxime Pourquié, and Dilara Salik are the names of the players. Max is now dating Kelly Piquet.