Alexander Mattison is one of the young and talented athletes as of now. He depicted that success is not defined by becoming a sportsman. But, it is more determined by what he became in life.
Patience is a virtue for Alexander that pushes him to keep doing what he wants to do. Eventually, his self-driven and dedication to his goal took him so far.
Alexander says that he is blessed every day because he wakes up. So, he tries to maximize his daily life to the fullest.
"Love the game…not the fame"
Let's take a sneak peek at Alexander Mattison's quick facts in the following table.
Quick Facts
Full Name
Alexander Mattison
Known as
Alex Mattison
Nickname
"Deuce"
Birth Date
June 19, 1998
Birth Place
San Bernardino, California, USA
Residence
San Bernardino, CA
Religion
Christianity
Nationality
American
Ethnicity
African-American
Education
San Bernardino High School (SBHS), Boise State University (2016-2018)
Horoscope
Gemini
Father's Name
Darrell Mattison
Mother's Name
Pearl Kilby-Mattison
Siblings
Two older twin brothers (Lamar and Darrell Jr.)
Age
24 Years Old
Height
5 feet and 11 inches (180 centimeters)
Weight
100 kilograms (220 pounds or lbs.)
Eye Color
Brown
Hair Color
Black
Body type
Mesomorph
Position
Running Back (R.B.)
Relationship Status
Dating
Girlfriend/Partner
Andrea Contreras Vazquez (Since High School)
Children
Under-Review
Ranking
#17
NFL Draft
May 2, 2019/ Round: 3/ Pick: 102
Roster Status
Active
NFL Team
Minnesota Vikings (#25)
Net Worth
$2.9 Million
Base Salary
$965 Thousand
Career History

First-Team All-MW (2018)
M.W. Championship Game MVP (2018)

NFL Statistics
Rushing Yards: 1,369, Rushing Average: 4.2%, Rushing Touchdowns: 6, Receptions: 54, Receiving Yards: 432, Receiving Touchdowns: 2
Social Media Presence
Facebook, Instagram, Twitter
Merch
Trading Card, Rookie Card
Last Update
June, 2023
Alexander Mattison | Early Life, Family, and Education
On June 19, 1998, Alexander Mattison was born to Mr. Darrell and Mrs. Pearl (nee Kilby) Mattison.
Moreover, he grew up with his two older twin brothers, Lamarr and Darrell Jr., in San Bernardino, California.
Mattison's father, Darrell Sr., is a retired U.S. army officer who served in the air service branch.
Similarly, his grandfather, James Mattison, and his paternal uncle, Lawrence Mattison, were also the United States Armed Forces veterans.
Regarding Alexander's education, he attended San Bernardino High School. He played as a right-back for the San Bernandino Sun First Team from 2014 to 2015.
Mattison enrolled at Boise State University in 2016 as a student-athlete following high school graduation.
Furthermore, he played for the Boise State Broncos football team. He majored in Mass Communications during his college years.
Did You Know? Minnesota Vikings Head Coach Mike Zimmer Quite His American Football Career Due to His Neck Injury!
Alexander Mattison | Age, Height, and Horoscope
5 feet 11 inches tall, Alexander Mattison is 24 years old as of 2023. Moreover, he celebrates his birthday on June 19 every year with his family and friends.
Not to mention, the athlete weighs about 100kgs, and his hand is about 0.23 meters. Being born in June, Alexander's horoscope sign is Gemini.
Likewise, he can get along with fellow air signs, Aquarius and Libra. Nevertheless, he is not compatible with Virgo, Pisces, and Sagittarius signs.
Mattison loves being in the spotlight and always fights for people's attention.
He is goal-oriented, knows his worth, and is eager to prove it. Also, his personality traits are being easygoing, extroverted, and thoughtful.
Alexander Mattison | Surgery for Appendicitis
Two hundred pounds weighed athlete Alexander Mattison went through an inflammation after his Appendix became infected.
It caused him to suffer from appendicitis. It usually affects the lower right side of the abdomen.
Mattison decided to go for a surgical operation to remove appendicitis after his family doctor's advice. He underwent successful surgery on December 5, 2020, as per the NFL Network reporter Tom Pelissero.
The Minnesota Vikings officials announced that Alexander would take some rest after the surgery.
Moreover, they will play without their star running back, Mattison, on Sunday, December 6, 2020, against the Jacksonville Jaguars.
What is more, Mattison was ruled out for December 2020's first weekend. He also ended up missing next weekend's NFL game against the Tampa Bay Buccaneers.
Alexander is not the only player to undergo surgery for appendicitis. Likewise, Cleveland Browns tight end Austin Hooper also recovered from the inflammation of his Appendix after a successful surgery.
Interesting: NFL Network Commentator Nate Burleson's Passion for Never Giving Up on American Football is Truly an Inspiration for Many Young Talents
Alexander Mattison | Net Worth and Salary
Alexander Mattison maintains a fruitful net worth of $2.9 million in 2022. He has been on a 4-year contract with the Minnesota Vikings since 2019.
Mattison earns $867 thousand as an annual average salary. Per the cap hit details, He also receives $822,172 as a signing bonus from his contract with the Vikings.
Mattison made a $1.3 million pay cheque in his first season with the Vikings. Furthermore, he garnered $787 thousand in 2020.
Alexander then collected a whopping $850 thousand from his third season with the Vikings. So, his total NFL earnings are up to $2,954,479 from his overall three seasons with the Vikings.
Mattison is also making handsome earnings from his brand endorsement deals. He recently did a paid-partnership promotion for FashionNovaMEN's NovaMen.
The player also promoted brands like Gifted Designs and Wasserman NFL.
Learn more about his Boise State stats and keeper value on his Dynasty Profile.
Alexander Mattison | Updates since December 2020
Out for Week 13
On the 13th Week, Mattison took sick leave for an appendectomy. And during such period, Dalvin Cook was racking touch with him. I.e., also declared that Ameer Abdullah and Mike Boone would be staying by Cook that weekend.
Remained out of Wednesday's Practice
As illness kept on making him suffer, Mattison had to expect Cook to get over 30 touchmark against the Bucs in the upcoming Week 14.
Remained out of Thursday's Practice
Pattison's absence helped Cook tank as a top-five player in fantasy as he ran wild for a career-high 32 carriers and 38 total touches. However, Mattison's floor gets sidelined.
Out for Week 14 against the Buccaneers
His absence made his fans miss him Week after Week since he was not present even in practice sessions.
Even though he made Dalvin Cook lift his career, he was also paving his path for the upcoming match against the Buccaneers.
Interesting: John McVay is a Living NFL Legend whose Significant Role as a Player and Coach Inspires Many Youths Around the Globe
Remained out of Wednesday's Practice
Although Mattison is healing from his emergency surgery, Boone and Abdullah are expected to be around Dalvin Cook to see whatever comes in the match against the Bears in the 15th Week.
Came back for Practice
After December 4, Mattison was finally able to be present for Practice. Likewise, Boone and Abdullah split leftover behind Dalvin Cook in the recent two games.
But the situation won't be the same if Mattisoncano comes back in regular sessions.
Ready to be active for 15 Week
After suffering from Appendix surgery, Mattison had to miss the last two games. And in that period, Dalvin Cook got a lot of workloads. Dook did his best to remain plugged into the elite category. during such time
Get back for Practice with a protocol.
In week 15, Mattison has only a few times left to get cleared for the upcoming game on Friday against the Saints. His fans are expecting him to be there though there's Christmas Day.
Out for Week 16 against the Saints
For the complete recovery of Mattison from his appendectomy, he decided that his fellow mates Ameer Abdullah and Mike Boone would do mix and match, supporting Dalvin Cook from behind.
Also Read: New York Jets Quarterback Sam Darnold is one of the Youngest Talents with a 110 NFL rating in the history of American football!
Practicing for Wednesday
Before this, Mattison touched the ball just seven times despite having Dalvin Cook by his side.
He was involved in RB1/2 conversation for Week 17 fantasy players against the most awaited match against the Lions' broken defense. This time he needs to split his time with Boone and Abdullah.
Win over the Lions
On this matchday, though, he barely collab with Boone and Abdullah but was able to rush for 21 times in 95 yards and one touchdown. Besides this game, he missed the other three games because of his current health condition.
Nevertheless, he still maintained at least 4.5 yards per carrying for the second next straight season. Cook, Boone, and Abdullah were booked for Vikings in 2021.
This day has become a great day. On this day, Dalvin Cook was already not been running back since his father's sudden demise; the Vikings did not agree to lean on his replacement.
And in such a situation for the team, both Alexander Mattison and Mike Boone pushed themselves and made a Detroit victory.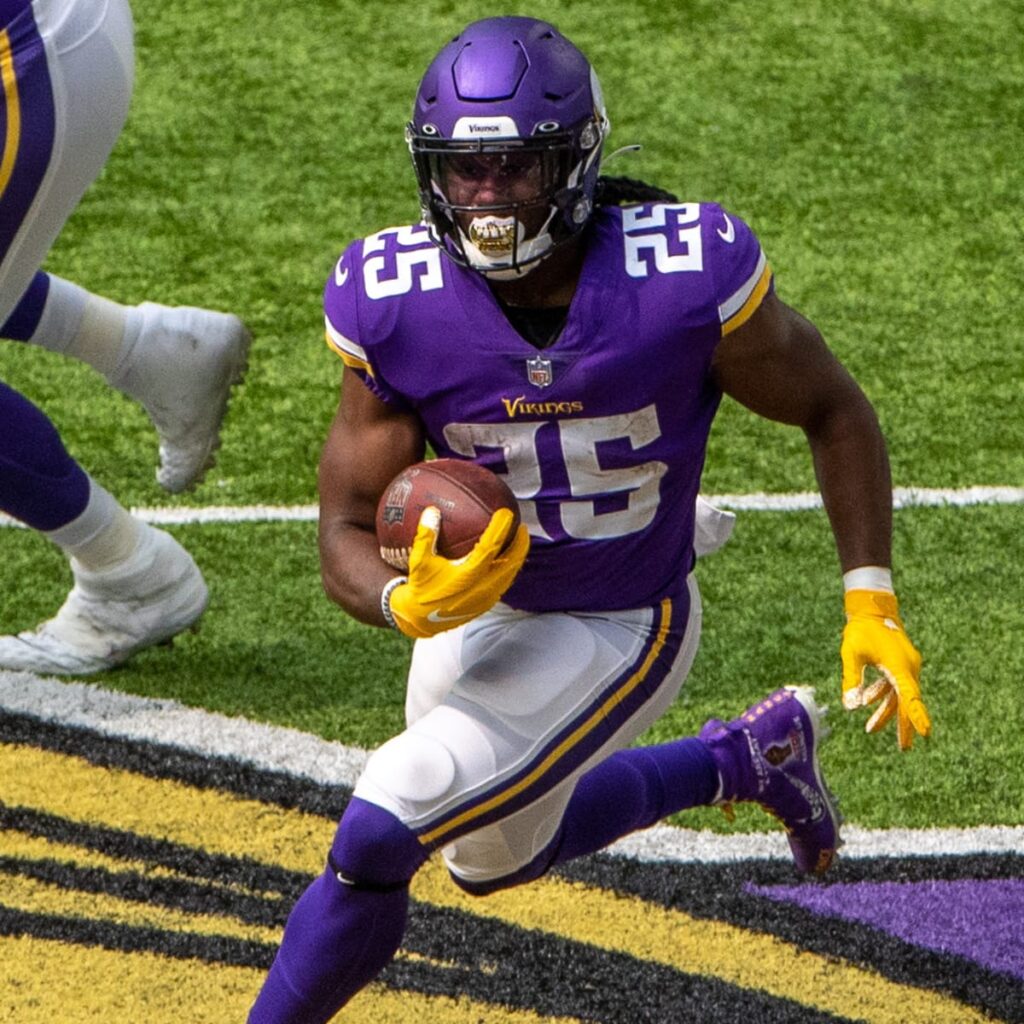 By the time quarterback Kirk Cousins started 2-for-7 for 20 yards, it had become a play-action pass on fourth down that brought both Alexander and Boone to cheer up on a 28-yard catch, run, and juke for an initial touchdown.
Likewise, Boone started last quarter with three runs for 28 yards making the Lions out. In the end, Mattison and Boone were able to rush for 49 yards in the final frame just before Kirk's cousins knelt out of time.
Mattison was recorded to rush 21 times for 95 yards in this match, and a T.C. caught all three targets for 50 yards. His teams score 37-35 in Vikings over the Lions on Sunday.
Statements of Kirk's Cousins About the Match On December 3, 2021
Every athlete needs to have the guts to face a challenge against their opponent positively and to get a match against Alexander Mattison; it's a great opportunity for players to get a chance to defeat him and his team.
In this matter, though Mattison defects against Kirk's cousin, he said he felt great to use all of his willpower to defeat Alexander Mattison and Mike Boone.
Read More: Retired NFL Wide Receiver Willie Jake Reed Established a Charity Foundation, the Jake and Vinita Reed with His Beloved Wife, Vinita Reed So Far!
He further explained that he is satisfied and happy to get them more opportunities in the future with their ability, but he still feels there's a lot to improve from what they got to experience from this year's matches.
Alexander Mattison's injury report
Mattison was not completely recovered from the Appendix's operation since it took time to recover in the athlete's tight muscles.
Besides that, Mattison had to check on himself if he could join the Practice on the field. Either that, with athletic injuries, Mattison is on the field to face up new challenges.
Alexander Mattison | Girlfriend, Wife, and Kids
The footballer is currently dating Andrea Contreras Vazquez. The pair met in high school and kindled their love as teenagers.
Andrea is also an athlete who specializes in track and field. Similarly, she has an older brother who is also a track and field athlete.
Most of Vazquez's Instagram handle is filled with pictures of her with her teammates. She can also be seen on the field representing her school's jersey.
Moreover, Andrea was an exceptional runner and showed complete and utter devotion to her sport. She was even inducted into the 2015 Cardinal Cross Country Hall of fame.
Not to mention, the track and field athlete is also a beauty pageant and was a contestant in the 2015 Miss Cardinal. She managed to make it to the top five in the competition.
Besides that, Vazquez is a fitness freak and works out almost every single day. If she misses a day at the gym, she makes sure to work out at home.
She also promotes her activewear line called Laki or Laki Active on her social media handles. Furthermore, Andrea attended Boise State University alongside her boyfriend.
She was an unwavering support system for Mattison during his collegiate years and continues to stand by him through thick and thin.
Pregnancy announcement
The high school sweethearts recently announced on Instagram that they were pregnant with their first child. Likewise, they did a gender reveal and found out that they were going to be parents to a beautiful baby girl.
Mattison expressed his excitement about being a girl dad by posting the gender reveal video on his social media handle.
Social Media Presence
Facebook: Alexander Mattison Official (1.6k followers)
Instagram: @alex_mattison (71.5k followers)
Twitter: @AlexMattison22 (12.6k followers)
Alexander Mattison | FAQs
Is Alexander Mattison good?
Since Alexander suffered and had a quick surgery on Appendix, he gave his best matches. In 2019, he topped the 50-yard mark five different times.
What is Alexander's Boise State stats like?
During his college days, Alexander maintained a statistic of 2,829 rushing yards, 511 receiving yards, and 3,340 scrimmage yards.
Should you draft Alexander Mattison, Aaron Jones, Elijah Mitchell, Giovani Bernard, or James Robinson?
Between Mattison and Jones, Mattison and Mitchell, Mattison and Bernard, and Mattison and Robinson, most of the experts recommend drafting Alexander.
What are Alexander's 40-yard dash time and 20-yard shuttle time?
He depicts a 40-yard dash time as 4.67 seconds, while his 20-yard shuttle time is 4.29 seconds.
Is Alexander Mattison a free agent?
No, the athlete is currently playing for the Minnesota Vikings.