Alexis DeJoria is a drag racer who competes in the National Hot Rod Association (NHRA) Funny Car category. She previously drove a Toyota Camry for Kalitta Motorsports sponsored by Patron Spirits Company.
She started her NHRA career in 2005, competing in the Super Gas class before becoming a Super Comp dragster. Eight months after her debut, Alexis won the Sportsman Nationals.
In 2009, she built her own team, Stealth Motorsports. The drag racer earned her first victory at the 2011 NHRA Northwest Fall National event in TA/FC, becoming the second woman to do in history.
The most famous drag racers in America have accumulated a massive net worth of $100 million as of 2023.
Aside from her career and net worth, not all are aware of her personal life, like her husband, family, marriage, etc. Let's get to know her a bit better now, shall we?
But before that, let's look at her quick facts.
Quick Facts
| | |
| --- | --- |
| Full Name | Alexis DeJoria |
| Birth Date | September 24, 1977 |
| Birth Place | Venice Beach, California |
| Known as | Alexis |
| Religion | Christainity |
| Nationality | American |
| Ethnicity | White |
| School | Frank Howley's Drag School |
| Horoscope | Libra |
| Father's Name | John Paul DeJoria |
| Mother's Name | Jamie Briggs |
| Siblings | Five |
| Age | 46 Years Old |
| Height | 5'8″/1.73 m/173 cm |
| Weight | 59 kg/130 lb |
| Build | Slender |
| Eye Color | Grey |
| Hair Color | Dark Brown |
| Marital Status | Married |
| Husband | Jesse James |
| Children | Bella (Daughter) |
| Profession | Drag Racer |
| Net Worth | $100 Million |
| Social Media | Instagram, Twitter |
| Last Update | November 2023 |
Early life, Family, & Childhood
Born to be a racer, Alexis DeJoria was born in Venice Beach, California. She is the daughter of John Paul DeJoria and his former wife, Jamie Briggs.
After their separation, John married Eloise Broady, a former Playboy model.
From her father's relationships, DeJoria got four siblings: John Anthony DeJario, Michael DeJario, Justin DeJario, and John Paul DeJario II, and a half-sister named Michaeline DeJario.
Also, from her mother's side, she has another half-sister named Chloe Briggs.
Alexis is American by nationality and belongs to white ethnic background. According to her, she was always the wild child in the family, often skateboarding and breaking bones.
Age & Body Measurements
The famous drag car racer, Alexis DeJoria, was born in 1977, which makes her 46 years old in 2023.
DeJoria celebrates her birthday every year on September 24 and was born under the sign Libra. People of this sign are known to be intelligent, attractive, and competent.
Aside from her competitive spirit on the track, the bold and attractive drag racer stands at 5'8″/1.73 m tall and weighs 59 kg/130 lb.
Not to mention, she has long, dark brown hair and stunning grey eyes.
Professional Career
Alexis DeJario was only 16 when she fell in love with drag racing.
Apparently, after her friend took her to the Pomona Drag Strip located in California, DeJario instantly fell in love with it and decided to pursue a career in it.
To fulfill her now newfound passion, Alexis left her hometown and moved to Florida, where she attended Frank Howley's Drag School.
In 2005, Alexis started her professional NHRA (National Hot Rod Association) career and established herself as one of the best since the beginning.
Eight months after her debut, Alexis won the Sportsman Nationals held in Fontana, California. Similarly, DeJario spent the next two years racing in Top Alcohol Funny Car (TA/FC) on the West coast.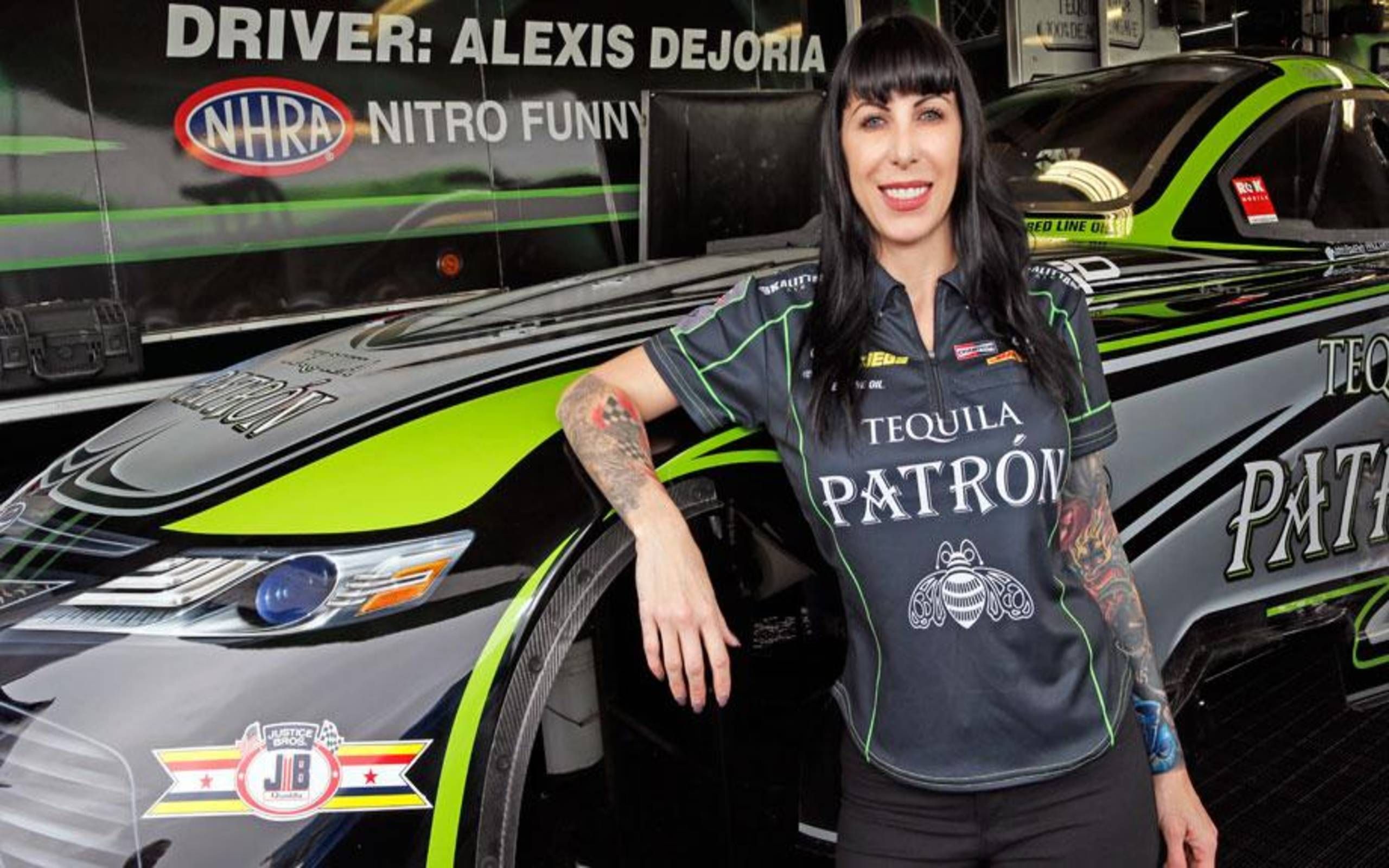 Shortly after, she established her own racing team called Stealth Motorsports back in 2009. Alexis became the second woman in the racing world to win the NHRA National event, which was also her first win.
Alexis transitioned to a nitro fuel funny car at the 2011 Texas Fall Nationals after moving to Kalitta Motorsports.
The year 2012 proved to be significant for her as she raced her first final-round appearance at Bristol. That same year, she set two career-best records with a run of 4.032 and a speed of 319.07 mph at reading.
Further
In 2014, DeJario became the first woman to make a sub-four second pass, with a 3.997 second during the NHRA Winternationals at Pomona.
Later in September, she won the US Nationals held in Indianapolis. On June 7, 2015, DeJoria reached the final round in Top Fuel Funny Car in the NHRA Summernationals at Englishtown.
DeJario announced her return from a two-year hiatus in late 2019. At the same time, she signed a multi-year sponsorship deal with ROKiT Phones and ABK Beer, with branding appearing on her vehicle, driver, and merchandise.
Car Accidents
Drag racing is a competitive sport where many racers lose their life because of high speed. Until now, Alexis had been in two significant accidents, one in 2012 and one in 2016.
In 2012, she got into a car accident at an event in Englishtown when her parachutes tore apart the car's rear end.
She hit the sand trap at 130 mph and went through two safety nets before stopping at the fourth row of sand-filled plastic barrels.
During the Toyota's NHRA Sonoma Nationals on July 31, 2016, Alexis DeJoria hit the wall and crashed her car. Fortunately, she wasn't severely injured and hence, was left only with a few minor bruises.
As for the treatment, she indulged in electromagnetic therapy and low-level laser treatments to encourage cell function.
It took her less than five weeks to get back on the racing track.
Married Life
Alexis DeJario was married to Jesse James for eight years. They started dating in September 2012 and got married on March 25, 2013, in California at Alexis's family estate.
For their big day, DeJario wore a traditional white wedding gown with a black floral design. Not to mention, the dress was strapless and showcased the beautiful tattoos on her arms.
On the other hand, James wore a standard black suit, a white shirt, and a black tie. Many of their friends and family attended a beautiful wedding ceremony.
Unfortunately, the duo is divorced now, as James announced through his Instagram.
As a matter of fact, Alexis was James' fourth wife. He was previously married to Karla James, Janine Lindemulder, and Sandra Bullock.
As of 2023, the two look after their children, all from their previous marriage.
Alexis has a daughter named Bella from her last marriage, and James has three daughters, Chandler and Sunny, and a son named Eli.
Talking about her ex-husband, James is well-known for his expertise in building customized motorcycles and automobiles; he was also the CEO of West Coast Choppers.
James' mad skills made him the toast of reality TV, and he appeared in shows such as Sons of Guns and Celebrity Apprentice.
He has also hosted shows, including Monster Garage and Jesse James, a Dead Man.
Who Is Alexis DeJario Dating In 2023?
Alexis Dejario is currently dating Cody King. He goes by the name @king_of_congress on Instagram.
It's unknown when the pair started dating. However, they seem very close to each other.
Net Worth & Salary
The famous female drag racer, Alexis DeJario, is a fan favorite and has garnered name and fame from her successive career.
As of 2023, Alexis's aggregate net worth of $100 million in 2023.
It does not come as a surprise as her father, John Paul, is also a billionaire founder of the tequila company Patron and Paul Mitchell Hair Care Products.
Hence, some portion of her net worth comes from her inheritance from the family's fortune.
Aside from her racing career, DeJoria also earns from her acting and hosting programs. However, her exact assets and income have not been publicized to date.
Furthermore, Alexis also believes in giving back to the community. She actively supports and participates in breast cancer awareness initiatives.
DeJoria has also partnered with the Nevada Health Centers, Toyota Racing, and Patrón Tequila to provide Free Mammograms for the fans at the NHRA Toyota Nationals in Las Vegas, Nevada.
Social Media Presence
The American drag racer is active on various social media platforms like Instagram and Twitter.
Instagram: 100k followers
Twitter: 49.1k followers
View this post on Instagram
Popularity
Alexis DeJoria is an American drag racer who competes in the National Hot Association (NHRA) Funny Car Category.
The graph shows her search trend for 12 months.
Frequently Asked Questions (FAQS)
What nationality is Alexis DeJoria?
Alexis DeJoria is American by Nationality and belongs to the white ethnicity.
Did Alexis DeJoria play in Snake and Mongoose?
Yes, Alexis played the role of Paula in the 2013 movie Snake and Mongoose.
When did Alexis DeJoria return?
Alexis DeJoria announced her return to competitive racing in late 2019, led by crew chiefs Nicky Boninfante and Del Worsham.
Which commercial was Alexis DeJoria featured in?
Alexis DeJoria was featured in Patron TV commercials.
Did Alexis DeJoria win in 2021?
Alexis DeJoria won for the sixth time in her career and the first time with the Bandero Premium Tequila ROKiT Toyota Camry team at NHRA Thunder Valley Nationals at Bristol Dragway on October 17, 2021.