Alina Zagitova is one of Russia's greatest ever figures skaters and the first Muslim athlete to win Olympic gold.
She is the only Russian figure skater who has won all the major ISU championships, including the Olympics, World Championships, European Championship, Grand Prix Final, and the Russian national championship.
Yuna Kim of South Korea had only set the record. Thus, Alina is the youngest figure skater and second in the world to do so.
Her dominance as a figure skater has been incredible since her Olympic Win. Also, Alina is one of the strongest contenders to bring another gold to Russia in the 2022 Beijing Olympics.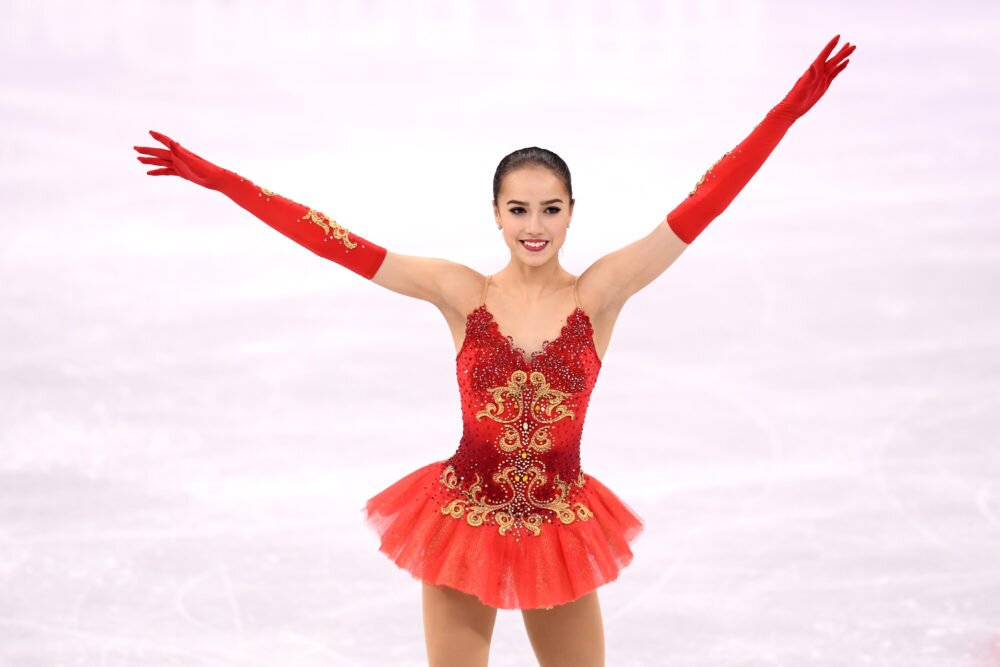 However, the figure skater took a hiatus from her peaking career and has been inactive for years now. In addition, the Russian team has omitted her name from the 2022 national athletes list.
This has led to a question mark if she would maintain her momentum as a figure skater or not. So why did Alina Zagitova take a break and risk her peaking career?
This article will uncover the reason behind Alina Zagitova's hiatus and her journey of becoming a famous figure skater.
But, before that, let's know her briefly with her Quick Facts.
Quick Facts
Full Name
Alina Ilnazovna Zagitova
Name
Alina Zagitova
Native Name
Алина Ильназовна Загитова
Date of Birth
18 May 2002
Age
21 years old
Birth Place
Izhevsk, Udmurtia, Russia
Residence
Moscow, Russia
Nationality
Russian
Ethnicity
Tatar
Religion
Muslim
Zodiac Sign
Taurus
Height
1.60 m (5 feet 3 inches)
Weight
43 kg
Hair Color
Black
Eye Color
Dark Brown
Father's Name
Ilnaz Zagitova
Mother's Name
Leysan Zagitova
Siblings
1; Sabina Zagitova
Education
Journalism
College
Russian Presidential Academy of National Economy and Public Administration (RANEPA)
Marital Status
Unmarried
Boyfriend
Not Available
Children
None
Profession
Figure Skater
Olympics wins
1 Gold (2018) and 1 Silver (2018)
Medals
6 Gold and 3 Silver.
Rider Type
Off-road
Club
Sambo-70
Debut Year
2007
Status
Active
Major Achievement

Russia's first Muslim athlete to win Olympic gold.
Youngest female figure skater to win all major ISU championships.

Net Worth
$1- $5 million
Social Media
Instagram, Tiktok
Merch
Legends of Women Figure Skating (Hardcover)
Last Update
September, 2023
Alina Zagitova | Personal Life
Alina Zagitova was born on 18 May 2002 in the Russian city, Izhevsk. The city lies around 800 miles east of Moscow.
She is the eldest daughter of Leysan Zagitova (Mother) and Ilnaz Zagitova (Father). Zagitova is five years older than her younger sister Sabina Zagitova.
Alina's father, Ilnaz, is a former ice hockey coach from Tatarstan. Both of her parents are Volga Tatars. Tatars are an ethnic Muslim minority in Russia to those who don't know.
But, her mother decided that she should move to the capital to find better opportunities in her life. So, Zagitova moved to Moscow to live with her grandmother when she was 13.
Alina was named after the famous Russian rhythmic gymnast Alina Kabaeva. The performance of Kabaeva moved her parents and thus, thought to name Alina after her.
Zagitova regards Alina Kabaeva as her role model and says she was impressed with her performance and looks up to her.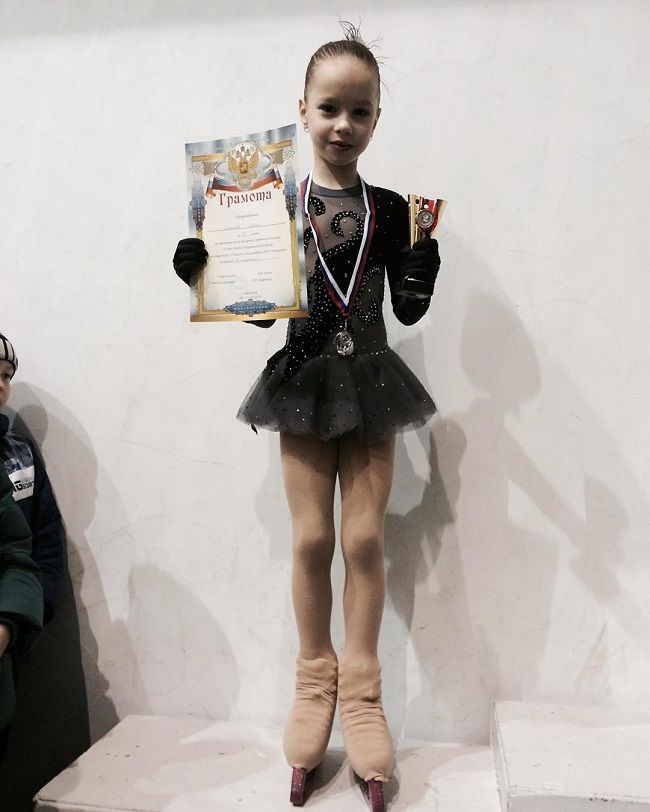 Apart from this, Alina loved drawing when she was a child. Also, she is a huge animal lover and has raised chinchillas as a pet.
She also owns an Akita Inu dog given to her by a Japanese as a gift after the Pyeonchang Olympics. She has named her Masaru.
In June 2020, Zagitova passed her Unified State Examinations (USE) and enrolled in the Russian Presidential Academy of National Economy and Public Administration (RANEPA) to pursue a journalism degree.
Alina Zagitova | Career as Figure Skater
How did Alina Zagitova start Figure Skating?
Alina's father was an ice hockey coach for the Neftyanik team. So, Alina was familiar with winter sports, and through his connections, she began official skating lessons when she was four years old.
But, she then traveled to Moscow on her own to get professional coaching lessons. Initially, the coaches thought Alina was too fat and not so pretty to make it to the sports. But, she proved them wrong.
Zagitova managed to finish 9th at the 2016 Russian Junior Championships with her perseverance. In addition, she placed 12th in the short program and 8th in the free skate.
Nevertheless, this was the stepping stone to Zagitova's professional career.
Becoming World Junior Champion
Zagitova made her international debut in a 2016–17 ISU Junior Grand Prix (JGP) competition in Saint-Gervais-Les-Bains, France.
She won the gold medal with an overall score of 194.37 points. It was the second-highest score by a single female skater at the junior level.
Zagitova took first place in both parts of France, setting new junior females' records in all categories. With 207.43 points, she won gold, 13 points ahead of her rival and silver medalist Anastasiia Gubanova.
Thus, she became the first female junior skater in history to achieve more than 200 points.
Zagitova competed at the senior level at the 2017 Russian Championships in late December. She placed third in the short and second in the free and thus, won the second position overall.
The Russian figure skater won the short program with 70.58 points at Taipei's 2017 World Junior Championships. She also took the first position and won a gold medal in the free program.
She recorded two new world records in junior ladies' free skating (138.02 points) and a combined total (208.60 points).
Becoming the World Champion.
Zagitova debuted her first Grand Prix event of the season in 2018. She was ranked first in both the short program and the free skate.
Zagitova also won the short program at the 2019 Russian Championships. However, she struggled and fell twice, resulting in a poor free skate.
Despite finishing fifth in the free skate and 12th overall, Zagitova was given an automatic spot on the Russian team for the European Championships.
This was because the top three skaters were junior competitors and thus were ineligible.
Thus, Zagitova represented Russia in the 2019 European championship and won the short program.
But, she struggled in the free skate and even fell once. This had a major impact on her overall score, and she ended up ranking fourth in the free skate.
However, her victory in the short program covered her free skate score, and she ended up in second place overall.
Zagitove then represented Russia at the 2019 World Championships held in Saitama, Japan. Again, she gave her best performance, thus earning the season's best score of 82.08.
Zagitova won the 2018 European Championships in Moscow, defeating Medvedeva, who had been undefeated for more than two years. This gave her an entry ticket to Olympics 2018.
You may also like reading about Figure Skater Aljona Savchenko>>
Winning the Olympic Gold
Thanks to Alina Zagitova, Russia brought two Olympic medals for figure skating in the 2018 Olympics. Not only the gold, but Russia also set a new Olympic record in figure skating.
Zagitova's win in the women's free skating at the Olympics team event helped Russia win a silver medal in the competition.
She also earned a new personal best and broke the record for the highest-ever technical score in the ladies' team figure skating with 158.08.
In the ladies' individual event, Zagitova skated a flawless short program to set a new world record of 82.92. She surpassed Medvedeva's previous mark of 81.61 sets earlier that evening.
She brought home the most anticipated gold medal. It was a huge achievement for Russia, and even Russian President Vladimir Putin left a congratulatory message for her on the official kremlin website.
The Zagitova Rule
Alina Zagitova won gold at the 2018 Winter Olympics with a technique that shocked everyone.
She backloaded her free skate and timed all of her incredible jumps in the second half so that she could take bonus points.
After this, International Skating Union (ISU) applied the new rule that single skaters could only repeat the same two triple or quadruple jumps in their free skating performances.
They could only do four-revolution jumps once. This new rule was named the Zagitova rule.
The Hiatus from Peaking Career
Following the 2019 Grand Prix Final, Zagitova announced that she would be taking a break in her career. As a result, she withdrew from the 2020 European Championships.
Zagitova announced that she lacked the motivation to compete and extended her hiatus to 2021 as she has no intentions of a comeback.
On 14 May 2021, Russia's national team announced that Zagitova is not included in the 2021-22 season; thus, her participation in the 2022 Beijing Olympics is questionable.
You may also like reading about Nathan Chen Bio: Career, Education, Net Worth & Family >>
Alina Zagitiva | Awards and Achievements
Order of Friendship award by Vladimir Putin for her Olympic win at the 2018 Winter Olympics
Two-time Silver Doe Prize recipient as one of the best athletes of Russia in 2017 and 2018.

Named as '

Athlete of the Year

' in 2018

Listed in Forbes Russia's

Top 30 Under 30

list

Listed in Top 40 most successful Russians from the sport

Awarded '

Sportswoman of the Year

' at the 2019 Glamour Russia Awards
Alina Zagitova | World Records
Alina Zagitova is a four-time world record holder under the +5 / -5 GOE (Grade of Execution) system.
She scored 238.43 (Combined total ) and 158.50 ( Free skate record) in the 2018 Nebelhorn Trophy, the highest scores in the respective category.
But, Fellow Russian figure skater Alexandra Trusova broke the score a year later.
However, she still holds the highest score in the Senior ladies short program with 79.93, which no one has beaten yet.
Before executing the new grading system, Alina set one senior world record score and five junior world records.
She set a historical record of 89.82 in the 2018 Olympics, which has not been beaten yet. Also, Zagitova scored 207.93 in the 2016 Junior Grand Prix final and became the first junior to score above 200 points.
Alina Zagitova | Net worth
The net worth of Alina Zagitova is estimated to be anywhere between $1 million – $5 million. She earned the net worth of her career as a figure skater.
Russia pays $61,000 with additional luxury cars to Olympic gold medalists. Zagitova brought Russia its anticipated gold medal for figure skating in the 2018 Olympics.
It's not known how much incentive she was given for this medal, but it can be assumed she made a good fortune out of it.
Apart from this, she has also earned good fortune through endorsements. She is the brand ambassador of several brands such as Puma, Sberbank of Russia, Pepsi, etc.
She was also featured as the cover girl on the Cosmopolitian Magazine Russia in May 2020 edition.
You may also like reading about Russian Olympic Rhythmic Gymnast Margarita Mamun>>
Social Media Presence
You can surely go through her social media handles and give her a follow to know her better.
Instagram: 950K followers
Tiktok: 355K followers
Frequently Asked Questions
Did Alina Zagitova retire?
No, Alina Zagitova hasn't officially retired yet. She is currently on her career break and would probably return when she feels like competing again.
What skates does Alina Zagitova use?
Alina Zagitova uses Jackson Ultima Skates. She says she finds the skate convenient, and the matrix blades in the skate give her liberty on the ice.
Is Alina Zagitova dating Vladimir Putin ?
No. the Russian figure skater is not dating Vladimir Putin. Not to be confused with Alina Kabaeva, a former gymnast who is rumored to be dating Vladimir Putin.