Figure skating is one of the most spectacular sports out there. Especially pair skating, where a couple of figure skaters glide through the ice in unison, might be more popular than individual skating.
While talking about pair skaters, the name of Aljona always comes up.
The Ukrainian-born German skater is one of the most decorated skaters of all time. She has changed multiple skating partners over the years, but one thing has stayed consistent with her performance.
Aljona has also coached various skaters throughout her competitive career.
Her celebrated career has brought her fame, admiration, and money. But, most importantly, it has brought her opportunities to be in the 5 Olympics, which is one of the highest times anyone has ever been in the Olympics.
The queen of the ice is a multiple-time world champion and has one Olympic gold medal.
Aljona has had an interesting life. The skater was born in Ukraine and moved to Germany just for the sake of skating.
This article will go through the ups and downs of the champion's life in detail. We will also talk about her family life and career. But first, here are some interesting quick facts:
Aljona Savchenko: Quick Facts
| | |
| --- | --- |
| Full Name | Olena Valentynivna Savchenko |
| Native Name | Олена Валентинівна Савченко |
| Common name | Aljona |
| Nick Name | Aliona, Aljona Sawtschenko |
| Birthdate | 19 January 1984 |
| Age | 39 years old |
| Zodiac Sign | Aquarius |
| Mother's Name | Nina Savchenko |
| Father's Name | Valentyn Savchenko |
| Siblings | Three brothers |
| Birthplace | Obukhiv, Kyiv Oblast, Ukrainian SSR, Soviet Union |
| Home Town | Obukhiv |
| Citizenship | Germany |
| Residence | Oberstdorf, Germany |
| Education | N/A |
| Height | 1.53 m (5 feet) |
| Weight | 46 kg (101 lbs) |
| Religion | Christianity |
| Eye Colour | Brown |
| Hair Colour | Blonde |
| Shoe Size | N/A |
| Martial Status | Married |
| Married Date | 18 August 2016 |
| Husband | Liam Cross |
| Children | One daughter (Amilia) |
| Sport | Figure Skating |
| Events | Pair Skating |
| World champion | Five times |
| Olympic Wins | Two bronze (2014, 2010), 1 Gold (2018) |
| German Nationals | Eight Times |
| European Championships | Four Times |
| Countries | The USA, Germany (former), Ukraine (former) |
| Club | EC Oberstdorf |
| Former Partners | Bruno Massot, Robin Szolkowy, Stanislav Morozov |
| Status | Active |
| Hobbies | Reading, Custome Designing |
| Net Worth | $4 Million |
| Highest Rank | 245.84 WR (combined total) |
| Social Media | Facebook, Twitter, Instagram |
| Website | Cash4Day |
| Merch | |
| Last-Update | March, 2023 |
Aljona Savchenko: Early Life
Aljona was born in Obukhiv city of Ukraine, which is nearby the capital city, Kyiv. She
Aljiona started skating at the age of five. Figure skating was popular in USSR, and she watched it on TV with her parents. She asked for a pair of skates for her birthday one year, and her father took her to a frozen lake to practice skate.
Her father is a renowned weightlifter, which made it easier for her to get into sports. However, she started pair skating very later. She was 13 when she fell for the gorgeous moves pair skaters put on the rink. And after that, there was no looking back.
Aljona is a big name in skating now, but things were not always the same. During her initial days, she traveled to Kyiv every day on a bus from her home because she could not afford the rent of an apartment in the city.
The officials in Ukraine did not spend much on the skaters except for one dress and one pair of skates. All other customers were sewn at the expense of her own.
<<< You might also like: Tessa Virtue Net Worth: House & Charity Work >>>
Aljona Savchenko:
Career
Aljona's first pair was Dmytro Boyenko, with whom she landed in 13th place in the 1998 world junior championships. After that, she won the 2000 world junior with her new partner Stanislav Morozov.
The pair also won the Ukrainian national title twice. After the 2002 Olympics, she moved to Germany because she was frustrated with the lack of support skaters received in Ukraine.
Starting a new life in Germany
She partnered with Robin Ziolkowski, with whom she had a long pairing full of achievements.
The couple won World Championships five times (2008,2009,2011,2012,2014), Grand Prix four times (2007,2010,2011,2013) and German National Championships nine times (2009-2014, except for 2010).
After Zolkowsky retired, she partnered with Bruno Massot from France. Unfortunately, ISU has rules of not allowing a pair to compete under two different flags.
Bruno decided to compete for Germany and was released from FFSG (french figure skating federation) in October 2015. The pair has won the 2018 Olympics and 2018 World Champion and the German Nationals twice (2016,2018).
They announced an indefinite break from competition following their world championship win. Then, on April 20201, they announced that they would not be returning to the competition.
It looked like the champion had retired from skating altogether, but a new announcement was made in June, to everyone's surprise.
Apparently, Savchneko had decided to de-retire herself and return to the rink, this time under the U.S figure skating. She shared the good news on social media amidst the delightful fans.
Olympics
Aljona is an Olympic veteran, having participated in 5 Olympics so far. Her first Olympics was 2002 salt lake city with partner Morozov, where they placed 15th.
By the 2006 Olympics, she had already moved to Germany and had acquired German citizenship. She went to Turin Olympics with her new partner, Robin Szolkowky, where they finished sixth.
In the 2010 Olympics, the pair won a bronze and earned their personal best score of 75.96. However, at the 2014 Olympics, they had to be satisfied with a bronze medal again.
Finally, Aljona competed in the 2018 Olympics with a new partner, Bruno Massot.
On 15th February 2018, the pair set a new world record in the free skate with 159.31. They ended up winning the gold medal, with Aljona becoming one of the oldest women to win Olympic gold.
The talented athlete commented after her win, "I never give up. All my life, I've been fighting."
Shows
Aljona has been a part of ice skating shows numerous times during her career. Most notably, she has taken part in art on ice in Switzerland 12 times.
In addition to that, she has skated in 'All that Skate' show in Korea, 'Music on Ice' in Switzerland, 'Emotions on Ice' in Germany., and shows like 'Opera on Ice,' 'Hit on Ice,' and 'Plushenko and Friends' in Italy. Besides that, she has done various shows in Japan.
In 2018, the pair worked as ambassadors of the newfound ' Holiday in Ice Academy.' They were the star guests of Holiday on Ice: showtime that year.
Unfortunately, the duo could not skate during spring 2018 and summer 2019 because of Alijona's pregnancy. However, she returned on the ice again in December 2019.
The pair made their comeback in February 2020 on holiday on ice in Hamburg.
<<< Also read: Peggy Fleming Bio: Olympics, Net Worth, Trophy & Husband >>>
Coaching
The talented skater has helped many young talents in shaping their skill. She coached the German national team during her off-season.
In addition, she coached American pair skaters Alexa Scimeca Knierim and Chris Knierim from May to October 2018.
She also coached Aya Hatakawa in 2019, who went on to win German Novice Nationals in 2019 and silver medals at Junior and Senior Nationals in 2020.
Aljona Savchenko: Net Worth and Sponserships
Ukrainian-german figure skater Aljona has a net worth of $4 Million. In Russia, skating is more popular than in Germany, so skaters have more financial security in Russia.
However, a skater in a top-level does receive a salary. While the pay is not very high, Aljona, a leader of the German team and one of the most popular figures in skating, has it a little bit easier than the most.
In 2019, she mentioned that the federation did not pay their head coach due to suspicion of political misconduct. So the pair paid him with their own prize money.
Since they were frequently winning and has good support from the sponsors, it worked well.
We can also find Aljona promoting various brands via her social media page. Some notable collaborations are with Mint Cosmetics and Nature Basics.
<<< You might also like: Clara Hughes Net Worth: Income, Investments & Charity >>>
Book
Several books have been written about the ice queen so far. Aljona herself announced her biography in December 2019, which would be written by Alexandria Illina.
The book is titled 'Der Lange Weg Zum Olympischen Gold' which translates to 'The long road to Olympic gold.' It became a bestseller on Amazon within a day of release.
She has also been a subject in many different documentaries and shows so far.
Aljona Savchenko: Personal Life
Savchenko married her long term-boyfriend, Liam Cross, in 2016. Liam is an artist and illustrator. They have an interesting love story that makes everyone believe in love.
Liam is originally from England and moved to Germany around 2012 after finishing university for work. He was invited to a poker game one day, where he met Aljona Savchneko. However, he did not know anything about skating or Aljona.
During the initial days, communication was not great between the pair. Liam was not good at German, and Aljona was not fluent in English. They even tried communicating through sign language.
When Liam learned that Aljona had already been on the 4 Olympics, he was surprised and intimidated. Liam was working for the military at that time and thought, 'why would she be interested in me?'
Proposal and beyond
But the connection was unmistakable! It had only been six months of dating when Liam proposed. He was slightly nervous, but his mother reassured him.
Apparently, his father had proposed to his mom after six months of dating, and they had been married for 27 years.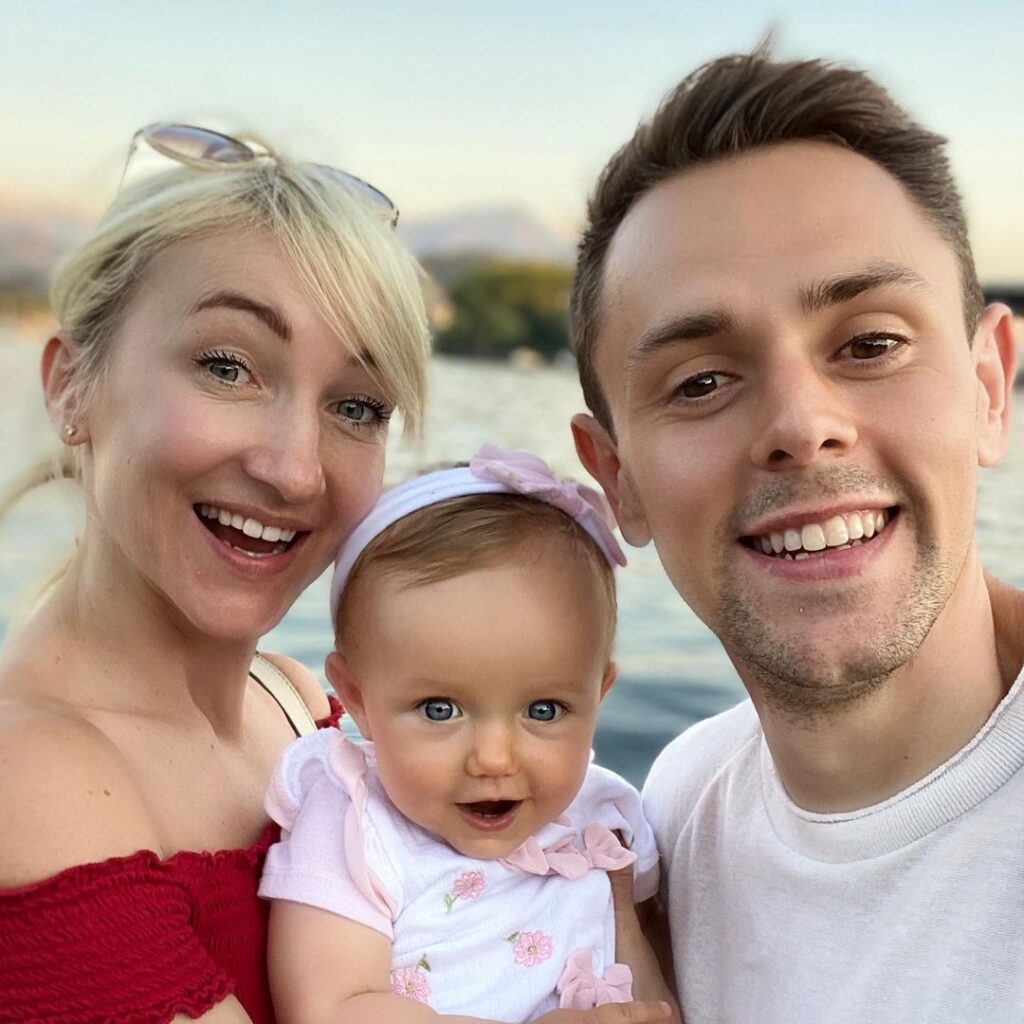 So he followed his guts and proposed to her. The first time he tried to purposed, he chickened, and things did not go as planned. But he mustered up the courage and did it again, keeping it plain and simple. And Aljona agreed wholeheartedly.
The couple's journey has been incredible to watch. The first person Aljona went to after winning her gold medal was her husband.
Liam doesn't miss any chance to show how much he admires her. His Instagram is full of the illustrations of his wife's moves on the ice that he drew. Their 2016 wedding took place in Germany with the views of the famous Neuschwanstein castle.
On the same day that she won her Olympic gold, Aljona found out that she was pregnant.
They welcomed their daughter, Amilia Savchenko cross, on 7th September 2019. The couple has created an Instagram page that is dedicated to their daughter.
Aljona Savchenko: Social Media
For the fans, social media is the best place to stay connected to Aljona. She is a frequent user of Instagram, Facebook, and Twitter.
Facebook (fan page): 10,400 followers
Instagram: 81.4k followers
Twitter: 3,000 followers
(Note: Above mentioned data is as of August 2021).
Aljona Savchenko: Frequently Asked Questions (FAQs)
Is Aljona Savchenko retired?
After a long and successful career, Aljona announced her retirement in May 2021. But to the delight of fans, she requested to be released to U.S figure skating, which was granted, meaning she will be resuming her competitive skating under the American flag.
Which country is Aljona Savchenko from?
Aljona is originally from Ukraine; she was born and brought up there. She relocated to Germany in 2003, at the age of 19. Germany provided her with citizenship on December 29, 2005.