Ice dancing is a celebrated sport that was included in the Winter Olympic Games in 1976. Likewise, before the Olympics, ice dancers previously would participate in World Figure Skating Championship as well.
Similarly, today we will be talking about an ice dancer named Tessa virtue. She is one of the Canadian Ice Dancers who has successfully accumulated a net worth of $2 million.
The retired ice dancer was born on 17th May 1989 in London, Ontario, Canada. Moreover, from a very young age, Tessa was frequently participating in gymnastics and other similar activities.
For instance, when the ice dancer was just 9, she received an opportunity to go to the National Ballet School where grew her interest in ballet and skating. This is how our champion's story began.
As time passed, she began skating with Scott Moir. They would later perform and win the Olympics Champion of 2010 and 2018.
Furthermore, Virtue also has a degree in psychology and a doctorate in law. As of 2021, she has been endorsing many brands as well as running her business.
Let us look further into her net worth, endorsements, income sources, book publications, and many more.
Firstly, let us look at the quick facts below, where we will get all the details about Tessa Virtue.
Quick Facts
Full Name
Tessa Jane McCormick Virtue
Nick Name
Tessa Virtue, Birdie, Tutu
Date Of Birth
17 May 1989
Birth Place
London, Ontario, Canada
Age
34 years old
Gender
Female
Sexual Orientation
Straight
Height
5'5" (1.65 m)
Weight
50 kg (110 lb)
Horoscope
Taurus
Religion
Christianity
Nationality
Canadian
Ethnicity
English and Scottish
Hair Color
Dark Brown
Eye Color
Green
Skin Color
Fair
Tattoos
N/A
Marital Status
Single
Boyfriend
Morgan Rielly
Kids
N/A
Father's Name
Jim Virtue
Mother's Name
Kate Virtue
Siblings
Three: Jordan, Kevin, and Kacey
High School
Holy Names High School, Windsor, Ontario
High School Records
N/A
Name of College
University of Windsor, Ontario
College Records
N/A
Profession
Athlete (Retired), Business
Active from
1997 – 2019
Position
Ice Dancer
Current Team
N/A
Former Team
Performed frequently with Scott Moir
Awards and Records

Most decorated Canadian Ice Dance team ever
Ten-time Canadian Senior Ice Dance medalist
Three-time senior world champion and seven-time senior world medalist
Canadian Athlete of the year 2017
Olympic Champion 2010 & 2018
Received Doctor of Law, honoris causa (LLD) from the University of West Ontario
Inducted to Canada's Walk of Fame in Sports and Athletics Category (2018)

Net Worth
$2 million
Salary
$400k (annual)
Endorsements
BonLook, Hillberg & Berk, Adidas, Colgate, General Mills, and more
Foundation
Tessa Virtue Collection of Jewelry
Social Media
Instagram, Twitter
Merch
Tessa & Moir (Book)
Last Update
June, 2023
Tessa Virtue: Net Worth and Endorsement
Prior to her retirement, Tessa Virtue made a lot of her fortune by participating in dancing shows as well as the Olympics. However, after her retirement, Virtue mostly earns through her business called "Tessa Virtue Collection of Jewelry."
Likewise, she is an occasional actress and deals with several Canadian companies like Visa, Air Canada, Nivea, Colgate, Adidas and so many more.
Apart from other brands, she has also collaborated with fashion brands like BonLook, Hillberg & Berk.
Furthermore, according to some sources online, the dancer makes an estimated $400k annually.
In conclusion, through decades of hard work and several endorsement deals, and numerous trophies, Virtue currently has a net worth of about $2 million.
Tessa Virtue: House
The beautiful ice dancer is an independent woman who adores house and designing. As a result, she owns a beautiful and luxurious house in London, Canada.
One of the most surprising features about her home is that despite having various kinds of decorations throughout the place, there are no trophies and awards on display.
This may be because she is a person who likes to stay humble despite her accomplishments.
Moving on, let us talk about her beautiful interior designs. Firstly, the interior contains various kinds of furniture, from the most modern work of art to those dating back to several years yet carrying unforgettable memories in her heart.
Another most noticeable thing about the interiors is it is almost entirely painted white, even the kitchen and other furniture with very little color variant yet, the mansion truly looks surprisingly beautiful.
As well as that, the pattern is plain, which fits perfectly with the blue furniture.
Certainly, we can say that the dancer is fond of expensive wall paintings from across the seas.
Besides these, the house also contains a closet filled with branded fashion clothes and a small reading room.
Another ice saketer we have is Ekaterian Gordeeva. She is a two-time renowned figure who has won Olympic Champion and four-time World Championship.
Ekaterina Gordeeva Bio: Daughters, Net Worth & Husband >>
Cars
Tessa Virtue is an important figure who represents Encore GX. Recently, the Canadian automakers introduced a new campaign highlighting their brand new model, Encore GX named Worlds Collide.
The campaign took two different approaches. Firstly, introducing the car through ads, by sharing information about the car, functions, and benefits.
Secondly, next, they approached Tessa and asked her to share her day with Encore GX.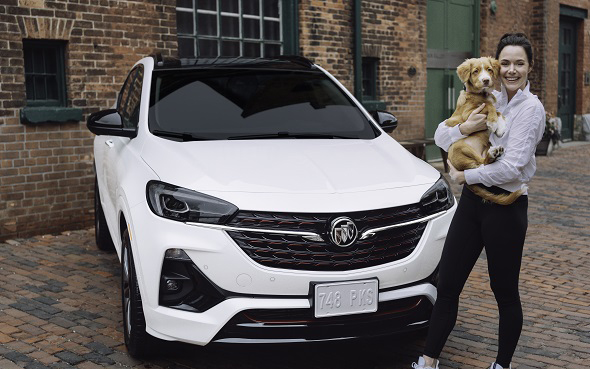 Above all, Virtue shared her day-to-day scene and schedule with the world. Here, she described how the car helps her to get along with her day, and also encouraged young women to choose this car.
As a result, the strategy taken by the company was a success. The sales increased and there was a high number of women investing in the car.
Indeed, Tessa Virtue was an influencing figure and inspiration to all women.
Tessa Virtue: Lifestyle
With millions in her net worth, the skater loves living her luxurious life. However, despite living a super comfortable life, she strictly follows her timetable and goals. The Canadian even considers the calendar to be her bible.
Certainly, Virtue is a practitioner of a healthy lifestyle. To clarify, she frequently does physical workouts to remain healthy as well as tries new hobbies, mindfulness, and passions for better mental health and keep up with her self-motivation.
Of course, after years of hard work, everyone deserves to treat themselves.
For instance, you can see, in her Instagram and imagine her spending her dollars for stylish dressing. Similarly, she loves going on a vacation and parties.
Unfortunately, we do not have the most recent information but, what we do know is about her bachelorette party in Mexico back in 2019.
Also, the star enjoyed this occasion with her friends, Allie and Kat at Platinum Yucatan Princess All Suites Resort and Spa.
Tessa Virtue: Charity
The influencing champion has been participating in charity work and helping society from the start of her career.
As of 2018, she and her dance partner have a huge role in the Calgary-based, North American Organization. A team of athletes working under this organization helps mentor the young ones internationally.
Furthermore, during the global pandemic, she has teamed up with others to donate 1,070 launches to the health workers at Lions Gate Hospital and the North Shore Community Health Team.
Moreover, as a feminist working with FitSpirit, she has been working to raise awareness in young girls and encourage them to become young athletes.
If you loved this article, you can have a look at another article as well. It is about another Japanese ice skater named Daisuke Takahashi.
Daisuke Takahashi – Ice Dance, Olympics & Kana Muramoto >>
Tessa Virtue: Movies and Book publications
Virtue is also known to be a good actor and a writer. As we go through her acting career, we can see her impact on filmography. Some of the lists include "Mr. D (2018)," "This Hour Has 22 Minutes (2019)," etc.
Similarly, she has played a role in the movie "Ice Girls" where she is also the co-producer of "Thank You Canada Tour (2019)."
Previously, with her Olympic dance partner and Steve Milton as a co-writer, they published a book titled "Tessa and Scott: Our Journey from Childhood Dream to Gold."
Indeed, this inspiring book is about their path to success. This book also contains several never-seen-before pictures of their performance in the Olympic games and other occasions.
Tessa Virtue: Career
The skater's career began in 1997 where she performed with Scott Moir. Their pleasing staging made them win the bronze medal at Canadian Championship (2002).
They further won the 2003 Canadian Championships in the Junior division. Moreover, Tessa won a gold medal at the World Junior Championships (2006).
Meanwhile, in 2014, she along with her dance partner received a silver medal at the Sochi Winter Olympics.
Most recently, for their brilliant performance, the couple won the 2017 World Championship followed by the 2018 Olympic Championship.
Nonetheless, in 2019, Virtue declared her retirement. What is she doing now? At present, she has been traveling and running her business. She is aiming to become an entrepreneur.
3 Facts About Tessa Virtue:
Firstly, back in 2008, Virtue suffered from pain in the lower legs, a condition called chronic exertional compartment syndrome. This was treated by having two surgeries followed by physiotherapy.
Secondly, the Canadian ice skater is an MBA student. She chose this subject with the aim to become an entrepreneur.
Lastly, Tessa is in a relationship with Morgan Rielly, a hockey player.
FAQs
Were Tessa Virtue and her partner, Scott Moir in a relationship?
This is a question which is asked by all the fans in the world. Well, are the partners in a romantic relationship with each other?
Despite knowing each other since they were around seven, the pair are not in a romantic relationship. The answer is no.
Scott Moir is engaged with his fiancé Jaclyn Mascarin, who is a physician assistant at a hospital. On the other hand, Tessa is in a relationship with Morgan Rielly, who is an ice hockey player.