Professional soccer player Alphonso Davies was born to his parents, Debeah Davies and Victoria Davies. They are Liberian refugees.
Debeah and Victoria originally lived in Monrovia, the capital of Liberia, and fled during the Second Liberian Civil War, which displaced more than 450,000 Liberians.
They traveled hundreds of miles across West Africa until they eventually found sanctuary at the Buduburam refugee camp near Accra in Ghana.
In 2005, the family migrated to Canada and eventually settled in Edmonton.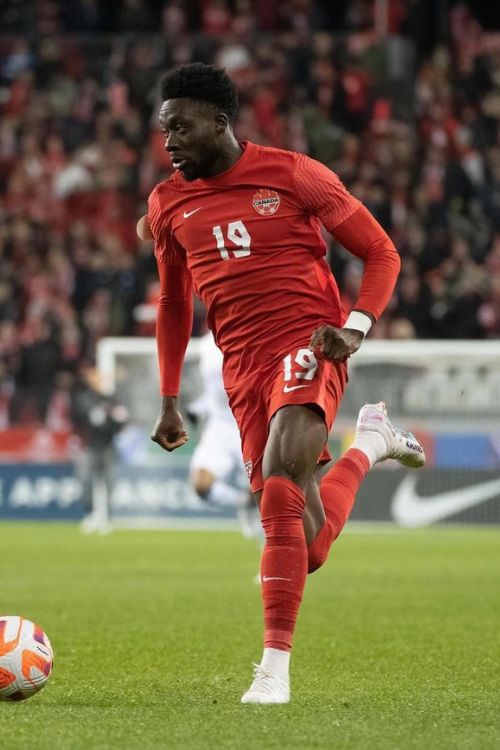 Born on November 2, 2000, Alphonso Boyle Davies is a Canadian professional soccer player who plays as a left-back or winger for the Bundesliga club Bayern Munich and the Canadian national team.
Davies was born to Liberian parents in Buduburam, a refugee camp in Ghana.
The soccer player attended St. Nicholas Catholic Junior High in the Edmonton Catholic School District, where he played his first organized soccer with Free Footie, an after-school soccer league.
From an early age, Davies was into soccer. His school soccer teammate Onesphore Hamis recalled, " Soccer was the thing he wanted to get into, but language was a problem."
Davies joined the Whitecaps FC Residency in 2015 at the age of 14.
At the time of his signing, he was the youngest active player in Major League Soccer and the third youngest player to sign an MLS contract.
On July 16, 2016, Davies made his MLS debut, becoming the league's second-youngest player behind Freddy Adu.
Alphonso Davies Parents
Talking about the soccer player's parents, his parents are Liberians from a poor family background.
Deebah and Victoria were a young couple when the second Liberian War broke out, which left them with the only option of either participating in the war or fleeing.
Fortunately, they choose the latter and now live to appreciate their choice of life rather than the possibility of their family tree annihilation.
It is pretty clear that their time during the war in Liberia was very hard. They fought with a lot of difficulties.
The search for water, food, and even simply staying alive; every hour that passed was a triumph of survival for Davies's parents.
"It was hard to live because the only way you survive sometimes is you have to carry guns," said Debeah in an interview.
The Davies family was able to immigrate to Canada when Alphonso was five.
Even after migrating, the player's parents worked long hours to make ends meet, leading even Alphonso to chip in around the house, helping raise his two younger siblings.
In 2015, Davies' parents agreed to an offer that would take their first son away from them to play in Vancouver.
Debeah and Victoria gave Alphonso their blessings and sent him to join the Vancouver Whitecaps youth set-up, which was the turning point in the player's career.
In 2016, the young soccer player played in such a way that he became the first youngest player to sign a USL contract at just 15 years and 3 months.
Alphonso Davies Siblings And Relatives
Davies has two younger siblings: a younger sister and a brother.
Because the siblings were born in Canada, they didn't have to follow the procedure of obtaining Canadian citizenship like their brother.
Details about the player's siblings are still unknown as he has not revealed much about them.