After setting her soul on fire, she has started to climb her way up to the top as a promising fighter in the UFC. Amanda Ribas is a genuine threat who can't be messed with for her cute looks.
To illustrate, she is a black belt in Brazilian Jiu-Jitsu who came out of Brazil itself. Additionally, she has got the craze for the fights, which makes her the perfect fit in the field. All in all, Amanda is a package of hype competing in the Flyweight division of the UFC.
In the bargain, Ribas acquires a burning determination that every fighter needs as she is the conqueror of Muay Thai as well as Judo. As often complimented by the UFC president, Dana White, Amanda stands as the #9 in the UFC women's strawweight rankings.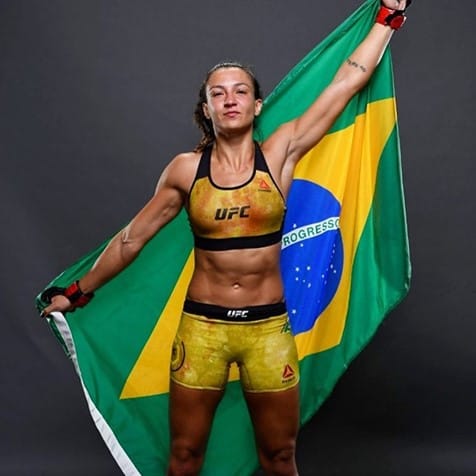 With the completion of the short overview, let's jump on devour further.
Quick Facts
Full Name
Amanda Limborco Alcantara Ribas
Date of Birth
August 26, 1993
Birth Place
Varginha, Minas Gerais
Nick Name
No
Religion
Christianity
Nationality
Brazilian
Ethnicity
White
Zodiac Sign
Virgo
Age
27 years old (as of 2020)
Height
5 ft 5 in (1.65 m)
Weight
126 lb (57 kg)
Hair Color
Dark brown
Eye Color
Dark brown
Build
Athletic
Father's Name
Marcelo Ribas
Mother's Name
Not Available
Siblings
A brother, Arthur Ribas
Education
Not Available
Marital Status
Unmarried
Boyfriend
No
Profession
MMA Fighter
Rank
Black belt in Brazilian Jiu-jitsu
Division
Flyweight
Team
Marcelo Ribas Team (formerly)
American Top Team (2016–present)
Active Years
2014-present
Net Worth
$1 million-$5 million
Social Media
Instagram, Twitter
Merch
CD
Body Measurements
Amanda Ribas is a stunning athletic lady who stands at a medium height of 5 ft 5 in (1.65 m) while weighing 126 lb (57 kg). As for her looks, Ribas has an oval-shaped face with small features.
She has flowing medium-dark brown hair with eyes of the same color. In the meantime, she wears a shoe with the size number 6.5 (US) and has a reach of 66 inches.
Short Background of Amanda Ribas
Amanda Ribas (full name Amanda Limborco Alcantara Ribas) was born under Virgo's sun sign on August 26, 1993. She grew up with her father and brother in Varginha, Minas Gerais; however, there is no detailed information about her mother.
Amanda was born to a jiu-jitsu master, Marcelo Ribas; hence, she started her combat sports training at a young age. Her father taught her both Brazilian Jiu-Jitsu, Muay Thai, and Judo.
As she trained under her father alongside her brother, Arthur Ribas, she faced some injuries in the way. Those intense injuries kept her away from the mat for a long time, making her rethink her path in combative sports.
View this post on Instagram
The very moment, her knee surgeries made her discouraged, wanting to get back in the fight for the octagon. However, through the setback, she found a way to keep herself moving.
"I was born on the mat. It was for me. There was a time when I stopped doing jiu-jitsu to dance. My father wanted to die, but now: gloves were my pillows and my kimono, my blanket."
-Amanda Ribas
Amanda Ribas | Mixed Martial Arts Career
With years of hardcore training and cancellation of fights, Amanda first started officially at the age of 20. Back in the time, she partook in the 2014 IMMAF World Championship held in July.
Therefore, Ribas publicly came into the light as a fighter in the Women's Flyweight division in Brazil. By the end of the time, she had recorded a 6-1 score in the interval of three years. She successfully turned from an amateur to well-built with just those three years into professional Mixed Martial Arts.
Additionally, as Amanda took victory in six games out of seven, she was suggested to go on for the United States training and games. Keeping it in mind, she went on to train under Carlão Barreto and Rodrigo "Minotauro" Nogueira (former fighters and friend of American Top Team head coach "Conan" Silveira). In the meantime, she teamed and trained under them while being alongside Amanda Nunes and Joanna Jedrzejczyk.
Ultimate Fighting Championship (UFC)
When one's dream comes true, we shed tears of joy and leap on happiness. The same goes for Amanda; with a series of games canceled, she was finally called up to start in the big leagues.
Amanda Ribas stated while recalling that day, "Then I cried, right? Because it is the beginning of the realization of a dream. I called my father. I told him, and everyone stopped at the gym, and they cried too. As you know, I came from a small town, and for me, it is an overcoming. There in the south of Minas, we think this is not even possible. Getting signed with the UFC is an example for everyone there that it is possible."
Right then, Ribas had her debut match with Juliana Lima at The Ultimate Fighter 25 Finale on July 7, 2017; however, USADA removed her from the match. As per her reports, her removal from the game stems from the fact that she had Ostarine (Enobosarm, an androgen) found in her body.
If you are interested in buying MMA gloves, click here>>
Hence, Tecia Torres replaced Ribas for the game while, USADA gave Ribas a two-year suspension from UFC, but it was terminated later on May 3, 2019.
Amanda Ribas vs. Emily Whitmire
On June 29, 2019, Amanda Ribas had her debut game against Emily Whitmire after removing her suspension at UFC on ESPN 3. During the match, Ribas faced a two-fight winning strike player who had defeated Jamie Moyle and Aleksandra Albu with Vance Swerdan as the referee.
With Emily leading her, Ribas claimed the game early in the second round. Thus, Ribas had a win via a rear-naked choke submission.
"I was not in the cage that day. Amanda is super talented, and I think she will be champion at some point, but I didn't fight well."
–Emily Whitmire
After her debut, Ribas advanced to UFC Fight Night: Joanna vs. Waterson in October of the same year. Going into the fight, no one talked about her, and she was facing a top prospect of UFC, Mackenzie Dern.
Furthermore, Ribas provided a fight to see as she had a combination of strikes with lightning speed. By the end of the round, she had overtaken the judges impressively to earn a score of 30-27.
View this post on Instagram
During the match, Ribas showcased her stiff straight shots, jabs while not sparing even a second to react for Dern. Until the end, Ribas avoided all the punches from Dern and won the fight by unanimous decision of the judges. Herewith, Ribas gave dern the very first taste of the UFC loss.
"Amanda is a bit longer than me, and when I lost the distance, I started doubting myself, doubting my decision to close the distance and get punched in the face. After you have your first loss, it only makes you hungrier to get back in there."
–Mackenzie Dern
With two official wins and a fight into the UFC, Ribas was set to face Paige Vanzant on March 14, 2020. However, Vanzant had an injury in the right arm, Randa Markos replaced her. The very match took in her homeland, Brazil.
As the fight commenced, Markos was starting aggressive and even had a takedown. However, Amanda was giving a series of back fists and kicked with a heavy strike. Overall, with the judges on her side, Ribas won the game with a unanimous decision as they had scores of 30-26, 30-25, and 30-25 for the three rounds.
Amanda Ribas vs. Paige Vanzant
Advancing further, Amanda finally faced Paige Vanzant at UFC 251 on July 12, 2020. Up to that de, Ribas had garnered a ton of followers eagerly waiting for her to serve her ninth game in the UFC clash.
All in all, the match was a short interval, which ended in just 141 seconds. Ribas had a landed knee, "12 gauge" down, followed by an attempted submission during the fight. As it stretched, Ribas later managed to pass a brapper armbar thus, dominating the octagon. By the end, Amanda won the fight easily as Vanzant tapped out in the first round.
"Congrats to Amanda on such an amazing performance. It was truly an honor to share the octagon with you. As for me, I will rise as I always do. I can't wait to see where God takes me next."
-Paige Vanzant
Amanda Ribas | Upcoming Fights
According to the sources, Amanda Ribas was to face Carla Esparza officially on December 12's match; however, the news has been pulled off. To illustrate, the match was set to make Carla's return to UFC Women's Strawweight Champion.
As of now, the verbal agreement has been pulled down, and it is believed they might fight some other date of the upcoming year. Thus, to close off the match, Michelle Waterson has been scheduled to face Ribas in 2021.
In the bargain, UFC president Dana White has confirmed the match to be at the top of the UFC 257 pay-per-view event but, they haven't confirmed the location yet. To look little into Waterson, she is one of the strawweight division's top prospects, with a 6-4 record in the UFC. As of now, we can only be updated with the information and make a wishful eagerness for the game.
Amanda Ribas | 2020 Game Stats
Ever since her professional debut in 2019, Ribas has been titled the top UFC prospects of the year. Considering it, as we look into her, she is a burning flame who holds a desire to fight and has only given a winning streak to date.
Let me take you to the time when she said fighting bare-knuckle is not scary, especially when she needs to prove her father.
"For me, it's like a beginning. So there are old techniques and new techniques, so for me, it's different. I don't know if I can do it one day because I need to shut my Dad up. After all, sometimes when we're training, he says, 'you guys today, you use protection for the knee, for the head in my time I did without gloves, I kicked the tree' so maybe in the future I'll fight bare-knuckle just to shut up my Dad!"
-Amanda Ribas
| | | | |
| --- | --- | --- | --- |
| Total matches played | Wins by knockout | Wins by submission | By a decision (wins) |
| 11 (10 wins and a loss) | 3 | 4 | 3 |
Net Worth
According to the sources, Amanda Ribas is reported to be enjoying a current net worth between $1 million to $5 million. To date, she has been acquiring the match's money and its bonus. If we look into it, she was shown to earn $24,000 per match.
You might be interested in Bethe Correia Bio: UFC's Journey, Husband, Career, Wiki>>>
Amanda Ribas | Love Life and Social Media
With Amanda's field personality and life disclosure, if we go on to look at her private ones, it feels as if things are missing. Ribas has been a good secrets hider if she has some, as we don't seem to find it at all.
However, let me say Ribas is not dating anyone currently, which ultimately targets her enthusiasm in fights and desperate attention to it. Also, looking at her past, she has no such information about her.
Amanda Ribas | FAQs
Who did Amanda Ribas lose to?
Amanda Ribas lose to Polyana Viana via decision on November 28, 2015.