Andres Guardado is a multi-talented Mexican professional soccer player in the La Liga club Betis with jersey number 18. He is a captain of the Mexico National team, who plays as a midfielder, a left-winger, or left-back.
On January 11, 2022, he became the Mexican player with the most games in Europe with 496, exceeding the record held by Hugo Sanchez.
Guardado entered the game at seven through Atlas and moved forward to play with Spain's Deportivo.
Additionally, he is nicknamed 'Principito' (Spanish for Little Prince).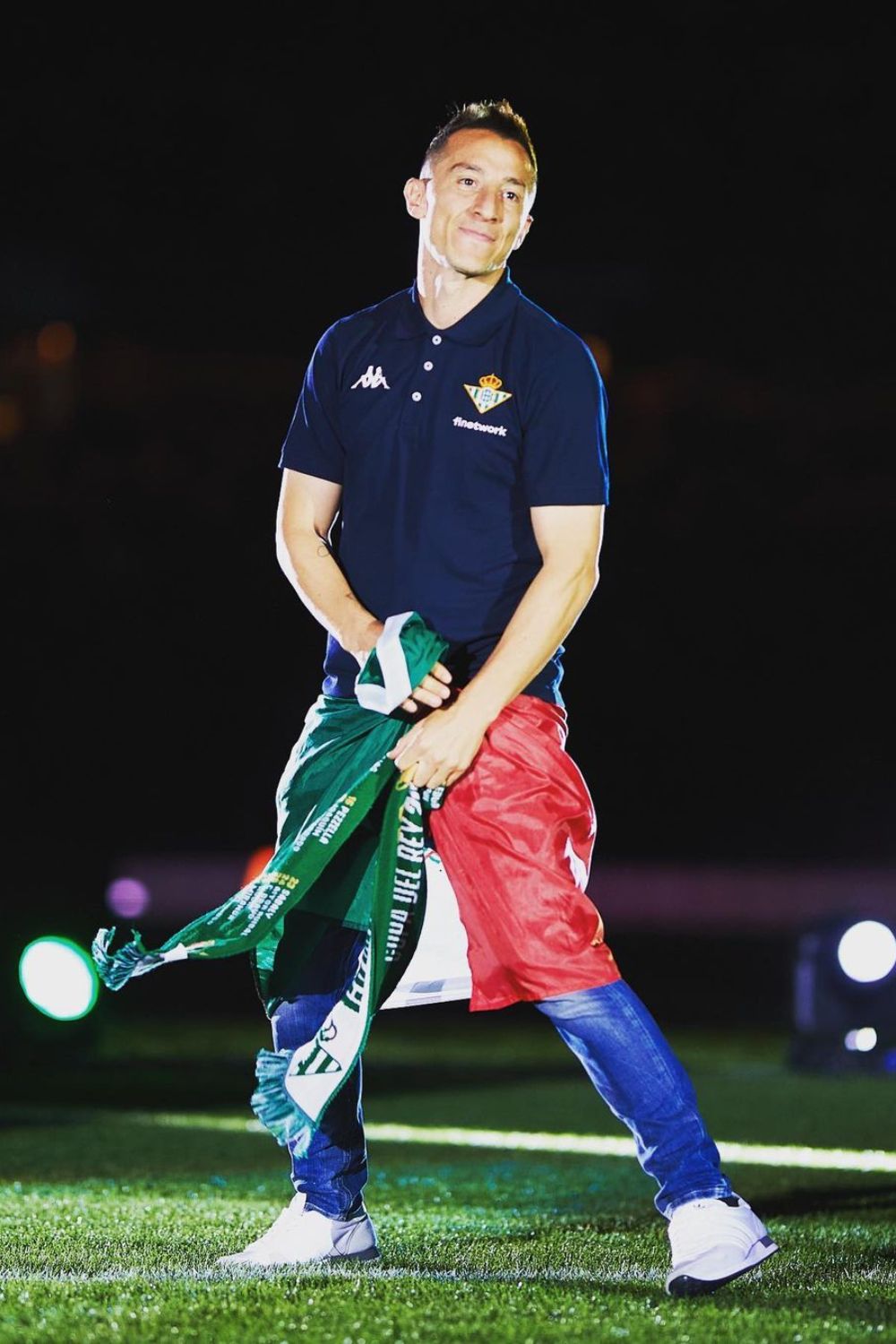 He has been active in Mexican International since the year 2005.
He has secured three Gold Cups, one Spanish Cup, two Dutch Champions, and 1 Spanish 2nd tier champion. Also, he has represented the nation for four World Cups.
Before moving forward to his life events, the table below showcases his facts.
Andres Guardado | Quick Facts
Full Name
José Andrés Guardado Hernández
Date of Birth
28 September 1986
Birth Place
Guadalajara, Jalisco, Mexico
Nick Name
Principito (the Spanish word for Little Prince)
Religion
Christian
Nationality
Spanish and Mexican
Ethnicity
White
Zodiac Sign
Libra
Age
36 Years Old
Height
1.69 m / 5 ft 7 in / 169 cm
Weight
67 kg / 147.70 lb
Hair Color
Curly, black hair
Eye Color
Black
Build
Athletic
Father's Name
Andres Manuel Guardado
Mother's Name
Teresa Hernandez
Siblings
Not Available
Education
Not Available
Marital Status
Married
Wife
Briana Morales (Divorced)

Sandra de la Vega (Present)

Kids
Meximo Guardado, Catalina
Profession
Soccer Player
Position
Midfielder / Winger / Left-back
Affiliations
Betis (current)
Active Years
1993-present
Net Worth
$2.38 Million
Social Media
Instagram, Twitter
Merch
Books, Jersey
Last Update
March, 2023
Andres Guardado | Early Life
Guardado was born to his parents, Andres Manuel Guardado and Teresa Hernandez, on 28 September 1986.
He was born under the star sign of Libra and grew up in Guadalajara, Jalisco, Mexico.
Furthermore, the details of his academic background and childhood days are missing.
Andres Guardado | Physical Attributes
Guardado stands at a height of 1.69 meters, weighing 147 lb.
He has an athletic body with a small oval face. To add, he has black hair and black eyes.
Andres Guardado | Club Career
Atlas
Andres Guardado commenced his club career at the young age of seven and played professionally for Atlas FC.
He appeared in two full Primera División seasons. However, his league debut was with C.F. Pachuca on 20 August 2005, where he contributed to the 3–2 home win.
Besides, from the press speculation in the summer of 2006, Guardado had many offers from several Serie A teams, likewise Real Madrid.
However, Deportivo de La Coruña quickly offered a contract of €7 million for 75% of his rights. On 7 July 2007, after the offer was accepted, Atlas made Guardado's transfer.
Hence, Andres became the most expensive Mexican player, and Atlas holds 25% of his rights, claiming 25% sell-on-fee.
Deportivo
Guardado officially started his gameplay from Deportivo on 24 July 2007, as he took the 18-number jersey.
He commenced his first season with La Liga on 26 August against UD Almería, having a home loss of 0-3.
Andres closed the season with five goals in 26 games and helped Deportivo to stand in ninth place.
Deportivo qualified to partake in the UEFA Intertoto Cup – and the subsequent UEFA Cup, where Guardado recorded a 3–0 group stage home win over Feyenoord.
During his tenure, coach Miguel Ángel Lotina was impressed with his talent and character, thus naming him as the key player of Deportivo.
He was also given several assists and set pieces making him the club's first choice.
However, for the season 2010-11, he could only appear in 20 matches, and on March 27, 2012, he announced the season to be his last with the club Deportivo.
He ended the season with his career-high record of 11 goals contributing to the team's return to the top level as champions.
He surpassed Juan Carlos Valerón as the highest provider of assists during the mid-season and was voted the best player.
In addition, he was also named the competition's best-attacking midfielder.
Valencia
After he departed from Deportivo, Guardado signed a four-year contract with Valencia CF on 28 May 2012.
He made his major debut with the club on 19 August against Real Madrid, where he played 66 minutes in a 1–1 away draw.
On 12 September, he appeared in the UEFA Champions League, where they had a 1–2 group-stage loss. He was the left-back throughout his first season as Jérémy Mathieu had a severe injury.
Guardado appeared as the backline for the following months as he featured in the game against Rayo Vallecano on 12 May 2013, contributing to a 4–0 rout.
Following it, on January 30, 2014, Bundesliga club Bayer 04 Leverkusen bought Guardado on loan for the rest of the season.
He played as a left wing-back on 2 February against 1. FC Kaiserslautern for the DFB-Pokal with 0-1 loss.
Afterward, his injury affected his playtime at Mestalla Stadium and the BayArena.
PSV Eindhoven
Guardado joined PSV Eindhoven for the 2014-15 season, and on 31 August 2014, he made his debut on Eredivise, facing Vitesse Arnhem at Philips Stadium.
In the first month of the game, he claimed the captain's position, and in a few month's intervals in November, he won the Player of the Month award.
The following year, he recorded his foremost goal in the club, contributing to the 3–0 away victory over Go Ahead Eagles.
Before the match against FC Groningen on 15 March 2015, PSV fans designed a flag tifo and a banner in Spanish, which read "Andrés Guardado, our Golden Mexican Eagle. Unfortunately, he has to stay in PSV Eindhoven. Our House is your House, Andrés."
At the same time, rumors of Guardado transferring to the AFC Ajax surfaced. However, following it on 27 March, PSV announced the permanent transfer of Guardado from Valencia for three years.
For the 2015 League Championship, Guardado played for the full 90 minutes, forwarding to a 4–1 win over SC Heerenveen on 18 April.
He was featured in Dutch magazines Algemeen Dagblad and Voetbal International as the year's player, which led him to the FIFA Ballon d'Or longlist.
Additionally, for 2015-16, Eredivisie Guardado had nine assists in 25 appearances as the team's second-highest provider; hence, he helped defend the title.
He was listed on Football Oranje's team of the season. In the end, Guardado was in the starting eleven against Feyenoord on 31 July 2016 as he defeated 1–0 in the Johan Cruyff Shield.
Betis
On 27 July 2017, Guardado signed a €2.3 million three-year deal with the Spanish club Real Betis.
He commenced the play with them as their co-captain. On August 20, he played the full 90 minutes in a 2–0 loss to FC Barcelona.
Furthermore, he made his first goal against Girona FC on 25 November in a 2–2 home draw.
In December 2019, Guardado renewed his contract until 2022, and on 4 July 2020, he became the first Mexican to reach that mark for three different clubs.
Also, he made his 100th official appearance for the Andalusians against RC Celta de Vigo with their 1–1 league draw.
Andres Guardado | International Career
The Year 2005
Guardado's first international appearance came on 14 December 2005 for Mexico in a friendly match against Hungary.
The Year 2006
Guardado featured in the 2006 FIFA World Cup in Germany, facing Argentina, where he lost 1-2 in round 16.
He commenced the match as a shifting attacking midfielder/wing-back alongside Ramón Morales; however, he got injured in the second half.
Thus, he was replaced by Gonzalo Pineda, and after the departure of manager Ricardo La Volpe, his replacement Hugo Sánchez kept the player in his squad.
The Year 2007
After replacing Gurdado's manager, he appeared in the game against the United States, resulting in a bench in a 0–2 defeat.
Following it, on 28 February 2007, he featured in a friendly match against Venezuela; he scored his first international goal (3–1 win).
Moreover, Guardado appeared in the final of the 2007 CONCACAF Gold Cup, where he scored the United States' opening goal.
Moving forward to the second round, Guardado collided the path with Jonathan Spector, and in the end, they had a 1–2 loss.
The following time, Guardado was listed as an Honorable Mention for the competition's All-Tournament Team.
The same year, he partook in Copa América, scoring the third goal against Uruguay in the third-place match.
The Year 2010
For the 2010 World Cup against South Africa, Guardado was selected as the roster by Javier Aguirre. He assisted Rafael Márquez in the World Cup opening game with a 1–1 draw.
Guardado had appeared in three out of four games in another last-16 exit at the hands of Argentina.
The Year 2011
The following year in 2011, Guardado was called on for the 2011 Gold Cup by José Manuel de la Torre. On 12 June, with a 4–1 win over Costa Rica, he had his first race with the national team.
In the finals, he had a match against the United States, where Mexico retained the trophy with a 4–2 victory.
The Year 2013
Guardado appeared in Brazil's 2013 FIFA Confederations Cup, where he played all three matches.
The Year 2014
Equally important, on 5 March 2014, Guardado made his 100th appearance for Mexico friendly with Nigeria.
He featured in the 2014 World Cup in Brazil, was selected by Miguel Herrera, and played all the games as a midfielder. He also scored the last group phase fixture against Croatia, a 3–1 win.
Following it, at the end of the tournament, the captain was chosen for the September friendlies with Chile and Bolivia as the actual captain Rafael Márquez was absent.
The Year 2015
As Guardado appeared in the 2015 Gold Cup, he recorded six scores till the end of it.
The highest score was in the match against Cuba in the group stage at the first-half effort of 6-0, followed by the third penalty kick in the last minute of extra time in the quarter-final against Costa Rica (1–0).
Additionally, he helped his country a comeback after scoring twice from the penalty spot, making it a win of 2-1.
Again, he scored in the decisive match as he scored the opener in an eventual 3–1 victory against Jamaica. Subsequently, he won the Golden Ball Award as the most outstanding player.
The Year 2016
On 5 June 2016, Guardado was selected for the Copa América Centenario squad by Juan Carlos Osorio.
During the game against Uruguay, he provided an opening fixture gaining a goal, which turned into a win of 3–1 at the University of Phoenix Stadium, where he also had two bookable offenses. Unfortunately, he also partook in the quarterfinal exit of the other two games.
The Year 2017
Guardado made his final appearance in the 2017 Confederations Cup in Russia, where he stood as a captain in the group stage fixtures against Portugal and Russia.
However, he didn't have smooth gameplay, as he got two yellow cards and missed out on the semi-finals against Germany. Also, he returned to the lineup in the third-place playoff, losing 2–1 to Portugal.
The Year 2018
Guardado appeared as the captain for the first time in the 2018 World Cup, where he was selected in the final 23-man squad.
For the first match against Germany, he played 74 minutes in a 1–0 defeat. Following it, they faced a loss against Brazil in round 16.
Afterward, it was reported in the Mexican sports newspaper Récord that during the gameplay, Guardado was facing a muscle injury in his right leg while playing Betis.
The Year 2019
Guardado was called for the 2019 Gold Cup by Gerardo Martino. Following it, Guardado replaced the injured Érick Gutiérrez in the second group match against Canada during the 37th minute and successfully scored two goals.
He contributed to a 3-1 win and obtained the title of Player of the Match. Moving forward, Guardado bagged various CONCACAF-based records at the end of that stage and was even titled the most-capped Mexican player in the Gold Cup.
Eventually winning the competition, he was included in the Best XI and the only one from the country to score in four editions of the CONCACAF Gold Cup.
World Cup 2022 Qatar
Earlier, Andres was unsure about whether he will be playing in the 2022 World cup or not.
He expressed he had moments of tension as his club Betis took their time to register him and was scared that he would not play for half of the season.
In an interview, he disclosed that the Guadalajara Atlas youth product remembered how he felt while waiting for bureaucratic matters to be resolved.
"Very difficult, it was a very intense month. Apparently, because of the situation I live in. It was a very stressful situation, because the more time passed, the more complicated it got."
"The feeling of uncertainty is at its worst, Then not knowing what was going to happen, that they do not guarantee you anything, neither here nor there," Andres told.
"Finally, you're unsure about whether they're going to register you or not, so you need to look for other options when you need to leave. It was actually a little stressful, it was a little tiring It was, especially mentally."
"Anyway, luckily everything was sorted out, I'm living where I wanted to be to enjoy another year here with Betis. It's great that we have an excellent year ahead of us and we look forward to living up to our expectations."
Andres Guardado, the joint most-capped player in Mexico history, will play with his teammates in World Cup 2022.
He will be backing up Hector Herera and Edson Alvarez as a midfielder.
Mexico's first match is on 11-22-2022 against Poland.
Andres Guardado | Playing Style
Guardado began his career as a winger at Atlas; however, playing as a left-back too.
As he was signed into Deportivo by Miguel Ángel Lotina, he played as a winger but changed to the Left-back as he moved to Valencia.
As a winger, he had a quick defense ability and provided accurate crosses, which helped him score for the club and the country.
However, in the national team in 2014, Guardado played as a defensive midfielder under Miguel Herrera's improvisation.
Afterward, as he suffered from the injuries, PSV manager Phillip Cocu changed his position by making him the central midfielder with box-to-box and deep-lying playmaker qualities.
Guardado is known best for his tempo and good passing and dribbling skills.
To illustrate, his work rate and stamina help for a powerful and accurate shot from a distance hence, describing him as the "Iberian midfielder archetype."
His smart positioning also supports tackles and then pushes his team forward.
Guardado follows his national teammate Rafael Márquez as an influencer in his playing style.
Andres Guardado | Career Stats
Season
League
Cup
Continental
Other
Total
Apps
Goals
Apps
Goals
Apps
Goals
Apps
Goals
Apps
Goals
Career total
481
37
31
1
52
2
2
0
566
40
Andres Guardado | Highlights, Honors, & Achievements
Deportivo
Segunda Division – 2011-12
UEFA Intertoto Cup – 2008
PSV Eindhoven
International
Mexico
CONCACAF Gold Cup – 2011, 2015 & 2019
CONCACAF Cup – 2015
Individual
Mexican Primera División Rookie of the Tournament: Apertura 2005
Mexican Primera División Full-back of the Tournament: Apertura 2006 & Clausura 2007
CONCACAF Gold Cup All-Tournament Team Honorable Mention: 2007
Deportivo de La Coruña Club Player of the Year: 2000 & 2008; Fan's Player of the Season: 2011–12
Segunda División Best Attacking Midfielder: 2011–12
Eredivisie: Player of the Month November 2014
AD Eredivisie Player of the Year: 2014–15
VI Eredivisie Player of the Year: 2014–15
CONCACAF Gold Cup Golden Ball: 2015
Football Oranje Team of the Season: 2015–16
CONCACAF Best XI – 2015, 2016 & 2018
CONCACAF Gold Cup Best XI: 2019
Andres Guardado | Net Worth And Salary
Guardado is a fantastic player who has earned tons from the beginning of his career.
His net worth is currently around $2.38 million, with a salary of $32,161 per week.
Per the sources, his contract with the Real Betis was over $23.14 million (€2.3 million) for a three-year contract.
He is estimated to be worth $1.55 million.
Andres Guardado | Love Life
Guardado's first marriage was in December 2006 with Guadalajara native Briana Morales.
However, they ended the relationship with a divorce five years later without disclosing any details about it.
Following it, he reportedly married Sandra de la Vega in secret.
Currently, the duo has a son named Maximo, born in 2015, and a daughter, Catalina.
Andres Guardado | Social Media
Guardado was titled an "honorary associate" of the Asociación Mexicana de Futbolistas (Mexican Footballers Association) in October 2017.
According to him, the association is to "create a dialogue with league, federation and club authorities" with the domestic soccer player.
View this post on Instagram
Furthermore, Guardado starred in the Amazon Prime television documentary Six Dreams. He is an active user of social media who tries to connect with fans updating his daily life.
You can follow him in the following handles to get the latest news on his personal and professional life.
Popularity Graph
This is the popularity graph of Andres Guardado.
He was searched for his age and position in the World Cup 2022.
Frequently Asked Questions ( FAQs)
Who is the agent of Andres Guardado?
'You First Sports' is the agent of Andres Guardado.
Has Andres Guardado retired?
No, the player is not retiring and isn't any close to it either.
What is Andres Guardado's kit number?
According to transfermarkt, the soccer player's kit number is 18 and 7.
Who is the outfitter of Andres Guardado?
'Adidas' is the outfitter of Andres Guardado.
Is Andres Guardado related to anyone in the Killing of Andres Guardado?
No, the 18-year-old boy who died at the hands of two Police officers has nothing to do with the Mexican soccer player Andres Guardado. The only common thing between them is their name.
The 18-year-old Andres Guardado's incident occurred recently in 2020, where the two police officers had also refused to file an initial police report. His case came to light during the Black Lives Matter movement that demanded justice for his killing.
You Can Also Learn About Augustin Marchesin Bio: Early Life, Age, Career, Net Worth>>