Coming from South American soil into the land of windmills, Netherlands, and playing for one of their biggest clubs, PSV Eindhoven is a dream come true for Erick Gutierrez.
Also, playing at the midfield, Erick exudes youthful energy and is an excellent addition to PSV.
Moreover, the Mexican's most crucial attribute is identifying his teammates' strengths. As such, Gutierrez can either set up goals or score one himself, make timely runs, and pull off accurate passes.
PSV is looking to rebuild in recent times. After several talents departed their bitter rivals Ajax FC, PSV wanted to capitalize in that instance, although some of their own talents migrated to Italy, France, and England.
We will learn more about the up-and-coming talented Mexican named Erick Gutierrez. In short, the article comprises of his early life, career, injury, net worth, and personal life. So, without further ado, let's first begin with a list of quick facts!
Quick Facts
| | |
| --- | --- |
| Full Name | Érick Gabriel Gutiérrez Galaviz |
| Birth Date | June 15, 1995 |
| Birth Place | Ahome, Sinaloa, Mexico |
| Nick Name | Erick |
| Religion | Not available |
| Nationality | Mexican |
| Ethnicity | Latin |
| Education | Not Known |
| Horoscope | Gemini |
| Father's Name | Not Known |
| Mother's Name | Not Known |
| Siblings | Manuelito Gutierrez |
| Age | 27 years old |
| Height | 5'9″ (1.76 m) |
| Weight | 70 kg (154 lbs) |
| Shoe Size | Not available |
| Hair Color | Black |
| Eye Color | Dark Brown |
| Body Measurement | Not available |
| Build | Mesomorph |
| Married | No |
| Girlfriend | Yes (Jacqueline Osuna) |
| Spouse | None |
| Position | Midfield |
| Profession | Football Player |
| Net Worth | 1.8 million Euros |
| Clubs | Pachuca (Former); PSV (Current) |
| Jersey Number | #15 (PSV); #5 (Mexico) |
| Social Media | Instagram, Twitter, Facebook |
| Agency | Cantera Latina/ Matias Bunge |
| Last Update | June, 2023 |
Erick Gutierrez | Early Life & Career
Érick Gabriel Gutiérrez Galaviz, professionally Erick Gutierrez, celebrates his birthday on June 15.
Also, born in 1995 and grew up in Ahome, Sinaloa, Mexico, before moving a few hundred miles southeast to Pachuca to pursue a footballing career.
Even though the details regarding his parents are under wraps, the PSV midfielder has an older brother named Manuelito Gutierrez. In a similar manner, Erick first learned to play football at the age of twelve and, since then, hasn't let go.
After moving to Pachuca, the Mexican began to hone his skills through the youth ranks.
Added to that, his youth career spanned over four years and, in the 2013/2014 season, became a senior member of the club and spent five years before moving to PSV in 2018.
Erick Gutierrez | Age, Height, & Physical Stats
As of recent, the midfielder is 24 years old and is entering his prime age. Above all, Erick has a mesomorphic build, as most athletes do.
In the same way, the Mexican is unyielding during duels, and because of his flexibility, can evade being boxed.
Despite a medium height of 5'9 ″ (1.76 m), Gutierrez has impressive aerial skills and occasionally jumps higher than his relatively tall counterparts. However, with a weight of 70 kg (154 lbs), the pace and agility in the midfielder are not limited.
Furthermore, the dribbling and finishing technique of Erick is merely inexplicable; no wonder PSV wants a dribbling expert in their squad. Similarly, the midfielder is more of a goal machine than a supplier of one.
Nonetheless, we cannot undermine the creativity Gutierrez displays in the midfield. For instance, the agile midfielder has a commendable pitch awareness and passing approach.
Likewise, Erick can single out his teammate who is making a run in the opposition half and pull off accurate long balls. But, a midfielder can be of various types; box-to-box, mezzalla, and wide midfielders.
Generally, the Mexican operates as a mezzalla, a term coined for Italian football, but is also applicable worldwide.
Accordingly, Gutierrez makes an attacking-run overlapping with the wingers or outside mids and also contributes defensively.
Diego Lainez Bio: Age, Height, Stats, Current Teams, Net Worth Wiki >>
Erick Gutierrez | Career: Club & Country
Starting at a relatively young age of 12, Erick joined Pachuca and played as a right-back. Indeed, it seems fitting now as we know how the midfielder cultivated defensive aspects and overlapping tendencies on the flanks.
Besides, after training as a right-back during his early years, the youth coach pushed him to the midfield. As a result, Erick clicked with his new role right away and continued to impress as a versatile midfielder.
Finally, on October 26, 2013, the senior team coach took a chance on Gutierrez and provided him with a debut for the first team against Cruz Azul.
In fact, the match only confirmed the potential of the Mexican despite a disappointing 0-0 draw.
Due to satisfactory performance, the young midfielder had a chance to make 11 appearances totaling around four starting roles in the 2013/14 season.
Immediately, at the start of the new season, Luis Fernando Tena made Erick a regular in his lineup.
Eventually, the Mexican midfielder didn't disappoint and registered the first-ever Liga MX goal in a 1-1 draw against Toluca in February of 2015. Moreover, a significant period awaited Gutierrez.
For instance, with only 70 appearances under his belt, the Pachuca management decided to hand the captain's armband to Erick. Notwithstanding that, in the same 2016 season, the Mexican received Clausura 2016 Best XI spot.
However, with 144 appearances and uncountable memory with the Mexican side, Gutierrez was bound for Europe. The experiences, support, and achievements in Mexico definitely helped embellish his resume.
Matheus Uribe Bio: Transfers, Wife, Instagram, Stats, Net Worth Wiki >>
Bye, Bye, Mexico! Hello Holland!
Specifically, the Dutch giants PSV Eindhoven inquired about the 23-year-old Gutierrez. In addition, Pachuca was more than happy to sell one of their best talents for a €6 million sum on August 28, 2018.
Further, Erick reunited with his Mexican teammate Hirving Lozano in PSV. After that, with a 5-year deal signature and donning a No. 25 jersey, Gutierrez made his official Eredivisie debut on September 15 against ADO Den Haag.
Most importantly, the debut became the icing on the cake when under 5 minutes of substitution, Erick assisted Lozano with a beautiful long ball.
At the same time, the midfielder recorded his debut goal in a 7-0 thrashing of ADO Den Haag.
Time at PSV
Simultaneously, the Mexican played in the UEFA Champions League, making a debut against Barcelona, resulting in a disastrous 4-0 defeat. Even though the PSV side showed utter resilience, many top clubs would fall short in containing Lionel Messi.
On the contrary, defeats like these only strengthened the ambitious midfielder, as he would bounce back and contribute a goal in the KNVB Cup.
Again, PSV would lose to RKC Waalwijk; there were many beneficial lessons to be taken away from the match.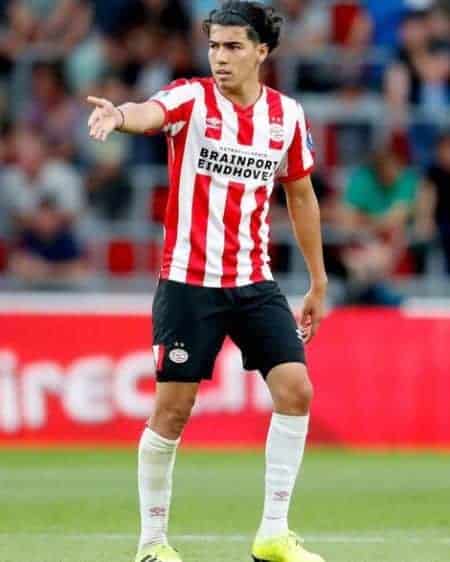 Unfortunately, in September of the same season, Erick picked up a hand injury and missed out on valuable time with the Mexico national team. Eventually, the midfielder returned in a game against PEC Zwolle and scored a goal sealing a 4-0 win.
In brief, the Mexico native made 48 appearances for PSV Eindhoven, scoring five goals and assisting five while doing so.
Likewise, the Mexican made it into the starting XI 14 times and came on as a substitute for 17 times, and spent 21 games on the bench.
International Career
Moving on, Erick landed a role under U-20 manager Sergio Almaguer to play at the 2015 CONCACAF-20 Championship.
Moreover, it shows how vital Gutierrez is for the team as he captained his side to an eventual win earning a berth at the 2015 FIFA U-20 World Cup.
However, in the latter competition, Mexico was unable to clear the group stage. On the other hand, Mexico coach Raul Gutierrez handpicked Erick to participate in the 2015 CONCACAF Men's Olympic Qualifying Championship.
Similarly, then Pachuca midfielder also competed in the Rio Olympics in 2016, wherein the Mexican scored one goal to lead Mexico in a comfortable 5-1 against Fiji. The success with the squad paved passage for the senior team.
Although Erick bagged a nod in the Mexican provisional list for the CONCACAF Gold Cup of 2015, he did not make it to the final roster.
Ultimately, in 2016 Gutierrez would on the Mexican colors in a friendly match against Panama on October 11.
Furthermore, the midfielder managed to land a call-up for the CONCACAF Gold Cup in 2017, appearing in every single match before losing to Jamaica. In contrast, the Mexico head coach didn't pick Erick for the 2018 Fifa World Cup.
Nonetheless, an injury to Diego Reyes secured the PSV midfielder a position in the squad.
In like manner, for the 2019 CONCACAF Gold Cup, Gutierrez would only play a single game against Canada, after which a hamstring injury would rule him out for further participation.
Diego Lainez Bio: Age, Height, Stats, Current Teams, Net Worth Wiki >>
Injuries
Initially, on April 12, 2016, Erick Gutierrez faced a muscular problem that kept him out of the field for 25 days. During his tenure, he missed out three games in total.
Later on August 12, 2020, he was down for 141 days due to his injury. Well, in that timeframe, Erick missed out on 23 games in total.
As for his recent injury, Erick stood on the injured list on April 9, 2021, which lasted for 49 days. All in all, he missed out on six games in total.
Career Achievements
With Pachuca
2016: Liga MX Clausura
2016/17: CONCACAF Champions League
With Mexico
2015: CONCACAF U-20 Championship (Youth)
2015: CONCACAF Men's Olympic Qualifying Tournament (Youth)
2019: CONCACAF Gold Cup
Further, his individual honors include;
2015: CONCACAF U-20 Championship
2016:Clausura Liga MX Best XI
Erick Gutierrez | Net Worth & Transfer Market Value
To begin with, the former Pachuca man has an estimated $1.8 million salary after signing on with PSV Eindhoven. Further, the contract offers him a sizeable $35,201 sum on a weekly basis.
On the other hand, the midfielder accumulated a surprising €6 million net worth throughout his ventures with Pachuca and at present with the Eredivisie club PSV.
Likewise, his contract binds him to the Dutch side until 2023, and hence, the chances of his net worth spiking are high.
Additionally, the versatile midfielder recorded a career-high market value of €7.5 million. However, the likeliness of profit seems good for PSV as they bought the Mexican for €6 million, and the market value of Erick is on the rise.
Contrarily, Gutierrez's fortune keeps growing after an endorsement deal with the sporting brand Adidas. Also, Adidas has the responsibility to outfit the PSV midfielder, and it's safe to say the Mexican enjoys his new cleats.
Erick Gutierrez Personal Life | Relationship Status
In particular, the 26-year-old midfielder has a healthy relationship with a woman named Jacqueline Osuna.
Despite the personal life of the Mexican being under the wraps, it can be assumed that the couple shows no signs of strain and discomfort with each other.
Furthermore, social media reveals that Erick and Jacqueline simply can't get enough of each other. In the same way, the couple posts romantic getaways, their exquisite lifestyle, and even the parties and events they attend.
At the time of writing, the happy couple shares two children and is still planning to have more in the future. Nonetheless, I want to wish Erick a joyous relationship and a successful career.
Social Media Presence
Instagram: 222k followers
Facebook: 195k followers
Twitter: 184.7k followers
Erick Gutierrez | FAQs
What happened to Erick Gutierrez?
As stated by the PSV, Erick will be out for the rest of the season due to a muscular injury that he suffered during the training week.
What position is Erick Gutierrez?
Erick Gutierrez plays as a midfielder in the team.
What team does Erick Gutierrez play for?
Young Erick plays as a midfielder for PSV Eindhoven and Mexico National Football Team.