Andrew Benintendi, an American baseball outfielder turned a free agent after the 2022 season, with a career-ending injury with New York Yankees.
Previously, the Gold Glove Award-winner played for the MLB teams Boston Red Sox (2016–2020), and Kansas City Royals (2021–2022). Throughout seven MLB seasons, he recorded a batting average of .279 with 73 home runs & 384 RBI.
An alumnus of the University of Arkansas, Benintendi is the first-round pick in the 2015 MLB Draft of the Red Sox, having played in minor league's High A & Double A-affiliates earlier.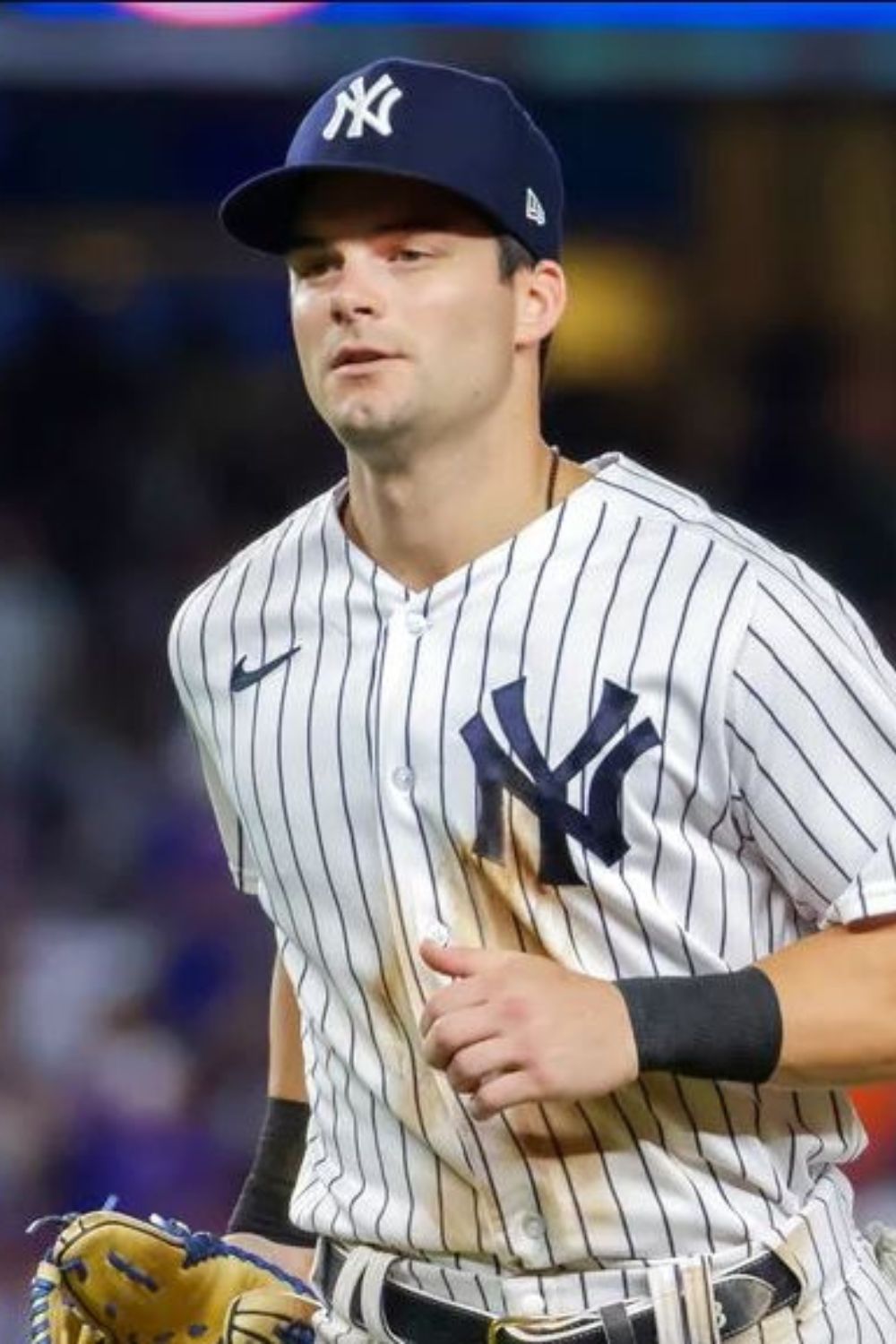 While at the Red Sox, Andrew was on the active roster when they won the 2018 World Series, recording their ninth glory.
After declaring his free agency in 2022, the Ohio-born saw negotiations with Chicago White Sox. So, what's up to the career update of Andrew Benintendi? Get more on his family, net worth & relationships here.
Andrew Benintendi | Quick Facts
Full Name
Andrew Sebastian Benintendi
Birth Date
July 6, 1994
Birth Place
Cincinnati, Ohio
Age
28 Years Old
Nickname
Benny
Religion
Christianity
Nationality
American
Ethnicity
Mixed
Father
Chris Benintendi
Mother
Jill Benintendi
Horoscope
Cancer
Chinese Zodiac
Dog
Education

High School Madeira HS (Cincinnati, OH)
University: University of Arkansas (Fayetteville, AR)

Height
5 feet 9 inches (1.75 m)
Weight
81 kg (180 lbs)
Build
Athletic
Eye color
Brown
Hair Color
Brown
Profession
Baseball player
Playing Position
Outfielder
Active years
2016 – present
Batting average
.279
Home runs
73
Runs batted in
384
Marital Status
Not married
Girlfriend
Becca Schamel
Agent
Excel Sports Management
Net Worth
$5 Million
Salary
$8 Million (In The 2022 Season)
Social Media
Instagram, Twitter
Merch
Signed Boston Red Sox Jersey, Rookie Card
Last Update
June, 2023
Andrew Benintendi | Parents & Family Background
Benintendi was born on July 6, 1994, in Cincinnati, Ohio, to Chris Benintendi, and Jill Benintendi. He has two sisters named Lilly Benintendi and Olivia Benintendi.
Andrew credits his attorney father for inspiring him to pursue baseball; they would practice in the backyard of his home in Madeira, Ohio. Moreover, Benintendi's dad coached Benintendi's baseball team from 8 until he turned 13.
Reportedly, his mother is a former athlete, which adds another stand for the family's interest in competitive sports.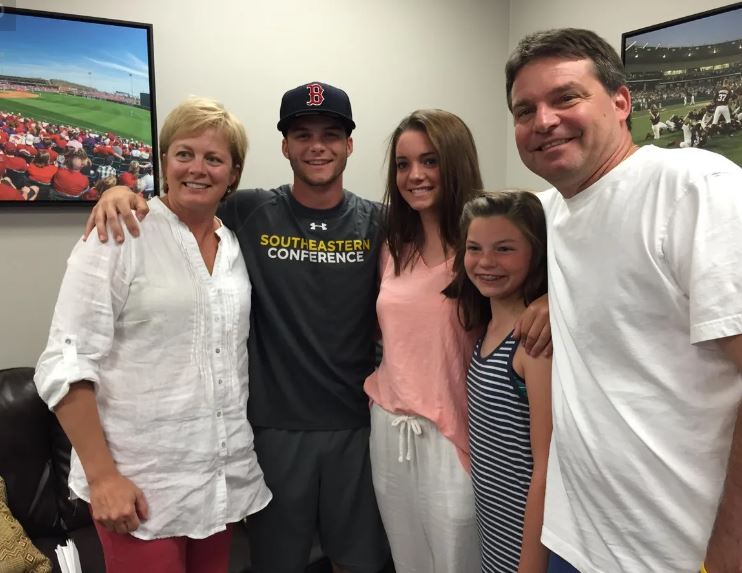 Andrew Benintendi's younger sister Lily attended the University of Kentucky and played basketball there.
The MLB player's family roots come from Italy- his maternal grandparents are immigrants from Castellammare del Golfo, Sicily, who later settled in Lama Ct in Gravesend, Brooklyn, the United States.
Andrew Benintendi | Age, Height & Body Measurements
Born in 1994, the former Boston Red Sox player is 28 years old. Andrew, whose zodiac sign is Cancer, was born in the Dog year, which is the 11th year of the Chinese zodiac.
The American-born with Italian ethnic background has a fit physique. He stands 5 feet 9 inches (1.75 m) and weighs 81 kg (180 lbs). He is left-handed.
As for his body measurements, Andrew has a chest size of 43″, biceps size of 16″, and waist size of 32″.
Benintendi has no tattoos on his body.
High School & Collegiate Career
An attendee of Madeira, Ohio-based Madeira High School, Andrew showcased excellence in inter-school baseball games- finished an Ohio-record 199 career runs scored.
As a senior, he earned a .564 batting average with 12 home runs, 57 RBIs, and 38 stolen bases. No wonder why Benintendi would see the accolade as National High School Player of the Year and Ohio Gatorade Baseball Player of the Year.
Even though the Cincinnati Reds picked him in the 2013 MLB draft (31st Round), he didn't sign with the team.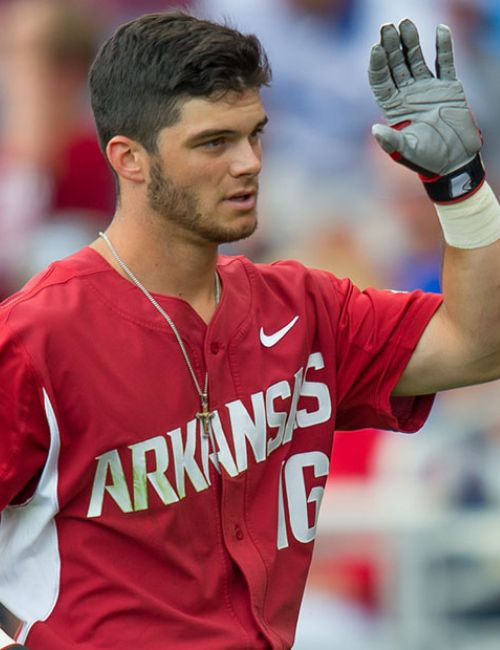 Rather, Andrew Benintendi pursued college baseball with Razorbacks at the University of Arkansas. There he won Dick Howser Trophy and Golden Spikes Award.
As a true freshman, the future MLB prospect started 60 of the 61 games- a .276 batting average & 27 RBI with 45 runs scored & one home run in 62 hits.
In his junior year, the 'SEC Player of the Year' led the Razorbacks to qualifiers for the College World Series but lost to the champs Virginia in the first round.
His college career stats in 2015 recorded a .380 batting average, a .489 on-base percentage, 19 home runs, a. 715 slugging percentage, and 47 walks (47).
Andrew Benintendi | MLB Career Debut With Red Sox
Andrew made his MLB debut with Boston Red Sox on August 2, 2016, against the Seattle Mariners, after 421 days of the draft.
The Red Sox picked him as the Round-One (7th overall pick) in the 2015 MLB Draft.
He was among the top prospects of the draft: Dansby Swanson, Alex Bregman, Brendan Rodgers, Dillion Tate, Kyle Tucker, and Tyler Jay.
Before he could play in the major league on a Boston Red Sox roster, they set him through tests in minor league teams.
Benintendi spent his 2015 & 2016 seasons with Greenville Drive (Class A), Salem Red Sox (Class A), & Portland Sea Dogs (Double-A affiliate).
On the Opening Day of the 2017 season, Andrew was in the Red Sox lineup and batted second in the 5-3 win over the Pittsburgh Pirates 5-3.
In an 11-4 victory on July 4, 2017, over the Texas Rangers, the player hit 5-for-5 with six RBIs, two home runs, and a double. The season (2017 season) saw him a batting average of .271 with 20 home runs, 90 RBIs, and 20 stolen bases in 151 games.
Won World Series | Injury & Exit From The Red Sox
Andrew Benintendi became a candidate for the 2018 All-Star but fell behind Jean Segura of the Mariners to enter the final squad.
Throughout the season in 148 games, he recorded a batting average of .290 with 41 doubles, 103 runs scored, 16 home runs, 87 RBIs, and 21 base steals.
Moreover, during the 2018 MLB playoffs, the left-handed outfielder made game-sealing outs against Houston in Game 4 & Game 5 of the 2018 ALC Series.
Then, Benintendi got hands over his first major league champions as the Boston Sox won (4-1) over the Los Angeles Dodgers in the 2018 World Series. He made four hits in the World Series.
Benintendi is just the 3rd player in Red Sox history and the 2nd Golden Spikes Award winner to record four hits in a #WorldSeries game.

Not bad for a debut on @MLB's biggest stage. pic.twitter.com/l8Ylj9R2as

— Golden Spikes Award (@USAGoldenSpikes) October 24, 2018
He was Boston's regular left fielder to start the 2019 season with rosters: Matt Barnes, Juan Centeno, Ryan Brasier, Mookie Betts, Rafael Devers & others.
On June 11, 2019, his first-ever dismissal from the MLB game came after he made a remark about the home plate umpire (Angel Hernández)– it was overheard by the first base umpire (Vic Carapazza).
Benintendi played in 138 games during the 2019 season, compiling a batting average of.266 with 13 home runs, 40 doubles, and 68 RBIs.
In the 2020 season (on July 29), he recorded his 500th hit & longed for more records in the coming games. But the on-field quest halted after a right rib cage strain put him on a 10-day disabled list on August 12, 2020.
And by September 8, his placement on the 45-day injury list took away the 2020 season & also the stint with Boston Red Sox.
Other MLB Teams (Kansas City Royals & New York Yankees)
As part of a three-team trade on February 10, 2021, the Red Sox sent Andrew to Kansas City Royals, where he played one & a half seasons.
It acquired Boston: Franchy Cordero, Josh Wieckowski, and three other players. The third team NY Mets got Khalil Lee.
In 2021, Andrew Benintendi won the Gold Glove Award after leading as a left fielder with 1,116 innings and a.987 fielding percentage. He finished the season with a .276 BA (batting average) scoring 17 home runs and 73 RBIs.
By the mid-way of the 2022 MLB season, the City Royals traded him with the New York Yankees on July 27, 2022.
In 33 games with the Yankees, he made 29 hits for two home runs with 14 runs scored, averaging 12 RBI.
Andrew Benintendi | Achievements & Accolades
All-Star (2022)
World Series champion (2018)
Gold Glove Award (2021)
Golden Spikes Award (2015)
Dick Howser Trophy (2015)
Career Update | What Is Benintendi Doing Now?
Following Andrew's broken hook in the right wrist in September 2022, the Yankees put him on the injured list & re-assigned him to the minor league.
So the player elected his free agency on November 6, 2022.
Within a month, he caught the interest of the Chicago White Sox. Benintendi signed a 5 year $75 million contract with the White Sox on December 16, 2022, though the transfer is yet to be official.
Andrew Benintendi | Wife Or Girlfriend?
The MLB player is not married officially so far. But also, the talks about his relationship with his girlfriend Becca Schamel barely slow down. They reportedly began dating in 2018.
Back in March 2018, Andrew Benintendi shared a picture with his girlfriend on Instagram on her 23rd birthday, & captioned "Happy 23rd Babe!! #JordanYear #taken".
Furthermore, in February 2019, the former Yankees star made another IG post featuring his lover on their relationship anniversary.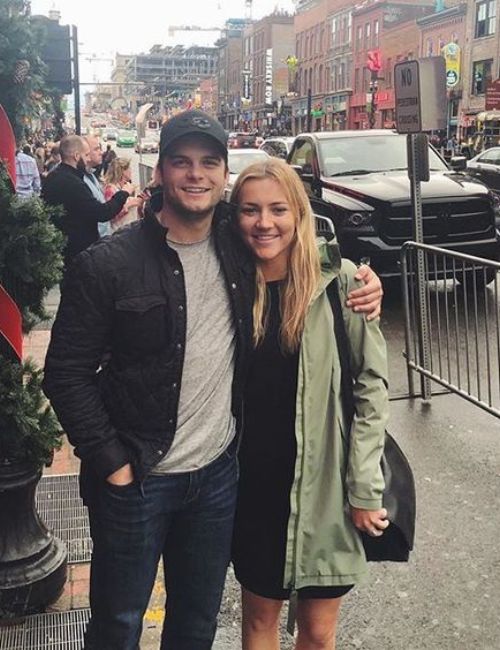 However, those post has since been deleted, and Becca is not active on Instagram too.
So, there are speculations if the two are still in a relationship or have split.
Andrew's girlfriend Becca (full name: Rebecca Ann Schamel) was born on March 22, 1995. She is the youngest of four to Gail and Kurt Schamel.
She grew up with her sisters: Elizabeth & Abigail and a brother named Carter.
Rebecca completed schooling at Nerinx Hall High School in 2013. After that, she enrolled at & graduated from the University of Arkansas in 2017 with a degree in Kinesiology Pre-Professional with a Spanish and Biology minor.
Schamel then pursued her medical degree at the University of Missouri Columbia School of Medicine.
Andrew Benintendi | Net Worth & Salary
After his professional debut following the 2015 MLB Draft, Andrew has played 7 MLB seasons with the teams: Red Sox, City Royals, and The Yankees.
As of June, 2023, Andrew Benintendi has a net worth of $5 million. His major income source is the MLB career- the player's career earnings record $22 million.
On February 24, 2017, the baseball outfielder signed his one-year rookie contract of $549,000 with the Boston Red Sox.

The team then offered him $620,500 in 2018 & $717,500 in 2019, before a two-year $10 million deal on February 8, 2020.
In the 2022-23 season, Benintendi earned a total of $8.5 million in salary ($5.2 million from Kansas & the rest from the Yankees).
Prior to the season, he agreed to a one-year, $8.5 million deal with the Royals before New York Yankees signed him to pay the adjusted $3.2 million remainder of his contract.
Andrew Benintendi is a free agent after leaving the Yankees after the 2022 season.
But given his potential 5-year $75 million contract with Chicago White Sox, the player could earn an average annual salary of $15 million in the 2023-24 season.
Frequently Asked Questions
Does Andrew play other sports?
In addition to baseball, Andrew also played basketball for his high school, where he was named the Cincinnati Enquirer Division III Co-Player of the Year in 2011–12.
Likewise, the player also established school records for career points (1,753), season points (638), lifetime three-pointers (180), and points per game in a season.
What is Andrew Benintendi's nickname?
The baseball player is called "Benny" by his fans.
What is Andrew Benintendi's jersey number?
Andrew Benintendi wore jersey number #18 with the Yankees in the 2022 season before electing to free agency. However, the Yankees retired that number in honor of a left-handed pitcher called Edward Charles (Whitey) Ford.
Prior to that, he wore #16 for the Kansas City Royals and the Boston Red Sox.