Andrew Wiggins is a Canadian-born professional basketball player who plays as a forward for the Golden State Warriors in the NBA.
The charismatic basketball prodigy had begun his American basketball league as the first overall draft pick in 2014.
Before his professional career, Andrew used to play college basketball for the Kansas Jayhawks. While at Kansas, he had received overwhelming appraisals for his performance throughout his brief college career.
The Warriors forward is having a fantastic time in the NBA, performing exceptionally well every season, winning several awards and accolades. The NBA included him in the All-Star game in 2022.
Likewise, the player was a recipient of NBA Rookie of the Year in 2015 as well.
Let's discover more about this young Canadian star, Andrew Wiggins. But before moving into the detail, here are some quick facts about him.
Quick Facts
Full Name
Andrew Christian Wiggins
Known As
Andrew Wiggins
Date of Birth
February 23, 1995
Birth Place
Toronto, Ontario, Canada
Nick Name
Mr. Consistent, Maple Jordan, Mr. fantastic
Religion
Christianity
Nationality
Canadian
Zodiac Sign
Pisces
Age

28

years old
Height
2.01 m (6 feet 7 inches)
Weight
197 lb (89 kg)
Hair Color
Black
Eye Color
Black
Build
Athletic
Father's Name
Mitchell Wiggins
Mother's Name
Marita Payne Wiggins
Siblings
Mitchell Jr., Nicholas, Stephanie, Angelica, and Taya
Education

Vaughan Secondary School (Vaughan, Ontario)
Huntington Prep School (Huntington, West Virginia)
University of Kansas (Lawrence, Kansas)

Marital Status
Unmarried
Sexual Orientation
Straight
Girlfriend
Mychal Johnson
Kids
Amyah Wiggins, Alya Wiggins
Salary
$31.5 million
Profession
Basketball player
NBA Draft
2014 / Round: 1 / 1st pick overall
Position
Small forward
League
National Basketball Association (NBA)
Active Years
(2014 – Present)
Net Worth
$35 million
Currently Plays For
Golden State Warriors
Jersey Number
22
Social Media
Instagram, Twitter, Facebook
Merch
NBA Card, Notebook
Last Update

May 2023
Early Life, Family & Education
On February 23, 1995, Andrew Wiggins was born in Ontario, Toronto, Canada. He is the youngest son of Mitchell (Father) and Marita Payne Wiggins (Mother).
Both his parents were professional sportspersons. His father, Mitchell, is a former NBA player and played basketball in Europe when Andrew was born. He retired from a professional career in 2003.
Likewise, his mother, Marita, was a track and field athlete who represented Canada in numerous international competitions.
Since his high school days, Andrew continued playing basketball tournaments and later became the top prospect in the NBA. Similarly, Mitchell Jr. played college basketball for the Southeastern Fire.
His other brother, Nicolas, played college basketball for the Wichita University team and currently plays in the NBA G League.
After briefly attending Vaughan Secondary School in Canada, Andrew moved to the United States and enrolled in the Huntington Prep School for high school education.
He eventually graduated high school from the same school in 2013. Wiggins later joined the University of Kansas in Lawrence for his further studies.
Born in Ontario, Wiggins grew up in Thornhill in a large household with five other siblings. As he was the youngest of all, everyone adored him.
His older brothers, Mitchell Jr., and Nicholas, had already begun playing basketball when he was a little boy. They observed their father's matches and hoped to achieve big in the future.
Young Wiggins enjoyed sports, so he too started playing with his brothers from a young age. All the kids from the Wiggins family had acquired athletic gifts from their parents, and Andrew later showed that he was better than everyone else.
He began playing organized basketball at the age of nine and progressed quickly.
Naming Himself 'Mr. Fantastic'
For most of his life, Andrew has been known by the nickname, "Maple Jordan". However, the young ten-year-old kid wanted to be favored by a unique nickname-Mr. Fantastic.
Wiggins had just watched the movie Fantastic Four in 2005. And with the film, he came out with a new moniker for himself as he might have found "Mr. Fantastic" alluring and image-perfect.
Andrew must have been highly influenced by the superpowers of Reed Richards, aka Mr. Fantastic.
Andrew Wiggins | Basketball Career
High School Career
Andrew Wiggins had already gained proficiency in basketball skills much before joining the school team. He initially played his first two high school years for the Vaughan Secondary School in Canada.
As a sophomore, he led his team to the Ontario provincial championship victory in 2011. Even though he had a significant role in winning the trophy, many fans criticized him on the court, some even calling him "overrated."
At that moment, he realized that no matter how much you try, there are always some people to pull you down.
After his sophomore season, he joined the Huntington Prep School in America, where he played his last two high school seasons. Wiggins continued his fiery game on the new court as well.
He finished his senior season with an average of 23.4 points and 11.2 rebounds per game. Consequently, various sports agencies named him a high-ranked recruit, and he won several awards in his final year, including the Gatorade National Player of the Year.
Go through and grab some knowledge on Latvian Basketball player Kristaps Porzingis!
College Career
After graduation, Wiggins chose to play college basketball for the Kansas Jayhawks and joined the University of Kansas. However, he had received scholarship offers from renowned universities like Kentucky and North Carolina as well.
He kept various records and won several awards playing only freshman season for the Jayhawks. He received Big 12 Freshman of the Year honors for his outstanding performance in 2014.
After finishing the season with 17.1 points and 5.9 rebounds per game, Andrew decided to forgo his last three college seasons and declared for the NBA draft on March 31.
He was nominated in the top-10 semi-finalists list for the Naismith College Player award that year.
Professional Career
The Cleveland Cavaliers chose Wiggins with the first overall pick in the 2014 NBA draft. With that selection, he became the only Canadian to get picked first in the NBA draft after Anthony Bennett a year earlier.
However, the Cavaliers traded him to the Minnesota Timberwolves a few months later. His rookie season with the Timberwolves was phenomenal.
Andrew played all 82 matches of the season and averaged 16.9 points and 4.6 rebounds per game in his first-ever NBA season. He won several honors, including being the best rookie that season.
Likewise, his career-best performance in the league was in the 2017-18 season, when he averaged 23.6 points per game. His only NBA playoffs appearance was also in the same season.
He played around five more seasons with the Timberwolves until the 2019-20 mid-season. Even though frequent injuries troubled him, his performance was always on point every time he stepped onto the court for the club.
The club eventually traded him to the Golden State Warriors on February 6, 2020. Wiggins' first season with the Warriors ended well with an average of 19.4 points per game in around 12 matches.
Andrew Wiggins is still with the Warriors in the 2021-22 season. He received his first-ever NBA All-Star game selection in 2022.
International Career
Besides his league career, Andrew Wiggins has played for the Canadian national team in numerous international tournaments.
He was part of the national team that won bronze in the FIBA U17 World Championship and FIBA U18 World Championship in 2010 and 2012.
Awards & Achievements
Some of his awards and achievements are:
NBA Rookie of the Year (2015)
Gatorade National Player of the Year (2013)
Naismith Prep Player of the Year (2013)
NBA All-Rookie First Team (2015)
NBA All-Star (2022)
Consensus second-team All-American (2014)
Big 12 Freshman of the Year (2014)
NBA All-Rookie First Team (2015)
First-team All-Big 12 (2014)
Mr. Basketball USA (2013)
McDonald's All-American (2013)
Andrew Wiggins | Net Worth
There is no exact information about his net worth on the internet, but many websites seem to agree that his net worth is around $35 million.
However, a few others have mentioned it to be lower than the above amount.
Andrew had started his career with the Minnesota Timberwolves in 2014. The club had paid him about $5.5 for his rookie season as he was the draft's top pick.
Wiggins played for the Timberwolves until 2019 and collected around $44 million after his rookie season before moving to the Golden State Warriors.
He had signed a five-year contract worth $148 million with the Timberwolves in 2017, but that was annulled after the trade. His earnings from the Warriors in the first two full seasons were huge.
The Warriors offered him an annual salary of $31.5 million for the 2021-22 season. So, he is currently the third-highest player on the Golden State Warriors.
He has already accumulated over $105 million from his NBA career to date.
You can check out his salary details on hoopshype.com.
Even though his primary source of earnings is the league games, Wiggins earns a lot through brand endorsement deals. He has endorsed the products of various companies such as Adidas, Bio Steel, Fitbit, etc.
Read about the player who went undrafted in 2006 and now serving as an assistant coach Chris Quinn!
Injuries & Covid-19 Vaccination
Unlike many NBA players, Andrew Wiggins has been available for his team during the matches as he rarely suffers injuries. He was out of the court in 2018 for a few games due to a sore knee.
Before that, he had missed some matches due to a knee injury back in 2015. So, he has never faced major damage in his career to date.
However, he drew much criticism when he refused to get the Covid vaccine in 2021. The NBA had instructed everyone to get vaccinated by October 13 that year, but he had remarked he wouldn't do it.
Thankfully, he backed off and vaccinated himself with a Johnson & Johnson vaccine dosage in October. However, he had requested the NBA to exempt him from vaccination which it denied.
The NBA could have permanently suspended him if he had not followed the protocols. If not, he could have lost an enormous amount from his annual salary.
Wiggins entered the Covid-19 health and safety protocols a couple of months later in December, but he immediately returned to the game in early 2022.
Andrew Wiggins | Personal Life
Wiggins is in a romantic relationship with a beautiful girl named Mychal Johnson. As per the source, Wiggins met her in 2013, and they have been together for the past nine years.
They were around the same age when they met but used to attend different universities.
Like Wiggins, Johnson was also in her first year of college at that time and played basketball for the University of Notre Dame basketball team.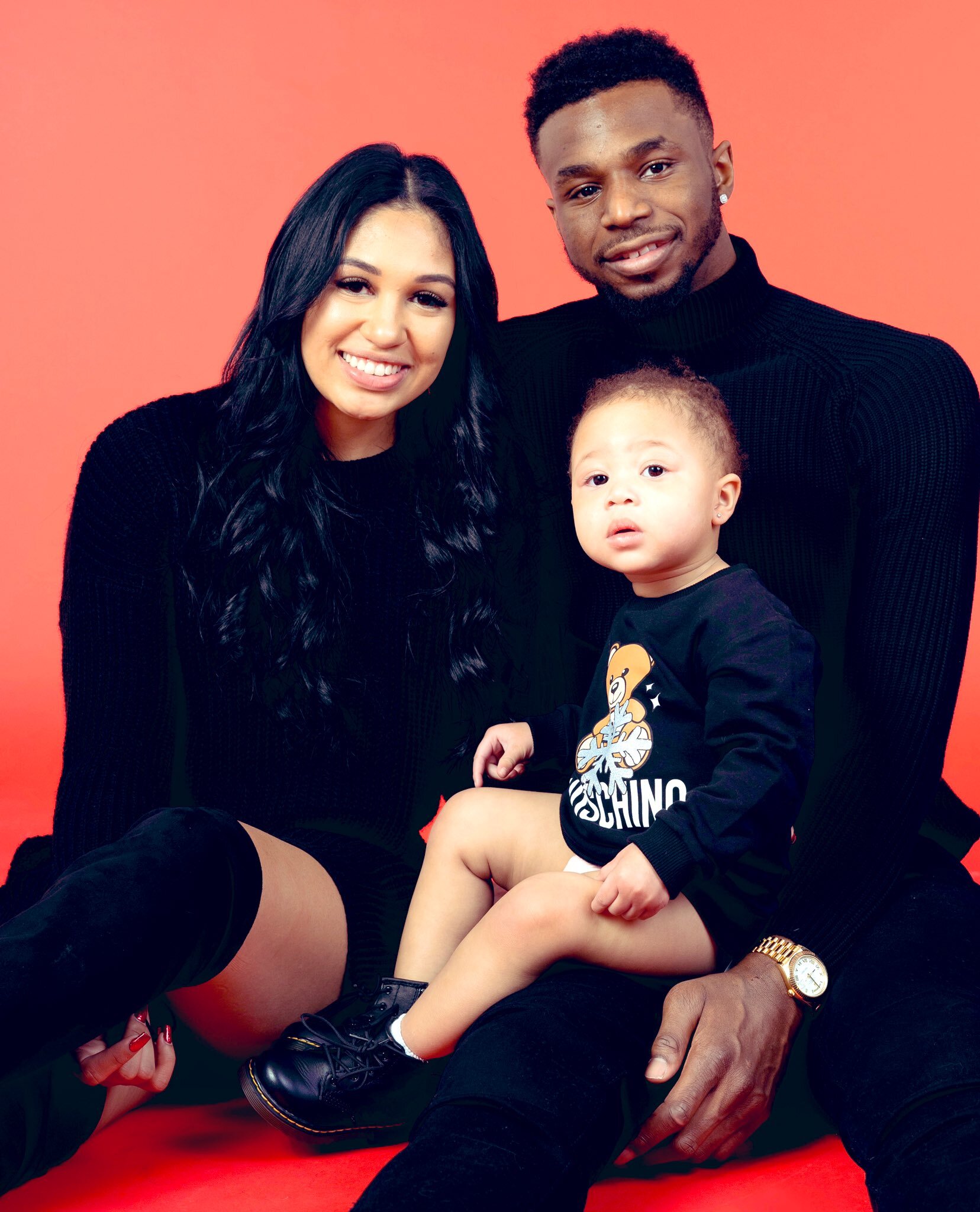 Even though Mychal was good at the sport, she did not pursue it after college. Instead, she graduated with a Bachelor's degree in Business Administration in 2018.
Johnson remained firm in support for the Canadian athlete throughout his journey in the NBA, so she deserves credit for his success. Even though America is not his own country, she made him feel at home.
They are not married yet but live together happily with two beautiful daughters. Johnson gave birth to their first daughter, Amyah Wiggins, on October 11, 2018.
Similarly, they welcomed their second daughter, Alya Wiggins, in 2020.
Age, Weight & Height
As of 2023, Andrew Wiggins is 28 years old.
Moreover, Wiggins stands 2.01 meters (6 feet 7 inches) tall and weighs around 197 lb (89 kg).
Social Media Presence
Instagram: @22wiggins
Twitter: @22wiggins
Facebook: Andrew Wiggins
Extract information on American-born professional basketball player Hassan Whiteside!
Frequently Asked Questions
Is Andrew Wiggins also nicknamed "Two-way Wiggs"?
Yes, Stephen Curry and the Warriors rendered Wiggins with a new nickname, "Two-way Wiggs," because he refined on the defensive end.
As per sources, Andrew has always remained an offensive-minded player.
Steph gives Andrew Wiggins a nice compliment — says the Warriors have been calling him "Two-way Wiggs" because of his improvement on the defensive end.

"He's proven he can definitely make an impact on that end of the floor."

— Nick Friedell (@NickFriedell) January 21, 2021
Are Aaron and Wiggins related?
No, Aaron Wiggins and Andrew Wiggins are unrelated. Aaron is an American professional basketball player, while Andrew is from Canada.
What is the wingspan of Andrew Wiggins?
Andrew Wiggins has a wingspan of 2.13 meters.