Born and raised in Russia, Rublev, also known as Andrey Rublev, is the new kid in tennis who has taken the town of tennis by storm. At such a young age, this man has made a pretty good name for himself in tennis through his game sense and skills.
Rublev is a very talented young man who has successfully reached a career-high singles ranking of number 10.
This could be one of the most prestigious rankings for any tennis player and reminded him that he is still in his early twenties. He still has a long way to go before even thinking of retiring.
This young man has made promises that only a few other legends in sports have ever fulfilled. We can be sure that Rublev would be compared with tennis legends like Roger Federer, Rafael Nadal, and Novak Djokovic in the coming years.
Going through his stats, we can be sure that he would become one of tennis's best players.
Andrey Rublev | Quick Facts
| | |
| --- | --- |
| Full Name | Andrey Andreyevich Rublev |
| Profession | Professional Tennis Player |
| Date Of Birth | 20-Oct-97 |
| Place Of Birth | Moscow, Russia |
| Father's Name | Andrey Rublev Sr. |
| Mother's Name | Marina Marenko |
| Zodiac Sign | Libra |
| Age | 25 Years Old |
| Married | Not married |
| Girlfriend | Yes |
| Girlfriend's Name | Anastasija Homutova |
| Girlfriend's Profession | Tennis player |
| Children | No Children |
| Religion | Christianity |
| Height | 6 feet and 2 inches |
| Weight | 65 kg |
| Eye Color | N/A |
| Hair Color | Blonde |
| College | N/A |
| Current Team | Russian National Team |
| Nationality | Russian |
| Residence | Moscow, Russia |
| Secondary Residence | Miami, USA |
| Social Media | Instagram, Twitter, Website |
| Coach | Fernando Vicente |
| Racket | Wilson Six-One 95 |
| Merch | Tennis Ball, Tennis Racket |
| Prize money | US$ 8,042,395 |
| Turned Pro | 2014 |
| Plays | Right-handed (two-handed backhand) |
| Nickname | RubI |
| Last Update | February, 2023 |
Andrey Rublev | Early Life and Family
Rublev was born in Moscow on the 20th of October, 1997. His full name is not Andrey Rublev; it is Andrey Andreyevich Rublev.
Born into an athlete family, Rublev's father, Andrey Rublev Sr., was a professional boxer before turning into a restaurateur and his mother, Marina Marenko, is a tennis coach. He is named after his father.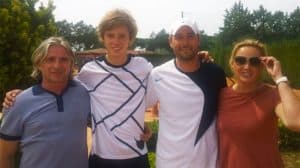 He showed a deep interest in sports from a very young age. Although his part interest was inclined toward tennis, he still played basketball and boxed regularly. According to a report, he is said to practice boxing and basketball at present regularly.
As a boy, Rublev looked up to his heroes Roger Federer, Rafael Nadal, Grigor Dimitrov, and Milos Raonic, to name a few. He learned to play tennis through their unique plays.
He practiced and tweaked their technique to suit him better and thus is on track to becoming a great tennis player.
Read about one of Rublev's heroes – Roger Federer: Early Life, Family, Age, Wife, Children, Net Worth.
Andrey Rublev | Age, Height, and Nationality
Age and Height
As we know that Rublev was born on the 20th of October, 1997, he is 25 years old as of now.
Andrey is a young man and has got potential that could make him world-renowned. As he is an athletic man, his body stature is also like that of an athlete. And, we can safely assume that the sports he plays have helped to boost his height too.
Andrey has a whopping height of 6 feet and 2 inches, which makes him quite tall than an average human. However, most tennis players have a height of 6 feet or more, so their size is quite moderate compared to other tennis players.
Nationality
Rublev was born and raised in Russia. He has Russian citizenship, which makes him Russian by birth and certification.
Andrey Rublev | Career
Junior Career
Rublev's first-ever significant game was in Luxembourg when he was just 13 years old. He got his first win in his second competition, which was held in Phoenix. In the coming years, he climbed up in the competition and won the Orange Bowl in 2012.
His first ever notable win was in 2014 when he won against Munar Clar in the French Open junior singles. Again in the Wimbledon Championships, Rublev reached the third round before losing against Van Rijthoven.
In the 2014 Summer Youth Olympics, he won the bronze medal after beating Jumpei Yamasaki. Similarly, he also reached the finals in the doubles but lost to Brazilians Liz and Zorman.
His last junior tournament was the inaugural ITF Junior Masters, which he won by beating Taylor Fritz in three sets.
Professional Career
Rublev's professional career or senior career started in 2014 when he debuted in the Bulgaria F6 Futures. He slowly made his way to the big leagues. But that does not mean he won all the tournaments.
As a 15-year-old boy, he lost many games during the quarter-finals or semi-finals before grabbing a tournament win and his first win as a senior player at the USA F31 Futures, which was held in Bradenton, United States.
The year 2015 was both good and bad for the young boy.
Although he faced many losses, he made history by being one of the two under-18 players to win at least once in five ATP tournaments in one season.
This was a booster for him as it would help him grow more as a tennis player. 2015 when Rublev made his grand slam debut at the 2015 US Open as a qualifier.
He has not won any grand slam tournament until now, but that is sure to change in the coming future.
The young star has reached the quarter-finals only three-time in his career. He played in the quarter-finals in the 2017 US Open, 2020 French Open, and 2020 US Open until now.
Awards
Andrey's plays, skills, and talents have won him awards. He is a deserving player, too, because he has put a lot of work into honing his skills and talent in the sport.
He was nominated for The Russian Cup Team of the Year award twice, once in 2013 and another in 2014. In the year 2014, he was able to win the ITF Junior World Champion award, which is a pretty huge deal for a junior tennis player.
Also, in 2019, he is said to have won't the Team of the Year award. These awards show the player's value, and it gives a significant margin of how good the player actually is.
Rublev could become one of the greatest players in tennis in the future if he goes on playing in his best way. He grabbed the ATM Most Improved Player in 2020.
You can get detailed information about his career, including his wins and losses and even his achievements, through his Wikipedia page.
ATP Titles
Andrey set his foot on the career-high singles rankings of No.7 by the ATP on 19 April 2021. He arrived in the top 10 of the ATP Tour in October 2020. Talking about ATP single titles, he has grabbed 8 of them.
Andrey came across a career-high doubles ranking of No. 74 on January 6, 2020. He has notched two double titles to date.
Andrey could finish at second place for the first time at a Masters 1000 level at the 2021 Miami Open in April but sadly got knocked out by the eventual champion Hubert Hurkacz.
It was in Monte Carlo when Rubley made it to his first singles Masters 1000 final, winning against 11-time champion Rafael Nadal on the way.
Although he could not conquer Tsitsipas in the championship match, Andrey made it to a career-high of world No. 7 and outdid Roger Federer in the rankings.
Andrey also performed at the 2021 French Open (Rolland Garros), where he got upset in the first round by Jan-Lennard Struff of Germany in 5 sets.
At the 2021 Wimbledon Championships, Andrey finished in fourth place for the first time in his career, overcoming 26th seed Fabio Fognini.
Playing Style and Best Shots
Not mentioning Andrey's best shots would be a crime. So here we go. We all know that Andrey is an offensive baseliner with a good forehand grip.
Andrey has a menacing and continuous two-handed backhand. When it comes to using his forehand, he makes several passing shots and goes lethal as the consistency and comfort level is high.
According to Andrey, he does not refer to a particular tennis surface. His hyper-aggressive attitude sometimes leads to situations where he makes rapid errors followed by technical and mental difficulties.
Andrey's first serve even reaches 200+ km/h (125+ mph). However, his second serve is a bit disappointing, slower than the first serve because of his high number of double faults.
Andrey's most talked-about shots were when he outwitted Rafael Nadal on Friday at the Rolex Monte-Carlo Masters. During the same event, he just earned the decisive break of serve against Casper Ruud with a buzzing backhand down the line.
Defeating Marton Fucsovics in the final, Rublev won the Rotterdam Open. which later opened his doors to a twenty-match winning streak at ATP Tour 500 tournaments.
Tennis on a Clay Court
World No.7 Andrey Rublev says," Clay is the surface when it's real tennis."
Rublev had a strong start to the European Clay Court season, making it to the finals of the Monte Carlo Masters and the quarter-finals of the Barcelona Open.
The first time Andrey played on clay surfaces was at Trofeo Bonfiglio in Milan and became a quarter-finalist at the 2014 Australian Open junior singles. At the doubles competition, he was teamed up with German Alexander Zverev, reaching the quarter-finals.
Recently, Andrey was overpowered by Jannik Sinner in just over 90 minutes at the Barcelona Open 2021.
And following is the data extracted from tennislive.net regarding his clay record.
| | |
| --- | --- |
| Year | Clay Record |
| 2021 | 9/5 |
| 2020 | 16/3 |
| 2019 | 8/5 |
| 2018 | 2/3 |
| 2017 | 11/11 |
| 2016 | 12/14 |
| 2015 | 12/10 |
| 2014 | 11/2 |
| 2013 | 12/2 |
| Total | 93/55 |
| Percentage | 62.84% |
Andrey Rublev | Salary and Net worth
Andrey has already become one of the most successful young players in the world. His talents and skills have won him many matches and tournaments until now. Such high-level matches earn him a high amount of money than a normal or local league.
Rublev's monthly salary, more likely income in this condition, is said to be approximately $1 Million USD, which is a whopping amount.
However, this amount does not just represent his salary but also his total income sources, like his investments, advertisement, and sponsors, to name a few.
However, his net worth is still not known; it is estimated to be around $5 million USD or more.
Some of his sponsors include Wilson and Nike for his tennis outfits. Furthermore, he has won about $5,727,840 in prize money, i.e., just from playing and winning tennis matches.
Joining the Bulgary Family
As per online sources, the young talent has also joined the Bulgary family as a new watch and jewelry ambassador.
During the tournaments in 2020, Andrey was regularly spotted on podiums wearing Bulgary on his wrist. And this is how the bond got formulated between the house and him, and slowly they got the chance to explore what's common between them.
Andrey previously discovered the brand on his own through Alumunium watch and then also learned about the Save-the-Children activities so close to his own charity approach.
Andrey Rublev | Girlfriend
Anastasija Homutova is the girlfriend of Andrey Rublev. Anastasija is also from a sports background; in fact, she is a professional tennis player.
Although she has not got the chance to play in the big leagues like her boyfriend, she has made quite a name for herself through the matches she has played.
Andrey and Anastasija have been together for quite some time now. They started dating a couple of years back, and she is also said to live in Russia. We can see her pictures with Andrey all over the internet, suggesting that they have a healthy relationship.
The ITF-level competitor also travels with her boyfriend to his matches as a supporter, which is a very good gesture. You can also visit her Instagram page @nastja7777 to know more about her; however, she has a private account.
Does Andrey Rublev believe in luck?
Well, this query comes across over and over. The great Russian tennis star is sometimes spotted kissing his trophy and sometimes the necklace.
Kissing the trophy can be understood as it must be out of happiness and respect for the title he won. He was seen kissing his trophy during the prize ceremony.
It was after competing in the ATP Croatia Open tennis tournament final match in the Croatian coastal city of Umag on July 23, 2017.
On the other hand, Andrey was also spotted kissing his necklace during a match in Australian Open Tennis, Day Three at Melbourne Park, Australia.
Friendship with Daniil Medvedev
Besides being an avid tennis player, Andrey is also a great friend. He and his fellow compatriot Daniil Medvedev are always there for each other.
They both are ranked inside the top 10, and both are looking forward to winning Grand Slams and achieving the No. 1 position.
Andrey Rublev | Social Media
Rublev is quite famous on social media. He is very active on Twitter and Instagram; however, we could not find him on Facebook. Talking about his Instagram, he has about 249k followers and 261 posts altogether right now.
Moving on to his Twitter, he has 49.3k followers, and he is following about 95 people. The total number of followers on his social media accounts shows how many fans following the man has.
It is quite overwhelming, but he earned his followers fair and square through his talents.
Here are his usernames attached to the links to his social media accounts.
Twitter: @AndreyRublev97
Instagram: @andreyrublev
Besides his social media accounts, Rublev also has his own website through which we can get more information about him.
Frequently Asked Questions (FAQs)
What racket does Andrey Rublev use?
Rublev currently uses the Wilson Six-One 95 racket. The people who know about rackets could recognize this one as a lookalike to the Wilson Burn 100s racket, which is a pretty good racket. Rublev is said to string the racket with Luxilon Alu Power.
How long have Andrey Rublev and Anastasija been together?
It is said that they came to know each other through the sport they both play, i.e., tennis. Although their relationship's age is not revealed to the public, we can safely assume that they have been together for a couple of years now.
Does Andrey Rublev speak English?
Yes, the fantastic tennis player speaks Russian, English, and Spanish.
Like the writer's work? Read more from the same writer – Philip Rivers: Early Life, Family, Age, Wife, Kids, Net worth.