Taylor Fritz is an emerging American professional tennis star and winner of the Masters 1000 title at the 2022 Indian Wells Masters. The champion with a world No. 12 ranking in Men's Singles by the Association of Tennis Professionals (ATP), Taylor sensationally upset Rafael Nadal to win the biggest career title.
Taylor Fritz is the first player to win a Masters 1000 final against Nadal since Roger Federer in Shanghai in 2017.
He is also the youngest lad of "Guy Henry Fritz" and former professional tennis player Kathy May Fritz.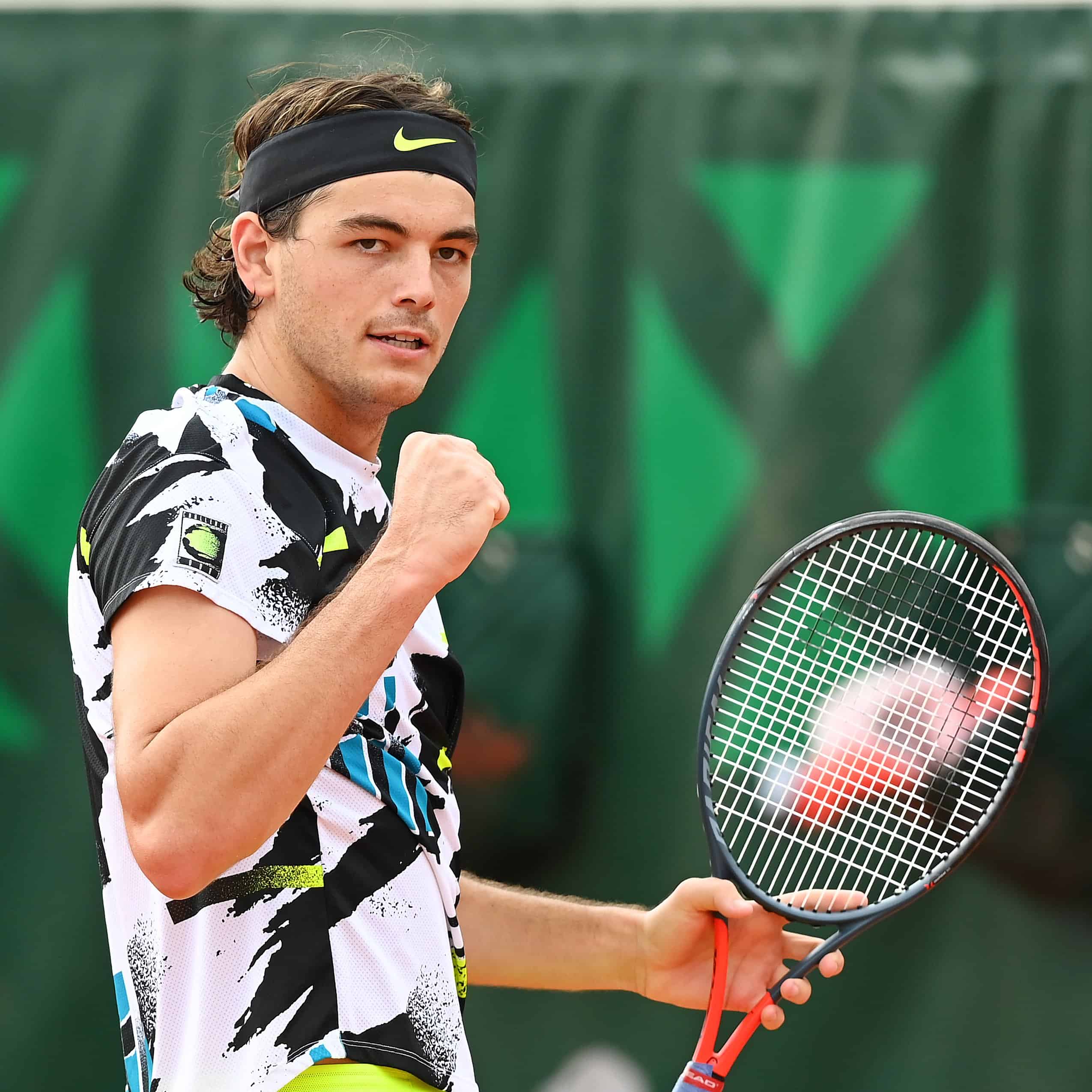 Tennis is in his blood, as he is from a family with a tennis culture followed by his father and mother.
Fritz participated in junior tennis events; later, he landed in professional events.
He turned into a professional player in tennis after the year 2015.
Meanwhile, he was a participant in junior events in 2013, a semifinalist, and the winner in events in 2014.
Before we unravel his bio and career, let's review the quick facts about the talented young tennis personnel.
Quick Facts
| | |
| --- | --- |
| Full Name | Taylor Harry Fritz |
| Birth Date | October 28, 1997 |
| Birth Place | Rancho Santa Fe, CA, USA |
| Resident | Rancho Palos Verdes, CA, USA |
| Religion | Christianity |
| Nationality | American |
| Sexuality | Straight |
| Ethnicity | American |
| Education | High School |
| Horoscope | Scorpio |
| Father's Name | Guy Henry Fritz |
| Mother's Name | Kathy May Fritz |
| Siblings | Brothers: Chris Paben, Kyle Paben |
| Age | 25 Years Old |
| Height | 6 feet 4 inches (193 cm) |
| Weight | 86 Kg (190 Lbs) |
| Hair Color | Golden Brown |
| Eye Color | Hazel Brown |
| Married | Divorced |
| Wife | Raquel Pedraza(Ex-Wife) |
| Son | Jordan Fritz |
| Girlfriend | Raquel Pedraza(Ex), Morgan Riddle (Current) |
| Profession | Professional Tennis Player |
| Net Worth | $4 Million |
| Followers | Instagram-118k ,Twitter-25.1k |
| Hobbies | Tennis, Music, E-Sports. |
| Plays | Right-handed, Backhanded, & two Handed |
| Coach | Paul Annacone, David Nainkin |
| Style of Play | Aggressive, Attacking |
| Career Record (Single) | 91–92 (49.7% in ATP Tour, Grand Slam main draw matches, and Davis Cup) |
| Career Record(Double) | Double-21–29 (42.0% in ATP Tour Grand Slam main draw matches and Davis Cup) |
| Highest Ranking | Single-12, Double-120 |
| Current Ranking | Single-12, Double-122 |
| Accomplishment | Rank 1 in East Bourne(Outdoor/Grass)2019 |
| Social Media | Twitter, Instagram, Facebook |
| Tennis Merch | Shoes, Bags, Rackets |
| Last Update | March, 2023 |
Taylor Fritz | Early Life, Family & Education
The famous tennis player Taylor Fritz was born on October 28, 1997, in Rancho Santa Fe, CA, in the USA, to his parents Guy Henry Fritz and Kathy May Fritz.
He has two elder maternal half-brothers, Chris Paben, a fitness trainer, and Kyle Paben.
Fritz started playing tennis, following in his parent's footsteps as professional tennis players.
The American-born grew up with his two brothers in Rancho Santa Fe, where he won CIF single title.
His father, Guy Henry Fritz, was the US Olympic development Coach of 2016 and participated in several professional tennis matches.
Similarly, her mother, Kathy May Fritz, was world number 10 in tennis in 1977 and successfully won 7 WTA singles titles during her professional tennis career.
He attended Torrey Pines High school regarding his academic qualification and won CIF single title in San Diego.
Furthermore, In the second year of high school, he switched to an online high school, which allowed him to play ITF Junior full-time events.
Taylor Fritz | Age and Body Measurements
Fritz is currently 25 Years Old as he was born on October 8, 1997. He is Scorpio, according to his birth chart.
He possesses tall physics with a height of 6 feet and 5 inches, whereas he weighs around the mass of 86 kgs.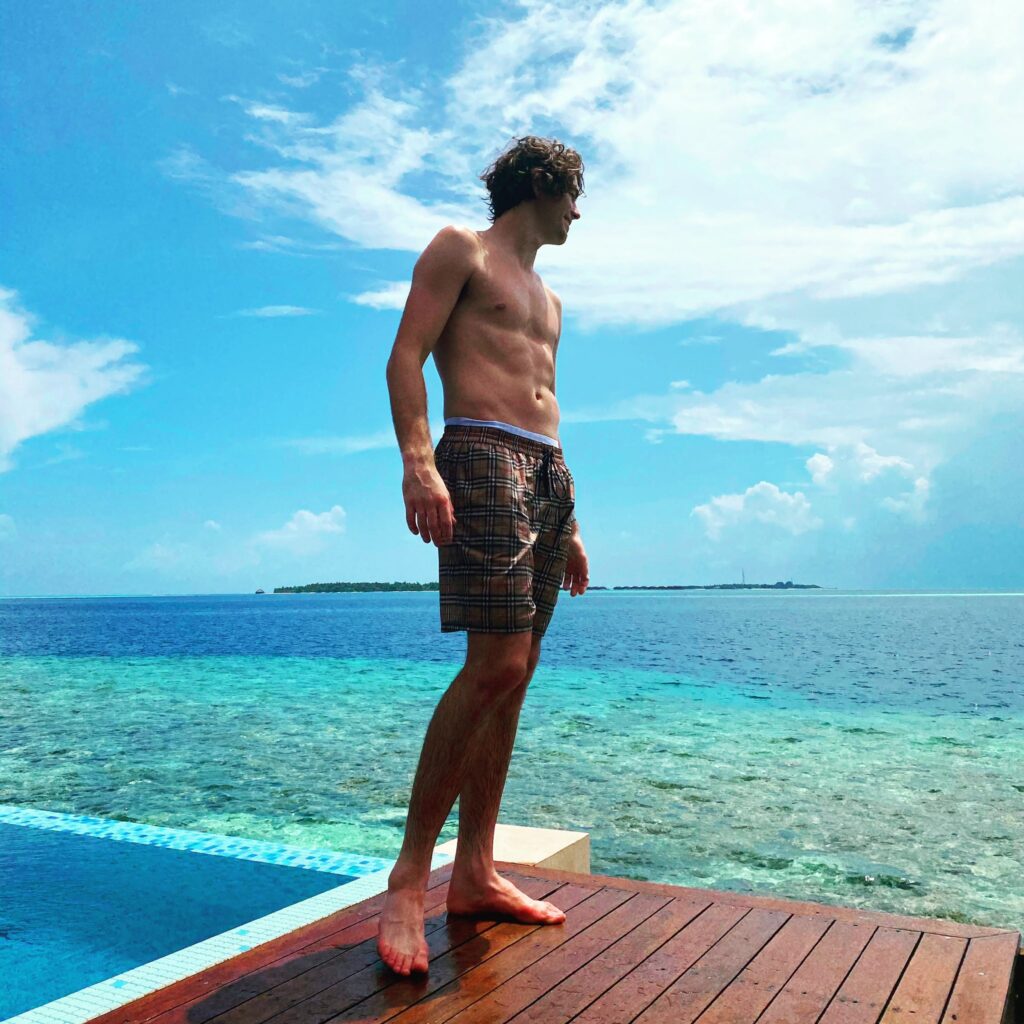 According to his horoscope, Scorpio is a passionate and assertive person who is determined and decisive.
Likewise, his passion and determination for tennis made him establish his tennis career.
You might be interested in reading about Rafael Nadal >>
Taylor Fritz | Tennis Career
Junior Career
Taylor took participation in ITF events just after he crossed 15 years.
His junior career started in 2013 by playing low-level grade 4 tournaments, and later at 16, he started playing 2013 US Open Junior.
In 2014 he participated in Junior Wimbledon, where he reached the semifinals.
Likewise, in the same year, he won his first "Grade A" tournament in Osaka Mayor's Cup.
Taylor reached at least the quarterfinals in different junior grand slam tournaments in 2015, including the French Open and US Open Tournament.
Meanwhile, he lost the French Open's final with Tommy Paul, whereas he won the US Open's last, defeating Tommy Paul.
The grand slam junior tournament's success helped him achieve the "2015 ITF Junior World Champion" with number 1.
He became the first American to hold this title after Donald young in 2005 and Andy Roddick in 2000.
Challenger Tour
After a successful junior career, Taylor competes by receiving wild card entry in his first ATP Tournament in Nottingham.
And there, he successfully booked his first-ever ATP Match victory against Pablo Carreno Busta.
Taylor managed to gain ATP ranking below from 600s to above 250s by winning multiple challenger tour titles.
Thus, he became the 9th player to victory in multiple challenger tour titles at just 17.
Denis Shapovalov Bio: Family, Career, Girlfriend & Net Worth >>
First ATP Final
Taylor reached the final in his first tournament of 2016 against Dudi Sela at Happy Valley.
He won the final against Dudi Sela, a 100-ranked player, and managed to lift his ranking up to 150s.
At his First ATP tournament of 2016 at Memphis, Taylor was awarded a wild card, then knocked off 29s ranked player Steve Johnson.
Taylor became the fastest and youngest American to reach ATP Final since John Isner and Michael Chang in 1988 with the victory against Richards Berankis in the semifinals.
Unfortunately, he lost three times to the top 10 players and defending champion Kei Nishikori in the Final event.
In his first ATP 500 event, he booked his seat in Quarter-finals in Acapulco.
Taylor successfully got an entry entering the top 100 ranks for the first time in February 2016.
Taylor lost with Roger Federer at Stuttgart by a close three-set on grass court.
Meanwhile, in the US Open, he lost to Jack Sock in five sets in the first round of the grand slam.
Hence in 2016, he touched his highest rank up to number 53 and won ATP stars of tomorrow for being the youngest player in the top 100 at 19 years.
Grand Slam Win
Taylor succeeds in achieving victory against the top 10 players in the second round at Indian Wells.
In his 7th grand slam event, he won his first grand slam match against Marcos Baghdatis at US Open 2017.
Continued Success
In January 2018, Taylor successfully reached two challenger finals, where he lost to Noah Rubin in the Australian Open. Meanwhile, he won his first challenger title in Newport Beach.
In the semifinals at US Men's Clay Court Championship in Houston, Taylor defeated Ryan Harrison and Jack Sock while he lost against Steve Johnson.
By defeating Mischa Zverev and Jason Kubler, Taylor reached his first Grand Slam third Round in US Open, where he got beaten by Dominic Thiem in four sets.
Hence, he had a good start in the 2018 season overall with the new improvement in number 47 with Coach Paul Annacone.
First ATP Title
At the Australian Open, Taylor made up to the third round and got defeated by Roger Federer in 3 sets.
Whereas he won his first ATP title against Sam Querrey in 3 sets at the East Bourne International tournament in June 2019.
In the US Open, Taylor lost to Feliciano Lopez in the first round but still managed to be seeded 26th, his first Grand Slam Seeding.
Likewise, in the third annual Laver Cup, Taylor represented Team World in Geneva, where he lost against Stefanos Tsitsipas by 2-6, 6-1, 7-10 but won in the final by 7-5,6-7(3), 10-5 by defeating Dominic Thiem.
ATP 500 Final
In 2020, Taylor Fritz began his season representing the USA in the inaugural ATP Cup. Unluckily his team didn't make it up to the finals, being knocked out from the Robin Stage.
Similarly, In the Australian Open in 2020, he defeated Kevin Anderson in five sets. However, he got defeated later by finalist Dominic Thiem.
He successfully reached ATP 500 Final in 2020 in Acapulco.
Consequently, he got defeated by Rafael Nadal in the final, being limited to satisfy from runner-up with a new career ranking of no 24.
Again in US Open 2020, he defeated Dominik Koepfer and Gilles Simon and defeated Denis Shapovalov.
Similarly, he defeated Tomas Machac and Radu Albot and got beaten by Lorenzo Sonego in French Open 2020.
Indian Wells 2022: First Masters 1000 title | Taylor Fritz
A shock straight sets victory over Rafael Nadal has crowned Taylor Fritz the 2022 Indian Wells champion.
As a result of injuries sustained in their previous matches, both players had doubts about their fitness for the final.
However, the game turned out to be a grand event with the audience hooked up.
The King of Clay, Nadal, got better in the second set, but Fritz prevailed.
It was a sensational victory for Taylor Fritz in his career-defining final at Indian Wells to end Rafael Nadal's remarkable year.
After the match, Fritz said,
"This is like one of those childhood dreams that you never imagined would come true."
With this win, he has achieved the following milestones in his career.
Youngest to win men's singles title since Djokovic (2011)
Youngest American to win men's singles title since Chang (1996)
Youngest American to win Masters 1000 singles title since Roddick (2006)
Taylor Fritz | Personal Life, Marriage, and Kids
Taylor got married to Raquel Pedraza on July 7, 2016, at just the age of 18. Raquel was his longtime girlfriend and also a tennis player.
After dating more than two years, he proposed to Raquel under Eiffel Tower in Paris.
And they got married in a church in Rancho Santa Fe, California, USA.
Similarly, in January 2017, he became a father for the first time. He had a son who was named Jordan Fritz.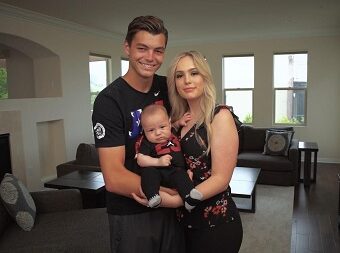 Later in 2019, the couple divorced for various undisclosed reasons, which was entirely unexpected.
According to him, Fritz wants to concentrate on tennis and improve his tennis career and ranking, which he cannot do in his married life.
At the moment, he has been dating a model, Morgan Riddle, since 2020 and will soon be featured on a new Netflix series.
On TikTok and Instagram, she is known for her content about fashion, beauty, and travel.
Her most notable contribution is to make tennis more appealing to young people by giving an inside look at competitive tennis.
Taylor Fritz | Net Worth and Endorsements
Besides his marriage affairs, Taylor has also been modeling for different brands.
He has been featured in several fashion magazines and promotes brands like Mindful Chef, Jack Black Men's Skincare, and Diesel.
Similarly, Taylor is also fond of E-sports and loves to spend time playing FIFA.
In terms of Net Worth, it is estimated that he has a Net Worth of more than $4 million.
He earns the most from his tennis career, with prize money and sponsor bonuses.
He has also invested in an E-Sport brand ReKTGlobal and famous brands Nike and Rolex.
Social Media Presence
The talented Tennis personality is present on social media like Twitter, Facebook, and Instagram.
He has numerous posts on social media with a massive number of fans following him.
Instagram> taylor_fritz with 264K Followers.
Twitter> @Taylor_Fritz97 with 52.1K Followers.
Facebook >Taylor Fritz with 25K Followers
Taylor Fritz | Popularity and Fame
After winning the 2022 Indian Wells Championship against Rafael Nadal, Fritz is the new talk of the town.
As we can see above in the curve, his google search results are getting higher and higher over time.
Taylor Fritz | FAQs
What is Taylor fritz current ATP ranking?
His Current ATP ranking in singles is 12, and doubles are 122 (as of September 15, 2022).
Between Taylor Fritz and Emil Ruusuvuori, who won the St. Petersburg
Russia?
Between Taylor Fritz and Emil Ruusuvuori, Taylor took the title in 2021.
Who is Taylor Fritz's favorite Tennis player?
He considers Juan Martin Del Potro his tennis idol. So far, Juan is his favorite player.
Who won Taylor Fritz vs. Cameron Norrie?
At the ATP Cup Australia 2022, Fritz won against Norrie.
According to Taylor Fritz, which forehand grip is effective?
According to the tennis player, the easter grip is effective.
Who won the ATP Masters 1000 Rome Italy in 2021?
Taylor won against Daniel Evans at the ATP Masters 1000 Rome Italy in 2021.
Is Taylor Fritz in E-Sports?
Taylor Fritz spends time playing different Esports, especially FIFA. He has also invested in the E-Sport company ReTKGlobal.