If you know who the UFC Strawweight Champion, Valentina Shevchenko, is, you might also learn about her sister, Antonina Shevchenko.
However, we are not here to talk about her sister Valentina. Instead, we inform you about the lesser-known sister, Antonina.
Antonina is a former Muay Thai champion currently competing in the flyweight division of the UFC. She now ranks at #15 in the UFC women's flyweight rankings.
Thus, there are high hopes for the Krygyzstan fighter to become a UFC champion, just like her younger sister.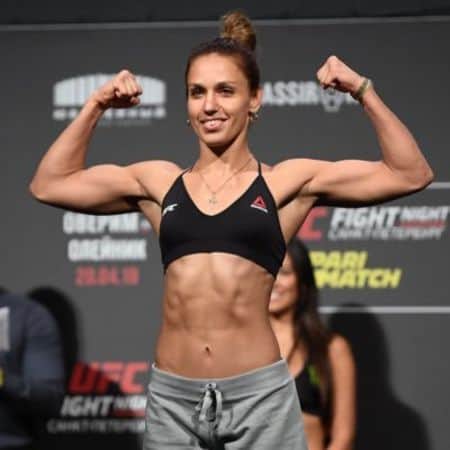 Many people have been curious if their sister of Antonina is anything like her sister, the current UFC Flyweight Champion.
Hence, here at playersbio, we have written this article to inform you about Shevchenko's early life to her present days with the UFC.
In addition, you will also find information regarding her net worth, fight purse, age, height, sister, mother, and social media.
So let's begin this beautiful journey of Antonina by looking at some of the quick facts.
Quick Facts:
| | |
| --- | --- |
| Full Name | Antonina Shevchenko |
| Birth Date | November 20, 1984 |
| Birth Place | Frunze, Kirghiz SSR, Soviet Union (now Bishkek, Kyrgyzstan) |
| Nick Name | La Pantera |
| Religion | Not available |
| Nationality | Kyrgyzstani Peruvian |
| Ethnicity | Not available |
| Education | Not available |
| Horoscope | Scorpio |
| Father's Name | Not available |
| Mother's Name | Elena Shevchenko |
| Siblings | Valentina Shevchenko |
| Age | 38 years old |
| Height | 5'8″ (1.73 m) |
| Weight | 61 kg (135 lbs) |
| Hair Color | Blonde |
| Eye Color | Brown |
| Net Worth | $200,000 |
| Married | Yes |
| Spouse | Pavel Fedotov |
| Children | No |
| Profession | Mixed Martial Arts |
| Division | Bantamweight |
| Stance | Southpaw |
| Reach | 68 inch (173 cm) |
| Style | Muay Thai, Kickboxing, Boxing, Taekwondo, Judo |
| Team | Tiger Muay Thai |
| Trainer | Pavel Fedotov |
| MMA Record | 9-3-0 |
| Social Media | Instagram, Twitter, Facebook |
| Last Update | March, 2023 |
Antonina Shevchenko | Early Life, Family, and Siblings
Antonina Shevchenko was born to her mother, Elena Shevchenko, and her father, who remains unknown.
She is originally from the Frunze, Kirghiz SSR, Soviet Union. Likewise, Shevchenko started to train in taekwondo and Muay Thai when she was five.
The reason is that Elena was the president of the Muay Thai association, along with being a black belt in taekwondo.
Consequently, both Antonina and her younger sister Valentina started to train for the two sports very early in their lives.
Antonina played a crucial role in developing UFC's current Strawweight Champion, Valentina Shevchenko while growing up. For example, the younger sister once said in an interview,
"When I was very young, she was the best of all girls in the competition. She was no.1. Me and the girls who were the same age as me that started to train looked up to her and wanted to be like her."
Thus from this quote, we can easily understand what a talented fighter Antonina was even during her childhood.
The Shevchenko sisters might be the most gifted sisters to ever appear in a major MMA organization.
However, at the same time, there are not many details regarding her educational background. From the looks of it, the whole family focused on physical strength and MMA.
Antonina Shevchenko | Age, Height & Body Measurements
Talking about Shevchenko's age, she was born in the year 1984, which makes her 38 years currently.
Although it might seem a bit old for an athlete, UFC fighters, on the other hand, usually reach their peak around their mid 30's. Thus, we believe that Antonina's best years are yet to come.
Similarly, Antonina's zodiac sign happens to be Scorpio. These signs are known for their tenacity, passion, and zeal.
Furthermore, Shevchenko stands at 5 feet 8 inches and weighs 135 lbs, which is the perfect body measurement for a women's bantamweight fighter.
And, having fought thrice in the UFC, Shevchenko will be in line for a title shot if she continues with her impressive form.
Additionally, Antonina has bright brown eyes and light brown hair that frames her face perfectly.
Antonina Shevchenko | Early Career
Shevchenko made her MMA debut in 2002 and amassed a 3-0. However, to focus on her kickboxing career, Antonina took a 12-year break from the MMA scene.
During those 12-year hiatus, Antonina accrued an incredible record of 19 wins and one loss in her 40 matches.
Thus, having dominated the muay Thai scene, the Kyrgyzstan-born fighter decided to return to MMA in 2017.
Subsequently, Shevchenko built up a record of 7-1 until she got a call-up from the premier MMA organization, UFC, in 2018.
Consequently, the muay Thai world champion competed in Dana White's Tuesday Night Contender Series, where fighters could earn a contract with the UFC.
Don't forget to check out: <<Trent Alexander Arnold Bio: Stats, Parents, Injury & Net Worth >>
Antonina was scheduled to face Silvana Juarez on June 26, 2018. But unfortunately, Juarez suffered an undisclosed injury and was replaced by Jaimelene Nievera.
Antonina Shevchenko | Road to UFC
Nonetheless, the Krygstan-born fighter did not swerve from her ultimate goal, to become a UFC champion.
Thus, with the champion's mentality, Shevchenko comfortably won the bout via a TKO in the second round. As a consequence, Antonina earned a contract with the UFC.
After that, she was scheduled to face Ashlee Evans-Smith in her debut for the UFC. But sadly, Ashlee had to withdraw from the fight due to an injury sustained during training.
Consequently, Ji Yeon Kim was brought in to replace the injured fighter. However, more controversy proceeded as Yeon Kim missed the weight by over 4.5 lbs.
As a result, Ji was fined 20 percent of her fight purse, which went to Antonina. Nonetheless, the bout proceeded at catchweight, which Shevchenko won unanimously.
At that moment, the Krygyzstan beauty thought that she could now turn her dreams of becoming a champion in the UFC, just like her sister, Valentina, into reality.
However, Antonina was brought back to earth in her next bout. To illustrate, Shevchenko faced Roxanne Modafferi on April 20, 2019, with many placing their bets on the heavy favorite Antonina.
Unfortunately, after a closely-fought battle, she lost the fight via a split decision.
Nevertheless, the 5 feet 8 bantamweights, the lion-hearted warrior she is, picked herself up and won her next bout against Lucie Pudliova.
Her best performance in the UFC was by far as she defeated Lucie and earned the Fight of the Night bonus award.
Antonina is scheduled to face Cynthia Calvillo at UFC Fight Night 173 on April 25, 2020.
However, due to the world pandemic of Corona Virus (COVID-19), the fight may very well be postponed to a later date.
Antonina Shevchenko VS Ariane Lipski
On November 21, 2020, Antonina completely dominated the match against Ariane Lipski at UFC 255.
Shevchenko learned from her mistakes in the previous match with Katlyn Chookagian, which cost her the win.
Nonetheless, she dropped punches after punches, and the referee had to stop the match.
Despite being famous for her powerful strikes, Antonina claimed victory with her grappling skills. The match ended in a mere 4:33 in the second round.
Antonina shared her thoughts after the match. She said,
"I'm very happy to win today, I wanted it so much. I trained so hard. I just needed this victory."
And she did indeed. This victory helped Antonina improve her UFC record to 3-2 overall while also sending a clear message to her sister.
The two sisters compete on the same UFC card, and there is immense pressure.
"Of course, I had this pressure. Because a perfect performance would be if two sisters win, it's the pressure that motivates you."
Antonina Shevchenko | Stats
| | | |
| --- | --- | --- |
| Matches | Wins | Losses |
| By knockout | 3 | 1 |
| By submission | 1 | 1 |
| By decision | 5 | 2 |
Antonina Shevchenko | Net Worth, Salary & Fight Purse
As of 2023, Antonina has accrued a net worth of $200,000, mainly through her kickboxing and MMA career. Likewise, she has career earnings of USD 171,000.
Unfortunately, as we all know, women employees are paid less when compared to their male counterparts.
Thus, Shevchenko's net worth might seem a bit low. However, during her most recent fight, she bagged $93,500, which included $20,000 to show, a $20,000 win bonus, and a $3,500 fight week incentive pay.
But, her biggest bonus came from the Performance of the Night award, which pocketed her a whopping $50,000.
You might also want to read: <<Craig Berube Bio: Wife, Family, Net Worth, Stats & Career >>
In conclusion, we would like to urge the UFC and all other organizations to equal the pay between male and female employees.
Furthermore, Antonina has only fought twice in the UFC; thus, we believe her net worth will also increase considerably with more fights.
Is Antonina Shevchenko dating anyone? Husband & Sister
Shevchenko is happily married to her husband and trainer, Pavel Fedotov. Furthermore, the two lovebirds met during a training session and have been together ever since.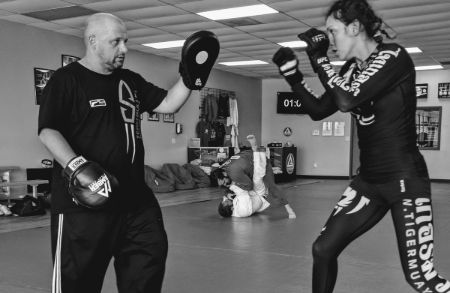 Unfortunately, we don't have many details regarding this matter, like how it started and when they began dating.
However, we know that the couple, along with Valentina, moved from their birth nation of Krygstan to Peru nearly a decade ago.
Aside from that, Shevchenko is not involved in rumors or controversies surrounding their relationship.
Besides her relationship with Pavel, Antonina focuses solely on honing her skills inside the octagon.
Also, don't forget to check out: <<Erik Kuselias Bio: CBS, Radio Show, Wife, Son & Net Worth >>
The sisters are happy in their respective divisions, but rumors exist about the two sisters potentially facing each other.
Although we will enjoy the battle between the two Shevchenko sisters, the same cannot be said for their parents if it happens.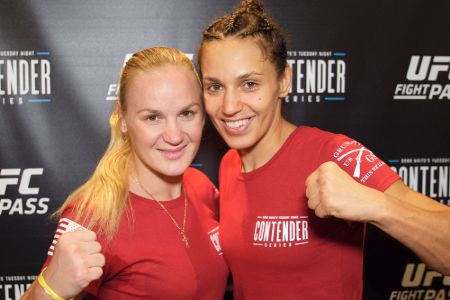 Similarly, Valentina is the current UFC Women's Flyweight Champion. She gained the title after defeating Joanna Jedrzejczyk at UFC 231.
Before this, Antonina had defeated Joanna on three occasions, proving her skills even more.
Not to mention, Valentino is also considered one of the best female fighters in the world. She ranks #2 in UFC Women's pound-for-pound rankings as of November 2020.
Social Media Presence:
Instagram: 369k Followers
Twitter: 72.7k Followers
Facebook: 29.7k Followers
Some FAQs:
Who is Valentina Shevchenko's Sister?
Antonina Shevchenko is the older sister of Valentina Shevchenko, both of who fight in the UFC organization.
Furthermore, Valentina became the UFC Strawweight Champion after defeating the talented Joanna Jedrzejczyk in 2018 and has remained ever since.
What is Antonina Shevchenko's kickboxing record?
Antonina Shevchenko's kickboxing record is,
| | |
| --- | --- |
| Wins | 39 |
| Losses | 1 |
| By knockout | 6 |
| Total | 40 |
What language does Antonina Shevchenko speak?
Antonina Shevchenko is fluent in Russian, English, and Spanish language.
Who is Antonina Shevchenko's coach?
The fighter's coach is Pavel Fedotov.
Who won Antonina Shevchenko vs. Andrea Lee?
Andrea Lee won the match via submission in the third round.
Does Antonina Shevchenko have a back tattoo?
Yes, she has some foreign writings inked at the back of her body that represent the love she has for MMA.
What is Antonina Shevchenko's fight record?
Antonina Shevchenko has a professional fight record of 9 wins, 3 losses, and 0 draws.