You see the patched face, smashed punches, aggression, thick stamina, and relentless grudge. What's more? How about his all-action, fan-friendly style, and eyes with no fear. Let us plunge deeper into Antonio Margarito's life and gameplay.
As a fun fact, Margarito has been in the professional boxing arena since the young age of 15. Additionally, he has evolved his way through the Welterweight World Championship. During the tenure, he bagged the WBO title from 2002 to 2007, the IBF title in 2008, and the WBA (Super) title from 2008 to 2009.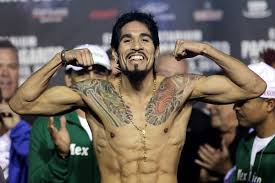 Altogether, he holds a power-packed performance with a fiery attitude when he last let go in 2012. However, he didn't fail to perform again between 2016 and 2017.
"I am ready to die in the ring. And I have said it before; I will die in the ring."
-Antonio Margarito
Quick Facts
Full Name
Antonio "Tony" Margarito Montiel
Date of Birth
March 18, 1978
Birth Place
Torrance, California, U.S.
Nick Name
El Tornado de Tijuana
("The Tijuana Tornado")
Religion
Christianity
Nationality
Mexican-American
Ethnicity
White
Zodiac Sign
Pisces
Age
42 years 10 months old (as of Jan 2021)
Height
5 ft 11 in (180 cm)
Weight
68 kg (144 pounds)
Hair Color
Black
Eye Color
Black
Build
Athletic
Father's Name
Antonio Margarito, Sr.
Mother's Name
Consuelo Margarito
Siblings
A brother, Manuel Margarito
Education
Dropped out of junior high
Marital Status
Married
Wife
Ex (Michelle)
Lorena Vidales
Kids
Antonio Margarito Jr. and Antonella Margarito
Profession
Boxer
Weights
Welterweight
Light middleweight
Active Years
1994-2011
Stance
Orthodox
Net Worth
$15 million
Social Media
Instagram, Twitter
Height and Body Measurements
Antonio Margarito is a built athletic man standing at 5 ft 11 in (180 cm) while weighing 68 kg (144 pounds). Additionally, he is packed with muscles and portrays a wrist of 7 and a half inches.
As for his appearance, he has tan skin with black eyes and hair. Not to mention his rigorous training to achieve a fitted body. Margarito hits the gym a few days a week, and before any game, they are busy with the intense sparring.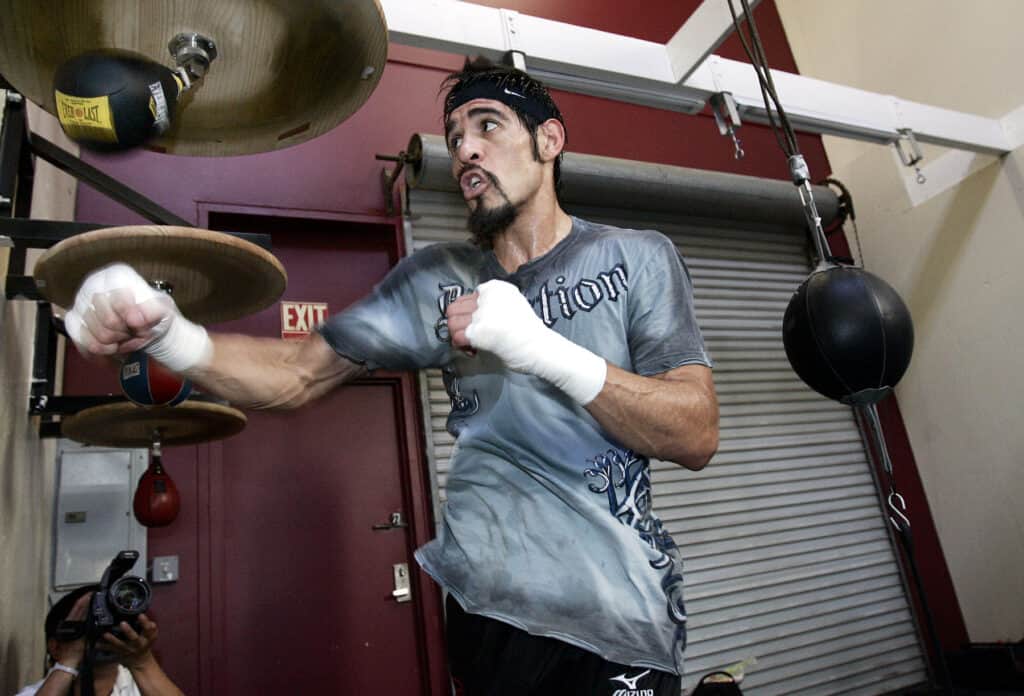 Altogether, on his own, he gets up early with the sun, jogs a little, and does exercises. Apart from his training, Margarito is quite maintained with his diet as he has low calorie and low fat while he munches more on food with high proteins and consistency.
Antonio Margarito | Early Life
Margarito (fully named Antonio "Tony" Margarito Montiel) was born on March 18, 1978, under Pisces's sun sign. He was the son of Antonio Margarito, Sr. and Consuelo Margarito as he spent the first two years of his life in Torrance, California.
Moreover, Margarito grew up alongside his brother, Manuel Margarito, and shifted to Tijuana, Mexico. Growing up in Tijuana was all getting exposed to drugs and violence; however, thanks to his family's well-grooming, Margarito didn't concern about it.
According to the source, Antonio Margarito was always trying to do better and improve; thus, he hit the gym alongside his brother. Apparently, his father worked as a night watchman and even sold lamps.
Altogether, his family was sure to discipline the kids, and Margarito first stepped into the boxing gym when he was just 8 years old. Starting at an early age, Margarito posted an 18-3 record as an amateur.
Antonio Margarito | Professional Career
Just stepping as 15 years old, Antonio opened himself a door to professional boxing in 1994. In the beginning, Antonio's trainer-manager, Joe Valdez, made him play against the old competitors who drove his career at a slow pace.
Welterweight
Margarito welcomed the boxing world with his victory debut against Jose Trujillo in Tijuana by decision. Similarly, his foremost career knockout came on April 25 over Victor Angulo in the second round.
With a few victories, a loss slammed across his face against Victor Lozoya. He picked himself up with a series of victories over Alfred Ankamah, Juan Soberanes, Sergio Gabriel Martinez, Buck Smith, David Kamau, and Frankie Randall.
Samantha Bricio Bio: Early Life, Career, Boyfriend & Net Worth >>
Additionally, he also became the first man to defeat Julio César Chávez in 91 fights. Following it, Antonio Margarito earned himself a foremost chance to fight for the WBO Welterweight title at Bayamón, Puerto Rico's Rubén Rodríguez Coliseum.
During that time, he faced Daniel Santos which went with an unfortunate accident as both their heads clashed openly. Thus, they ended the match as no contest.
WBO Welterweight Champion
Later, Antonio Margarito fought against Antonio Díaz at HBO Boxing for the WBO Welterweight Championship. Overall, he won the match and gained the title. Afterward, he kept the title defended from Danny Perez Ramírez, Hercules Kyvelos, Kermit Cintron, Jaime Manuel Gomez, Joshua Clottey, and Andrew Lewis.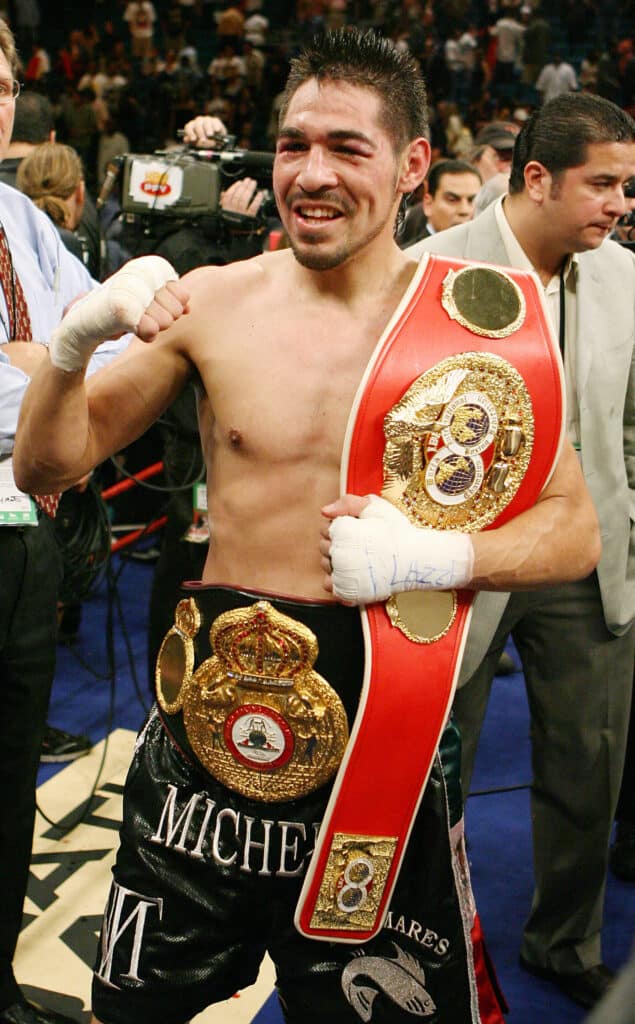 Likewise, he also debuted in the middleweight division victory debut over Maurice Brantley in Phoenix, Arizona. Similarly, he featured in the rematch against Daniel Santos, which again ended in a head clash incident. However, this time, the game was over four matches, and Santos won the match by a split ten-around technical decision.
Loss of WBO Welterweight Title
As he had crowned himself the world champion in 2002, Antonio Margarito stood undefeated by many. However, on July 14, 2007, he lost his crown to Paul Williams in a 12-round unanimous decision.
During the match, Margarito was not satisfied, and Williams had landed more punches. Margarito claimed the IBF Welterweight title from Kermit Cintron as he knocked him out in the sixth round after landing a liver shot with a title gone.
Margarito vs. Cotto
Following his glorious win over the IBF Title, Margarito faced WBA Welterweight Champion  Miguel Cotto of Puerto Rico as a mandatory defense. On July 26, 2008, their match took place in Las Vegas, Nevada, where Margarito won via technical knockout in the 11th round.
Altogether, at that date, Margarito had maintained 37 wins, 5 losses, and 1 no contest, with 27 wins by knockout.
Margarito vs. Mosley
On January 24, 2009, came his big fight against Shane Mosley over the Lineal Welterweight Championship of Lineal Champs and Cyber Boxing Zone (CBZ). However, the most celebrated match dig in as a loss to Margarito.
After getting knocked out in the 9th-round by technical knockout, Margarito even failed to defend his WBA title. Later, Margarito opened about his weight-drained situation during the match because of dehydration and back problems.
Margarito vs. Garcia
After his knockout loss, Margarito was surrounded with controversies, which kept him away from the ring for full of 2009. Later, he made his comeback fight on May 8, 2010, against the light-middleweight contender Roberto García.
When the match was held at Aguascalientes, Mexico, Margarito won the tenth round via unanimous decision. As a matter of fact, this game came as the foremost knockdown loss in Garcia's boxing career.
Margarito vs. Pacquiao
Before fighting against Garcia, Margarito expressed his wish to face the Filipino boxer, Manny Pacquiao. The very wish finally came true with the match on November 13, 2010. Furthermore, the match was first announced by Bob Arum on July 23.
After Margarito claimed his boxing license, the match took place in Cowboys Stadium in Arlington, Texas. As for the fight's preparation, Margarito had Karim Martínez, Cleotis Pendarvis, Austin Trout, and Ricardo Williams as the sparring partner.
When the match was advanced, Pacquiao dominated Margarito in the most brutal ways for 12 rounds. By the end of the match, Margarito had bad eye damage and then lost the match via unanimous decision.
Naseem Hamed: Wife, Son, Record, Career & Net Worth >>
Right after the fight, when Margarito was taken in an emergency, he was discovered with a left orbital bone fractured. Overall, he had his surgery after two days due to his swollen face.
Margarito vs. Cotto II
Altogether, Margarito's end fight came on December 3, 2011, against Miguel Cotto, after which he retired from the boxing arena. The match was a loss via TKO, and he even had his right eye swelled up and shut.
Antonio Margarito | Retirement, Comeback, and Awards
Right after a loss match and nearly not getting the boxing license, Margarito announced his retirement from the arena the same year. With 22 years of his dedication in the field, controversies pending, and incidents, Margarito bid goodbye to the field due to his slowly breaking body.
"I always told my family and team that I would walk away from boxing when I felt I could no longer compete at the level I believed I needed to be successful. Although the passion and drive are still there, I have to accept that my time to walk away has arrived."
-Antonio Margarito
Later, Margarito returned for the arena fight in 2016 as he faced Carson Jones on September 2, 2017. To date, Margarito's statistics in games are tabled below.
| | | | | | |
| --- | --- | --- | --- | --- | --- |
| Total games | No contests | Wins via Knockout | Wins via Decision | Loss via Knockout | Loss via Decision |
| 50 | 1 | 27 | 14 | 2 | 6 |
Antonio Margarito | Controversies
Tampered hand wrap
After the fight with Shane Mosley, Margarito was surrounded with controversy after Mosley's trainer, Naazim Richardson, found him with a pasty white substance. According to the doctor, the substance was a plaster hidden in his hand, which bought the news as he was trying to cheat.
Therefore, California State Inspector Dean Lohuis asked Margarito to re-wrap his hands and even took two pads placed in a sealed box in the dressing room. After the investigation continued, they finalized it to be the plaster material.
Overall, Margarito had stated he did not have any idea about the case while his trainer Javier Capetillo, admitted it was his mistake. Thus, at first, they planned to revoke their license for a year, which was later upheld after knowing Margarito was unaware.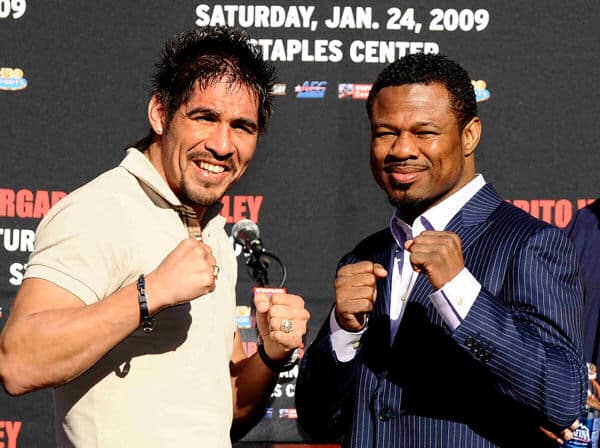 Altogether, the California State Athletic Commission suspended Margarito for the time being. Later, in November, a similar case appeared in a fight against Cotto, only that time as a red stain. Therewith, they doubted Margarito's gloves to be loaded for the fight.
Parkinson's Disease
Five weeks before the fight against Manny Pacquiao, Margarito was together with the boxer Brandon Rios during a video interview by Elie Seckbach. Both together, they mocked Manny Pacquiao's trainer Freddie Roach for having Parkinson's disease.
Following it, they were heavily criticized for their behavior, and thus, they made an apology before the fight. All in all, their public apology was to Roach and everyone suffering from Parkinson's.
Net Worth
Over two decades of his career, Antonio Margarito is estimated to have a $15 million net worth. As per the sources, it makes $2.5 million-plus a small percentage of the pay-per-view revenue.
Antonio Margarito | Private Life
Margarito had a doubtful and controversial career, not to mention, his life events didn't come in any easier. If we count from today's date, it has crossed a decade and more since he lost his brother Manuel.
Brother, Manuel
After dropping out of junior high at the age of 15 due to the need for money, Margarito was boxing in the professional arena supported by his family. He had quit boxing after just four professional games and settled with a family back to his older brother.
However, his happiness didn't come along as just within four years, he had intruders in the house, shooting him dead. Back then, he was with his family watching TV when he died, thus, leaving his eight months pregnant wife alone.
Overall, his match against Kermit Cintron, which came as his victory, was his brother Manuel's 33rd birthday.
Wife and Kids
Antonio Margarito was married to his childhood sweetheart Michelle in 1999. However, they parted ways in 2011. As of now, he resides happily in Los Angeles, California, after marrying Lorena Vidales.
All in all, they are a happy family, with two kids, Antonio Margarito Jr. and Antonella Margarito.