Arike Ongunbowale brother, Dare Ogunbowale, is a football player who plays running back for the Houston Texans. She also has another brother named Mario Ogunbowale.
Arike Ogunbowale is a professional basketball player for the Dallas Wings as a point guard in the Women's National Basketball Association.
Ogunbowale was born on March 2, 1997, in Milwaukee, Wisconsin.
After playing high school basketball at Divine Savior Holy Angels, she committed to play for Notre Dame Fighting Irish.
In the 2018 national title run, she made game-winning baskets in both the semi-final and championship game, earning her the Most Outstanding Player at Notre Dame.
The 2018 ACC Athlete of the Year was drafted as the fifth overall pick by the Wings in the 2019 WNBA draft.
The point guard won the WNBA All-Star Game twice, once in 2021 and again in 2022. Moreover, she was named the MVP of the WNBA All-Star Game in 2021.
Arike Ogunbowale Brother & Parents
Arike Ogunbowale was born to Nigerian parents, Yolanda and Gregory Ogunbowale.
The WNBA player is of Yoruba descent, and her name, "Arike," means "a child you treasure, cherish, pamper, and love" in the Yoruba language.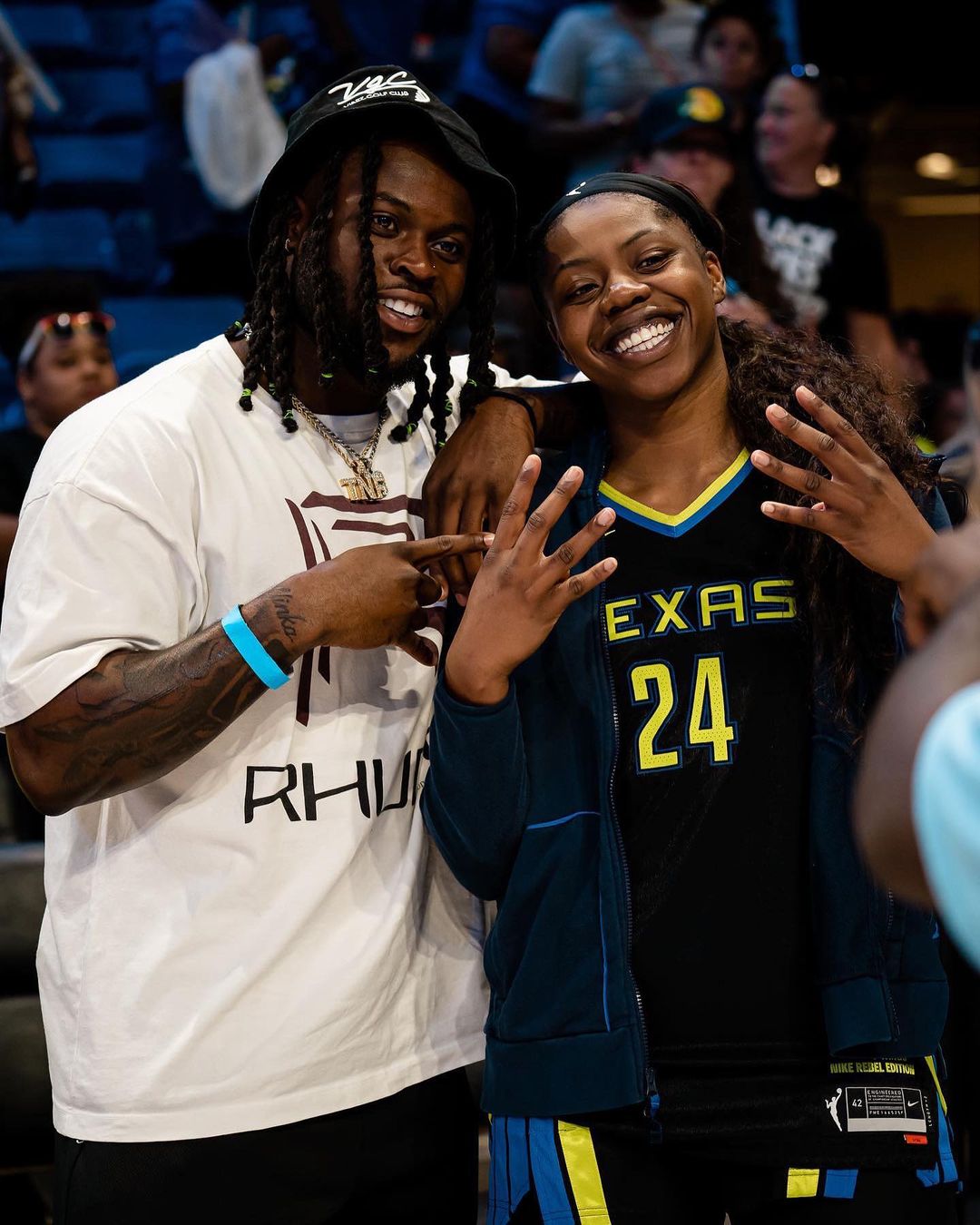 Gregory served in the military of Nigeria, where Yolanda played softball during her college years at DePaul University.
She grew up with two brothers, Dare and Mario Ogunbowale, and was the youngest of the three.
Oluwadare Ogunbowale, aka Dare, is an American football player who plays as a running back for the Houston Texans of the National Football League (NFL).
His NFL journey started with the Texans as an undrafted free agent in 2017.
He later joined the practice squads of the Tampa Bay Buccaneers and Washington Redskins, before returning to the Houston franchise.
On March 23, 2022, the running back inked a two-year deal worth $3.3 million with the Texans.
An interesting fact about Dare, along with football, he played soccer, basketball, and track, totaling four sports in high school.
Arike Ogunbowale All Over The Internet
Arike Ogunbowale made an incredible shot against the Atlanta Dream, which impressed basketball fans, and the video of her shot went viral on the internet.
In the game, she put on a brilliant show to give her team their first win of the season.
One of the game's highlights was when the point guard made a shot dribbling past the Dream's defense.
The video of her powerful shot quickly went viral on social media platforms. The internet is bombarded with posts admiring the WNBA player for her exceptional gameplay.
Similarly, she finished the game scoring 27 points, 4 rebounds, 1 assists, and 3 steals.
The Wings' point guard not only showed her talent but also displayed her brilliance and sheer excitement for the sport.
Ogunbowale easily dribbled passed and kept the Dream's defense on their toes.
In a post-match interview with ESPN, when asked about her first-half offensive show, Arike simply described her performance as "BBG chicken…. Licking fingers."