Ashton Meem, mostly known as the former girlfriend and wife of Seattle Seahawks quarterback Russell Wilson, got into the limelight when she married the star player. Russel and Meem's marriage, which lasted only for two years, has been controversial in the news.
The ex-wife of Seattle Seahawks quarterback Russell Wilson, Meem, is currently a businesswoman and likes to keep her life private, unlike other celebrities.
The pair had been deeply in love since high school and were regarded as one of the cutest couples in the city at the time.
Furthermore, the couple married back in 2012 and spent two years together. And in those times, Ashton got a lot of press coverage as she was the wife of one of the best prospects in the NFL.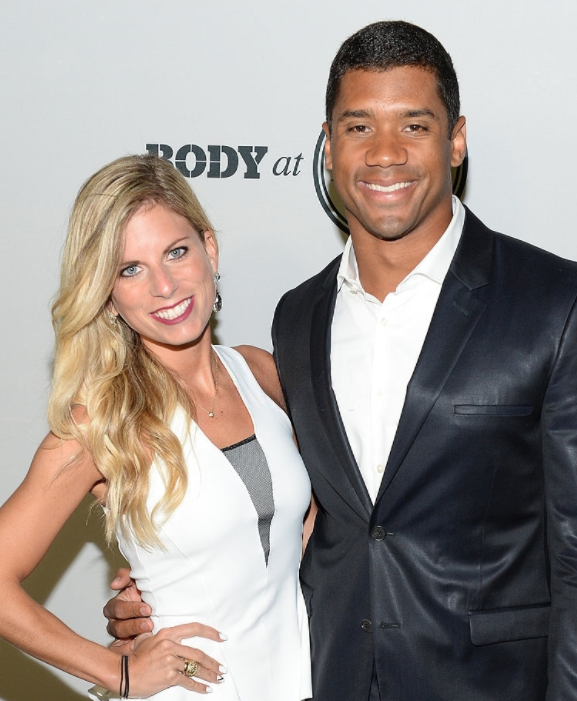 Sadly, this fairytale story did not have a happy ending like most. The two parted ways unexpectedly in 2014, surprising anyone.
The aftermath led to her trolling on Instagram, but what was the reason behind their divorce, and what happened after that?
Let's get started on this article about Meem, where we will provide you with information on her early life, Career, net worth, age, height, personal relationships, and social media.
Ashton Meem: Quick Facts
Full Name
Ashton Meem
Birth Date
September 6, 1987
Birth Place
Virginia, U.S.A
Nick Name
Ashton
Religion
Christianity
Nationality
American
Ethnicity
White Caucasian
Education
St. Catherines High School (School)

North Carolina State University

University of Georgia

Horoscope
Virgo
Father's Name
Lang Meem
Mother's Name
Molly Meem
Siblings
Not available
Horoscope
Virgo
Current Residence
Richmond (Virginia)
Age
36 Years Old
Height
5'9″ (1.79 m)
Weight
53 kg (116 lb)
Shoe Size
U.S 6
Hair Color
Blonde
Eye Color
Brown
Body Measurement (Breast-waist-heap)
34-25-35
Build
Hour-Glass
Married
Divorced
Boyfriends
No
Former Spouse
Russell Wilson
Degree
Bachelors in Communication
Organization
American Family Insurance
Net Worth
$4 million
Salary
Under Review
Tattoo
Not yet
Position
Advertising Agent
Social Media
Instagram
Last Update
November, 2023
Ashton Meem | Early Life, Family, and Education
Ashton Meem was born to her parents, Lang Meem and Molly Meem, on September 6, 1987, in Richmond, Virginia, the United States of America.
There is not much information regarding her childhood. Hence, we cannot be sure about her siblings. Nevertheless, through hours of hard work, we discovered that the 36-year-old beauty attended St. Catherine High School in her hometown.
Her future ex-husband Russel Wilson was also a student in the same high school, where the two met each other and started their eight-year-long relationship. Returning to the subject after graduating from high school, Ashton enrolled at the University of Georgia.
But soon after, Meem decided to transfer to North Carolina State University as her boyfriend Russell played there.
Ashton Meem | Career
Having graduated with a degree in communication, it should be no surprise that Ashton decided to join the advertising industry.
Soon after graduating from college, the Virginia native interned at Lewis Media Partners and McKinney.
After gaining valuable experience, Meem got her first job as an account executive at Richmond-based Morton Consulting in 2011.
Subsequently, she worked there for some years before moving on and joining the American Family Insurance company.
Currently, she works in advertising operations and seems extremely happy with her life.
Alan Jouban Bio: UFC, Model, Awards, Family & Net Worth >>
Ashton Meem | Age, Height & Body Measurements
Meem was born in 1987, making her age 36 years old. However, judging by the beautiful looks and mesmerizing brown eyes, one would be forgiven for thinking that this beauty is in her early 20s.
She has a slimly built body with a Breast-Waist-Heap measurement of 35-25-36.
Furthermore, Ashton stands at 5 feet 9 inches and weighs 53 kg. Likewise, her stunning body figure is highlighted in her various social media posts and paparazzi pictures.
Ashton Meem | Net Worth, Salary, Contract, and Income
As of 2023, Ashton is believed to have a massive net worth of $4 million, mainly through her divorce from NFL star Russel Wilson.
Although Meem has some businesses, she got a massive chunk of her fortune as a settlement from her divorce from Russell.
Furthermore, Wilson's net worth of $165 million is simply incredible. Thus, we feel that the divorce settlement did not hurt the 34-year-old quarterback that much.
Moreover, Russel recently signed a four-year $140 million contract with the Seattle Seahawks in 2019. It also included a $65 million signing bonus and $107 million in guaranteed money overall.
The NFL star celebrated this joyous moment with his wife, Ciara, and shared a clip while in bed. It did not take much for the pin to go viral online.
Ashton Meem | Personal Relationships & Wedding
Talking about her love life, Ahston is quite secretive as we don't know whether she has a lover. Contrarily, Meem was involved in a highly high-profile relationship with Russell Wilson, one of the best quarterbacks in the NFL.
Furthermore, the couple met each other when they were in high school. After that, the two lovers dated six long years before tying the knot in 2012.
It was the same year that Wilson got drafted into the NFL.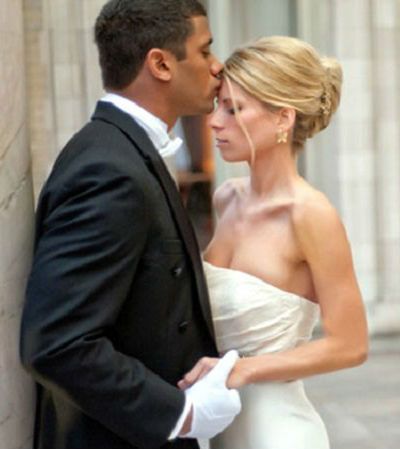 After only spending two years together, Russell filed for a divorce due to unspecified reasons. However, there were reports that fellow Seahawks player Golden Tate and Ashton cheated on Wilson.
Nonetheless, the two got divorced and have moved on since then. He stated, "I have made the difficult decision to file for divorce. Decisions like these don't come easy. Ashton and I respectfully ask for prayers, understanding, and privacy during this difficult time. Moving forward, I will have no further comment on this personal matter. "
Later on, the Seahawks quarterback married R&B artist Ciara on July 6, 2016.
On the other hand, Meem has decided to keep their relationships out of the media's prying eyes.
Many fans were sad about the split between Russell and Ashton; however, soon after, the NFL player struck a chord with pop diva Ciara.
The reason might be the familiar heartbreak story they shared. Both came out of an emotional relationship back in 2014.
While Wilson filed for divorce from his first wife and college sweetheart, Ashton Meem, in April, Ciara broke her engagement with rapper Future in December.
Despite that, it is unclear how and when the two broken-hearted met in the first place.
However, Wilson and Ciara came hand in hand as a couple for the first time at a White House state dinner in honor of Japanese Prime Minister Shinzo Abe.
Without a doubt, their relationship sparked the internet as fans went wild about it.
In an interview with "The Rock Church," located in San Digo, Wilson talked about their relationship. He confirmed their relationship while announcing their decision to remain celibate until marriage.
"She was on tour, she was traveling, and I was looking at her in the mirror… and she was sitting there, and God spoke to me and said, 'I need you to lead her,' and so I told her right then and there, what would you do if we took all that extra stuff off the table, and did it Jesus' way?"
Fortunately, the pop star agreed while telling him the couple could "love each other without that."
The couple tied the knot on July 6, 2016, at a castle in England after getting engaged in March of the same year.
Proposal and Dream Wedding
After dating for over a year, Russell took their relationship to the next step and proposed to Ciara during their vacation in Seychelles.
Of course, the pop diva gleamed as she said yes. Wilson soon took this to Instagram and posted a video with the caption, "She said yes!"
But before they could spend time as a husband and wife, the two had to deal with Future, Ciara's ex-fiance. According to TMZ, the diva believed Future might attempt to kill Wilson.
Terry Sawchuk Bio: Career, Family, Wife, Injuries & Net Worth >>
Similarly, the American singer also prepared a legal document against the rapper. Not to mention, she included various threats the rapper made toward Wilson.
In addition, she believed Future's Instagram post with a gun emoji pointed at football emoji was a reference to Wilson.
The rapper posted it along with his lyrics from the title track "Juice." It goes- "Tryna f-my baby mama, dog, what's up with you? Are you gon' make me get that heat? I'm pulling up on you."
Wilson and Ciara tied the knot at Peckforton Castle in Cheshire, England, despite the rocky situation. Their beautiful wedding happened in July 2016, three months after their engagement.
Pregnancy and Baby
After their grand wedding, attended by numerous loved ones, the pair announced their pregnancy on October 25, 2016. Similarly, the two welcomed their daughter, Sienna Princess, on April 29, 2017.
On their third wedding anniversary, Wilson hinted at wanting to have more children two years later.
On April 14, 2020, the two used confetti cannons, which sent out blue streams, revealing the gender of their child. The lovely couple welcomed their baby boy on July 23 and named him Win Harrison Wilson.
Finally, a new member was added to the family as their 2nd child. However, it is baby number three for Ciara.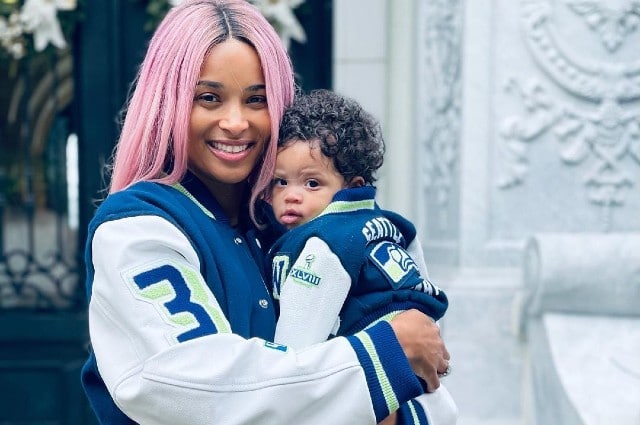 She wished his son's first birthday, writing, "You are the cutest and sweetest baby boy!" Ciara wrote of her energetic son. "Always dancing, smiling, and laughing…Always all over the place! The world's going to have to keep up! 🙂 I'm so excited and grateful to be celebrating with you today! I love you so much, My little Prince #HappyBirthday WIN!".
Is Ashton married now? Where is she?
While Wilson is enjoying his marriage with Ciara publicly, Ashton has remained aloof from the internet at the moment.
Since Meem's separation from her high school sweetheart, she has stayed silent about her relationship.
But some sources claim Ashton is still single and not dating anyone.
Ashton Meem | Social Media Presence
Ashton Meem is active on Instagram with 17.3k followers, and she goes by the username @1ashtonwilson. She posts about her life frequently these days.
Common Queries about Ashton Meem
What did Ashton Meem's engagement ring look like?
Ashton Meem wore an 8-carat ring on her engagement day. It was a beautiful and lustrous diamond ring.
Her ex-husband, Russel Wilson, did a great job with the ring selection. Russel Wilson later gave a 5-carat engagement ring to his current wife, Ciara.
Was Divorce Happens Because Ashton Cheat on Russell with Teammate Golden Tate?
It was believed that, but Golden Tate has denied the statement, writing, "the ignorant minority of people, bloggers and whoever else spreading ridiculous rumors should cut it out."
What is the Ashton Meem – Emmanuel Acho issue?
Emmanuel echo made a tweet attaching a picture of Russel Wilson with his former and current wife. The intention was to ridicule Ashton Meem.
"As we prepare for day 2 of the #NFLDraft, girlfriends, remember to play it cool. It's not where you start. It's where you finish", he wrote.