You are attracted to one's thought, stature, and the way one present themselves. Thus, may I ask if Alan Jouban can be the one who grabs your center of attraction? Those who are familiar with the athlete have their own answers, but let me help you figure it out for those who have no idea.
Apparently, Alan Jouban is a professional Mixed Martial Artist who features the Ultimate Fighting Championship (UFC) through the Welterweight division. However, this is not the only place where it ends, as he is also a popular model who has a perfectly cut face.
Moreover, he also stands as a co-host of the popular MMA H.E.A.T. Podcast with Karyn Bryant. Furthermore, he has competed in Shark Fights, RFA, and Tachi Palace Fights. Having said these, as the off-field personality, he is a husband and father.
What's attractive is the infectious positiveness surrounding him as a shield and his fiery passion for his profession.
"Fighting is what has given me everything. Any success that I've had outside of the cage started from within the cage, and it blossomed that way. To win and remind the fans of who I am and who I've always been, and also the legacy that I want to leave when I do finish fighting."
-Alan Jouban
Quick Facts
Full Name
Alan Michael Jouban
Date of Birth
November 25, 1982
Birth Place
Lafayette, Louisiana, United States
Nick Name
"Brahma"
Religion
Christianity
Nationality
American
Ethnicity
White
Zodiac Sign
Sagittarius
Age
38 years 1 month old (As of Jan 2021)
Height
6 ft 0 in (1.83 m)
Weight
171 lb (78 kg)
Hair Color
Brown
Eye Color
Brown
Build
Athletic
Grandfather's Name
Allen Jeansonne
Mother and Father's Name
Not Available
Siblings
A brother
Education
Ovey Comeaux High School
University of Louisiana
Marital Status
Married
Wife
Nicole Rangsita (Jouban)
Kids
Cage Jouban (born 2012)
Profession
Professional mixed martial artist
Division
Welterweight
Affiliations
Black House (2013–present)
Active Years
2010–present
Net Worth
$72,900 (average annual salary)
Social Media
Instagram, Twitter
Body Measurements
Alan Jouban has an intricate feature as if delicately cut from the pages of the magazines. The athlete has a fair skin tone with short brown hair and eyes of the same color to complement the look.
Furthermore, his body is perfectly toned with the abs while he stands at a decent height of 6 ft 0 in (1.83 m). Not to mention, he weighs 171 lb (78 kg) while his waist depicts the measurement of 33″. All in all, he wears a shoe size of 11.
Altogether, you might think like Jouban doesn't look like the face that fights; however, in correction, he was the one who used to get into numerous fights. He grew up fighting and developed his love for it. Thus, that wholesome body of his didn't come off easily.
To elaborate, he had to go through grueling training twice a day, which included positional drills, weight lifting, and sparring. Alongside his intense workout comes his strict diet rules and eating wholesome meals.
Alan Jouban | Early Life
Jouban (fully named Alan Michael Jouban) was born on November 25, 1982, under Sagittarius' sun sign. He grew up in Lafayette, Louisiana, and was really close with his grandfather, Allen Jeansonne. Apparently, Jouban is of French and Syrian descent.
As he idolized his grandfather, his parents named him Alan Jouban after his grandfather's name. Not only this, his nickname "Brahma" was chosen to honor his later grandfather through his raised Brahma mix bulls called a "Charolais."
Furthermore, he learned to shoot, drive a tractor, ride a horse, catch a wild hog, throw a rope, and crack a whip all from his grandfather. As a child, he used to get involved in many fights, and he even had a punching bag in his garage.
To illustrate, most of his day would fly by through, watching Bloodsport, listening to the Rocky soundtrack, and do backyard boxing.
"Anyone who knew me from Louisiana would say, 'I remember him. He was always getting into fights.'"
-Alan Jouban
Education
Alan Jouban completed his schooling at Ovey Comeaux High School, where he was also involved in soccer. However, Jouban quit soccer-playing after he tore his ALC. After it, he started spending his time inside the gym, training and working hard.
After completing high school, Jouban attended the University of Louisiana at Lafayette in his hometown. Later, he only studied for a few semesters and left college before gaining a degree.
Terry Sawchuk Bio: Career, Family, Wife, Injuries & Net Worth >>
During his college days, Jouban moved to New York for modeling; however, it didn't work out. Thus, Alan moved to Los Angeles and started training in a Muay Thai academy, the Bomb Squad, in 2005.
Alan Jouban | Mixed Martial Arts
Jouban first started martial arts after learning Muay Thai from his trainer Julio Trana Jr. Moreover, after years of practice, he gained a brown belt in 10th Planet Jiu-Jitsu under Eddie Bravo's supervision.
Prior to all his gains in the Jui-Jitsu and other courses, he fought for a hobby, and his modeling career was the one that paid his bills. Additionally, in 2009 when he first booked his Muay Thai fight, he got sick two days before the fight due to food poisoning.
In the bargain, Jouban also learned wrestling under Kenny Johnson. Following it, Jouban made his mixed martial debut on March 26, 2010, which stood as a TKO win in the first round.
Overall, his first few months into MMA came as a glorious step, winning all the matches despite the fact that he lacked physicality and strength. Therefore, keeping it in mind, he bulked up more before finally making his big league debut.
As the second fight of his career, Jouban drowned into Kyle Griffin's victory through 15 second knockout in the first round on February 8, 2011.
Ultimate Fighting Championship (UFC)
With the time passing, Alan Jouban entered the major leagues of MMA in UFC, where he made his debut on August 16, 2014. During the tenure, his debut came against Seth Baczynski at UFC Fight Night 47, a knockout win. In the meantime, both the athletes gained the Fight of the Night honors.
After his foremost step into UFC, he fought numerous athletes, which all recorded either losses or wins. Advancing further, Jouban unsuccessfully matched against Middleweight winner Warlley Alves on November 8, 2014, at UFC Fight Night 56.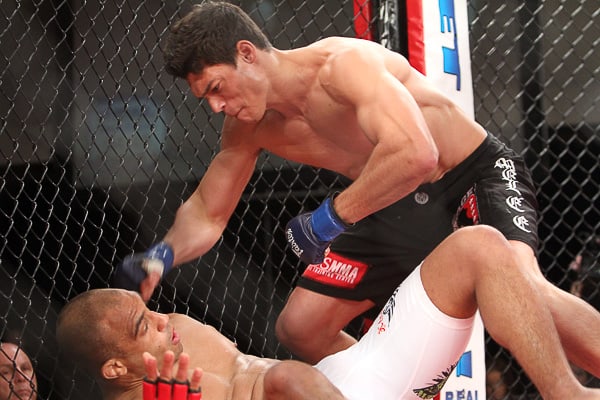 Likewise, he challenged many fighters such as Richard Walsh (win via knockout at UFC 184), Matt Dwyer (win by unanimous decision at UFC Fight Night 71), Brendan O'Reilly (TKO win at UFC Fight Night 85), Gunner Nelson (loss by guillotine choke at UFC Fight Night 107), Niko Price (TKO loss at UFC Fight Night: Pettis vs. Moreno), and so on.
Having said these, his June 6, 2015's fight against Brian Ebersole was pulled out due to his injury, and thus, Omari Akhmedov replaced Jouban. Similarly, his fight with Brian Camozzi was also pulled out due to his foot injury.
"When I'm locked in a cage, I know who I am. Taking a beating and then coming back from it, showing heart and inspiring people—I've always wanted to be that guy."
-Alan Jouban
Alan Jouban vs. Albert Tumenov
On October 3, 2015, UFC hosted UFC 192: Cormier vs. Gustafsson from the Toyota Center in Houston as the main event, where Alexander Gustafsson faced Daniel Cormier. Altogether, the match between Jouban and Tumenov was the event's preliminary card, where Tumenov had heavy shots.
During the match, Tumenov had pondered a heavy head kick to Jouban alongside series of punches. Overall, it resulted in a TKO loss for Jouban in the first round.
"This is not my best performance; my next fight will be my best performance."
-Alan Jouban
Alan Jouban vs. Belal Muhammad
Actually, Alan Jouban was expected to face Nordine Taleb on July 7, 2016, at UFC Fight Night 90. However, Taleb was informed to be injured and thus, pulled out of the fight, which was replaced by the newcomer Belal Muhammad.
Altogether, their fight was the main card at MGM Grand Garden Arena in Las Vegas, which streamed on UFC Fight Pass. During the fight, Jouban first passed a quick knockdown in the first round while Muhammad threw a slick jab. With a series of punches, Jouban passed Muhammad the first loss of his career as he won by unanimous decision.
Antonio Margarito Bio: Career, Controversy & Net Worth >>
"I was really excited to fight Taleb, so of course, I was upset for a little bit when he got injured. Belal Muhammad is a rhythm fighter. He goes out there and uses his boxing, tries to pepper an opponent and wear them down."
-Alan Jouban
Alan Jouban vs. Mike Perry
Jouban faced Perry on December 17, 2016, at UFC on Fox 22 as the main card, which went on till the third round. They both started with stiff jabs, little head kicks, stalking, and so on.
At the same time, Jouban passed the combination, cracking Perry's counter-attack. Overall, Jouban took the victory via unanimous decision (29-28, 30-27, 30-27).
Alan Jouban vs. Ben Saunders
On February 24, 2018, Alan Jouban faced UFC veteran Ben Saunders at UFC on Fox 28 in the FOX Prelims' opening fight from the Amway Center. The pair fight was well taken as they were good friends outside the octagon.
The match was a knockout victory in the second round after a back and forth fought. As the fight ended, both fighters gained the Fight of the Night bonus.
"As much as it was a pain to see a friend of mine go down, it was an honor to go to war with him. It was a fight I'll always remember for sure."
-Alan Jouban
Alan Jouban vs. Dwight Grant
The match between Jouban and Grant came quite weird as Jouban wasn't happy with the result. To illustrate, they fought on April 13, 2019, at UFC 236, which was won by Grant via a split decision.
 "I was like, 'You could be upset about what? You had an opportunity…' I could understand if he got me down, or he had some moments where he was winning."
-Dwight Grant
Alan Jouban vs. Jared Gooden
Following Jouban's fight against Grant, he was out of the octagon for 18 months, only returning to fight against Jared Gooden. The fight took place on November 21, 2020, at UFC 255 prelims.
During the match, Gooden swung hammers while Jouban landed a couple of solid kicks. Additionally, they competed for three rounds, until finally, the judge's scoreboard announced Jouban as the winner via unanimous decision.
Alan Jouban | Stats and Achievements
Jouban has achieved a feat as a fighter, which is tabled below.
Total fights
Wins (17)
Loss (7)
Knockout
Submission
Decision
Knockout
Submission
Decision
24
11
0
6
3
1
3
With his career stat to date, some of his achievements are;
FCOC Welterweight Championship (One time)
Fight of the Night (Four times)
Net Worth and Income
Although the UFC fighter and model Alan Jouban's net worth are not disclosed, he makes millions of dollars. At present, he is expected to earn an average annual salary of $72,900 through UFC.
Likewise, UFC is not his full stop as he earns through other sources such as working as a model, an actor's double, and doing commercials. He has featured as the face of brands such as Nike, Dethrone, Cyrohealth care, Equinox gym, Ermanno Scervino, and Pepsi.
Furthermore, he has even worked with Versace in 2016 and even signed a deal for an appearance in their short film with Gigi Hadid for the Dylan Blue Fragrance. During his wok tenure with Gigi Hadid, Jouban got the chance to kiss her in the Versace ad.
Therefore, as a Gigi Hadid's fan, he was thrilled and described Hadid as a good kisser.
You might be interested in Heidi Androl Bio: Career, UFC, Fox Sports, Family & Net Worth >>>
Alan Jouban | Personal Life
When it comes to Jouban's private ventures of life, he has managed to keep it well-hidden like every other celebrity. With fewer details on it, we can only wait for his updates on his social media accounts.
Currently, Alan Jouban is a responsible father and a loving husband to his wife and son. Jouban is married to his wife, Nicole Rangsita, and the duo shares a lovely son named Cage Jouban, born on October 22, 2012.