Can you guess a few athletes with the best car collection? Athletes who play professionally earn a huge amount of paychecks. Spending millions on exquisite cars is certainly a thing for some athletes.
Those athletes who have established themselves and are big names in their respective fields make ludicrous amounts yearly.
While many athletes are millionaires, there are also billionaires among them.
As a result of their high earnings, the athletes can enjoy extravagant lifestyles and spend it on lavish stuff.
And how do some of them like to show off their wealth? Well, from their exquisite collection of cars!
Today, we will look at 12 athletes with the most impressive and exquisite car collections. Their collections are worth millions of dollars, and they indicate their super-rich and extravagant lifestyle.
Now, let's see which athletes have the best car collections that money can buy. Let's go!
Quick Overview
Here's a quick highlight of the athletes and their respective sports fields.
12 Athletes With Best Car Collection
We have compiled our list from various internet sources like Luxatic and JustRichest.
12. Justin Verlander
In number 12 of our list, we have a 40 year-old professional baseball pitcher for MLB's Houston Astros, Justin Verlander. He made his MLB debut with the Detroit Tigers in 2005.
Verlander is a successful baseball player who played for the Tigers for 12 years and was the team's ace. His net worth is estimated at $150 million (£126.98 million) as of 2022.
While Verlander is one of the most successful pitchers in MLB, many might not know that he also loves to collect exquisite cars.
Some of his impressive collection includes an Aston Martin DBS, Maserati GranTurismo, Range Rover, an orange Lamborghini Aventador Roadster, a few Mercedes-Benzes, and Ferrari 458 Italia, and a California.
Soccer and basketball players are some of the highest-earning athletes in the world. Read Here About The Highest-Paying Sports In The World>>
11. Yoenis Cespedes
Number 11 on our list of athletes with the best car collection is Yoenis Cespedes. He is a 37 year-old Cuban-born professional baseball outfielder who made his MLB debut in 2012 for the Oakland Athletics.
Cespedes's MLB career spanned from 2012 to 2020, during which he played for the Boston Red Sox, Detroit Tigers, and New York Mets. Similarly, he signed many lucrative deals while playing in the league.
He proudly shows the lucrative earnings that Cespedes earns with his car collection.
Some of his exclusive collection includes a custom 2016 Ford F-250, two custom Polaris Slingshots, a custom Jeep Wrangler, Alpha Romeo 8C Competizione, and Lamborghini Aventador.
10. LeBron James
On number 10, we have King James with his impressive collection of cars. The 38 year-old is a professional basketball player for the NBA franchise, Los Angeles Lakers.
James is widely considered one of the greatest players. Given his status, he is one of the highest-paid athletes in the NBA. Furthermore, he is the first active NBA player to accumulate $1 billion in earnings.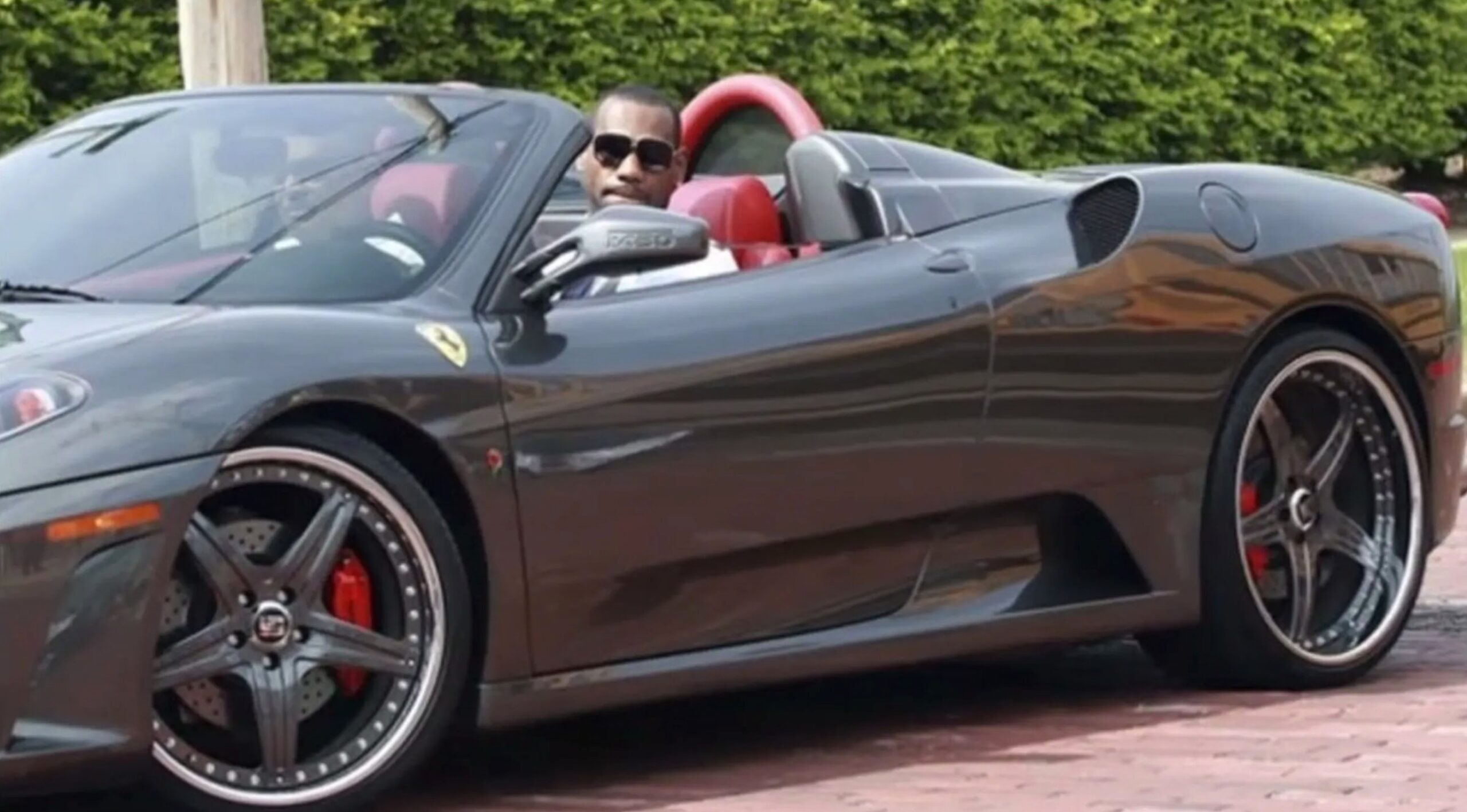 James owns a customized Lamborghini Aventador Roadster, Mercedes-Benz S63 AMG, Porsche 911 Turbo S, Chevy Camaro SS, Hummer H2, Rolls Royce Phantom, and Dodge Challenger SRT.
Likewise, his collection includes Ferrari F458 Spider, an F43, and Maybach 57S. King James's car collection is truly befitting of a king!
9. John Cena
John Cena is a 45 year-old American professional wrestler and is considered one of the greatest wrestlers of all time. From 2005 to the next decade, he was WWE's franchise player and public face.
As one of the most successful wrestlers, Cena's salary is estimated to be $10 million (£8.47 million) annually. In addition to his wrestling career, he has also successfully starred in several movies, has several endorsement deals, and his debut studio album went platinum.
Cena is a huge fan of muscle cars and spends millions collecting them. He has great cars in his collections, most of which are American classics.
Some of his muscle cars collection include a 1966 Dodge Hemi Charger, 1969 COPO Chevrolet Camaro, 1970 Mercury Cougar Eliminator, 1970 Plymouth Superbird, and 1971 AMC Hornet SC/360.
Similarly, Cena's modern collections have cars like Ford GT, Chevrolet Corvette ZR1, and his customized InCENArator built by himself.
8. Samuel Eto'o
On number 8 of our list of athletes with the best car collection, we have former Cameroonian soccer player Samuel Eto'o. The 42 year-old is regarded as one of the best strikers and the greatest African players of all time.
During his professional career, he was an all-time leading scorer and third most-capped player from his country. Eto'o played was signed by prestigious soccer clubs like Barcelona, Inter Milan, Chelsea, Everton, and many more.
As of 2022, his net worth is estimated to be $95 million (£80.42 million). He likes to spend his earnings to collect fast, luxurious, and some of the most exclusive fleets of supercars.
Eto'o's collection includes expensive cars like Bugatti Veyron, Maybach Xenatec, Porsche Gemballa Mirage, Aston Martin V12 Zagato, and One-77.
The Gaming Industry Is One Of The Most Lucrative Industries At Present. Click To Read About The Top Richest Female Gamers In The Industry>>
7. David Beckham
We have 47 year-old David Beckham on our number 7. The former soccer player is one of his era's greatest and most recognized midfielders.
Beckham's influence is not only on soccer fans. He is also a British cultural icon. In his career, he was among the highest-paid soccer players and was even the 2013 highest-paid player in the world.
Fans of Beckham know about his love for motorcycles and his collection. But he also has an impressive fleet of expensive car collections, including the Porsche 911 Turbo, Audi S8, Cadillac Escalade, Bentley Continental SuperSport, and Bentley Bentayga.
Similarly, he also owns Hummer H2, Ferrari Scaglietti, an exclusive Jaguar F-Type Project 7, and multiple Rolls-Royce.
6. Jenson Button
The next athlete on our list is a Formula 1 British racing driver, Jenson Button. The 43 year-old drives some of the fastest racing cars and owns an impressive fleet of car collections.
As a successful F1 driver, Button earns quite impressively. In addition, he has several endorsement deals with brands like Hilton, Vodafone, Head & Shoulders, and many more.
Between June 2012 and June 2013, Forbes named him one of the world's top-earning drivers in motorsports. Button likes to spend his million earnings with a collection of super-fast cars.
His collection has cars like Brawn BGP 001, Mercedes C63 AMG, Nissan GT-R, 1956 Volkswagen Campervan, Bugatti Veyron, a few Hondas and Ferraris like Ferrari 275 GTS Cabriolet, F430 Spider, Honda S600, etc.
5. Zlatan Ibrahimovic
Regarded as one of the greatest and most decorated active soccer players, we have Zlatan Ibrahimovic next in our top 12 list. He is a 41 year-old Swedish professional player and is the sixth athlete with the best car collection.
In 2009 summer, he was transferred to Barcelona, one of the world's most expensive transfers.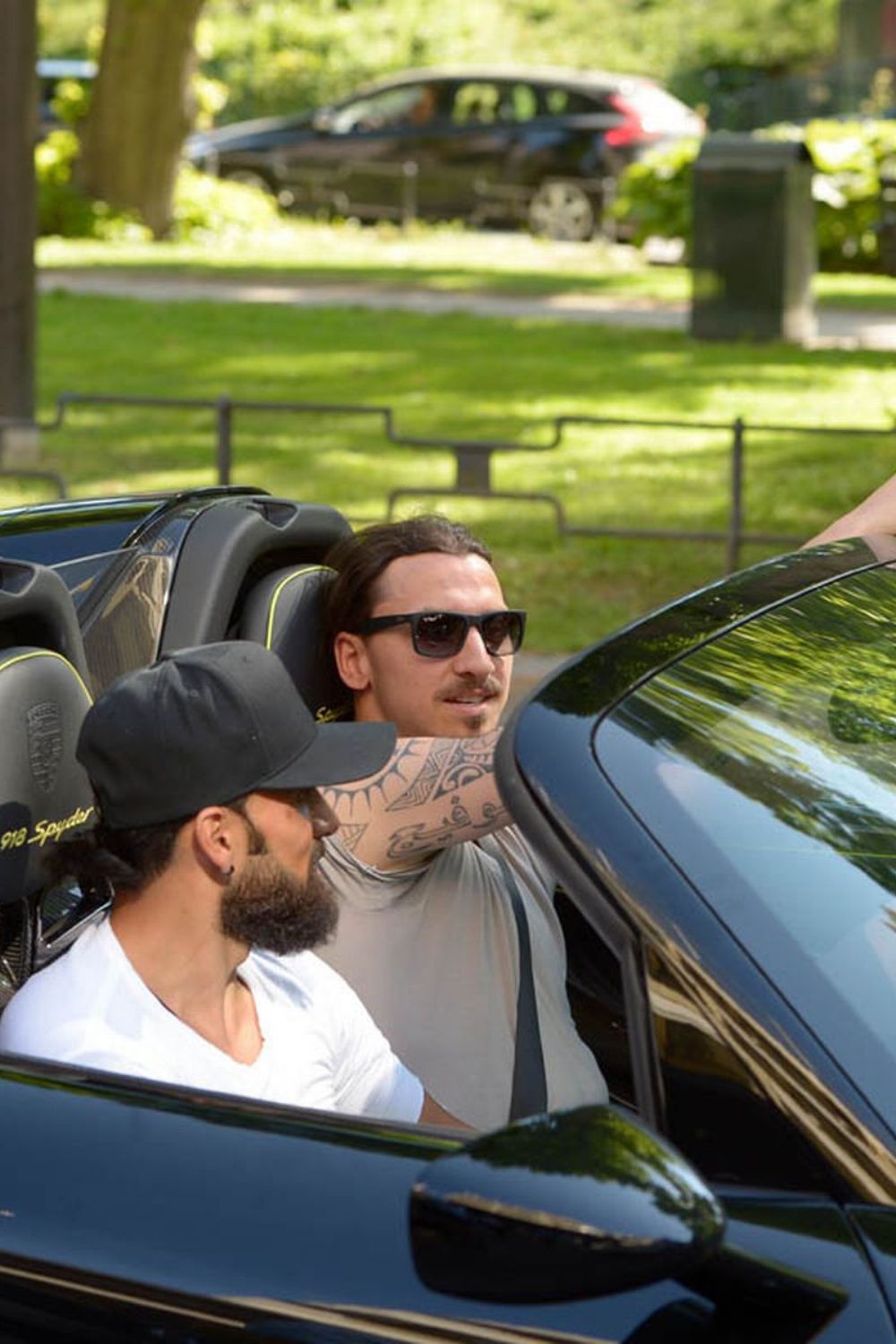 In addition to his salary, Ibrahimovic has several endorsement deals with brands and has been featured in television advertising. Similarly, he has been featured in EA Sports' FIFA video game series.
Ibrahimovic has one of the most impressive collections of cars. He has cars like Lamborghini Gallardo, Ferrari Enzo, Audi S8, Porsche 918 Spyder, Maserati Gran Tourismo, and Volvo C30 T5.
4. Lionel Messi
We all know that Lionel Messi is one of the greatest soccer players to grace the sport. The 35 year-old Argentine player is currently signed with Ligue 1 club Paris Saint Germain.
Messi is one of the most decorated soccer players in the world. Therefore, it is no surprise that he is one of the highest-paid soccer players in the world. In 2019 and 2022, Forbes ranked him the world's highest-paid athlete.
Similarly, Messi was the second soccer player to surpass $1 billion in career earnings in 2020. As of 2022, his net worth is estimated to be about $620 million (£524.85).
Therefore, one can expect his car collection to be worthy of his status. He has an impressive collection of high-end sports cars and SUVs.
Messi's collection includes over ten luxury cars. Some of which are Ferrari F430 Spider, Pagani Zonda Tricolore, Maserati Gran Turismo MC Stradale, Cadillac Escalade, and Range Rover.
3. Cristiano Ronaldo
Cristiano Ronaldo is one of the world's most famous and marketable athletes. Similarly, his car collection is among the most impressive among the athletes; hence, he is number 3 on our list.
The 38 year-old Portuguese soccer player is currently signed with the Premier League club, Manchester United. He has been part of some of the most expensive soccer transfers.
Forbes ranked him the world's highest-paid athlete in 2016 and 2017. Furthermore, he was the first soccer player to earn $1 billion in his career and not to mention the numerous endorsement deals he has.
Ronaldo's luxurious car collection includes Lamborghini Aventador, Porsche 911 Turbo S, Bugatti Veyron 16.4 SuperSport, Rolls Royce Phantom, Bugatti Veyron, several Ferraris, etc.
2. Lewis Hamilton
Number 2 on our list of athletes with the best car collection is British Formula 1 driver Lewis Hamilton. The 38 year-old is often credited for furthering F1's appeal globally and has a collection that can make anyone envious.
Hamilton is known for his high-profile lifestyle and social activism, which has helped him further his appeal worldwide. He has several records and joint records in the sport.
Hamilton has an impressive fleet of cars in his collection. He loves speed and owns several fast cars.
His collection includes purple Pagani Zonda 760 LH, Ferrari LaFerrari, Mercedes SL65 AMGs, and SLS AMG Black Series. It also consists of an Eleanor Shelby GT500 and his favorite two unrestored 1967 AC Cobras.
In 2022, he bought two Mercedes AMG Project One Hypercars, one for his father and one for himself. The luxury car costs a whopping sum of $2.72 million (£23.57 million) per unit.
1. Floyd Mayweather
The top spot for the athletes with the best car collection goes to the former professional boxer, Floyd Mayweather. He is considered the greatest pound-for-pound boxer of all time.
The 46 year-old Mayweather was the highest-paid athlete in 2018. In 2021, Sportico ranked him No. 6 on the all-time athlete earnings list.
As for car collection, Mayweather does not hesitate to spare any expenses.
Consequently, his collection comes in No.1 with several luxuries and high-end car fleets.
He owns the Guinness record holder fastest convertible car, the Bugatti Veyron Grand Sport Vitesse.
Similarly, he owns two more Bugatti Veyrons, Ferraris, Lamborghinis, Rolls Royces, and Mercedes.
Likewise, Mayweather also owns an Aston Martin One-77 and a Pagani Huayra. Most of his stunning rides are all white. His collection has over 15 cars worth over $200 million (£169.31 million).
Conclusion
Every young and aspiring athlete dreams of making it big as a professional. One of the reasons for this is the handsome paycheck and various brand endorsement deals that come with it.
Spending their paychecks on exquisite cars is how some athletes make their expenses.
With their impressive car collection, these athletes on our list have spent millions on the collection.
From famous soccer players to NBA stars, boxers, and Formula 1 champions, these are the top 12 athletes with the best car collection!
You Might Also Like: The Top 20 Richest MMA Fighters in the World>>