"Golf is a sport where you can have a bad day, and an amateur can beat you." A statement once said by Belen Mozo is recurrent in the sport of golf.
Unlike other sport, in Golf, the less score you record, the closer you come to a win.
Belen Mozo is a Spanish golfer who plays in the LPGA Tour and Ladies European Tour and was a successful face at the amateur level.
As an amateur, Mozo won the British Ladies Amateur Golf Championship in 2006. Further, she also came through the ranks of collegiate level with the USC Trojans.
This article comprises information about the Spanish golfer's personal life, early life, family, net worth, career, along with many other exciting topics.
Let's start by looking at a few quick facts!
Quick Facts:
| | |
| --- | --- |
| Full Name | Belén Mozo |
| Birth Date | September 25, 1988 |
| Birth Place | Cádiz, Spain |
| Nick Name | Belen |
| Religion | Undefined |
| Nationality | Spanish |
| Ethnicity | Caucasian |
| Education | Ortega y Gasset Institute, University of Southern California |
| Horoscope | Libra |
| Father's Name | Jesus Mozo |
| Mother's Name | Isabel Mozo |
| Siblings | Yes (Jesus Mozo Jr.) |
| Age | 35 years old |
| Height | 5'7 ″ (1.73 m) |
| Weight | 85 kg (187 lb) |
| Shoe Size | Unavailable |
| Hair Color | Dark Blonde |
| Eye Color | Dark Brown |
| Body Measurement | Unavailable |
| Figure | Lean, Muscular |
| Marital Status | Married |
| Husband | Yes (Robert Farah Maksoud) |
| Children | None |
| Profession | Golfer |
| Net Worth | Over $0.5 million |
| Tours | LPGA Tour, Ladies European Tour |
| Active Since | 201o |
| Magazine Issue | ESPN The Mag Body Issue |
| Career Titles | Junior Ryder Cup, Junior Solheim Cup, Espirito Santo Trophy, International Crown |
| Social Media | Instagram, Facebook, Twitter |
| Merch | Golf Accessories |
| Last Update | November 2023 |
Where is Belen Mozo from? Early Life, Parents, & Education
On September 25, 1988, Belen Mozo was born to Jesus Mozo and Isabel Mozo. Also, the family resided in the Spanish city of Cadiz. In like manner, she grew up alongside an elder brother named Jesus Mozo Jr.
However, the details regarding the whereabouts and occupation of the golfer's family are not available at the moment.
On the other hand, Belen first held a golf club when she was a wee 8-year-old girl. From that moment on, the Cadiz native was hooked to the sport.
Mozo's parents, especially her mother, encouraged the aspiring golfer to engage more in the game and hone her skills.
Similarly, both the Mozo siblings learned the sport at a nine-hole course in El Puerto de Santa Maria. Contrarily, after attending Ortega y Gasset Institute, the period of training was reduced.
Nonetheless, Belen would hit the golf course occasionally and practice during the weekends. Similarly, while still a rookie golfer, the Spaniard represented Europe at 14 and even bagged the AJGA Thunderbird Invitational.
Furthermore, upon graduating high school, Mozo traveled to California (U.S.) and enrolled in the University of Southern California.
Moreover, while studying there, the Spaniard would get the opportunity to join the USC Trojans' golfing team.
Her time as a collegiate golfer aided Belen in turning professional, thereby qualifying for LPGA Tour in 2011. The experiences became a stepping stone in Mozo's life that helped her improve her character for the best.
You might also want to read: <<Michelle Akers Bio: Career, Goals, Illness, Net Worth, Husband Wiki >>
How Old Is Belen Mozo? Age, Height, & Body Measurements
Born in 1988, Belen is 35 years old at present. Also, the Spanish golfer stands at an average height of 5'7″ (1.73 m) and weighs an astonishing 85 kg (187 lb).
Although Mozo's exact measurements are not available, the Instagram posts highly suggest her having a well-endowed body.
Besides, being a professional athlete mandatorily asks you to be physically fit, and we can corroborate the fact that Belen is a fitness freak woman.
The Spaniard's gym routine makes us sweat, and her commitment inspires us towards a more self-love approach.
Likewise, the golfer mostly posts photos about her workout regime and pictures in a bikini, and I am sure the comment sections are not devoid of thirsty remarks.
Believe it or not, golfing also demands a high level of stamina. Playing on a sunny day and for countless hours is not a joke.
Notwithstanding that, Mozo makes the list of hottest golfers with Natalie Gulbis, Maria Verchenova, and Anna Rowson.
At one point, the Spanish golfer made a media sensation by posing nude for ESPN The Mag Body Issue.
Likewise, considered one of the most beautiful golfers globally, Belen's most distinctive feature is her dark blonde hair, a heart-shaped face, and a rounded nose.
Additionally, her chiseled jawline compliments her face rather well. Conversely, the Spanish golfer is a right-handed swinger and manages to deliver some of the most powerful shots.
Nevertheless, Belen has encountered many "CUTS" in her playing career. A CUT is when the ball is unplayable, and the player fails to advance into the next round.
In particular, if a golfer exceeds the cut-line mark, above or below a specified par, then he/she misses the chance to play another round.
Don't forget to check out: <<Mikaela Mayer Bio: Age, Height, Ethnicity, Career, Trainer, Net Worth Wiki >>
Belen Mozo | Career: Golf
Belen played at the Junior Ryder Cup and won the AJGA Thunderbird Invitational and the Doral-Publix Junior Classic. Thereafter, the Spanish beauty got crowned as the number 1 Spanish at the amateur level.
Besides, Mozo got an opportunity to represent Spain in the 2003 European Girls Team Championship, the 2005 PIMG Junior Solheim Cup Team, and the European Ladies Team Championships.
However, the Spanish golfer was hungry for more. Concurrently, Belen recorded a first position finish at the 2005 Junior International Championship, and the following year stood as a champion.
The title was for the 2006 Ladies British and Girl's British Amateur Champion. Added to that, Mozo is the only player since 1972 to win both titles in the same year.
Furthermore, with astonishing growth, the Spaniard received mentions at the 2007 NCAA Championships and All-American honors by the NGCA.
Don't forget to check out:<<Lauren Chamberlain Bio: Height, Career, Blog, Husband, Instagram Wiki >>
Subsequently, Belen recorded top ranks on five different occasions in 11 total events and ended the 2007/2008 season within the 18th spot.
In like manner, for the USC Trojans, the Spanish golfer sat at top finishes six times.
Similarly, Mozo competed in the 2008 European Women's Team Championship and World Amateur Team Championships and stood in second place.
For the same season, the Spaniard participated in US Women's Amateur by playing nine events altogether.
Likewise, with a top-six finished on three separate participation, Belen got placed in the 20th position in the amateur golfer list.
Eventually, the time came for the Spanish starlet to ascend to a bigger stage; LPGA. In 2010, her first-ever professional experience resulted in an eighth-place finish and obtained a Priority List Category 11.
Similarly, Mozo participated in 21 major events, making 17 cuts with a $143,094 earning and landing 12th spot in the LPGA Tour in 2013 for the highest driving distance.
Belen Mozo | Injury & Retirement
In July of 2019, an official statement released suggests that Belen is ready to retire from competitive golf and LPGA Tour.
For instance, with a persisting pain in the injured hips and a hapless battle to prevail, her career came to a bitter end.
In fact, the Spanish golfer underwent tensor fasciae latae tear, which seemingly didn't heal after countless treatments. Further, she went on sadly to express the frustration she felt during the entirety of the procedure.
Even though her mind couldn't take it anymore, Belen found comfort in knowing that there is a world outside golf and that she would love to explore it.
At the same time, Mozo feels glad that she had an eventful junior and professional career worthy of cherishing for the rest of her life.
Belen Mozo Net Worth | Salary & Income Sources
To begin with, sources reportedly claimed that Mozo accrued a staggering net worth of $0.5 million over the years.
Even though a full detail regarding her salary remains in the dark, assumably, the salary itself would densify the Spaniard's pocket. Accordingly, LPGA.com listed the career earnings of Belen to be $902,602.
On the contrary, fellow golfers like Suzann Peterson and Garbine Muguruza have a net worth of $15 million and $12 million. Frankly, the sum huge considering the sport is golf.
Again, it comes as no doubt that Mozo will start earning large amounts in the coming years, as the Spanish-born comes with both beauty and expertise for the sport.
Additionally, Belen received $2,610, $92,377, $76,263, and $67,935 in 2015, 2016, 2017, and 2018 respectively.
Also, the payment a golfer pockets depends on the purse percentage for each tournament played and finished within the designated price.
Notwithstanding that, at one point, the Spaniard partnered with Adidas to recycle unused plastic bottles to manufacture a variety of sports shoes.
Nonetheless, regardless of the earnings, Mozo takes time out of her busy schedule to make a getaway to exotic locations. Specifically, she chooses destinations with beaches or locations that have a flair for partying.
Unfortunately, Belen's other assets and properties have not been revealed yet. As more information is available, the section will be updated as such.
You might also want to read: <<Jojo Starbuck Bio: Age, Career, Net Worth, Husband Wiki >>
Who is Belen Mozo Fiancee? Personal Life and Relationships
Indeed, Mozo is off the market, as the beautiful golfer is happily married to Robert Farsh, who befittingly is a tennis player.
Farsh is a doubles specialist. He plays doubles with fellow player Juan Sebastián Cabal and has won two grand slam titles.
Moreover, Belen and Robert have been dating since their college days at USC. Also, it is quite evident that the Columbian found his way to Belen's heart through a shared passion, which is a sport.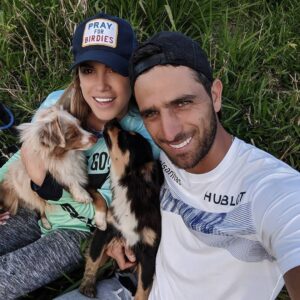 Further, the duo got married on December 5, 2020, amid the COVID-19 pandemic in the presence of their cute little two dogs Taco and Roma, as their wedding attendants.
These two beloveds are a match made in heaven; being professional athletes, they are entirely aware of the busy routine the other has and hence are incredibly supportive towards their partner.
Social Media Presence:
Belen Mozo is quite active on social media platforms. You can follow her via these links.
Instagram: 98,700 followers
Facebook: 15,216 followers
Twitter: 33,200 followers
Some FAQs:
Does Belen Mozo still play for LGPA?
Belen Mozo announced her retirement from LGPA in 2019. She announced her retirement on her blog, saying,
"I have decided to seek other personal opportunities outside of the LPGA tour and competitive golf. I have had a desirable junior career and a fruitful professional career, and I am now ready to face the next stage of my life and venture into new terrains."
What relationship is Belen Mozo to Robert Farsh?
Belen Mozo and Robert Farsh are husband and wife. The duo got married on December 5, 2020.
What is Belen Mozo Nationality?
Belen Mozo holds Spanish Nationality and belongs to a Caucasian ethnic background.
Where does Belen Mozo live?
Belen Mozo currently resides in Palm Beach Gardens, Florida, with her family.