Hey gymnast enthusiast!
Do you want to know who the best gymnast in the world is right now? Don't skip straight ahead, and let's read the entire article before you choose your favorite!
Gymnastics is a physically demanding sport filled with intricate tricks and impressive stunts performed with style and grace by both genders.
Now that the 2021 Tokyo Olympics is happening let's recount the top 12 gymnasts right now.
Let's pike in, shall we?
Best Gymnasts In The World Right Now!
12. Nina Derwael
Starting from the bottom of our list on number 12, we have Nina Derwael from Belgium, a two-time World (2018 & 2019) and European champion (2017 & 2018) on uneven bars.
In the 2019 European Games, she was the champion on the balance beams and a two-time Belgian national all-around champion (2015 & 2018).
Born on March 26, 2000, she's undisputedly Belgium's first and most successful gymnast who has made an immense impact internationally.
We are sure she'll climb her way to one of the best gymnasts in the world in no time.
Moreover, Nina has acquired five gold, one silver, one bronze medal while representing Belgium in international championships.
And for someone who's budding her career in gymnastics, that's a perfect start!
At the height of 1.65m, it was unusual for a gymnast to be tall because being small is advantageous in gymnastics.
Likewise, Nina represented Belgium at the 2016 Summer Olympics and is scheduled to compete at the 2021 Tokyo Olympics.
Nadia Comaneci Bio: Early Life, Gymnast, Son & Net Worth >>
11. Mai Murakami
Let's go to number 11, Mai Murakami, a Japanese artistic gymnast, and the 2017 World Champion on floor exercise.
She's the 2018 all-around silver and floor exercise bronze medallist. A four-time Japanese national all-around champion (2016-2018, 2020) represented Japan at the 2016 Olympics.
Likewise, Mai has two gold, two silver, and two bronze medals in international championships.
At 1.48 m, she started gymnastics when she was just two and has earned numerous awards.
When the 2020 Olympics was canceled, Murakami competed in All-Japan senior championships and all-Japan championships and won seven gold, four silver, and three bronze medals.
Nonetheless, Mai is also the first Japanese woman to win an Olympic medal.
10.Gabby Douglas
Gabrielle Christina Victoria Douglas is an American artistic gymnast born on December 31, 1995, who became the first American to claim gold medals in the team and individual all-around events.
Also, Gabby is the first African American to win the all-around title at the 2012 Olympics Games in London.
Similarly, Douglas won World all-around silver medal in 2015.
She earned the nickname "The flying squirrel" for her ability to gain extraordinary height in the air when releasing from the apparatus on the uneven bars.
Moreover, Douglas and her teammates (Wieber, Aly Raisman, McKayla Maroney, and Kyla Ross) captured the first U.S. women's team gold medal in 1996.
Gabby has three Olympics gold medals, two for the team and one for all-around in London and Rio de Janerio.
Including the Olympics, she has ten gold and one silver medal while representing the USA in international championships.
At 1.57 m, Gabby has stayed atop the sport after earning huge success before, making her one of the best gymnasts in the world right now.
9. Manrique Larduet
At Number 9, we have Mr. Manrique Larduet Bicet, a Cuban artistic gymnast.
He grew up in Santiago de Cuba, Cuba, and is famous for his history-making silver medal at the 2015 World Artistic Gymnastics Championships.
He also became the first Cuban since 2004 to appear as an Olympian.
Likewise, Manrique is known for his high bars and all-around performance. Therefore, he is a threat as already having a chance to become the most successful Cuban gymnast ever, if not the best in the world.
Just 25, Manrique has twelve gold, twenty silver, and four bronze medals competing for his Cuba in International championships.
Standing at 1.6 m, he will not be competing in the 2021 Olympics being held in Tokyo.
In 2016, the International Gymnastics Federation [FIG] named a parallel bars element after him where 'Larduet' is a double somersault with a twist as a finishing element.
8. Danell Leyva
At number 8 of our best gymnasts on the world list, we have Danell Johan Leyva, Cuban-American, a former gymnast standing at 1.7 m.
Leyva competed for the United States as a two-time Olympian (2012, 2016) and three-time Olympic medallist (2 silver, one bronze).
Similarly, in 2009, he became the youngest member to join the US senior national team at 17 and earned the nickname D.J.
Although he hasn't had great success lately in an international way, he is still one of the top male gymnasts having a high performance on parallel bars and high bar.
On October 11, 2020, on National Coming Out Day, the gymnast revealed himself as bisexual and pansexual via his Twitter account. Read the article here >>
In fact, his coming out has helped a lot of budding young athletes to express themselves.
7. Oksana Chusovitina
At 7, we have Ms.Oksana Aleksandrovna Chusovitina, who at 46 years old became the oldest female gymnast to qualify for the Olympic Games.
Likewise, Oksana has competed in seven Olympics participating from three different countries the Soviet Union, Uzbekistan & Germany.
Not to mention, her career as an elite gymnast has spanned more than a quarter-century to which she says she only got better like a fine wine.
As she's heading to her 8th Olympic game this year, we would have to agree.
Oksana has a total of nine gold, fourteen silver, and nine bronze medals competing in the International Championships.
6. Donell Whittenburg
At number six on our list, we have Donell Whittenburg, one of the former rising male artistic gymnasts in America.
Born August 18, 1941, in Baltimore, Maryland, he was awarded a bronze medal at the 2014 World Artistic Gymnastics Championships.
Likewise, Donell has participated in World Championships, Pan American Games, FIG World Cup, FIG World Challenge Cup, etc.
With a fast rise, he has earned two gold, seven silver, and two bronze medals in these years.
Moreover, Whittenburg has one skill in gymnastics named after him, a triple-piked dismount on still rings.
Top 15 Best Online Games Now >>
5. Shang Chusong
At number five, we have Shang Chusong, a Chinese artistic gymnast from Zhangjiajie, China.
Born on March 18, 1996, Chusong is a senior elite gymnast who represented China at the World Championships in 2013, 2014, and 2015.
Likewise, Chusong has challenged the US women playing on the all-around podium with her amazing skills while standing at 1.42 m and a weight of 34 kg.
In fact, Chusong has been the Chinese national all-around champion for two consecutive years (2015 & 2016).
Competing in Olympic 2016, as the captain of her team won bronze in Rio de Janeiro.
In addition, Shang has competed in World Championships, Asian Games, Asian Championships, and Pacific Rim Championships outside her country.
She has earned four gold, five silver, and three bronze medals in representing China worldwide.
While there was an age issue when the Chinese gymnast joined the Olympic team in 2012, they sorted it, and she did splendidly.
4. Dipa Karmakar
At no four on the list, we have Dipa Karmakar, an Indian artistic gymnast.
Likewise, Dipa won a bronze medal at the 2014 Glasgow Commonwealth Games, becoming the first Indian female gymnast to do so in the history of games.
Born on August 9, 1993, in Agaetala, India, she earned a name for herself as one of the best Indian gymnasts of all time.
Moreover, Dipa has received many awards from her country, one of which is Padma Shri's fourth most prestigious and highest civilian award in India.
Also, her participation in the Summer Olympics made her the first Indian woman to do so in 57 years.
Sadly the pandemic and her constant injuries attributed to her not attending the 2021 Olympics in Tokyo.
Top 12 Most Popular Sports in America [2021 Edition] >>
3. Sam Mikulak
Samuel Anthony Mikulak is an American artistic gymnast at no. three on our list of best gymnasts in the world.
Likewise, the Longines Prize for Elegance award (2019) has his name on it for his exceptional skills.
Added to that, Sam is a six-time U.S. national all-around champion from 2013-2016 and 2018-2019.
Therefore, it means Mikulak's the first to do that since Blaine Wilson won five consecutively from 1996 to 2000.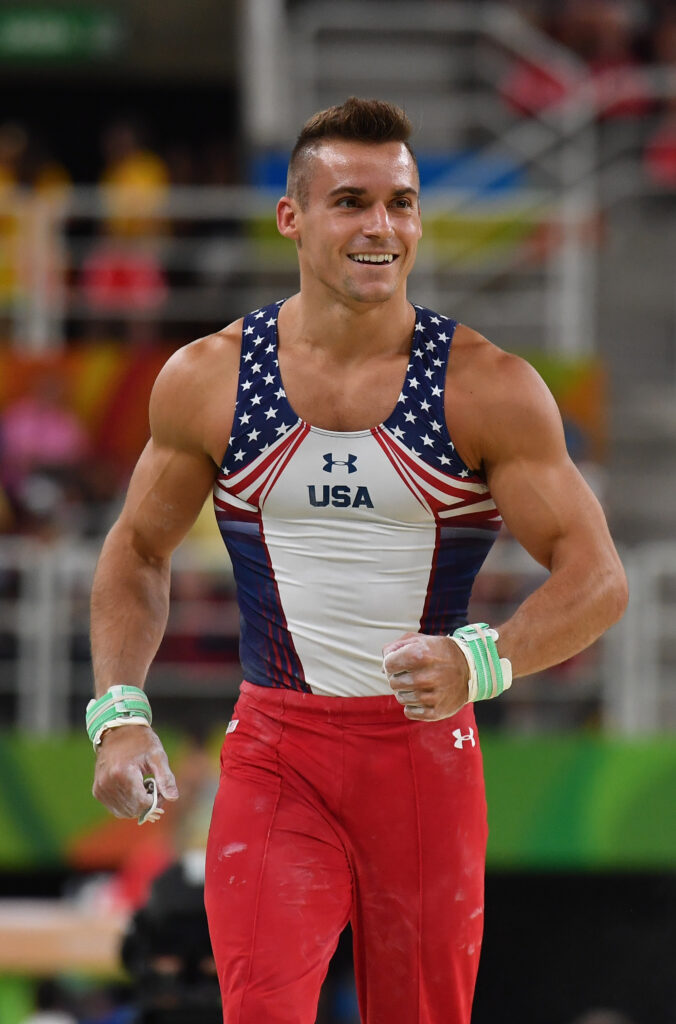 Moreover, Mikulak is also an eight-time NCAA champion. He won the team, individual all-around, and several individual even titles at the 2011, 2013, and 2014 NCAA Men's Gymnastics Championships.
He made quite a story on social media for winning four gold medals in the Pacific Rim Championships, as is his Twitter presence.
Moreover, Sam is set to compete in the 2021 Tokyo Olympics, which is his third and final Olympic appearance, as he stated in an interview.
2. Kohei Uchimura
Kōhei Uchimura, aka "Superman," is the second on our list of the best gymnasts globally, a Japanese artistic gymnast known for his all-around, team, and floor exercise.
A seven-time Olympic medalist including all-around, team, and floor exercise securing him three golds and four silvers, he claims it's all practice and hard work.
Born on January 3, 1989, he has won a whopping twenty-one medals in World Championships, including all-around, team, floor exercise, horizontal bar, and parallel bars.
Moreover, Uchimura is the first gymnast to win every major all-around title in an entire single Olympic cycle.
Kohei is praised as a "combination of tremendous difficulty, supreme consistency and extraordinary elegance of performance" by The International Gymnast Magazine.
Likewise, for his international medals, Uchimura has 15 gold, 11 silver, and six bronze. So he probably has more medals than we have books in our house, don't you agree?
The Top Ten Best Nike Shoes >>
1. Simone Biles
As we arrive at the end of our list, we must remind you that you have probably heard of her, Simone Arianne Biles, one of the most decorated American artistic gymnasts.
She was named Team USA Female Olympic Athlete of the Year in December 2015, making her the fourth gymnast to win that honor.
Born on March 14, 1997, Biles is widely considered one of the greatest and most dominant female gymnasts of all time and one of the best gymnasts in the world.
Likewise, Simone is a three-time World balance beam champion (2014-2015, 2019), two-time world vault champion(2018-19), and also a seven-time United States national all-around champion(2013-2016, 2018-19, 2021).
Likewise, Biles was young to make it into the 2012 Olympic Team in London at only 15 years old. Nevertheless, Simone is known for having the most World medals and most World Gold medals.
And that's a lot, don't you agree?