All sports have their own best commentators to entertain and make the games more fun. Similarly, Soccer also has its fair number of best soccer commentators.
Yes, this is what we will be focusing on in today's article. In our today's article, we will be talking about some of the best soccer commentators ever to grab the mic.
Top10 Soccer Commentators 2023
Here is a quick look at the top 10 best Soccer commentators.
| | | |
| --- | --- | --- |
| Rank | Name of the Commentator | Media |
| 10 | Alan Parry | Sky Sports |
| 9 | Ray Hudson | Sirius XM Radio |
| 8 | Seb Hutchinson | Freelance Commentator |
| 7 | Karen Carney | Amazon Prime, BT Sports |
| 6 | Ian Darke | ESPN, BT Sports |
| 5 | Clive Tyldesley | CBS Sports |
| 4 | Jim Beglin | RTE, CBS Sports, BT Sports |
| 3 | Jon Champion | ESPN |
| 2 | Martin Tyler | Sky Sports |
| 1 | Peter Drury | BT Sports, Amazon Prime |
10. Alan Parry
One of the "Big Four" of the Sky Sports commentary team, Alan Parry, is a popular sports commentator.
At the beginning of his career at BBC radio, Parry covered English international and league matches and European tournaments. Finally, Parry switched from radio to TV commentary in 1981. This was when he joined BBC TV.
However, after working with the BBC for a few years, Parry joined ITV, becoming one of the top sensational commentators for the media network.
As of now, Parry has worked with numerous top sports broadcasters like BT Sport and Sky Sports. Currently working at Sky Sports, he also does commentary of Premier League matches for Premier League Productions.
9. Ray Hudson
Known to be one of the best soccer commentators, Ray Hudson is a former professional footballer and manager.
No one gets as entertaining as Hudson when it comes to soccer commentary. With an ocean of experience in the sport, Hudson does a superb job in the commentators' position.
In other words, Hudson's vast knowledge of the sport can be traced back to his soccer career with New Castle. Plus, let's not forget that Hudson worked as a coach for a few years.
However, his commentary career started in 2002, when he joined the ESPM during the World Cup matches.
Following this, Hudson later moved to GoITV in 2004 and became a co-commentator for European football matches.
8. Seb Hutchinson
When it comes to Soccer commentary, a black commentator isn't a common sight to see. So putting aside the rarity, we have one of the best soccer commentators in the World, Seb Hutchinson.
This talented gentleman is one of the best soccer commentators one could have on commentary reign. Moreover, as entertaining as he is, Hutchinson is a freelance sports announcer who gets hired by multiple media companies during various Soccer matches.
Besides, Hutchinson has a master's degree in sports journalism.
Similarly, Hutchinson began his career as an editorial assistant at ITV. After working for some time, he got promoted to the assistant producer position. However, after working for a few years with ITV, he left his job and started freelancing as a sports announcer.
In his freelancing career, Hutchinson has commented on top soccer tournaments like the Europa League, UEFA Champions League, and other matches.
Hutchinson also covers the Men's and Women's World Cup, Rugby, and Olympics.
Get to know the Top 12 Best Forwards in Soccer>>
7. Karen Carney
The only female commentator on today's ranking we have is Karen Carney. One of the best and one of the very few female soccer commentators, Carney is an absolute talent for commentary.
Her knowledge about the sport came from her former career as an international Soccer player who played internationally for England and professionally for Arsenal, Chelsea, Chicago Red Stars, and other few clubs.
Besides, Carney was the first female co-commentator on BBC Radio 5Live. This was when she covered the 2019 Premier League Match Day Three matches.
Currently working for BT Sports and Amazon Prime, Carney covers the men's Premier League and the Women's Super League matches.
6. Ian Darke
Ranked sixth in the top best soccer commentators ranking we have, Ian Darke, who is considered a legend.
Plus, let's not forget Darke is a part of the legendary commentary team of Sky Sports, which is famously known as the "Big Four." So yes, he is a big deal in this field.
Darke began his professional career as a commentator at BBC Soccer in 1980. Here, he did commentary for Soccer, athletics, and boxing.
However, after working for a few years with BBC, Darke joined Sky Sports in 1992. Working for Sky Sports, he covered commentary for Premier Leagues. After working for 3 years with Sky Sports, Darke was promoted to being a lead commentator for boxing matches.
Darke came back to soccer commentary in 2005 and regularly voiced the Premier League matches and UEFA Champions League. In addition, he's worked with ESPN Sports for the World Cup coverage.
Explore the article, Top 12 Must-See Soccer Movies>>
5. Clive Tyldesley
Another legendary and one of the most loved soccer commentators on the list is Clive Tyldesley. When it comes to rank top English commentators, the list cannot be completed without Tyldesley.
Starting his commentary career as a radio announcer for Radio City and Granada, Tyldesley did an excellent job as a rookie commentator. Following this, he also covered ITV's match reports.
Likewise, in 1989, Tyldesley switched from radio commentary to television commentary. His first commentary for TV was during the match between Manchester City and Liverpool. Following this, he regularly started covering both soccer and rugby matches.
Currently, he works for ITV and is also the lead announcer for CBS Sports. Plus, let's not forget Tyldesley has also done multiple sound commentaries for EA Sports, a sports gaming company.
4. Jim Beglin
The commentators mentioned in today's ranking are some of the best soccer commentators in the world, but even among them, some stick out. And Jim Beglin is the type who catches the eye.
Yes, other sports commentators have a lot of knowledge about the sport, but comparatively, Beglin has better knowledge and understanding.
This is because he is a retired professional who played for Shamrock Rovers, Liverpool, and Leeds United.
Talking about his commentary career, Beglin started commentary professionally with RTE Sports. During his time with RTE Sports, he covered Ireland's international matches, UEFA Champions League, and the English Premier League.
Later, Beglin joined ITV as a co-commentator for their live football program.
As for now, Beglin does commentary for NBCSN and BT Sports, covering Premier League matches.
Find out Best Running Backs Cleats From Nike and Adidas>>
3. Jon Champion
Currently covering sports events and matches for ESPN, Jon Champion is an English soccer commentator who is also one of the best soccer commentators in the world.
Besides, Jon was also one of the best Premier League commentators who covered international games and Major League Soccer.
Starting professional sports announcing career with BBC Sport in the 80s, Jon didn't take long to gain popularity and attention.
Likewise, after working for a couple of years with BBC Sports, Jon joined BBR Radio and went on to work with them for four years.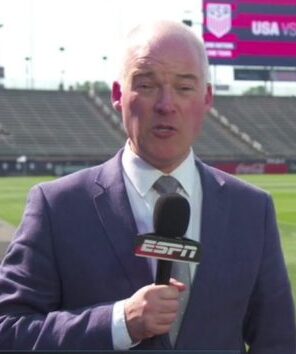 Jon moved to ITV in 2001 and became a regular commentator. Since then, he has worked with multiple media companies.
Finally, Jon decided to permanently move to ESPN in 2019, becoming the lead commentator for MLS matches.
2. Martin Tyler
With one of the most iconic voices, Martin Tyler was sure to make it to the top spot.
Considered by many to be one of the greatest commentators of all time, Tyler's golden voice is loved by many.
It is the voice you would want to hear during iconic soccer moments. Tyler made his commentary debut with ITV in 1974. Here, he worked as the NO. 2 commentator.
While working with ITV, Tyler covered league matches, European Championships, and World Cup matches.
Finally, Tyler joined Sky Sports in 1990 and is currently working as the chief soccer commentator. Here he covers matches such as FA Cup, Premier League, UEFA, and also World Cup.
Plunge into 12 Most Beautiful Soccer Players in the World>>
1. Peter Drury
Finally, we have Peter Drury in the number one spot in today's ranking. He is considered to be the best soccer commentator of all time, not just here but globally.
Known for his evocative smooth voice, no one is doing it the way Drury does. In addition, he is known to deliver commentary on various ranges of emotions, which helps to put a tremendous positive impact on the fans.
Plus, let's not forget that he is one of the best for an excellent narration of football scenarios.
To clarify, Drury started commentary with BBC Radio in 1990. After working for eight years, he left BBC and joined ITV Sports as the alternate live soccer commentator.
He soon rose in popularity for his impressive commentary talent and became ITV's top announcer. Later on, Drury moved to BT Sport in 2013.
Currently working for BT Sports, Drury covers FA Cup, Premier League, UEFA Champions League, and Europa League Matches.
Similarly, he is also the lead announcer of the popular video game series Pro Evolution Soccer.' And, let's not forget his most vivid commentary in the 2018's World Cup final match between Croatia and France.
Navigate 12 Best Soccer Strikers in the World>>
Conclusion
The beauty and entertainment of the sport don't only come from the field but also from the commentary seats. Therefore, entertaining commentary and narration are vital parts for the game to succeed.
After all, entertainment is what fans love, and commentators bring it to them.
So, did your favorite soccer commentator land up in today's ranking? If yes, then let us know in the comment section down below.