When it comes to professional tennis, Billie Jean King is one of the most decorated players on the field. Additionally, it comes as no surprise for her avid fans to know that her net worth today stands at $22 million.
Former world number 1 in 1996, Billie spent a little more than three decades in the industry. Jean maintained 39 Grand Slam titles during her reign while representing the United States.
Apart from being an athlete, Billie is a solid example of an independent woman.
As a matter of fact, King is the Women's Tennis Association and the Women's Sports Foundation.
Billie is currently an advisor to First Women's Bank in Chicago. Besides, she has always been an advocate, standing up for social justice and gender equality.
Before learning more about the tennis legend's biography, here are some quick facts about her.
Quick Facts
Full Name
Billie Jean King Moffitt
Birthday
November 22, 1943
Birth Place
Long Beach, California, U.S.
Nick Name
Unknown
Religion
Conservative Methodist
Nationality
American
Ethnicity
White
Zodiac Sign
Sagittarius
Age
79 years old
Height
1.64 m (5 feet 4

1⁄2 inches)
Weight
61 kg (134 lbs)
Hair Color
Dark brown
Eye Color
Blue
Father's Name
Bill Moffitt
Mother's Name
Betty Moffitt
Siblings
A younger brother, Randall James "Randy" Moffitt
Education
Long Beach Polytechnic (High School)
California State University (College)
Marital Status
Married
Life Partner
Larry King (m. 1965-1987)
Ilana Kloss (current girlfriend)
Profession
Former tennis player
Professional since
1959
Country
United States
Plays
Right-handed (one-handed backhand)
Retired in
1990
Net Worth
$22 million
Social Media
Instagram, Twitter
Official Website
billiejeanking.com
Merch
American Masters: Billie Jean King, Collectible Doll, Autographed Cut
Last Update
February, 2023
Billie Jean King | Early Life, Parents, and Siblings
All these years, Billie Jean has established herself as one of the greatest women's tennis players of all time. Initially, Billie commenced her learning on the public courts of Long Beach, California, under coach Clyde Walker.
Born into a conservative Methodist family, her mother, Betty Moffitt, is a housewife, while her dad, Bill Moffitt, used to be a firefighter.
Talking about her family, she has a younger brother, Randall James "Randy" Moffitt, a Major League Baseball pitcher.
As a child, Billie also played softball and later switched to tennis when she was eleven years old. Not to mention, her career blossomed later at the Los Angeles Tennis Club.
As a player, Billie Jean used to be aggressive in her gameplay and portrayed excellent speed.
Also, as one of her greatest achievements, Billie bagged the "Battle of the Sexes" tennis match when she was 29 years old.
Furthermore, Jean also promotes the cigarette brand Virginia Slims to sponsor women's tennis. Additionally, she also worked for their company Philip Morris in the 2000s.
Click to learn about Usain Bolt's Net Worth>>>
Accomplishments and Honors
Billie Jean has garnered many honors and awards to date as an accomplished player. Apparently, she is the first player to receive an honor as Sports Illustrated Sportsman of the Year.
Later, Jean was taken as a sex symbol, according to Frank Deford from Sports Illustrated. Indeed, Seventeen magazine named her the most admired woman in the world.
Apart from being inducted into the International Tennis Hall of Fame, she was also considered for inclusion in the Chicago Gay and Lesbian Hall of Fame.
King is also the pioneer among the voices against discrimination against gays, lesbians, bisexuals, and transgender people.
Moreover, to honor her, they named an 11 acres of Sports Complex under her the Billie Jean King Sports Complex. Later, the Women's Sports Foundation presented and created an award under her name called the Billie Awards in 2006.
Some of her other honors to date are highlighted below.
1967 Female Athlete of the Year by the Associated Press
1990 "100 Most Important Americans of the 20th Century" by Life magazine
Arthur Ashe Courage Award (1999)
Philippe Chatrier Award – International Tennis Federation (ITF) in 2003
Office of the Manhattan Borough President (honorary award in 2008)
(2009) Presidential Medal of Freedom awarded by then-President Barack Obama
ESPNW's Impact 25 (2014)
The 8 Greatest Moments for Women in Sports by Marie Claire magazine
BBC Sports Personality of the Year – Lifetime Achievement Award (2018)
How much does Billie Jean King own?
At present, Billie Jean King depicts a lavish net worth of $22 million. Well, she has also garnered US$1,966,487 as her prize money from the games.
Even here, Billie was the first woman athlete to earn over $100,000 in prize money. Back then, the championships didn't bear the same prize money for both males and females.
Thus, Billie had gained $15,000 less than the men's champion, Ilie Năstase. Indeed, she stood up on behalf of every woman to gain an equal amount for both sexes.
Later, the U.S. Open became the first tournament to put in action for equality.
Brand Endorsements
Like every player, she also earns her share from endorsing brands. At first, she gained an endorsement deal from Head in 1970 for their sportswear.
Throughout her journey, she has endorsed other brands like Addidas and Glamour. She has a $1 million contract with Glamour today.
Back in the early 1980s, Billie Jean lost around $2 million in brand endorsement deals.
Back then, she was in the pit of the lawsuit filed by her secretary, Marilyn Barnett. In fact, she had begun an intimate relationship with her.
Later, due to their misunderstanding, Barnett sued King while she denied the relationship.
After concealing her sexual identity for a long time, she came clean and divorced her husband, Larry King. Following it, she falls in love with Ilana Kloss, and now they stand together.
Books, Movies, and TV Shows
Billie Jean King is also indulged in pop culture. Well, she has featured in the 2007 Law & Order as a judge, Ugly Betty in 2009, and Fresh Off The Boat in 2016.
Similarly, she has also appeared in The Odd Couple in 1973 and The L Word in 2006, while her latest appearance was in The Bold Type in 2020.
Additionally, there was also a film made on her tenure at the Battle of the Sexes.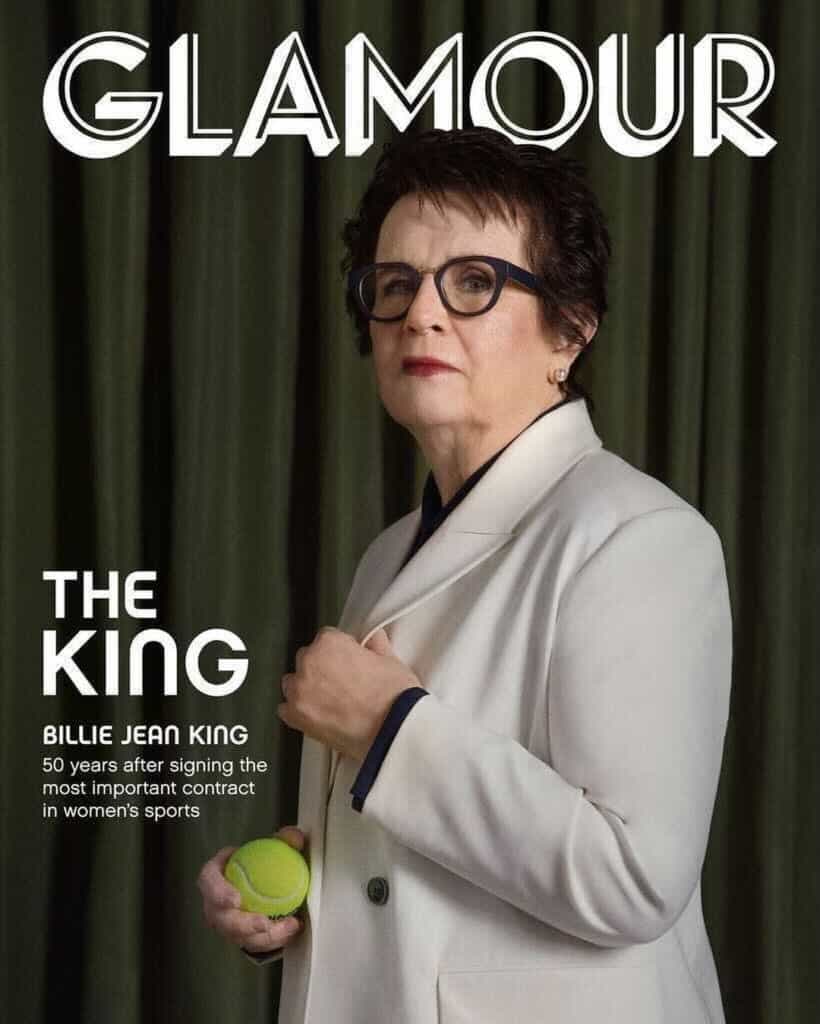 To illustrate, the film features actress Emma Stone in Billie's half with the Ted Tinling-designed dress. Besides, many have also included her in song lyrics as a part of the inspiration.
In 1975, Elton John released a song named "Philadelphia Freedom" for Billie, which chartered as the number one hit. Simultaneously, King is also included in the Le Tigre song "Hot Topic."
Keeping all the stuff in mind, Billie published a book named Pressure is a Privilege: Lessons I've Learned from Life, followed by the Battle of the Sexes in 2008.
Team Owners
Furthermore, Billie Jean was elected to the board of directors of Philip Morris Incorporated in 1999. Currently, she and her partner, Kloss, are the owners of the Los Angeles Dodgers baseball team.
In the meantime, they also own the WNBA's Los Angeles Sparks basketball team. Well, they have also claimed a part of the ownership in Angel City FC, which is set to start the National Women's Soccer League in 2022.
Billie Jean King | Lifestyle
Indeed, with a massive net worth, King sustains a happy and lavish lifestyle. Having said those, she does have her own share of problems. For instance, she has osteoarthritis and had knee surgery, a double knee replacement.
Anyways, Jean does lead a fairly healthy life and is only indulged in vegan habits. Furthermore, she does every minimal possible exercise five days a week. Indeed, she walks a lot, bikes, and lifts weights.
Advancing to her eateries, she keeps a few on her carbs while opting for vitamins and calories.
Additionally, Billie Jean owns a beach house in Malibu that she purchased in 1981 for $500,000. Apparently, she had also built an ocean house in 1972 on the tropical North Shore of Kauai.
Foundations and Charity
As an advocate, Billie has stood for the good cause many times. Not to mention, King is the founder of the Billie Jean King Leadership Initiative. Furthermore, she also has a library named after her the Billie Jean King Main Library.
At the same time, Billie is also partnered with Mattel as part of their "Inspiring Women Series" of Barbie dolls.
To illustrate, they commenced the moment with barbie dolls dressed as Billie back in her 1973 'Battle of the Sexes' match against Bobby Riggs.
Some of the other foundations she has supported to date include; CityParks Foundation, Elton John AIDS Foundation, GLAAD, and Food Bank For New York City.
Additionally, she was also involved with Los Angeles LGBT Center, Starkey Hearing Foundation, and Women's Sports Foundation.
Likewise, her foundation also joined hands with ESPN to create Billie Jean King Youth Leadership Award. Well, the award held academic scholarships of $10,000 for the winners.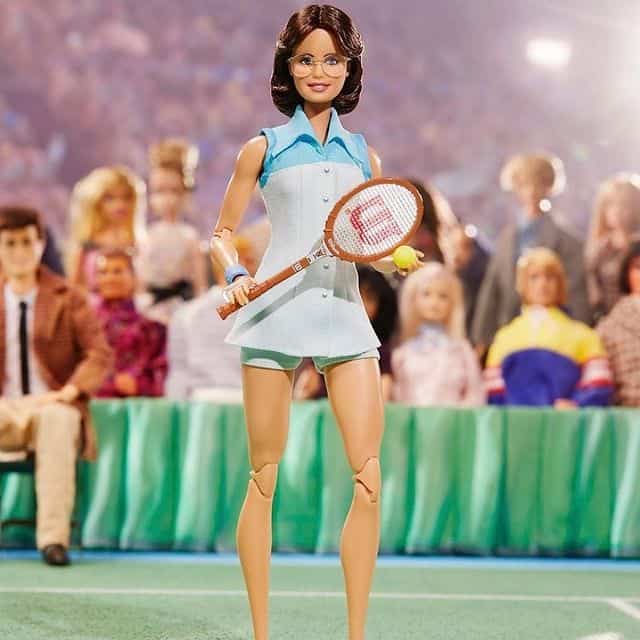 Later, she also included herself working alongside Pearle Vision and One Sight. During their tenure, they worked at Girls Prep Lower East Side Elementary giving eye exams and glasses.
Additionally, Billie had donated over 5,000 copies of "I am Billie Jean King" alongside the LA Dodgers Foundation.
Social Media Presence
You can further check out her details and upload them from her social media platforms. She is on Instagram as Billie Jean King (@billiejeanking), with 92.8k followers.
Furthermore, he is on Twitter as Billie Jean King (@BillieJeanKing), with 522.8k followers.
Billie Jean King Quotes
"Be bold. If you're going to make an error, make a doozy, and don't be afraid to hit the ball."
"It's just really important that we start celebrating our differences. Let's start tolerating first, but then we need to celebrate our differences."
"Tennis is a perfect combination of violent action taking place in an atmosphere of total tranquility."
Billie Jean King | FAQs
How to contact Billie Jean King?
Billie Jean King can be booked for virtual meetings by contacting Athlete speakers at 800-916-6008.
Has Billie Jean King had surgery?
Yes, the tennis star had a double knee replacement surgery with the Smith & Nephew's Legion knee. The legion knee product claims to provide 30 years of active mobility under normal conditions.
King has been suffering from knee pain for over four decades now and revealed that the pain is what drove her off to retirement in 1983.