Bjorn Borg is a former professional tennis player from Sweden. Borg has won 66 career titles, which is the 8th most titles won by a player in the Open Era. He became the first in the Open Era to win 11 Grand Slam singles titles.
"The goal isn't to live forever; it is to create something that will." The quote said by Chuck Palahniuk exactly resembles Bjorn Borg.
Borg, who was an amazing tennis player, left an everlasting legacy that continues to this day.
During his professional tennis career, Borg's greatest-ever rival was John McEnroe. Both competed for every grand slam title and pushed each other to greatness.
Bjorn is the first one to be part of the Swedish Davis Cup team and the second to play on Wimbledon Centre Court.
As of 2023, the former Swedish tennis player and a businessman has an estimated net worth of around $80 million.
Let's dive into the professional and personal life, and other details of the amazing Swede. But first, let's glance at some quick facts about him.
Quick Facts | Bjorn Borg
Full Name
Bjorn Rune Borg
Birth Date
6 June 1956
Birth Place
Stockholm, Sweden
Residence
Monte Carlo, Monaco, France
Nickname
Iceman
Nationality
Swedish
Sexuality
Straight male
Ethnicity
White
Education
Unavailable
Horoscope
Gemini
Father's Name
Rune Borg
Mother's Name
Margaretha Borg
Siblings
None
Age
66 years old
Height
5'11″/1.80m/180 cm
Weight
72 kg/160 lb.
Hair Color
Golden
Eye Color
Blue
Married
Yes
Wife
Patricia Ostfeld
Children
2 sons; Robin & Leo
Past Relationship
Mariana Simonescu (1976-1984), Jannike Bjroling (1985), Loredana Berte (1989-1993)
Profession
Professional Tennis Player, Businessman
Net Worth
$80 million
Coach
Lennart Bergelin (1971-1983)

Ron Thatcher (1991-1993)

Coaching Career
Laver Cup: Team Europe
Style of Play
Unorthodox Backhand
Career Record
654-140 (82.4% win percentage)
Career Titles
66 (8th in Open Era)
Highest Ranking
No. 1 (23 August 1977)
Current Ranking
None
Awards & Achievements
11 Grand Slam Wins: 6 French Open, 5 Wimbledon
Tennis Hall of Fame
Social Media
Instagram, Twitter
Merch
Athletic Men's Swim Short, Men's Tshirt, Funko Pop, Autobiography
Last Update
March, 2023
Early Life, Family & Education
The former No. 1, Borg, was born to his parents, Rune and Margarethe, on 6 June 1956 in Stockholm, Sweden, and grew up in the industrial town of Sodertalhe, which is located 30 minutes away from Stockholm.
Borg's father, Rune, worked as a cloth shop assistant. During Borg's childhood, his father used to play table tennis and several tournaments. After winning a table tennis tournament, his father won a golden tennis racket.
Borg was fascinated and impressed with the golden tennis racket his father won, and he started playing tennis at 9.
Borg was never pushed into playing competitive tennis. It was his own decision to pursue a career in tennis. He started playing tennis locally in an academy and used to play tennis at his school.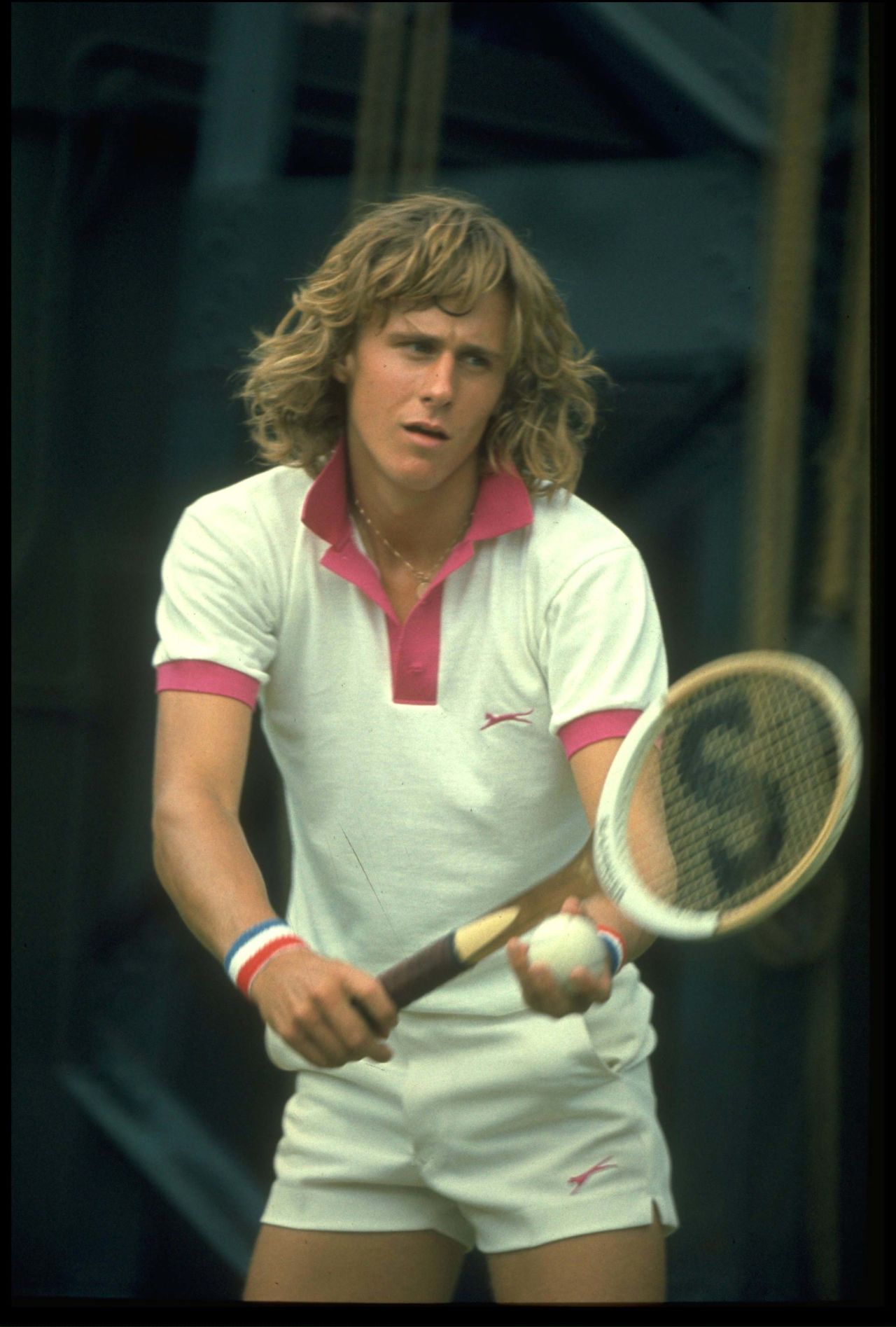 Bjorn Borg used to take a 3-hour train to Stockholm's main city after school to practice tennis for five years. Besides, he was also playing ice hockey after school hours.
The former no.1 tennis player's playing style from the beginning was unorthodox. He used a ping-pong style to strike the ball and used an unorthodox two-fisted backhand. Likewise, Borg's main quality was his powerful serve.
Borg became successful at a very young age. That is to say, Borg won his first-ever junior tournament when he was 11 and amassed all the junior titles in the next four years.
Due to his impressive abilities and potential in tennis, Borg decided to leave school. Bjorn Borg dropped out of school at 14.
Consequently, he became a part of the Swedish team playing in the Davis Cup.
Girlfriends, Wife & Children
Bjorn Borg has been married three times and has had one major relationship. The details of his relationships and marriages are briefed below.
Mariana Simionescu
Borg's first marriage was with Mariana Simionescu. Mariana Simonescu is a former professional tennis player from Romania.
The pair started dating romantically in 1976. They went a step ahead in their relationship and married on 24 July 1980.
However, due to personal reasons, their marriage ended in divorce in 1984.
Jannike Bjorling
Borg's second relationship was with the Swedish model Jannike Bjorling, with whom he fathered a son, Robin. Jannike Bjorling, born on October 12, 1966, in Stockholm, worked as a model in Sweden.
Loredana Berte
Borg's second marriage and third relationship was with popular Italian singer Loredana Berte from 1989 to 1993.
Berte is an Italian singer who has worked with various popular artists and has sung in various genres.
Patricia Ostfeldt
Moving forward, Borg continued a new chapter in his life by marrying his partner Patricia Ostfeldt on June 8, 2002.
Together, the couple welcomed a son, Leo, in 2003.
Bjorn's Son, Leo Borg
Leo Borg is a professional tennis player from Sweden. Leo,20 achieved his career-high ATP singles ranking of world No. 506 in January 2023.
Following in his father's footsteps, Leo is quickly making a big name for himself. Leo is in the beginning stages of his career and still has much to learn and prove.
"I know it's going to follow me all my life, so it's no big deal for me and it's something I have to deal with. I have never thought about it too much." – Leo
Leo Borg is in a relationship with his girlfriend, Vanessa Ersoz, a tennis player.
Moreover, they share a close relationship and frequently travel to different places.
Age, Height, & Physical Appearance
Bjorn Borg was born on June 6, 1956, and is 66 years old.
His horoscope is Gemini and people of this sign are known for being interactive, extroverted, and exciting.
Bjorn Borg has an impressive height of 5 feet 11 inches (1.80 meters). Adding to his physical features, Borg has blue eyes and golden hair.
Professional Highlights
Borg was a child prodigy. In other words, he was destined for greatness from a very young age.
Despite retiring from the sports in 1993, Borg's several tennis records continue to stand on and off the field to this day.
Early Career
Borg represented Sweden at the age of 15 in the 1972 Davis Cup. In 1972, Borg won the debut singles rubber against Onny Parun of New Zealand.
That same year, the former tennis player successfully won the Wimbledon junior singles title and the Orange Bowl Junior Championship.
Subsequently, he began playing on the professional circuit in 1973 and participated in various tournaments and Grand Slam events.
Career Winnings
Despite being a successful tennis player, Borg never won the Australian Open. In his only appearance at the Australian Open, he made it to the finals and lost to Phil Dent.
Borg's first career singles title win came at the 1974 New Zealand Open. Likewise, his success in New Zealand was followed by victories in London and Sao Paulo.
The former tennis player bagged a major singles title before turning 18 at Italian Open. He also won the singles title at the French Open, his first-ever grand slam title win. He was the youngest player to win Italian Open and French Open.
His success showed the level of talent Borg had in him.
Other Titles
Borg successfully defeated the legendary Rod Laver in the semi-finals of the World Championship of Tennis. Furthermore, Borg retained his French Open titles by defeating Guillermo Villas.
Borg then went on to set a world record at Wimbledon, becoming the youngest champion of Wimbledon in the Modern Era at 20 years and one month.
Bjorn Borg won the 1976 Wimbledon title without losing a single set, defeating Ilie Nastase in the final.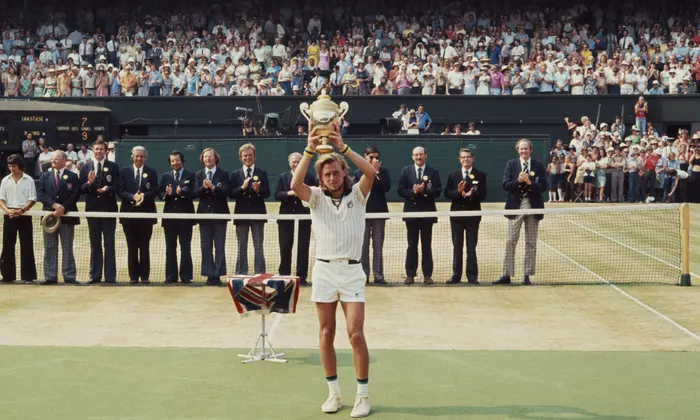 Later, Ilie praised the Swedish player and said, "We're playing tennis, he's playing something else."
The underdog Borg transformed into a favorite in every event. Borg then won his second Wimbledon title in 1977 against Jimmy Connors, making him the No.1 in the ATP point World Tennis Male rankings.
Borg stood victorious at Wimbledon for five consecutive years from 1976 to 1980.
In the same way, Borg had an incredibly successful French Open career. He won the grand slam event six times. His victories came in 1974, 1975, and four consecutive years from 1978 to 1981.
Borg was also victorious in the WCT Finals in 1976 and Tour Finals in 1979 and 1980.
Why Did Bjorn Borg Retire At 26?
Bjorn Borg shockingly retired in January 1983 at the age of 26. Before his retirement, Borg only played one tournament in the previous years.
His retirement was a major shock in the tennis world. Furthermore, John McEnroe had persuaded Borg to retract his decision to retire.
There are many speculations that a defeat against John McEnroe in the 1981 Wimbledon Final triggered Borg's retirement. However, Borg revealed that he retired due to losing interest in tennis and not the defeat.
Comeback
Despite retiring early at 26, Borg did make a comeback to competitive tennis in 1991. During his comeback, he was coached by Welsh karate expert Ron Thatcher.
Likewise, Borg set out his hair in a bid to return to his glory days like in his previous years.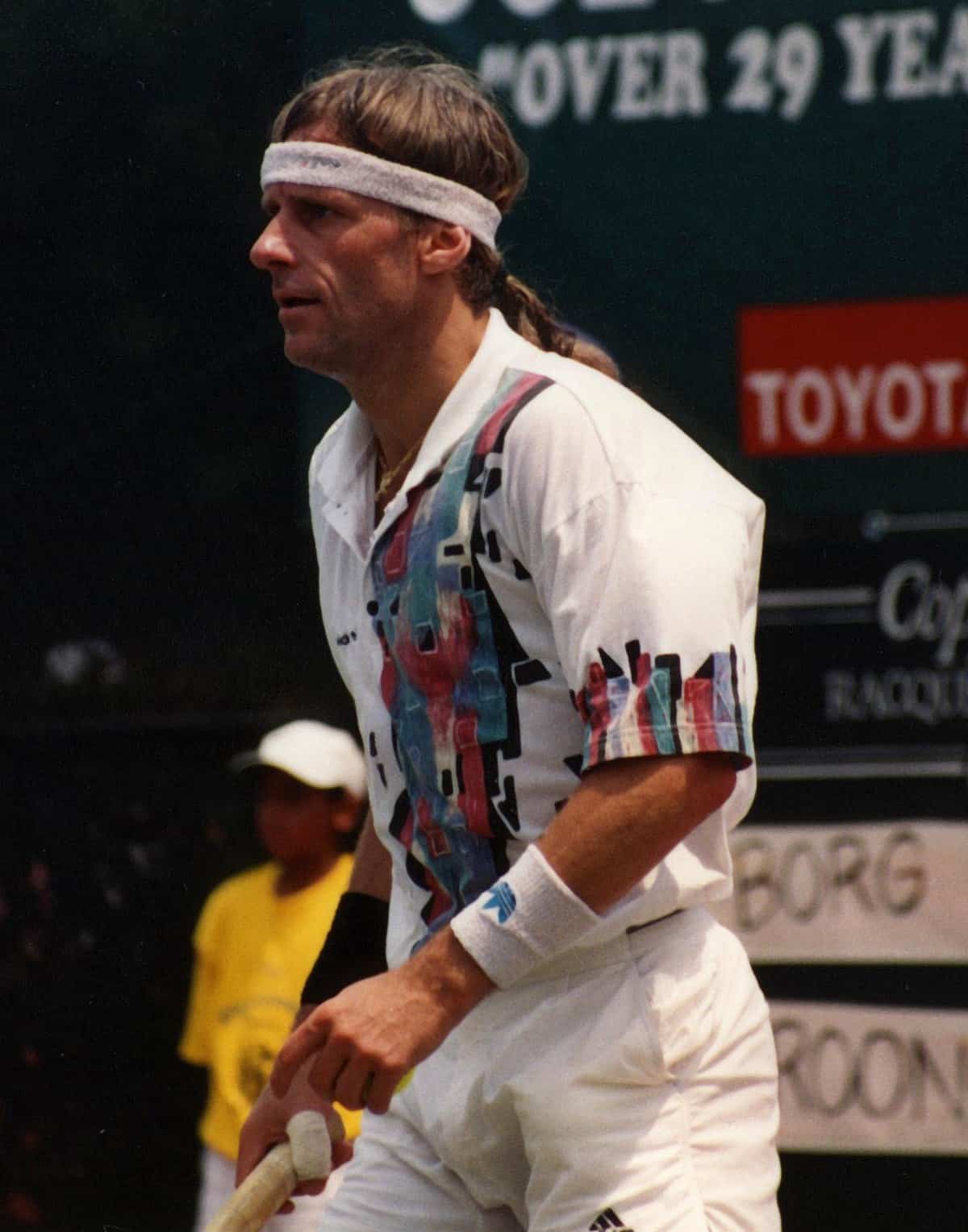 However, despite his efforts, his comeback turned sour. He failed to win a single match between 1991 and 1993.
Furthermore, Borg retired once again in 1993 at 28.
Laver Cup
Borg also captained Team Europe in the first Laver Cup in 2017. His team defeated Team World, which was led by John McEnroe.
In the second edition of the Laver Cup, Borg coached Team Europe. Once again, he was successful in leading his team to victory.
Awards & Accolades
Bjorn Borg is considered by many fans a 'short-lived' legend. His short and successful career brought him tons of trophies.
Borg ranked in the number one spot between 1977 and 1981 for a total of 109 weeks.
The Swedish tennis player has won 77 singles titles and four doubles titles. Likewise, he won the BBC Sports Personality of the Year Overseas Personality Award in 1979.
Due to his contribution to the tennis world, he was inducted into the Tennis Hall of Fame in 1987. BBC presented Borg with a Lifetime Achievement Award on 10 December 2006, which was presented by Boris Becker.
Borg won Davis Cup 33 times and brought a lot of fame and success to Sweden. As a result, he was named by Dagens Nyheter as Sweden's top sportsperson of all time in December 2014.
Playing Style
Borg held one of the unique styles of playing tennis. He used powerful groundstrokes and made his mark from the baseline.
Furthermore, he used a highly unorthodox backhand that involved pulling his racket back and generating full force with his dominant right hand.
Personal Life
Business Ventures
Bjorn Borg has had a long journey in his business venture. He owns a significant amount of stake in the Bjorn Borg group.
The Bjorn Born Group owns and works with the Bjorn Borg brand, which focuses on product development and sells footwear, eyewear, bags, clothes, underwear, towels, and other sports apparel.
Moreover, the company's share has been listed on Nasdaq Stockholm. In 2019, the company had net sales of $86.9 million.
Auto-biography
The tennis legend has written an autobiography titled 'My Life and Game.' The autobiography was published worldwide on January 1, 1980.
The book covers Borg's life story and the details of his important matches and rivalry. You can buy the book from Amazon's official website.
Borg vs. McEnroe
One of Bjorn Borg's greatest rivalries was with tennis legend John McEnroe. The two foes were extremely competitive, faced each other on several occasions and eventually became close friends.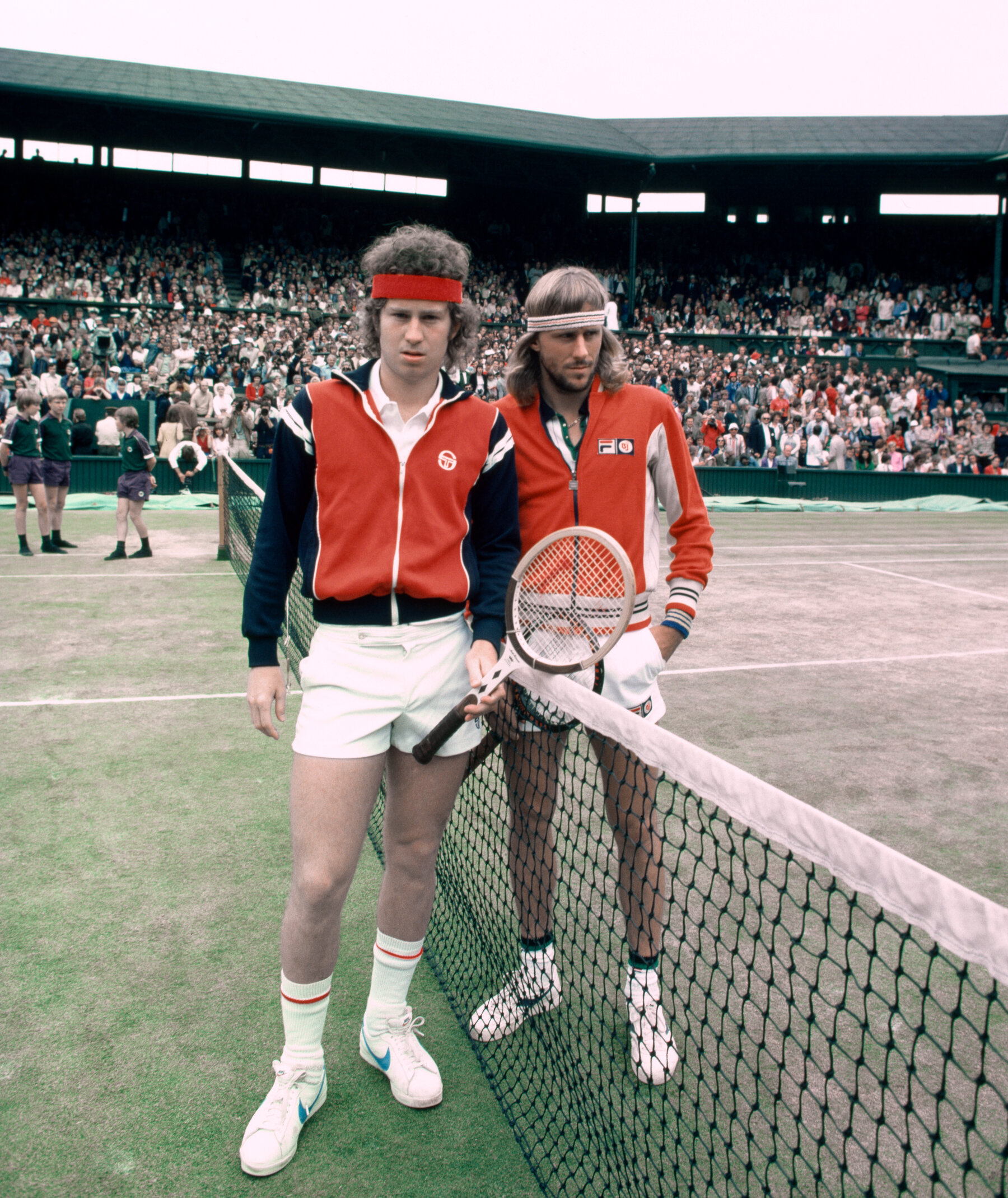 In tribute to their rivalry, Borg vs. McEnroe, a biographical movie, was made and released in 2017. The movie covered their epic rivalry and the Wimbledon finals.
Selling Trophies
Bjorn Borg is one unique person. Borg listed his Wimbledon trophies and two of his amazing winning rackets in the Bonhams Auction in 2006.
In an interview with Dagen Nyheter, Borg revealed that John McEnroe had asked if Borg had gone mad.
Agassi and Connors volunteered to buy the memorabilia to preserve the important trophy and maintain Borg's legacy. However, Borg reversed the decision and bought out the memorabilia for an undisclosed amount.
Net Worth
Borg made his earnings through his playing career and business ventures. According to some online sources, Bjorn Borg has an estimated net worth of $80 million as of 2023.
Besides, he signed a lot of endorsement deals. He used Donnay racquets after signing a deal with them in 1975. His contract renewal rate in 1979 was $600,000 per year, and he also received royalties from Donnay. Before Donnay, he was sponsored by Bancroft.
Throughout his career, Bjorn Borg endorsed Tretorn in the United States to Adidas in Europe, and he was one of the first pro players to wear shoes from Diadora.
He endorsed several brands ranging from Saab automobiles to Nutriment food supplements.
Along with earning a hefty sum from professional tennis, business, and endorsements, Borg purchased some assets. He owned three residences during the time of his retirement. He had a mansion on Long Island, New York, a penthouse in Monte Carlo, and a small island outside the Swedish coast.
Social Media Presence
Unfortunately, Borg himself doesn't use any social media. However, there is an account under his name which is used to promote his clothing brand 'Bjorn Borg.'
Instagram: 138k followers (@bjornborg)
Twitter: 7k followers (@bjornborg)
Popularity
Despite his short-span tennis career, he won several titles and made several records, enough to earn millions of fans from all around the globe.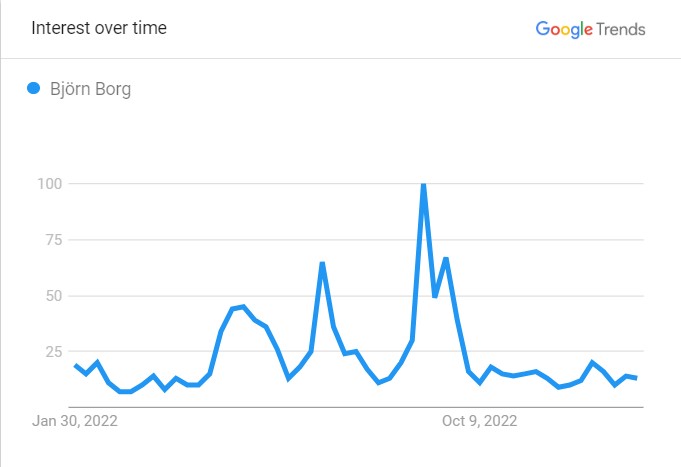 The above graph illustrates the popularity of Bjorn Borg in the United States based on Google searches over a year.
Frequently Asked Questions
Who is Bjorn Borg's son?
Bjorn Borg has two sons named Leo Borg and Robin Borg. Leo is currently pursuing a tennis career.
What is Bjorn Borg's net worth?
Bjorn Borg has a net worth of $80 million.