'To be the best, you must beat the rest.' With 11 Grand Slam titles to his name, Rod Laver is easily one of the best tennis players of all time. His professionalism, career, and contributions to tennis have earned him the MBE and the AC.
Laver is a former professional tennis player from Australia. Likewise, many pundits and tennis fans regard him as the greatest ever tennis player in the world.
The former No. 1 is also the recipient of the Australian Sports Medal in 200. Furthermore, Laver has 200 career titles to his name.
With a career victory of 1,473 and 407 losses, Laver dominated the 60s and rivaled players like Ken Rosewall and Pancho Gonzales.
After the death of his wife, Rod adjusted to living a new life. Nevertheless, he has found love with a special person.
As we proceed to learn more about the tennis legend, let's glance at some quick facts about him
Quick Facts | Rod Laver
Full Name
Rodney George Laver
Birth Date
9 August 1938
Birth Place
Rockhampton, Queensland, Australia
Residence
Carlsbad, California, US
Nickname
Rod Laver
Nationality
Australian
Sexuality
Straight Male
Ethnicity
White
Education
N/A
Horoscope
Leo
Father's Name
Roy Laver
Mother's Name
Melba Laver
Siblings
Three Siblings
Age
84 years old
Height
5'8″/ 173 cm
Weight
68 kg
Hair Color
Blonde
Eye Color
N/A
Married
Yes
Wife
Mary Laver
Children
Rick Laver
Granddaughter: Riley
Past Relationship
One
Profession
Professional Tennis Player
Net Worth
$20 million
Turned Professional
1963
Retired
1979
Style of Play
Left-handed (one-handed backhand)
Career Record
1473-407 (78.4%)
Career Titles
200 (72nd)
Highest Ranking
1st (1961)
Hall of Fame Induction
1981
Awards & Achievements

Australian Open- 1960, 1962, 1969
French Open- 1962, 1969
Wimbledon- 1961, 1962, 1968, 1969
US Open- 1962, 1969
Tennis Hall of Fame
Australian Sports Medal
MBE Award
Companion of the Order of Australia (AC)
Rod Laver Arena

Social Media
Twitter
Tennis Merch
Rod Laver: An Autobiography, Adidas Men's Shoes
Last Update
March, 2023
Rod Laver | Early Life, Family & Education
Rod Laver or Rodney George Laver was born on 9 August 1938 in Rockhampton, Queensland, Australia. Furthermore, he was born to parents Roy Laver and Melba Roffey.
He was the third son of his parents. Growing up, Laver had three siblings.
Likewise, his father, Roy Laver, worked as a cattleman and butcher on their farm. The Laver family owned a 9300-hectare property that was located in Marlborough, Queensland.
Furthermore, Laver's mother, Melba, was named after Dame Nellie Melba. Dame Nellie Melba GBE was a world-famous opera singer from Richmond, Australia.
Laver's mother, who helped out on the farm, was only five feet and two inches. However, as she loved the outdoors, she rode horses and was very good with cattle.
Similarly, Rod has revealed that his parents lived on hard soil. So, his mother and father have had a hard life.
Laver and his mother share a special and close relationship. Melba Laver, herself, used to play tennis and was a good player.
Moreover, Melba would wake up very early to prepare sandwiches and snacks for her son, who used to leave for junior events.
As Melba was a good player herself, she and Rod Laver collaborated as a mother-son duo to play a juniors event. Furthermore, the mother-son duo went on to win the tournament convincingly.
Laver was an extremely talented tennis player from a very young age. He quit school to pursue a tennis career.
That decision by Laver paid off as he went on to win several world titles and a tennis career that lasted 24 years.
Besides, Laver was coached by the legend of tennis, Harry Hopman.
You might be interested in reading about Rafael Nadal Bio – Personal Life, Tennis Career & Net Worth >>
Who is Rod Laver Married to? | Wife & Children
As Laver's tennis career started setting off, he started traveling to different places for tournaments. In an interview, Laver revealed that he met a few girls on dates at 17.
However, he never had a serious relationship with any girls he met. He only described those dates as 'a contact.'
So, who did Rod Laver marry? Rod Laver married his long-time partner and girlfriend, Mary Benson, in 1966.
Furthermore, he was 28 years old at the time of his marriage. Together, they have a son named Rick.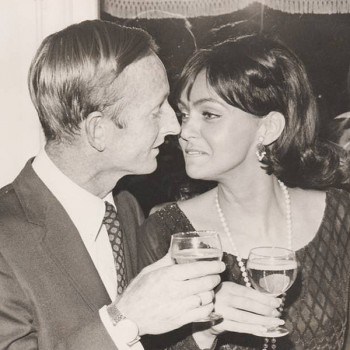 Before their marriage, Mary Benson was a divorcee with three children. Likewise, she hails from Illinois.
Their marriage took place in San Rafael, California. Furthermore, the guestlist for their marriage included high-profile guests like Ken Rosewall, Lew Hoad, Roy Emerson, and Mal Anderson.
These players stood outside and raised their tennis rackets to create an archway to let the couple walk beneath it.
Rod Laver met his wife, Mary Benson, in a charity event in LA, ten years older than him. According to Rod, Mary had beautiful dark hair, green eyes, and a deep tan.
Similarly, he credits Mary for getting him to become more outspoken. Laver's general personality is shy.
Mary is also the person who got him talking. The couple shared an intimate relationship.
Wherever Rod went, Mary also followed. Besides, Mary helped out in business and endorsement deals.
No wonder Mary was an influential person in Rod's life. A unique lady and someone who could fit perfectly with Rod.
News About Cancer
The couple was struck by a piece of terrible news in 2004. In 2004, Mary began developing various health problems that deteriorated Mary's health.
Unfortunately, Mary was first got diagnosed with breast cancer. Consequently, she developed neuropathy and had to go through a lot of medication.
After living a long life full of success and memories, Mary Laver passed away in November 2012 at her home. Rod's wife was 84 at the time of her death.
Relationship with Susan Johnson
Currently, the Australian legend is in a relationship with Susan Johnson. Susan Johnson hailed from Florida and was previously married to Nabisco's chairman.
They met each other in the 1990s and in 2018. However, the two of them came together after a person didn't believe that Susan knew Rod.
As Susan phoned Rod to convince the person, the two of them started dating ever since.
How old is Rod Laver? | Age, Height & Physical Appearance
Laver was born on 9 August 1938. Currently, he is 84 years old. Likewise, he will turn 85 on 9 August 2023.
As he was born on the 9th of August, his zodiac sign is Leo. A person with Leo as their zodiac sign is known for being upbeat, humorous, and positive.
Furthermore, Laver stands with an outstanding height of 5 feet and 8 inches. Also, the player in his prime years had a slim and athletic body build.
Rod Laver | Professional Tennis Career
Rod Laver began playing tennis from a young age. That is to say; Rod Laver was in his teenage years when he first started playing professionally. Furthermore, his career went on to span 24 years.
Rod Laver's professional career began in 1963. Many fans and pundits widely consider him one of the greatest tennis players ever. Furthermore, he is the greatest Australian tennis player.
His career wins and grand slam wins indicate his greatness. Laver's career record is 1463-407. Besides, he has a win percentage of 78.4% in the Open Era.
Rod Laver has 200 career title wins to his name. That is the 72nd most career wins in the Open Era.
Rod Laver reached the number one ranking in 1961. In total, Rod Laver has accumulated over $1.5 million in prize money from winning several tournaments and grand slam events.
Watch Rod Laver's forehand action. Click to follow!
Career and Rivalry
Rod Laver won the Davis Cup with the Australian team in 1962. Likewise, he shared a strong rivalry with top players like Ken Rosewall, Pancho Gonzales, and Lew Hoad.
At the beginning of their rivalry in 1963, Laver was consistently defeated by Hoad and Rosewall. However, later on, Laver established himself as the number 2 player after winning six tournament titles.
Likewise, Laver asserted his dominance at the top of the world rankings by winning 17 titles in 1965. In the same year, he was successful in beating Rosewall in 13 out of 18 matches.
Similarly, Laver went on to win 16 events in 1966. Before the Open Era began, Laver bagged 19 titles, including the Wimbledon Pro and US Pro.
You might be interested in reading about Timea Babos Bio: Early Life, Tennis Doubles & Net Worth >>
Open Era
Laver was successful in achieving a historical feat in the Open Era. He achieved the feat by becoming the first Wimbledon Champion of the Open Era in 1968.
Moreover, he bagged his victory by defeating Australian player Tony Roche.
Consequently, in 1969, Laver became successful in bagging all four Grand Slam titles. Furthermore, he was victorious in 18 of the 32 events he entered, the record which still stands to this day.
Laver is also the first player in history to win over $100,000 in a calendar year in the Open Era.
Grand Slam Wins
Laver has 11 Grand Slam wins to his name. His Grand Slam wins came in the 60s. Likewise, the 60s are the most successful era for the Australian tennis player.
The four Wimbledons wins for Laver came in 1961, 1962, 1968, and 1969. Similarly, his French Open title wins came in 1962 and 1969.
Laver won the Australian Open on three occasions in 1960, 1962, and 1969. His US Open victories came in 1962 and 1969.
Rod Laver's Rivalries
Rod Laver is one of the greatest world tennis players and the greatest Australian tennis player. He shared a strong rivalry with Ken Rosewall, Pancho Gonzalves, and fellow Aussie Roy Emerson.
The rivalry with Roy Emerson saw both of them face 130 times against each other. Moreover, Laver had the upper hand in the tie as he had 79 victories to his name, while Rosewall bagged 63 victories.
Likewise, Laver also faced the much older tennis player Ricardo Gonzales multiple times. According to two different sources, their fixtures have been recorded as 35-19 or 38-21 in favor.
Laver's rivalry with fellow Aussie Roy Emerson saw them facing each other 67 times. However, Laver stands dominant with 49 victories to his name. Likewise, his rival has had 18 victories to his name.
Hall of Fame Induction & Honours
Honoring his sporting career and accolades, the Tennis Association inducted him into the International Tennis Hall of Fame in 1981. Furthermore, he was also inducted into the Sport Australia Hall of Fame in 1985.
The Australians consider him an Australian Living Treasure. The ITF awarded Laver with the Philippe Chartier Award, which is the highest accolade of ITF.
As a tribute to his life and legacy, the Centre Court at the National Tennis Centre in Melbourne was renamed Rod Laver Arena in 2000.
Moreover, Laver has also been inducted into the Queensland Sport Hall of Fame.
Also, the bridge connecting Yeerongpilly rail station to Queensland Tanning Centre was named after him. Similarly, the International Club awarded him the Jean Borotra Sportsmanship Award in 2016.
Laver is also the recipient of the MBE (Member of the Order of the British Empire.) He was given the award for his service to tennis on the Queen's birthday honors.
Rod Laver | Personal Life
Suffering a Stroke
Rod Laver horrifically suffered a stroke on 27 July 1988. The stroke happened while ESPN-TV interviewed him.
Thankfully, Laver made a good recovery and was blessed with excellent medical care.
Meeting Prince William and Kate Middleton
Laver is also one of few tennis players to have met the British Royal family. He met Prince William and Kate Middleton in the royal box.
Moreover, in a conversation between Rod and Prince William, the Prince revealed that Kate is the better player among them.
Book
Rod Laver has collaborated with fellow writer Larry Writer to write a book, The Golden Era. The book covers the two decades of Australian dominance in the world of tennis.
The book was published on November 5, 2019, and follows Rod Laver and Roy Emerson's life. Especially it looks at Rod's journey. The book has 722 pages and is available to purchase on Amazon.
Rod Laver Shoes
Rod Laver wore the famous Adidas shoes during the 70s. Likewise, those pairs of shoes helped Laver play extremely well. The Adidas shoes are up for sale on their website.
What is Rod Laver's net worth? | Net Worth 2021
Rod is a former professional tennis player who has won 11 Grand Slam titles. Furthermore, his career winnings in the Open Era amount to $1.5 million.
Similarly, Rod has made several business investments and sponsorship deals.
Rod Laver had owned several properties. He had a house in Rancho Mirage, Corona del Mar, and Santa Barbara.
According to online reports and investigations, Rod Laver has a net worth of $20 million.
For more information on his net worth, check out Rod Laver Net Worth: Career Earnings & Shoes >>
Does Rod Laver use Social Media? | Social Media Presence
Yes, Rod Laver uses social media. However, you can find him only on Twitter. The Australian tennis legend is connected to his worldwide fans through his Twitter account.
Despite tweeting less, Laver tweets mostly about tennis. Furthermore, his tweet consists of praises and compliments to current top players like Federer and Djokovic.
Last week we lost a great champion and wonderful friend, Alex Olmedo. Alex dominated me in the 1959 Wimbledon singles final and made me a better player. My heartfelt condolences to the Olmedo family. This photo is from 2017 at the LA Tennis Club when Alex received his ITHF ring. pic.twitter.com/oDb6HSGnVM

— Rod Laver (@rodlaver) December 12, 2020
You can find him on Twitter through the following handle.
@rodlaver – Twitter – 37.4k followers
You might be interested in reading about Venus Williams Bio: Early Life, Career, Net Worth, Tennis & Boyfriends >>
Frequently Asked Questions
Who was the last tennis player to complete a Grand Slam?
Rod Laver, the Australian tennis is the only male player to have completed the Grand Slam, not once but twice in 1962 and 1969.
What age did Rod Laver retire?
In 1976 the 38-year-old Laver retired from professional play, having won an unprecedented 200 singles titles.
Who is the most famous Australian tennis player?
Regarded as one of the greatest players in tennis history, Rod Laver is obviously the most famous one.
(Make sure to comment down below if any information regarding Rod Laver is missing.)