Bobby Gene Humphrey is a retired professional American football player. He played in the National Football League for the Denver Broncos and Miami Dolphins.
Likewise, at the University of Alabama, he played college football. He finished second behind Barry Sanders in the Rookie of the Year vote in 1989. He was a two-time All-American at the University of Alabama.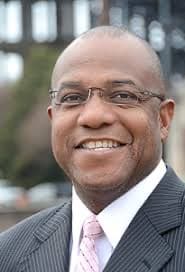 No wonder he is one of the famous football players. He was also on the list of famous people who were born in October.
Nonetheless, today, we will be diving deep into the world of Bobby and his life, from his rising career to married life.
Quick Facts: Bobby Humphrey
| | |
| --- | --- |
| Real name | Bobby Gene Humphrey |
| Born date | October 11, 1966 |
| Age | 56 Years Old |
| Birthplace | Birmingham, Alabama |
| Wife | Barbara Humphrey |
| Children | Five |
| Parents | Not Known |
| Siblings | Not Known |
| Profession | Footballer |
| Known as | Bobby Humphrey |
| Nickname | Bobby |
| Nationality | American |
| Sexuality | Straight |
| Gender | Male |
| Religion | Christianity |
| Zodiac sign | Libra |
| Ethnicity | African American |
| Height | 6'1″ (1.85m) |
| Body measurement | N/A |
| Weight | 201 lbs (91kgs) |
| Favorite holiday destination | Not Known |
| Body build | Athletic |
| Eye color | Black |
| Hair color | Black |
| Shoe size | N/A |
| Dress size | N/A |
| Hobbies | Practicing for her games, adventurous trips, reading, relaxation |
| Marital status | Married to Barbara Humphrey |
| Education | The University of Alabama |
| Social media link | Twitter |
| Net worth | $10 Million |
| Position | Running Back |
| Team | Denver Broncos, Miami Dolphins, Alabama Crimson Tide & others |
| Merch | Denver Broncos Blanket, Miami Dolphins Hoodie, Rookie Card |
| Last Update | June, 2023 |
Bobby Humphrey | Early Life and Family
Bobby Humphrey, the former NFL player, was born and raised in Birmingham, Alabama. He used to live there with his parents. Sadly, his parents' identity is not revealed yet.
However, we can not get any further data on his siblings as there is no information about them anywhere on the Internet.
Education
Young Humphrey went to Birmingham City Schools for high school studies. Later, he went to the University of Alabama for his college degree. There he earned his bachelor's degree in social work.
College Career
The early records of Humphrey playing football was from the Crimson Tide from 1985 to 1988. He shared the backfield with Gene Jelks and Kerry Goode during his year as a freshman.
Furthermore, he ran for 502 yards, 99 carries, and four touchdowns. Bobby was the Crimson Tide leader in rushing with 1,471 yards throughout his sophomore year and scored 15 touchdowns.
Rushing on 238 carries for 1,255 yards and 11 touchdowns. One of the major highlights of his junior year was a 220-yard rushing output against Penn State.
Likewise, he would overtake Johnny Musso on Halloween night against Mississippi State, Alabama's all-time leading rusher. In the year 1988, Humphrey scored two touchdowns in a losing effort in the Hall of Fame Bowl.
The Alabama-native was named to an All-American team again and finished tenth in the Heisman Trophy vote. His senior season against Temple ended, scoring a touchdown. However, two weeks later, he would break his foot and end his college career again.
Despite that, Bobby completed the with 3,420 rushing yards and 33 touchdowns. No Alabama running back had more 200-yard rushing games at the end of his college career, with four and more 100-yard rushing games, sixteen than Bobby.
Moreover, Humphrey raced for 3,420 yards during his four seasons playing for the Crimson Tide (a school record at the time), caught 60 passes for 523 yards, and scored 40 touchdowns.
He was also named the offensive player of the year by UPI in 1987 and finished 10th on the Heisman Trophy ballot.
Ty'Son Williams Bio: Career, Football, Injury & Net Worth >>
Professional Career- NFL
The Alabama-native has played for teams like Denver Broncos and Miami Dolphins in the NFL during his professional career.
Humphrey played for the Denver broncos from 1989 to 1991, for Miami Dolphins from 1992 to 1993, and Buffalo Bills from 1995 as an offseason and practice squad member only.
Long after the Bear Bryant days and well before the Nick Saban era took shape, Bobby Humphrey was a legendary running back at the University of Alabama.
He had dealt with some injuries in college and decided to give up his final eligibility year to join the supplemental draft.
The team selecting them to give up a potential first-round selection needed only eight players who were selected in the supplemental draft, and one of those was Humphrey.
The Broncos were so confident about his potential that in the 1989 draft, they gave up a first-round pick.
NFL Career
Humphrey was one of five players chosen in the 1989 NFL Supplemental Draft, chosen by the Denver Broncos in the first round.
During his rookie season, he dashed for 1,151 yards and seven touchdowns for the Broncos; he also tossed a seventeen-yard touchdown pass and hauled in a touchdown reception. The Broncos qualified for Super Bowl XXIV; however, the San Francisco 49ers beat them 55-10.
Although he played the game as the leader of the Broncos in both rushing (61 yards) and receiving (31 yards), Humphrey had a key turnover when he fumbled near midfield in the first quarter.
In 1990, he followed his rookie season with a Pro Bowl selection, running in 1990 for 1,202 yards and seven touchdowns. Similarly, Bobby Humphrey was the first Denver Bronco to rush for 1,000 yards in back-to-back seasons.
As a result of the holdout, Humphrey had fallen in favor of the team's coaching and front office. However, he was out of fitness and only granted a backup role in the Broncos' offense when Humphrey returned in Week 14.
In exchange for running back Sammie Smith, In 1992, he played for the Dolphins, scoring just one rushing touchdown and running for 471 yards; he also completed 507 receiving yards and a touchdown catch.
Humphrey then headed to the AFC Championship Game with his new team for the second straight season, again falling to the Buffalo Bills.
Young Bobby also tried to make a comeback in 1995 with the Bills after being out of football for two seasons but failed to make the team.
Career Stats
| | | | | | | | |
| --- | --- | --- | --- | --- | --- | --- | --- |
| Year | G | AV | Rush | Yds | Y/A | TD | Fantpt |
| Career | 51 | 28 | 695 | 2857 | 4.1 | 15 | 459.9 |
Achievements/Awards
Many might not know this, but Bobby was a Pro Bowler for the Broncos in 1990. For those unknown, the Pro Bowl is the National Football League All-Star Game (NFL).
It has been officially named the AFC-NFC Pro Bowl since the merger with the rival American Football League (AFL) in 1970 until 2013.
Not to mention, since 2017, matching the best players in the American Football Conference (AFC) against those in the National Football Conference (NFC).
Booby Humphrey got Shot | Injury in the right thigh
One of the scariest incidents that occurred in Bobby Humphrey is his shooting incident. One of his friends and former teammates, Mark Petties, shot him on his right thigh while they were both traveling together on an Alabama highway in January of 1993.
Unfortunately, the root of the conflict was never cleared. Likewise, a passerby saw the two constantly fighting in Alabaster, AL, on the shoulder of the highway and called the local police.
Humphrey, 26, was lying on the ground when they arrived. At Shelby Medical Center, Humphrey was released from hospital hours after the bullet had been removed.
The former NFL player was charged with possession of cocaine, criminal mischief, and the destruction of hotel property eight days before the shooting incident.
Bryce Paup: Early Life, Family, Career & Net Worth >>
Post-Football-Life
Humphrey went back to the University of Alabama in 1998 and completed a bachelor's degree in social work. He was incorporated into the Sports Hall of Fame in Alabama in 2004.
He owned and operated Humphrey Construction Company during his time coaching at AF2. Humphrey has been Bryant Bank's vice president of business growth in Birmingham, Alabama, since 2012.
He is also a motivational speaker.
Bobby Humphrey | Girlfriend, Marriage, and Personal Life
Bobby Humphrey is a married man as of now. The former player has five children with his wife, Barbara.
Barbara was his girlfriend for a while before tying the knots. Besides that, two of his sons went on to the career of football, following the footsteps of their father.
Maudrecus Humphrey played for Arkansas University. Before being drafted 16th overall by the Baltimore Ravens in the 2017 NFL Draft.
Also, Marlon Humphrey followed his father's footsteps and played for Alabama, wearing his father's jersey number 26.
Bobby Humphrey | An inspiration to his son
As he recalled today, Marlon Humphrey got emotional about how his father did not take it easy on him in childhood but still showed him the road to his dreams.
"I was kept in line by my dad. I told my dad I wanted to pay for the NFL when I was young, and he never let me slip,' Humphrey said.
"Stuff I wanted to do, he was able to say no to me and really didn't show an excuse, but I was able to understand the reason as I got older." Said Marlon Humphrey. He was quite emotional while telling this.
Hookups And Rumors of Bobby Humphrey
He had previously had at least 1 affair. Bobby Humphrey had not been engaged previously. We are currently searching for data on the prior dates and hookups.
Online rumors about the dating history of Bobby Humphreys can vary. Although it's pretty easy to figure out who's dating Bobby Humphrey, all of his flings, hookups, and breakups are more difficult to keep track of.
Bobby Humphrey | Net Worth and Salary
Bobby Humphrey is a football player with a net value of 10 million dollars. On October 11, 1966, Bobby Humphrey was born. Running back, who played in the NFL for the 1989-1993 Denver Broncos and Miami Dolphins.
The only thing getting in the way of the exchange is the payment arrangement between the Dolphins and the running back from the Denver Broncos. Humphrey is in the final year of his initial four-year contract with Denver.
According to NFL Players Association records, it is set to make $375,000 in base salary, plus $75,000 in reporting and make-the-roster incentives.
Social Media Presence
Bobby Humphrey is quite a social person. But as for now, this former NFL player can be seen on Twitter only.
Is Kyler Murray Dating Madison Compton? – Occupation & Net Worth >>
FAQs
In what position did Bobby Humphrey use to play? What is his college statistic like?
The former NFL player Bobby Humphrey used to play as a running back.
Back in Bobby's college days, he played for his college team, Alabama, where he posted 3,420 rushing yards (a school record at the time), caught 60 passes for 523 yards, and scored 40 touchdowns.
Is Bobby Humphrey involved in dog rescue?
No, the former footballer turned coach is not involved in dog rescue. However, a former bodybuilder and carpenter from Maryland with the exact same name rescues dogs.
What is the name of Bobby Humphrey's Wife?
His wife's name is Barbara Humphrey.
What is the son's name of Bobby Humphrey?
Bobby has two sons. They are Marlon Humphrey and Maudrecus Humphrey.
What is the profession of Bobby Humphrey's sons'?
Both of Humphrey's sons are footballers.