If you would like to know the meaning of rising from the ashes and making a name for yourself, then ask Bobby Portis. It is because he had some of the worst experiences one could have when he was just a child.
But, as someone said, "You either make it, or you don't." Likewise, Bobby made it, and he is currently one of the top prospects in the NBA.
He recently signed a $7.5 million two-year contract with the Milwaukee Bucks, highlighting his ability. The future for Portis is looking bright with one of the most recognized franchises in the whole world.
So, join me on this memorable ride of Bobby, where I am going to tell you about the journey of a five-year-old kid who lived in a dangerous neighborhood, overcame those obstacles, and made it to the top.
Before we get into the important stuff, let's take a look at the quick facts.
Quick Facts:
Full Name
Bobby Portis
Birth Date
10 February 1995
Birth Place
Little Rock, Arkansas, U.S.A
Nick Name
Crazy Eyes
Religion
Christian
Nationality
American
Ethnicity
African-American
High-School
Hall High School
College
University of Arkansas
Horoscope
Aquarius
Father's Name
Not available
Mother's Name
Tina Edward
Siblings
Jared Portis, Jamaal Portis, Jarod Portis
Age
27 Years Old
Height
6'10″ (2.08 m)
Weight
113 kg (250 lbs)
Wingspan
2.18 m
Shoe Size
Not available
Hair Color
Black
Eye Color
Black
Body Measurement
Not Available
Build
Athletic
Married
No
Girlfriends
Kanesha Woods
Spouse
None
Position
Power Forward/Center
Profession
Basketball Player
Current team
Milwaukee Bucks
Drafted year
2015 (Round: 1 / 22nd overall pick)
Net Worth
$10 million
Salary
1.391 million USD
Career Earnings
$24,541,006
Franchises
New York Knicks (Current), Washington Wizards, Chicago Bulls (Former)
Jersey Number
#5 Chicago Bulls
#5 Washington Wizards
#1 Ney York Knicks
#9 Milwaukee Bucks
Social Media
Instagram, Facebook, Twitter
Merch
Bobby Portis Gears, Jersey, Bucks Jersey, Autograph, Rookie Card
Last Update
September, 2022
Where is Bobby Portis from? Early Career & Life
Life was extremely tough growing up for Bobby, as he never had a father figure. His mother, Tina Edward, raised young Portis independently with some help from her father, Otis.
Because they were destitute, the mother-son duo lived in one of the sketchiest neighborhoods, Little Rock projects.
For instance, when Portis was in fifth grade, he saw gunshots being fired near his house. But sadly, this was a common occurrence in the part of the neighborhood they lived in.
As a result, ever since the Arkansas native was a child, Edwards made sure that young Bobby would stay away from those bad influences.
Besides, she wanted her son to become the best basketball player he could be. Also, she ensured that Bobby focused on his studies just in case.
Thus, a young Portis had to manage both activities. He did so with flying colors as he maintained a decent 3.2 GPA in high school and college. On top of that, he was one of the best players in his high school days.
To emphasize, he was ranked as the top player to come out of high school in the state of Arkansas. Also, Portis earned a nomination in the SEC Player of the Year during his final year with the University of Arkansas.
Having impressed many spectators and scouts, unsurprisingly, Bobby entered the 2015 NBA Draft after just two years with the University of Arkansas.
There was no doubt that the well-educated power forward would land himself in the NBA within the first round of the draft.
Bobby Portis | Professional Career
All college basketball players dream of playing in the NBA one day. And Bobby realized the dream on 25 June 2015 when the Chicago Bulls drafted him with the 22nd pick in the NBA draft of 2015.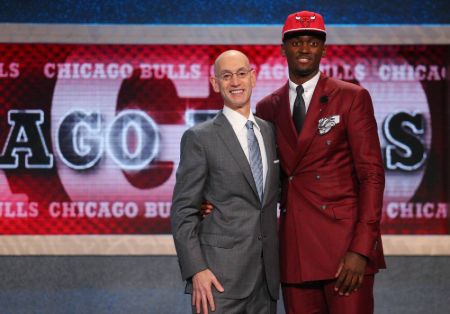 The highlight of Portis' first season was when he got the opportunity to play against his future team New York Knicks. In that game, the Arkansas native posted 20 points and 11 rebounds.
The following season, Bobby faced the first obstacle of his young career as the Bulls dropped Portis to Chicago's D-league affiliate, a development league for old and young players alike who are not yet at the level of the NBA.
Contrarily, the big power forward managed to dust himself up and earn a third year with the franchise. The main reason being the potential and never-give-up attitude that Portis showed during the two years with the Chicago Bulls.
The faith shown in him by the Bulls got rewarded as Bobby managed a career-high 13.2 points and 6.8 rebounds along with 1.7 assists. The main talking point of the season was the physical altercation between Portis and teammate Nikola Mirotic.
As a result, Mirotic had to go to the hospital due to multiple face fractures and concussions. Also, the talented power forward got suspended by the Bulls for eight games.
On the contrary, the incident acted as a wake-up call to the Arkansas native. For instance, in the game against title-contenders Philadelphia 76ers, Portis managed to score 38 points. It is his highest points tally to date.
Is Portis still on the Bulls?
The next season was a nightmare for Bobby as he played in just 22 games averaging 14.1 points, 7.3 rebounds, and 1.3 assists. Unfortunately, it was enough for the Bulls to trade him to Washington Wizards during the trade window.
Fans and NBA coaches alike had always seen the talented power forward as top young prospects. Hence, Portis' trade to the Wizards was met with disdain from the supporters of the Bulls.
Consequently, Bobby felt disrespected and, as a result, vowed to reach the heights that everyone expected of him. To the Wizards' joy, Bobby fulfilled his vow by ending the season with career highs with 14.3 points and 8.6 rebounds.
Although the Washington-based franchise did not manage to secure a playoff spot, they did manage to finish above the Bulls. In the end, it was Portis who got the last laugh.
Following his impressive performances, Washington Wizards wanted the tall power to sign a new contract with them. But, Portis had other plans as he had always dreamed of playing at the Madison Square Garden, the home of the Knicks.
As a result, Bobby entered the free agency market in the hope of joining the New York-based franchise. Portis got his wish as the New York Knicks signed him on a one-year deal with an option for another year.
The Arkansas native has played in 61 games for the Knicks, averaging 9.8 points and 5.1 rebounds. It would be acceptable for a bit-part player but not for an athlete like Bobby.
On the contrary, the Knicks ' power forward is only 26 years old, which suggests that Bobby still has a lot to give to the NBA.
For the sake of Portis and the New York Knicks, I hope that Bobby reaches the potential he showed during his college years.
Check out this video to see Bobby Portis Dunks Poster vs. Hornets,
Bobby Portis | Career stats
How old is Bobby Portis? Age, Height, Weight
The professional basketball player Bobby Portis was born in the year 1995, which makes him 27 years old, which is the perfect age to hit peak form for an NBA player.
To further emphasize, star players of this era like Damian Lillard, Russel Westbrook, James Harden, etc., all hit their peak during this age. Likewise, Portis shares his birthday on February 10, making his zodiac sign Aquarius.
How tall is Bobby Portis? Which position does he play?
The average height of a player in the NBA is 6 feet 7 inches. Hence, one should not be amazed that the Arkansas native stands at 6 feet 10 inches, a suitable height to play in the power forward position.
Also, he weighs in at 230 pounds (113 kg), making it tough to get around and get rebounds off of. It is further emphasized by the 8.6 rebounds per game Portis managed in the 2018-19 season.
However, playing at the center position is a whole other ball game because most of the NBA centers stand over 7 feet. As a result, Portis still needs some work to become a top player at the center position if he chooses to do so.
Bobby Portis | Net Worth & Contract
Currently, the average salary of NBA players is $7.5 million. Therefore, it should not come as a surprise that Portis has an estimated net worth of $10 million acquired through basketball activities.
In his first season with the Chicago Bulls, Bobby earned $1.3 million, which is an astronomical sum of money for a rookie.
However, most rookies instantly become a millionaire in their first year due to the excessive amount of money the NBA franchises acquire through the NBA. As a result, even the newcomers are paid in the millions these days.
Bobby Portis Contract: What is his salary?
The Knick's power forward has hit the jackpot this season as he is earning a guaranteed salary of $15 million per year with the New York-based franchise.
According to the contract, Bobby will be with the Knicks for one year, with an option to extend his contract for another year.
Due to the bumper contract that kicks in this season, the Arkansas-born will definitely increase his net worth. Also, this is just his sixth season in the NBA.
Therefore, Portis still has many years left to make a name for himself and earn even more cash in his professional career.
Career Highlights and Awards
2013: McDonald's All-American, First-team

Parade

All-American, Arkansas Mr. Basketball

2014: Second-team All-SEC, SEC All-Freshman team

2015: Consensus second-team All-American, SEC Player of the Year, First-team All-SEC
Bobby Portis | Family & Kids
Bobby Portis was born to his mother, Tina Edwards, and his father, who remains unknown to the media's prying eyes. But, we will make sure to update it as soon as the information is made available.
Furthermore, Portis has three brothers named Jared Portis, Jamaal Portis, and Jarod Portis. Even to this day, the four siblings share a strong bond as they often hang out together.
Besides, Bobby is also involved in a relationship with his pretty girlfriend, Kanesha Woods. The couple started dating back in 2019, but not much is known about the couple as they like to keep their love life private.
In fact, there are no official social media posts from Portis about the pair. However, many pictures of the couple on the internet must have been taken by family or friends.
Nonetheless, we are pretty confident that the two lovebirds are head over heels for each other.
Social Media Presence:
Instagram: 142,000 followers
Twitter: 88,000 followers
Facebook: 58,000 followers
Some FAQs:
Who is Bobby Portis's agent?
Mark Bartelstein is the agent of Bobby Portis as of writing. Bobby agreed to a two-year deal worth $7.5 million with Milwaukee Bucks, including a player option for the second year, agent Mark Bartelstein in 2020.
Are Bobby Portis and Clinton Portis siblings?
No, Bobby Portis and Clinton Portis are not siblings.
What is Bobby Portis's career-high points?
Bobby had his most points in a game against the Philadelphia 76ers on February 22, 2018, with 38 points.
What is Bobby Portis's defensive rating?
Bobby Portis has a defensive rating of 108.1 as of the 2021 season.
Is Bobby Portis good?
Bobby Portis has proven himself to be one of the most talented players of the NBA. Since his rookie year, Bobby has started in every potential game.
Likewise, he is a solid shooter and has got the size to bang with bigs down low. He has got the eyes that will strike fear into the heart of any opponent.
Is Bobby Portis injured?
Bobby injured his right ankle in the Bulls game against the Brooklyn Nets. Later, after MRI and physical exam, it was reported that he was diagnosed with a sprained ankle.
Who did Bobby Portis punch?
In October 2017, when Bobby Portis was playing for the Chicago Bulls, he got into a fight with teammate Nikola Mirotic during practice. Bobby threw a punch and connected with Mirotic's face.
Nikola was left with a fractured face and a concussion. Later, Bobby Portis got suspended for 8 games for his awful behavior. Moreover, Portis later publicly apologized to Mirotic in an interview, saying,
"I'm wrong for what I did. I want to apologize to Niko publicly. I feel like I let my fans, the Bulls organization, and most importantly, my teammates down. This is not who Bobby Portis is."