Brandon Duc Allen is an American football player in the Cincinnati Bengals of the NFL League who holds the quarterback position.
Allen has been passionate about football since his high school days. He was famous as one of the best quarterbacks since his starting phase.
Allen played college football and eventually got drafted into NFL in 2016, round 6, and was the 201 pick.
Allen is one of the trending football players for his fantastic game and personality. He is a member of the most popular player list.
Allen started being a record-holder as the quarterback and is now peaking at the top of his game.
Let's look into some of the quick facts about him.
Quick Facts
Full Name
Brandon Duc Allen
Date of Birth
September 5, 1992
Birth Place
Fayetteville, Arkansas
Nick Name
Unknown
Religion
Unknown
Nationality
American
Ethnicity
White
Zodiac Sign
Virgo
Age

30 years old

Height
6 ft & 2 in (188 cm)
Weight
209 lb (95 kg)
Hair Color
Black
Eye Color
Brown
Build
Athletic
Father's Name
Bobby Allen
Mother's Name
Marcela Allen
Siblings
Three
Education

Fayetteville High School
University of Arkansas

Marital Status
Married
Spouse
Sarah Connley
Kids
One
Profession
Football Player
League
NFL
Net Worth
$3.5 Million
Salary
$825,000
Social Media
Instagram, Twitter
Merch
Rookie Card
Last Update

May, 2023
Brandon Allen: Early Life, Family, Education
Brandon Allen was born on Sep 5, 1992, in Fayetteville, Arkansas, to Bobby and Marcela Allen.
His Father, Bobby Allen, is the director of NFL relations and Arkansas Razorbacks High School.
His younger brother Austin is also a football player who started his college career as a quarterback. In 2017, Austin signed with the Razorbacks and later joined Tampa Bay Buccaneers after the 2018 NFL draft.
Read about Marty Hurney's Bio: Wife, Draft, NFL & Net Worth.
Allen's whole family is inclined towards football. So we can say that some of his passion and talent can be hereditary. He was influenced as a child by his surroundings around the soccer field.
Allen attended Fayetteville High School. He was active as a football player since his high school days as a quarterback.
In 2014, Allen graduated from the University of Arkansas with Bachelors's degree in recreation and sports management.
Brandon Allen: Body Measurements
Allen stands tall at 6 ft 2 in (1.88 m), which helps him take long strides in the field.
Allen weighs around 209 lb (95 kg). He has the perfect balance of height and weight. Allen lives a healthy lifestyle and workout regularly to maintain an athletic body.
Brandon Allen: Net Worth
Allen's net worth is approximately $3.5 million. His earnings include his contract deals with different clubs in his career.
With his hard-earned money, Allen likes to spend on his family, like going on vacation and buying luxury gifts.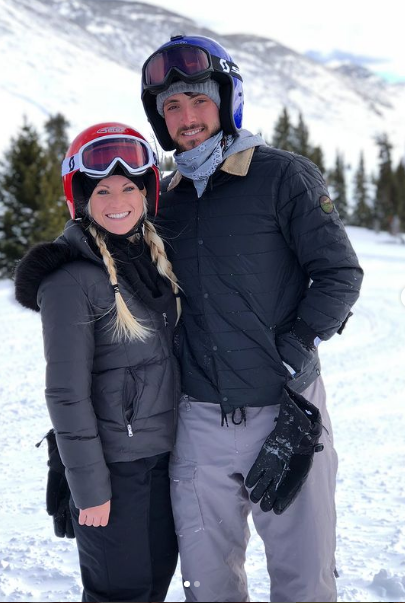 Allen's salary is $825,000 playing for the Bengals.
Brandon Allen: Career
College Career
Allen could not play many games during his first year as he was still practicing and building his path. He was placed as a backup in the field.
In 2012 his teammate was injured, and Allen replaced him. He played 5 games and completed the season with 21 passes for 186 yards with 1 touchdown and 3 interceptions.
Allen started as a quarterback in 2013. He had 13 touchdowns 19 interceptions for 1552 yards with 49.6% of his throws.
In 2014, Allen had 2,285 passes, 20 touchdowns, and 5 interceptions. He displayed his true potential as a team quarterback and was awarded the official offensive MVP of the 2014 Texas Bowl.
Allen led the team to victory with a 31-7 record against the Texas Longhorns. He had two touchdowns with a history of 7-6.
In 2015, Allen had 6 touchdowns and 2 points in the match against Ole Miss, leading the team to victory 53-52. After two weeks, he had seven touchdowns against Mississippi State brown, his record, and Arkansas. However, his team lost the game.
Allen completed his senior year with 3,440 passes, 30 touchdowns, and 8 interceptions. In the 2016 Liberty Bowl, his team was against Kansas State, where he finished 8-5 and won 45-23.
Allen had 7,463 passing yards, 64 passing touchdowns, and 26 interceptions in his college career.
Professional Career
Jacksonville Jaguars
In the 2016 NFL Draft, the Jaguars picked Allen in the sixth round with the 201st and had a four-year contract of $2.48 million, including a bonus of $147,687.
In the beginning, Allen was in the third position as quarterback for the Jaguars. However, he was relinquished on September 3, 2017, and could not make the final roster cuts.
Los Angeles Rams
On September 4, 2017, Allen was picked by the Los Angeles Rams. He could not play any of the seasons because of his third position in the team as a quarterback, and there were two other players in his work.
You may also like- Marshal Yanda's Bio: Early Life, NFL, Wife & Net Worth.
In addition, the Rams added a condition on the contract that he could only play in case of injury replacement on December 20, 2017.
On September 18, 2018, Allen was released by the Rams to re-sign the very next day as a practice team.
Allen had a reserve/future contract with the Rams but was waived on August 30, 2019, and could not enter the final roster.
Denver Broncos
On September 1, 2019, Allen was picked by the Denver Broncos. After 8 weeks, Allen replaced injured teammate Joe Flacco as the starting quarterback in the 2019 season.
Allen made his debut in Week 9 against the Cleveland Browns. He threw for 193 yards and two touchdowns in the 24–19 win for the team.
Cincinnati Bengals
On August 1, 2020, Allen was picked by the Cincinnati Bengals. He was waived on Sep 5, 2020, and re-signed to the practice squad the next day.
The Bengals selected Allen to the final roster on November 23, 2020. He replaced Joe Burrow for the position.
On November 25, 2020, the team announced that Allen would replace the injured teammate in the week 12 game. The match was against the New York Giants.
Allen made 371 passing yards and two touchdowns in the 37–31 victory over the Houston Texans in the 16th week.
Allen initiated the final game of the season against the Baltimore Ravens. He had six of 21 passes for 48 yards, two interceptions, and a passer rating of 0.0 in the match, but unfortunately, the Bengals lost the game.
On March 10, 2021, the Bengals extended the contract for a year with Allen.
In the 2021 season, Allen had his first game against the Detroit Lions in the sixth week. He had a touchdown pass and 3 kneel-downs at the end of the game.
Allen started in the Bengals' next game against the Ravens but had no stats.
In week 9, Allen went 1 for 2 for 6 yards passing in the 16-41 loss to the Cleveland Browns.
In week 12, Allen could not pass and lost a yard due to a lack of timing against the Pittsburgh Steelers.
On January 9, 2022, Allen had 15 passes for 136 yards, 1 touchdown, and 0 interceptions against the Browns, with the Bengals losing 21-16 in week 18.
Brandon Allen: Health Update
In December 2020, Allen remained out of the game because of a chest injury. The match was against Miami Dolphins. He was back in the next round.
Again after recovery from a chest injury, Allen had a right knee injury in a match against the Cowboys, where the Bengals lost 30-7. Because of the damage, he had to miss out on games for two weeks.
Also, read about- Ray-Ray McCloud – Early Life, NFL, Personal Life & Net Worth.
After two weeks, Allen was back in the game as he practiced to go on against the Houston Texans.
In December 2021, the Bengals put Allen on the Covid Reserve list as he tested positive. As a result, he was out of the game for weeks. On January 2, 2022, Allen was off the Covid list as he came out clear of the virus. He was back for the match against Kansas City Chiefs.
Brandon Allen: Wife & Kid
Brandon Allen is married to Sarah Connley. They first met during high school. The couple had a common friend who introduced them to each other.
Sarah is also an Arkansas native, a common factor of the couple. Allen and Sarah first met at Cody Johnson's concert and soon discovered they were neighbors. From that point, they started noticing each other and eventually started dating.
Allen used to follow Sarah with her dogs for a walk. They started taking an interest in personality matches and formed compatibility. Starting from simple dates, they finally tied the knot on March 2, 2019.
The wedding took place on a property owned by Allen's family and friends. It was simple yet elegant as the couple wished.
Allen and Sarah always wished to begin a family together. Their wish came true earlier than expected, as 16 months after the wedding, they welcomed their son Oakland Duc Allen on July 14, 2020.
The duo has a great life together and is now enjoying parenthood.
Brandon Allen: Social Media Presence
Being a professional football player, Allen enjoys a great fan following worldwide. He likes to interact with his fans and supporters through social media handles. Allen has an Instagram and Twitter account.
Allen often shares about his professional life and some glimpse of his personal life.
Frequently Asked Questions (FAQs)
Is Allen still in NFL?
On August 1, 2020, Allen was picked by the Cincinnati Bengals. He was waived on Sep 5, 2020, and re-signed to the practice squad the next day. The Bengals selected Allen to the final roster on November 23, 2020.
Is Allen married?
Allen married Sarah Connley in 2019. They also have a son together.
Where is Allen now?
On January 2, 2022, Allen was off the Covid list as he came out clear of the virus. He was back for the match against Kansas City Chiefs.