Brandon Boston Jr. always had his eyes on the hoops & now stands as one of the uprising NBA players. The consensus five-star prospect currently plays as a shooting guard for the Los Angeles Clippers (2021- now).
Boston Jr. went for the NBA draft after his freshman year at college & became the second-round pick of the Grizzlies in the 2021 NBA draft.
Then, following a series of trades, the American basketball player went to the Clippers, which has become a home to him since.
As a rookie, he recorded his career-high 27 points- no denying, he thrives to become a proficient shooting guard.
However, his NBA journey has not always been joyful as he tragically lost his best friend and college teammate Terrence Clarke in a car accident.
Boston has honored Clarke's memory with a touching tribute tattoo and continues to play in his honor.
Born and raised in Norcross, Georgia, Boston Jr. was raised alongside his three sisters, Daija, Aysia, and Brandi.
His father is an entrepreneur, whereas his mother is a registered nurse.
This article has everything you need to know about Brandon Boston Jr.'s family background, education, career journey, and a heartwarming tribute to his late best friend.
Quick Facts
Full Name
Brandon Elliot "B.J." Boston Jr.
Known As
Brandon Boston Jr.
Date of Birth
November 28, 2001
Age
21 Years Old
Birth Place
Norcross, Georgia, U.S.
Nationality
American
Father's Name
Brandon Boston Sr.
Mother's Name
Alissa Boston
Siblings
Three (Daija, Aysia, Brandi)
Zodiac Sign
Sagittarius
Relationship Status
Single
Height
6 feet 7 inches/ 201 cm/ 2.01 m
Weight
185 lbs/ 83 kg
Education

High School: Norcross, Sierra Canyon
College: Kentucky

NBA Draft
2021/ Round:2/ Pick: 51st Overall
Playing Career
2021- Present
Current Team

Los Angeles Clippers (2021- Present)
Ontario Clippers (G league affiliate team of the Los Angeles Clippers)

Awards & Achievements

McDonald's All-American (2020)
California Mr. Basketball (2020)

Position
Shooting Guard
Jersey Number
4
Average Annual Salary
$1.44 Million
Net Worth
$800k-$1 Million
Social Media
Instagram, Twitter
Last Update
June 2023
Family Details Of Brandon Boston Jr.
Brandon Elliot "B.J." Boston Jr. was born on November 28, 2001, in Norcross, Georgia, to Brandon Boston Sr. and Alissa Boston.
His father studied at North Carolina Agricultural and Technical State University and is the owner of Divine Light Hospice, LLC.
The Divine Light Hospice focuses on providing care for terminally ill patients and support for their families.
Brandon Boston Sr is also the CEO of Boston Family Enterprise, LLC, which was incorporated on 13 July 2020.
His mother, Alissa Boston, studied Bachelor of Science in Nursing at Mercer University and is a registered nurse at Gwinnett Medical Center.
Three Siblings
Boston Jr. has three sisters: Daija, Aysia, and Brandi Boston.
Daija, the oldest of the sisters, was born on June 30, 1995, and attended Phoenix High School. She is a mother of three children.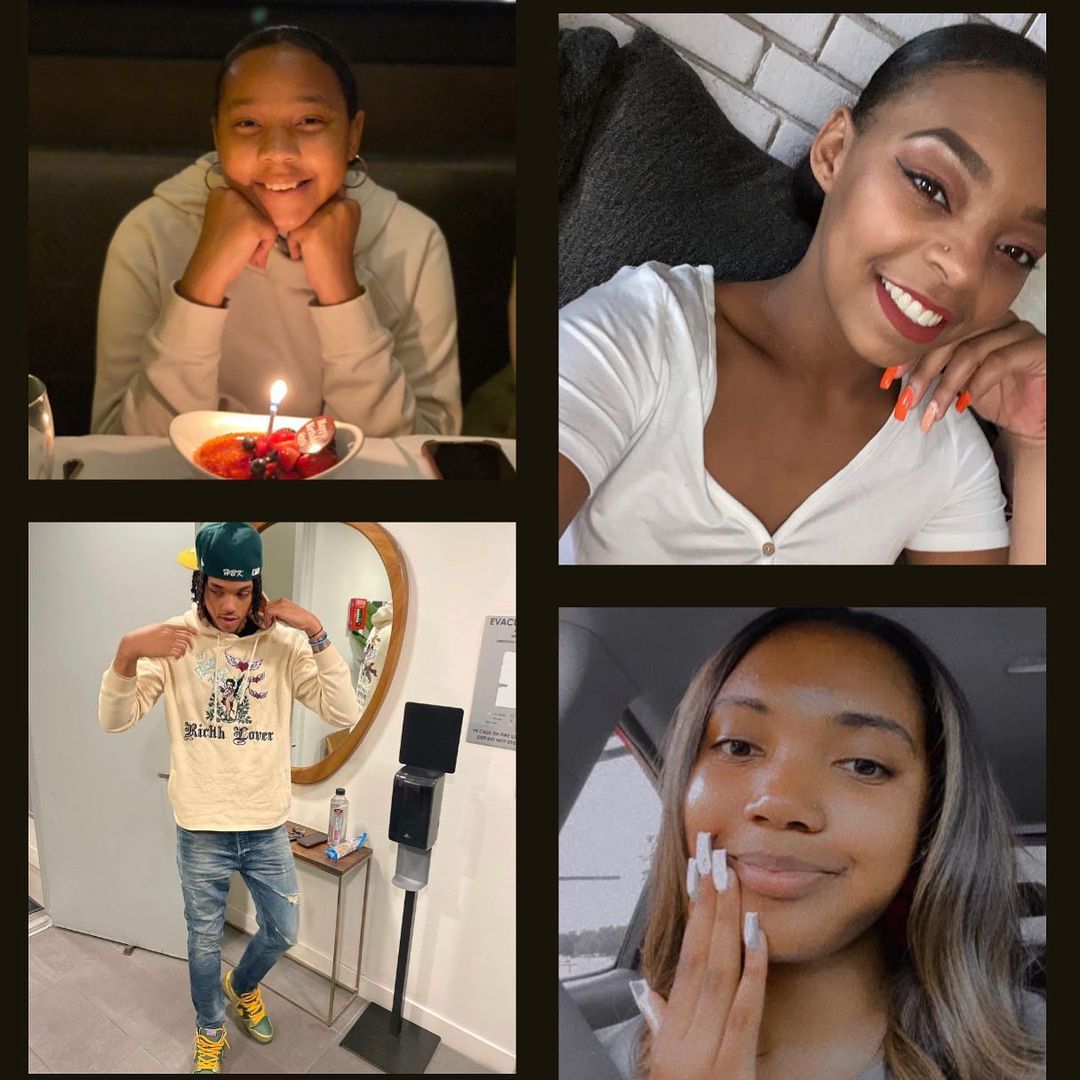 Aysia, the second eldest, was born on January 15, 1999, and went to Richards Middle School and Peachtree Ridge High School. She graduated from Kennesaw State University.
Brandi Boston, the youngest of the sisters, was born on April 22, 2007.
Declared NBA Draft After His Freshman Year
Boston attended Norcross High School in Georgia, then transferred to Sierra Canyon in Los Angeles.
In Sierra Canyon School, he played along with Bronny James (eldest son of Lebron James) and Zaire Wade (eldest son of Dwayne Wade).
He led Sierra Canyon to a 30-4 record, averaging 19.7 points and 7 rebounds per game in his senior year of high school.
Boston was considered Kentucky's top-ranked player in the 2020 class and a five-star prospect.
He decided to play college basketball for the University of Kentucky over offers from the Oklahoma State Cowboys, LSU Tigers, Seton Hall Pirates, and many more.
He declared for the 2021 NBA Draft on March 20, 2021, after averaging 11.5 points and 4.5 rebounds per game in his first year of college.
NBA Journey
In the 2021 NBA Draft, Brandon Boston Jr was selected by the Memphis Grizzlies.
But ahead of the season, he was traded to the New Orleans Pelicans as a part of three-team trade (the Hornets, Grizzlies & Pelicans).
The deal moved players like Ziaire Williams, Trey Murphy III, Jared Butler, & Eric Bledsoe.
The Pelicans then traded him to Los Angeles Clippers, where he continues to thrive & shine.
On October 25, 2021, Boston made his NBA debut for the Clippers in a 116-86 victory against the Portland Trail Blazers.
He played for nine minutes and scored three points in his debut game.
On December 8, 2021, he recorded his career-high 27 points in a thrilling game of 114-111 victory against the Celtics.
Boston played in a total of 51 games in his first season in the 2021-22 season but did not start in any of those games.
In the 2022-23 season, Boston Jr. got his first-ever start in the main rotation after 19 games (58 games of the team) against the Bucks on February 10, 2023. In 26 minutes of the play, he scored 20 points.
Net Worth & Contracts
The Clippers shooting guard Brandon Boston Jr. has an estimated net worth of $800K- $1 million as of 2023.
The majority of his earnings are from his basketball career. Besides his NBA contracts, Boston earns from his merchandise sales, which he promotes via his Instagram and online website, HBKbyBrandon.
Boston Jr., the round two (51st overall pick) of the Memphis Grizzlies, saw himself on trades before settling with the Los Angeles Clippers.
On August 8, 2021, a day after his arrival at the Clippers, he signed a three-year contract worth $4.32 million. The deal has a guaranteed amount of $2.48 million and an annual average salary of $1.44 million.
As a rookie in the 2021-22 season, the basketball player made $925,258, while his salary in the 2022-23 season is $1.56 million.
For the 2023-24 season, Boston Jr.'s base salary is reported at $1.836 million, which is 0.81% of the team's cap.
The highest-capped players in the Clippers are Paul George & Kawhi Leonard, with $45.6 million in the 2023-24 season.
Following the end of the 2023-24 season, he will be a restricted free agent with a qualifying offer of $2.29 million.
Death Of College Best Friend
Brandon Boston Jr. and Terrence Clarke were teammates on the Kentucky men's basketball team during the 2020-21 season and developed a close friendship.
Tragically, Clarke died in a car accident in Los Angeles on April 22, 2021, while driving alone after a workout with Boston Jr.
The Los Angeles Police Department reported that Clarke was driving at high speed without wearing his seat belt properly. He ran a red light and collided with another car that was turning left, then hit a pole and block wall.
During the 2021 NBA draft, NBA Commissioner Adam Silver made Clarke a ceremonial pick between the 14th and 15th picks, fulfilling his dream of being drafted into the NBA. Clarke's family members accepted the honor on his behalf.
During a December 8, 2021, game against the Boston Celtics, Boston Jr. dedicated his career-high 27 points to his best friend and mentioned that Clarke always wanted to play for the Celtics.
He also got a tattoo on his leg in honor of Clarke, featuring Clarke's photo on the lower left part of his leg and "TC World" underneath the image.
Relationships & Social Media Presence
Many fans are eager to know about the relationship status and dating history of Brandon Boston.
Some sources cite that he has a secret relationship that he intends to keep private, while other sources claim that he is currently single and focusing on his career.
Though the NBA player is yet to confirm any of those claims.
The Clippers shooting guard is active on Instagram and Twitter. As of this writing, he has 428k followers on Instagram and 29.1k followers on Twitter.
He most shares about basketball games and training sessions while also promoting his merchandise.
Age, Height & Body Measurements
The Norcross-born basketball player is 21 years old.
Boston stands 6 feet 7 inches (2.01 m) tall and weighs 185 lbs (83 kg).
His wingspan measures 6 feet 11 inches (2.1 m), while his standing reach extends to 8 feet 8 inches (2.64 m).
Popularity Graph
Brandon Boston, the 2020 California Mr. Basketball, got the eyes of many after he became an NBA draft pick. With his impressive performance & style of play, it is no surprise that this player is on the search list on google.
The graph above represents the number of search interests of Boston Jr. over the past twelve months.
His search volume almost reached its peak near the end of January.
Frequently Asked Questions (FAQS)
What team did Brandon Boston Jr go to?
After being drafted by the Grizzlies, Brandon Boston Jr was traded to the New Orleans Pelicans as a part of a three-team trade involving the Charlotte Hornets. Subsequently, he was traded to the Los Angeles Clippers.
How much does Brandon Boston make?
In the 2022-23 season, Boston receives a base salary of $1.53 million- thanks to his three-year deal with the Clippers that runs through the 2023-24 season.