Trey Murphy III, an NBA small forward, plays for New Orleans Pelicans (2021-now) after immediate trade of draft rights from the Grizzlies, who picked him as their 17th overall pick in the 2021 NBA Draft.
The American basketball player is a newcomer with only two NBA seasons played, but his expertise is on a different level.
Trey started in only one game (out of 62 played) in his rookie season. Yet he came up with his notable career-high 32 points in a loss against the Hornets on March 11, 2022.
Murphy III signed a four-year rookie scale contract with the Pelicans in August 2021. After two years of completion of the deal, he exercised a $3.36 million option for the 2023-24 season.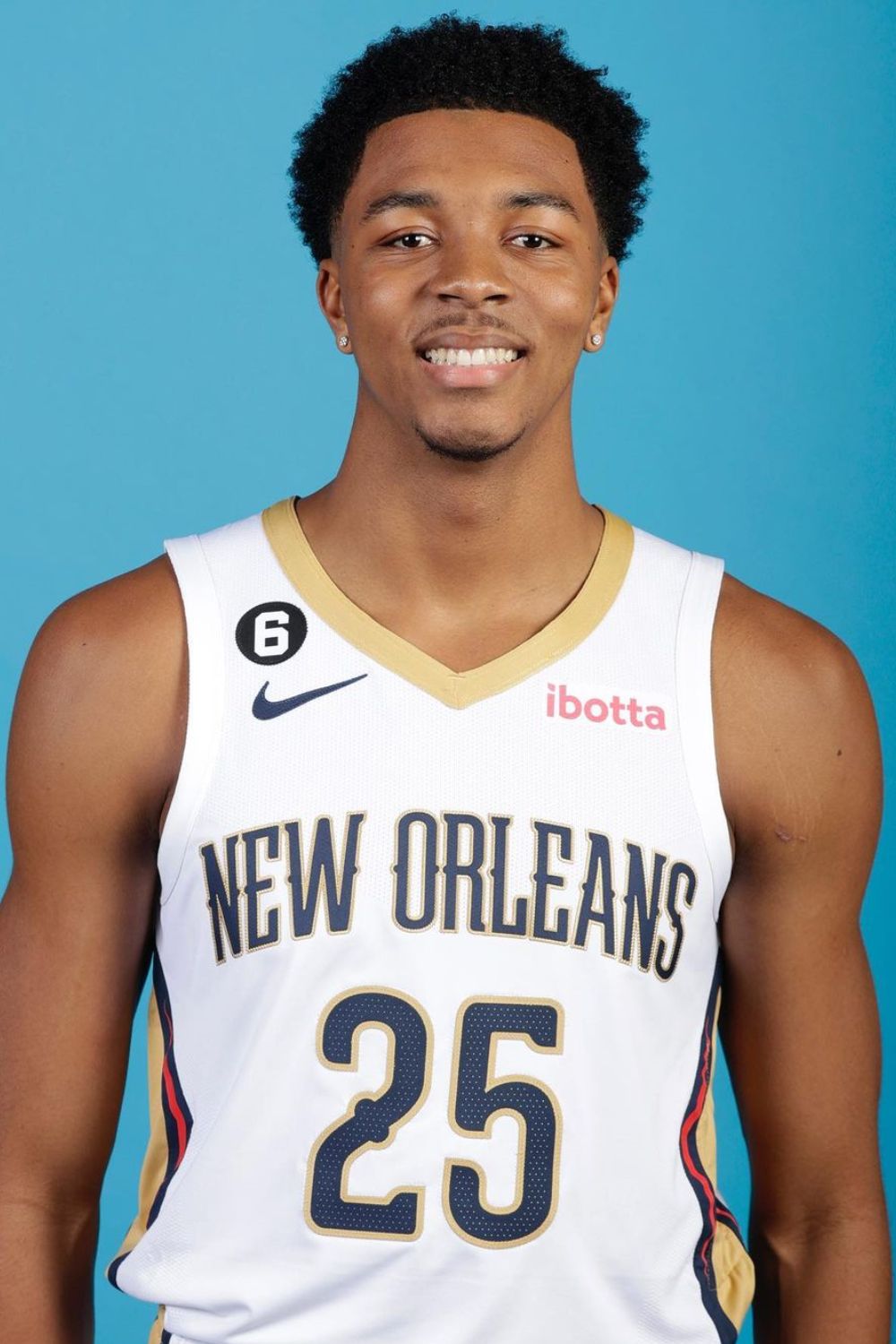 According to 2022 Financial Rankings by Spotrac, Trey ranked #11 as the best-paid Pelicans player & overall #41 as a small forward in the league.
The Durham-born is among the few NBA rookies in the Pelicans franchise who entered the playoffs.
While at Rice University, the basketball played set a franchise record as a freshman with a 42.1% three-point field goal percentage.
The reason behind his NBA prominence is his dedication to the sport & support from the family.
Want to know more about Trey Murphy III's net worth, family & relationship? Here we go!
Quick Facts
Full Name
Kenneth Trey Murphy III
Nick Name
Trey
Date of Birth
June 18, 2000
Age
22 Years Old
Birth Place
Durham, North Carolina
Nationality
American
Ethnicity
African-American
Religion
Christianity
Father's Name
Kenneth Murphy Jr
Mother's Name
Albeda Murphy
Siblings
None
Zodiac Sign
Gemini
Chinese zodiac
Dragon
Height
6 feet 9 inches /2.06 m/ 206cm
Weight
93kg/ 206 lbs
Education

Cary Academy
Rice University (2018-2020)
The University Of Virginia (2020-2021)

Relationship Status
Single
Profession
Basketball player
League
NBA
Position
Power Forward/ Small Forward
Team

New Orleans Pelicans (2021-Present)
Birmingham Squadron (2021-2022)

Jersey Number
25
NBA draft
2021, Round: 1, Pick: 17th Overall
(Selected by the Memphis Grizzlies)
Playing Career
2021-present
Net Worth
$3 Million
Social Media
Instagram, Twitter
Merch
Trading Card
Last Update
March 2023
Who Are Trey Murphy III's Parents?
Born on June 18, 2000, in Durham, North Carolina, Murphy III is the only child of his parents: Kenneth Murphy Jr and Albeda Murphy.
Trey's father is a former basketball player who played at East Carolina Pirates from 1986 to 1988.
He averaged 8.4 points, 4.3 rebounds, 2.1 assists & 1.1 steals through 57 games in two years.
It comes as no surprise that Murphy III caught basketball interest by the age of five & his father would coach him.
But often, at times, the player would find his father being hard on him whatsoever. Trey Murphy believed that all the strictness made him what he is today.
Both his parents are incredibly loving and supportive and come to show up every time for his gameplay.
All of his family members go by their own nickname. The American NBA player goes by the nickname "Trey," while his father & grandfather's nicknames are "Kenny" & "Ken," respectively.
Basketball Career In High School & College
While at high school at Cary Academy, Murphy III made a significant impression with his accuracy; 49.4 field-goal percentage,, 43.6 three-point field-goal percentage & 85.8% in free throws.
Then, Trey Murphy III committed to play at Rice University on October 4, 2017, where he spent his two seasons (2018-19 & 2019-20).
As a freshman, he scored a career-high 24 points, including five 3-pointers, in a game against UAB on January 26, 2019.
He finished the 2019-20 season (sophomore year) averaging 13.7 points per game (scoring double figures in 25 games).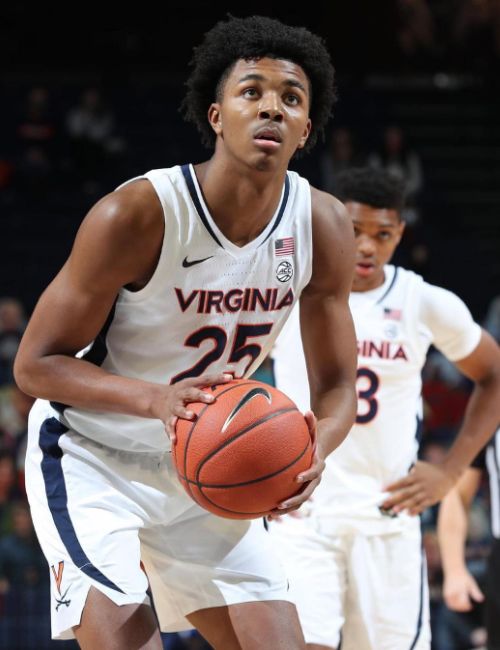 Trey then transferred to the University of Virginia with the help of his future teammate, native friend Justin McKoy.
As a junior at Virginia, he averaged 11.3 points per game (49 points) from 25 games, with 3.4 rebounds & 1.2 assists.
Then, he would forgo his senior year for the NBA Draft.
NBA Career
Trey Murphy III becme the 17th overall pick in the 2021 NBA Draft by Memphis Grizzlies, & was immediately traded to New Orleans Pelicans to join the latter's #11 pick Ziaire Williams.
He signed a rookie scale contract for four years with the Pelicans on August 10, 2021.
Murphy made his NBA debut on October 20, 2021 against the Philadelphia 76ers, scoring six points and dishing out two assists in a 117-97 loss.
On March 11, 2022, he scored a career-high 32 points, including seven three-pointers, nine rebounds, and two assists, in a 142-120 loss to the Charlotte Hornets.
Moreover, in his rookie season, Trey played in the 2022 NBA playoffs for the Pelicans, where they lost to Phoenix Suns in the first round.
In the 2022-23 NBA season, the American basketball player scored season-high 30 points on February 5, 2023, in a victory against Sacramento Kings.
Relationship & Social Media
Trey Murphy III is quite not open about his relationship and dating life compared to other NBA figures who are modest about their love life.
The New Orleans Pelican's power forward likes to keep his personal life low-key. He has not shed much light on his relationship profile.
The NBA star has more than over 67.4k followers on Instagram (@treymurphy) and 15k followers on Twitter (@treymurphy), where he keeps fans updated on his professional venture.
Though he does not share much about his personal life and details there.
View this post on Instagram
Mostly it features a glimpse of his games and training.
So, Trey is alleged to be single at the moment and has a strong emphasis on his NBA career.
Age, Height & Body Measurement
Murphy is currently 22 years old. His zodiac sign is Gemini, and he was born in the Dragon year according to the Chinese zodiac.
The NBA player has a towering height of 6 feet 9 inches (2.06 m) and weighs around 93 kg (206 lbs).
He has a standing reach of 8 feet 9.5 inches (2.67 m), a wingspan of 7 feet (2.13 m), a barefoot height of 6 feet 7.5 inches (2.01 m), and stands 6 feet 9.25 inches (2.05 m) in shoes, according to the NBA draft combine.
Net Worth & Salary From NBA Contracts
As of 2023, Trey Murphy III has an estimated net worth of $3 million. All this hefty sum came from his NBA contracts & endorsements.
Trey, the 2021 NBA Draft pick of the Memphis Grizzlies, was traded to the Pelicans immediately in exchange for Jonas Valanciunas, Brandon Boston Jr, Zaire Williams, and Jared Butler.
On August 10, 2021, the NBA small forward signed a four-year rookie contract with New York Knicks worth $14.78 million, with an average annual salary of $3.69 million.
In the 2021-22 season, he earned a base salary of $3.05 million and $3.32 million in the 2022-23 season.
On October 27, 2022, Murphy III agreed to exercise an option deal with the Pelicans for the 2023-24 season, which is worth $3.36 million.
By the end of his rookie deal, the NBA player will have career earnings of $14.779 million. According to Spotrac, he will become a restricted free agent in 2024 with a qualifying offer of $7.285 million.
Endorsement Deals
In October 2021, the NBA player confirmed via Twitter that he had signed with Nike, joining the 2021 rookie class players: Cade Cunningham, Scottie Barnes and Jonathan Kuminga.
Though the exact figure of the deal is not out, it could be somewhere in the six or seven-digit figures.
On his Instagram, Trey Murphy II has paid partnerships with Neato Robotics, e_man.2x (affiliated with Bleachers Report Kicks) and Bad Section.
Popularity
The below graph showcases the popularity of NBA player Trey Murphy III in the last 12 months across the U.S.
Frequently Asked Questions (FAQS)
Is Trey Murphy also an actor?
No, Trey Murphy III, who we are talking about in this article, is not an actor. The professional basketball player should not be confused with Trey Diaz Murphy, an American actor and singer.
What is Trey Murphy's jersey number?
Trey Murphy's jersey number is 25.
Did Trey play in the NBA-G league?
Yes, Trey played in the NBA-G league for Birmingham Squadron, which is affiliated with New Orleans Pelicans, during his rookie season.