Carlyne Graham is widely popular as the wife of an NFL player Brandon Graham. Besides her husband's fame, she has an impression of a dedicated social worker who served in Chicago before moving to Philadelphia.
The Loyola University graduate currently serves as the Director & Vice President of Team Graham which aims to provide opportunities to youths thriving for betterment.
Carlyne's husband, Brandon Graham, plays as a defensive end for the Philadelphia Eagles. As the round-one (13th overall) pick of the Eagles in the 2010 NFL Draft, Graham has played with the team ever since.
With a one-year extension, signed in 2021, with the Eagles, the Super Bowl LII champ remains committed to the team until the 2022-23 season unless a new deal arrives.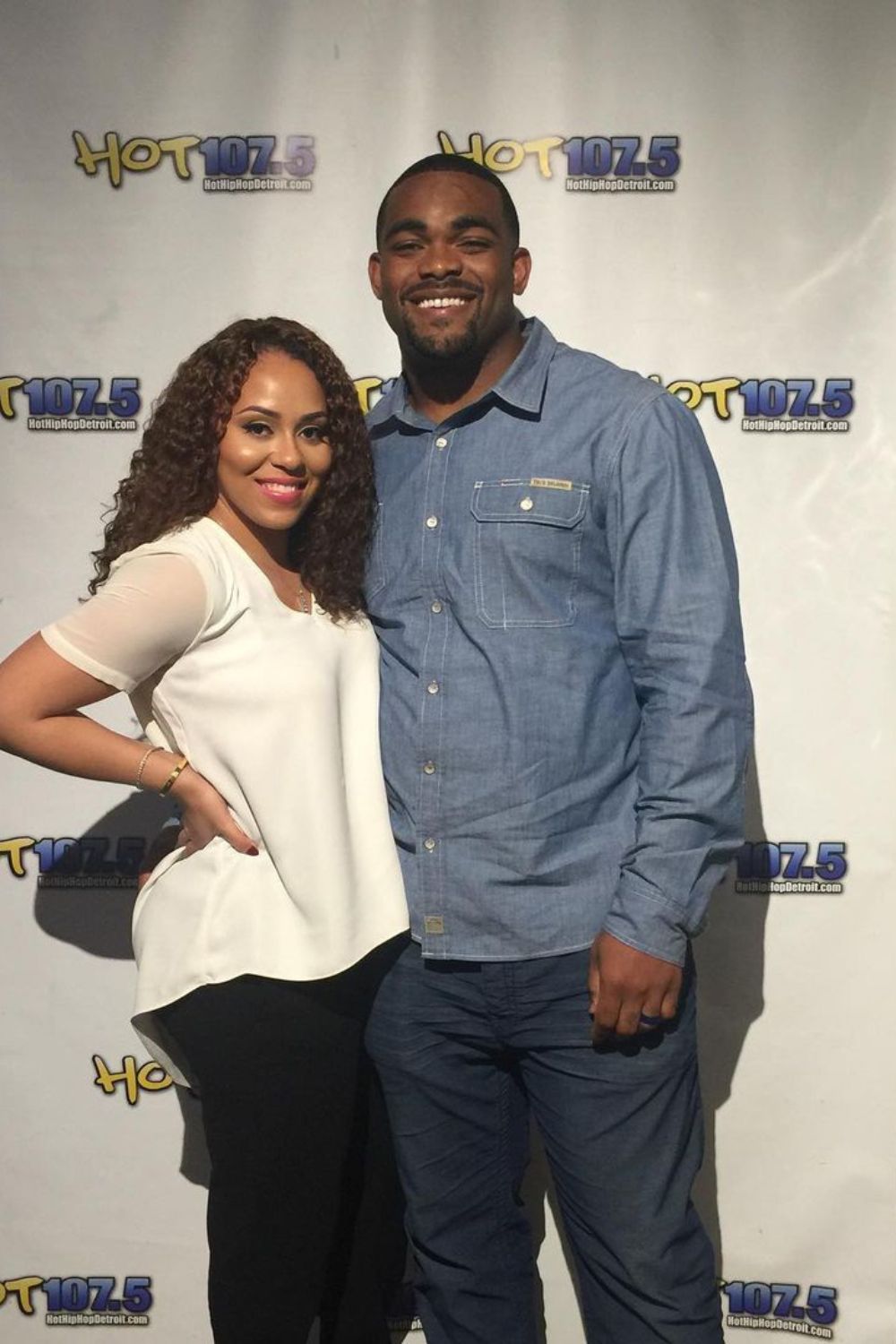 Brandon and Carlyne have been together for more than 20 years & enjoy nearly a decade-long marital relationship. The lovers since high school days are now parents of two adorable children.
Want to know more about Brandon Graham's wife, Carlyne & insights on her family, relationship, career & net worth? Get all your answers here.
Quick Facts
Full Name
Carlyne Ronetta Graham
Date of Birth
5th February 1986
Age
34 Years Old
Birth Place
Detriot, Michigan
Father's Name
Not Known
Mother's Name
Not Known
Education

Crockett Technical High School
Lane College
Loyola University

Famous As
Wife of NFL player Brandon Graham
Height
N/A
Weight
N/A
Profession
Social worker
Marital Status
Married
Husband
Brandon Graham
Marriage Year
2014
Children
Two (Emerson & Bryson)
Net Worth
Under Review
Merch (Of Husband Brandon)
Autographed Photo, Signed Eagles Helmet
Social Media
Instagram
Last Update
June 2023
Carlyne Graham | Early Life & Education
Born on February 5, 1986, Carlyne Ronetta Williams is from Detroit, Michigan. Nothing much about her family background is out, except she is an American with African-American heritage.
Carlyne went to Crockett Technical High School, where she met her future husband, Brandon.
After that, she enrolled at Lane College, a historically black college in Tennessee, from where she graduated with dual degrees in criminal justice and sociology in 2008.
Then, Graham chose Loyola University in Chicago to continue her education. From there, she obtained dual degrees in social work and child and family law in 2012.
Age, Height & Body Measurements
Carlyne Graham, 34 years old, is a fitness enthusiast and has a well-maintained body. Though the exact figure of her body measurement is still unknown.
A jerry curl black-haired & brown-eyed beauty, she could be anywhere between 5 feet 3 inches (1.6 m) to 5 feet 6 inches (1.67 m). Carlyne has a charming smile & a warm personality.
Her NFL player husband Brandon has a height of 6 feet 2 inches (1.88 m) and weighs 120 kg (265 lbs).
What Does Brandon Graham's Wife, Carlyne Graham, Do?
While at college, Carlyne completed basic army training at 17 years old & was enlisted in the army reserve for three years.
A graduate with a degree in social work, Mrs. Grraham loves to devote herself to serving the needy and helping humanity grow.
While in Chicago, she served in public non-profit & public sectors for several years before moving to Philadelphia. Carlyne Graham worked as a case manager (2008-12) and director of social services (2012-13), serving families in the Chicago area.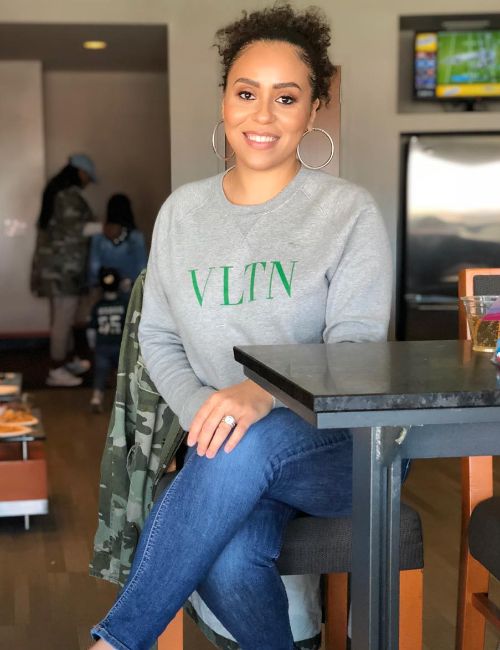 With her husband, Carlyne co-works on their project Team Graham, where she serves as director & vice president. The foundation aims to provide knowledge & compassion to youths to enhance their capabilities.
Moreover, she also runs Carla's Circle, whose goal is to empower young women in the Detriot area.
Both husband and wife were active during the time of COVID–19 to help the people who were suffering and in need.
Brandon Graham & Carlyne Graham | How Did They Meet?
The love story of Brandon & Carlyne started when they were teenagers & attended Crockett High School. The duo met in 2002 in high school and have been together ever since.
Upon graduation, Brandon Graham enrolled at the University of Michigan to pursue a collegiate career, while Carlyne went to Lane College.
Although separated by distance, the adoration between the two never flinched.
And after a decade of dating, the couple got engaged; the NFL player confirmed their engagement via an Instagram post on May 25, 2013, & wrote: "She said Yes!!"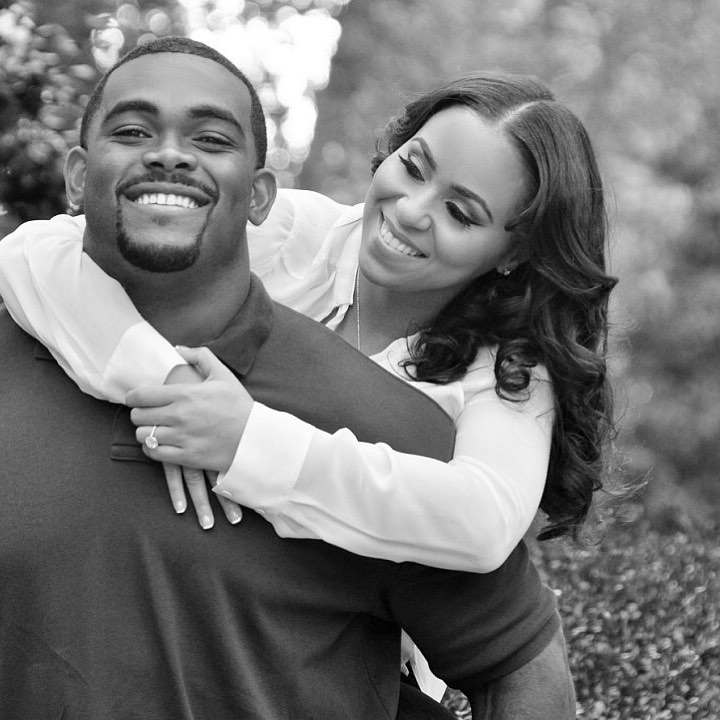 While on their outing in Detriot, Michigan, the NFL star took Carlyne to a hotel, followed by a small camera crew, which he told was for his football documentary.
And so, the proposal came in!
Often on their Instagram posts, they replenish their moment from the proposal.
Shortly after, the then-fiancees (now husband-wife) were into their wedding planning.
Wedding Bells!
Throughout the year of their engagement, the couple was on a countdown to their upcoming marriage.
During the 2014 offseason, Carlyne and Brandon married on May 24, 2014, in attendance of 300 guests.
The bride wore a white mermaid gown, while the groom walked down the aisle in a white tuxedo.
The couple is among the few NFL players who exchanged vows with their high school sweethearts.
Some of them include Philip Rivers & his wife, Tiffany Rivers; Patrick Mahomes & his wife, Brittany Matthews; and Joe Flacco & his wife, Dana Grady.
Carlyne Graham Is The Mother Of Two
Carlyne and Brandon are parents of two children together: a daughter & a son.
In October 2015, the duo confirmed their first pregnancy and later welcomed daughter Emerson Abigail Graham on February 4, 2016.
Then, they came up with the news of their second pregnancy in November 2018; Brandon shared the picture of the upcoming baby's sonography on his Instagram.
The couple welcomed their second child, son Bryson on March 5, 2019.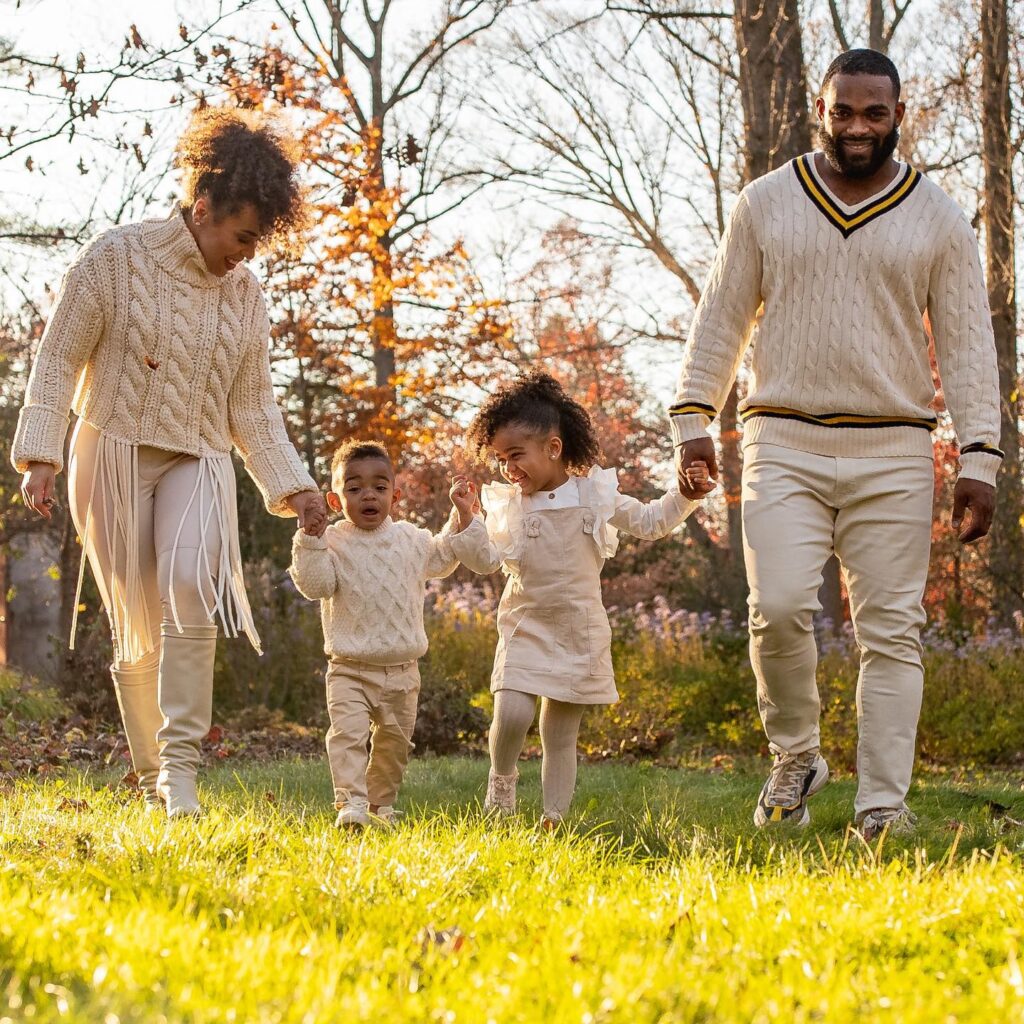 The family of four currently resides in Philadelphia. They own a cocker spaniel named Midnight.
On their respective social media account, Carlyne and Brandon feature their family moments & wish each other birthdays & anniversaries.
Brief About Husband Brandon Graham
Carlyne's husband, Brandon Graham (b. April 3, 1988), is an American football defensive end who plays for the NFL team Philadephia Eagles.
He is the son of Tasha Graham & Derrick Walton and has three younger
sisters: Brittany, Mikayla, and Brianna.
The Detriot, Michigan native became the round-one (13th overall) pick of the Eagles in the 2010 NFL Draft. Since then, Brandon has been playing for Philadelphia Eagles, his 13th NFL season in the 2022-23 season.
During the 2017 season, Graham helped the team win the franchise's first-ever Super Bowl in Super Bowl LII, where he forced a fumble on New England Patriots QB Tom Brady.
He was even named to the 2020 Pro Bowl.
View this post on Instagram
Brandon Graham completed high school at Crockett Vocational Tech, where he was a five-star prospect.
He was considered the #1 linebacker in the state of Michigan & played in the 2006 U.S. Army All-American Bowl.
Then, he enrolled at the University of Michigan (from 2006 to 2009). There, he became the First-team All-American in 2009 and Big Ten Most Valuable Player in 2009.
Carlyne Graham | Net Worth & Earnings
Carlyne is a social worker who gets occupied with community causes & raising her two children. As of now, she is the Director & Vice-President of Team Graham.
However, her exact net worth is not out; it is allegedly in the 6-digit figure.
Comparatively, her NFL payer husband Brandon Graham is a millionaire who owns a $32 million net worth as of June 2023.
The major source of his income is his NFL contract which offers him a lucrative salary.
Through 13 NFL seasons (including the 2022-23 season), Brandon records $88.755 million in career earnings.
Check out his contracts (all with the Eagles):
A five-year $16.908 million rookie contract (signed on July 29, 2010)
Inked a four-year extension worth $26 million on March 9, 2015 ($14 million guaranteed)
On March 1, 2019, Graham signed an extension worth $40 million with the Eagles for three years that ran through the 2021-22 season. It included a $12.5 million signing bonus & a guaranteed amount of $27 million.
For the 2022-23 season, his base salary was $1.15 million, and $6.25 million in restructured bonus- thanks to the one-year restructured contract of March 15, 2021, with the Eagles.
FAQs
Where did Carlyne Graham meet her husband, Brandon?
Carlyne and Brandon met in 2002 when they were attendants of Crockett High School. They married a decade later, in May 2014.
How many children does Carlyne have?
With her NFL star husband, Brandon Graham, Carlyne is the mother of two children: a daughter Emerson & a son Bryson.