Not many must be unfamiliar with the name and the game itself. We are talking about Brendam Lemieux, an ice hockey player for the New York Rangers of the National Hockey League (NHL).
He serves as a forward there. Lemieux outgrew his love for hockey since his high school days and turned his passion into a profession; he is a Silver Skater now.
He used to play hockey for the Barrie Colts in the junior year, and before that, he was a minor ice hockey player for the Lemieux Academy.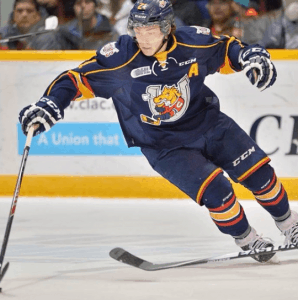 Lemieux was also a member of Canada's gold medal-winning under eighteen ice hockey team.
Later, Buffalo Sabres drafted him with the 31st pick in the second round of the NHL draft in 2014.
There are much more data and facts yet to be revealed about him. But for that, you have to keep scrolling down and read till the end.
And, first thing first, let's have a sneak peek into the quick facts about him, which are listed below.
Quick Facts:
| | |
| --- | --- |
| Full Name | Brendan Lemieux |
| Birth Date | March 15, 1996 |
| Birth Place | Denver, Colorado, U.S |
| Nick Name | Pepe |
| Religion | Not known |
| Nationality | American |
| Ethnicity | White |
| Education | Lemieux Academy in Phoenix |
| Horoscope | Pisces |
| Father's Name | Claude Lemieux |
| Mother's Name | Deborah Lemieux |
| Siblings | Claudia Lemieux, Christopher Lemieux, Michael Lemieux |
| Age | 27 Years Old |
| Height | 1.85 m (6 ft 1 inch) |
| Weight | 95 kg (209 lb) |
| Jersey No | 48 |
| Hair Color | Dark Brown |
| Eye Color | Hazel |
| Shoots | Left |
| Build | Athlete |
| Marital Status | Single |
| Girlfriend | Anna Chin |
| Position | Left-Wing |
| Profession | Ice-Hockey player |
| Career Earnings | $3,505,347 |
| Salary | nearly a cap hit of $1,550,000 |
| Currently Plays for | New York Rangers |
| League | NHL |
| Drafted year | 2014 |
| Current Team | New York Rangers |
| Former Team | Buffalo Sabres |
| Agent | Claude Lemieux |
| Active Since | 2016 |
| Social Media | Twitter, Instagram |
| Merch | Hockey Stick, Autographed items, T-shirts, Young Guns |
| Last Update | May, 2023 |
When was Brendan Lemieux born? Early Life & Family
Brendan Lemieux stepped into this world on March 15, 1996, to his parents, Claude Lemieux and Deborah Lemieux.
His father, Claude, is a former professional ice hockey player.
He played for different squads in his career and got retired on July 8, 2009. As for his siblings, Brendan has two brothers from his father's first marriage and a younger sister.
During his birth, Claude was working with the Colorado Avalanche in Denver. Thus, he grew up in Denver alongside his siblings.
Following his father's assignment, Lemieux also got to explore Phoenix and Dallas. Lemieux went on to attend Lemieux Academy in Phoenix and played junior age-level ice hockey.
Further, he got enrolled in the Quebec International Pee-Wee Hockey Tournaments, an event that takes place annually in Quebec city consecutively in 2008 and 2009.
And that was a sign of an early start to his career.
How old is Brendan Lemieux? Age, Height, and Body Measurements
Born on March 15, 1996, Brendan is 25 years old in writing. Also, he falls under the horoscope Pisces.
He is very prudent and hard-working and likes to carve his own path, similar to Pisces.
Besides that, Brendan likes to keep himself fit, like a macho man. He stands at the height of 6 feet 1 inch and weighs around 95 kg.
His height and weight are approximately fit for playing ice hockey.
Moreover, Brendan has always remained a health-conscious man; he likes fitness to look good and feel good.
Brendan Lemieux | Junior Year
Moving on to his junior year of high school, he really escalated his hockey skills.
Lemieux teamed up with the Barrie Colts, the junior ice hockey team, and took part in the Ontario hockey league for 2012-13.
Initially, he was in a nexus with the Green Bay Gamblers in the USHL for 2012. He was provided with multiple opportunities.
To underline, he was in the gold-winning under eighteen ice hockey team and was hired to spot at CHL/NHL Top Prospects Game.
What more can a player from a junior year ask for?
NHL- Draft 2014
The Buffalo Sabres drafted him with the 31st pick in the second round of the 2014 NHL Entry Draft.
But the Sabres waived Lemieux to the Winnipeg Jets alongside Tyler Myers, Joel Armia, Drew Stafford in February 2015 as a replacement to Evander Kane, Zach Bogosian, and Jason Kasdorf.
After some time, it was disclosed that Lemieux insisted that the Sabres trade him to the Jets on a three-year contract.
In the meantime, he also joined the Windsor Spitfires for Anthony Stefano. He scored 34 goals and 62 points for the Spitfires for the 2015-16 season.
Read about another Ice Hockey Player, Chris Kunitz Bio: Age, Family, Wife, Career & Net Worth
Brendan Lemieux| Professional Career
Lemieux was drafted in 2014 but made an official start as a player during the 2015-1016 year. He played for the Jets in five games.
He joined the Manitoba Moose, where he appeared in 61 games and scored 12 goals and seven assists for 19 points.
Lemieux was still striving hard for an official debut in NHL properly, which took place in October 2017 when the Jets asked him to play against the Minnesota Wild.
However, his first win was on October 29 against Pittsburgh Penguins, knocking out Tyler Myers.
Brendan kept playing for the jets until they waived him to New York Rangers in February 2019. And with the team, he won against Montreal Canadiens.
A little conspiracy held that Brendan was suspended from the Stanley Cup games as per hitting on Joonas Donskoi.
Following that, Lemieux and New York Rangers settled on a two-year contract, avoiding arbitration on November 6, 2020.
Besides all of these, Tyler Peacham regards him as the cliche player from the CHL Top Prospects Game.
Brendan is one of the best ultimate scorers on the team. He has the capacity of both to handle things with ease, and on the contrary, he can give you massive trouble.
You may go furious and loving about him at the same time.
Check out the video of Brendan Lemieux's block shot, getting up and stumbling around in pain and then blocking the 2nd shot again.
Brendan Lemieux | Career Stats
Season
Team
Regular Season
Playoff
Lge
GP
G
A
PTs
PIM
+/-
GP
G
A
Pts
PIM
2012-2013
Green Bay Gamblers
USHL
11
1
1
2
34
-2
—
—
—
—
—
2012-2013
Barrie Colts
OHL
42
6
8
14
52
2
21
2
0
2
36
2013-2014
Barrie Colts
OHL
65
27
26
53
145
-7
11
7
3
10
16
2014-2015
Barrie Colts
OHL
57
41
19
60
145
-9
5
1
2
3
12
2015-2016
Barrie Colts
OHL
11
9
5
14
28
-1
—
—
—
—
—
2015-2016
Windsor Spitfires
OHL
34
23
25
48
37
20
3
4
1
5
13
2015-2016
Manitoba Moose
AHL
5
2
1
3
6
1
—
—
—
—
—
2016-2017
Manitoba Moose
AHL
61
12
7
19
130
-16
—
—
—
—
—
2017-2018
Manitoba Moose
AHL
51
19
24
43
170
10
8
3
2
5
22
2017-2018
Winnipeg Jets
NHL
9
1
0
1
21
2
—
—
—
—
—
2018-2019
Winnipeg Jets
NHL
44
9
2
11
64
10
—
—
—
—
—
2018-2019
New York Rangers
NHL
19
3
3
6
44
-4
—
—
—
—
—
2019-2020
New York Rangers
NHL
59
6
12
18
111
-14
1
0
0
0
0
2020-2021
New York Rangers
NHL
29
2
4
6
52
-1
NHL Totals
160
21
21
42
292
1
0
0
0
0
Does Brendan Lemieux have a girlfriend? Personal Life & Girlfriend
For Brendan's fans out there, who must be wondering who is his girlfriend? Is he married yet or still single?
So, here is a straightforward answer to all your questions. Brendan is not a married man.
But as per reports, he is rumored to be in a romantic yet secret relationship with his long-time girlfriend, Anna Chin.
We call it a secret relationship because he has not really dictated his relationship with his girlfriend officially in the media.
Brendan has not even updated pictures with his girlfriend on any social networking site.
Maybe, they have the patience for the right time, and they will let it out when they feel like it.
But for now, he must be focusing on his games and intend to establish himself as one of the NHL's prominent players.
Besides his love life, Brendan also keeps an interest in traveling, outing, holidaying, and adventures.
He likes hanging out with his friends and family in his free time. He is a fun-loving and thrilling person.
Brendon Lemieux | Achievement and Awards
Brendon won the CHL/NHL Top Prospects Game award in 2014.
He, with the Colts, won the Ivan Hlinka Memorial Tournament in 2013.
Also, you may be interested in reading <<Evgeny Svechnikov Bio: Ice Hockey Career, Net Worth & Wiki>>
Brendon Lemieux | Trivia
Brendon was ranked 34 by ISS Hockey in the 2014 NHL Entry Draft.
He was ranked 37 by Future Considerations in the 2014 NHL Entry Draft,
Brendon was ranked 50 by McKeen's Hockey.
Brendon Lemieux | Net Worth & Salary
Brendan is somehow trying to follow in his father's footsteps. He is still on the verge of conquering different titles in his name.
"Brendan Lemieux is rumored to have a net worth of an estimated $3 million as of 2021."
As per reports, Brendan has inked a contract with New York Rangers on November 6, 2020, worth $3.1 million. That's a huge amount for someone starting so young in this field.
Moreover, he has been adding $15,50,000 as his annual base salary to his bank account.
He used to earn $2,97,847 as a salary from his team Winnipeg Jets, in 2017. Thus, we can calculate his growth from two lakhs to fifteen.
The amount in the figure says it all. Besides that, Brendon owns a collection of branded cars that includes Chevrolet, Ford, and others as well.
However, we are not so sure about the information at his house. The research about his house is still in progress.
Looking at his lavish lifestyle and after taking a sneak peek into his Instagram account, we can conclude that he is living a healthy and wealthy life.
Also, he must be adding a decent increment to his net worth.
Social Media Presence:
Talking about his social media presence, Brendam seems to be a moderate person. He is equally available on Instagram and Twitter.
He is a sorted person and does not like much goofing. Likewise, he has always stayed apart from controversies and does not tend to fall much in the limelight.
But yes, he keeps giving us a glimpse of his life, no matter whether he is strolling out, up for an adventure with friends, or on a tournament against competitors. He keeps giving an update.
Brendan has a pretty good amount of followers on his Twitter and Instagram handles. Follow him to know him more.
Instagram: 42.9k followers
Twitter:17.2k followers
You might also enjoy reading <<Mika Zibanejad Bio: Ice Hockey, NHL, Family, Net Worth, & Wiki>>
Some FAQs:
Is Brendan Lemieux related to Mario Lemieux?
The answer is No. They just share the same surname. Besides that, Mario Lemieux has remained an ice hockey player for seventeen seasons in NHL.
He has four children, whereas Brendan is an unmarried guy to talk about private life and just began his career in 2016.
And also, Brendan is the son of a professional ice hockey player, Claude Lemieux.
Does Brendan Lemieux play for New York Rangers?
The answer is yes. Brendan had recently signed a deal worth $3.1 million for two years on November 6, 2020. He serves as a Left Wing for the Rangers in NHL.
What happened between Brendan Lemieux and Trent Frederic?
Brendan and Trent went toe-to-toe, dropping the gloves for a great fight in the game between the Boston Bruins and New York Rangers at Madison Square Garden on February 26, 2021.
Did Brendan Lemieux hit on Cody Glass?
Brendan Lemieux hit Cody Glass during NHL Game No. 466 in Las Vegas on Dec. 8, 2019. Likewise, he was also fined $2,000.00 by NHL for elbowing Cody.
Lemieux hit Cody with a little over three minutes left in the second period. Glass got dazed by the hit and had to leave the play with assistance.
Did Brendan Lemieux and Nick Ritchie fight?
On Feb 28, 2021, Brendan and Nick dropped the gloves and started to fight at the end of the game.
The game was between the Boston Bruins and New York Rangers. Watch the full fight between Nick Ritchie and Brendan Lemieux here!
Did Brendan Lemieux speak french?
Brendan Lemieux speaks very little french. Lemieux mentioned in one of his interviews saying,
"I speak very, very little French, but I understand a few words, especially the bad ones."
Is Brendan Lemieux injured?
Brendan suffered a lower-body injury while blocking a pair of P.K. Subban shots in the game against New Jersey Devils.