Brent Venables is an American football coach and currently works as the Oklahoma Sooners' head coach. He signed a six-year contract worth $43.5 million, with the Sooners keeping him with the team until January 2028.
A good coach can mold you into the most fantastic version of yourself. Brent Venables is a good coach who has been in the football industry, mentoring and teaching for years.
There are examples when someone with potential loses their path and is brought to the right track by their mentor.
Everyone in every field requires a teacher. Our holy books rightfully illustrate the importance of guidance in life.
Thomas Brent Venables has mentored a lot of football players. He leaves a little bit of himself to every trainee seeking help.
Venables served as a defensive coordinator for the Clemson Tigers Football team. He has also worked for the University of Oklahoma and Kansas State University.
His current team, Oklahoma Sooners will meet Florida State in the 2022 Cheez-It Bowl on December 29, 2022.
Now, we will dive deep into the personal and professional life of Brent Venables. Let's get started!
Brent Venables |
Quick Facts
Full name

Thomas Brent Venables

Birthdate

December 18, 1970

Birthplace

Homestead, Florida, United States

Religion

Christian

Nationality

American

Horoscope

Sagittarius

Father's name

Ron Venables

Mother's name

Nancy Schumaker

Maternal Grandfather

Arthur Ferber

Siblings

Two brothers

Brother's name

Arthur Kirkpatrick Venables

Age
52 Years Old
Height

6'1″/1.85 m/ 185 cm

Weight

72 kg/158 lb.

Hair Color

Dark Brown

Eye Color

Light Brown

Married or not

Married

Spouse

Julie Venables

Children

Four (Jake Venables,

Tyler Venables, and two daughters)

Profession

Football Coach

Current affiliation

Clemson Tigers football

Position

Defensive Coordinator

Former Affiliations
University of Oklahoma


Kansas State University

Awards and Honors
BCS National Champion (2000)
CFP National Champion (2016, 2018)


Broyles Award (2016)

Net worth
$2 million
Social Media Presence
Twitter
Last Update
November, 2023
Brent Venables | Early Life And Family
Brent Venables was born on December 18, 1970, in Homestead, Florida, United States. He was born to his father, Ron Venables, and his mother, Nancy Schumaker.
He had two elder brothers: Arthur Kirkpatrick Venables and Ken.
His father, Ron Venables, was a fighter pilot. He worked in the Air Force. His parents had to split when Brent was just two.
Brent says they got separated because his father no longer wanted to stay married.
His mother, Nancy Schumaker, grew up in a powerful catholic family. All of her siblings went to good colleges and studied really hard. Nancy, on the other hand, turned out to be a really rebellious one.
She wanted to get married, hence tied the knot with Ron. The separation happened, and Nancy ended up not having anywhere to go to.
The Air Force then sent her and her three sons to Salina, Kansas. Brent's maternal grandparents lived in Lincoln, Nebraska. It took about four hours' drive for them to each other.
He bought a house for Nancy and her children on 703 Marvin Ave.
You Might Be Interested In Reading Seth Greenberg Bio: Coaching Career, Virginia Techs, Family, & Wiki>>
The Hardships
Brent's mother then started searching for a job. She had three little boys to look after. Her younger one, Brent Venables, was just three then.
She chose a few odd jobs for the sake of money to survive. Brent refers to his mother as a supremely hard-working woman.
She is the one who taught ethics, the importance of hard work, and the necessity of consistency to Brent.
Brent didn't have a childhood full of sunshine and riches. His mother struggled every day, and he didn't even have the consciousness to see her hardship then.
Nancy initially denied taking financial assistance from her parents but had to because she carried three little boys' responsibilities.
Nancy raised her children with $800 sent by Brent's grandfather, a little amount earned by Nancy, and another $400 sent by Brent's father.
She did everything and anything to give the best life to her boys.
She worked at a farm, soda fountain, as a secretary, pop shop, housepainter, and whatnot. The mother of three did full-time and part times.
More Hardships
Brent saw his mother suffer not just in terms of finance but also in terms of abuse. Growing up, he had four stepfathers.
His first stepfather, Cecil, was a very short-tempered man. Brent saw his mother facing massive domestic violence.
He and his brothers were not old enough to know what was actually happening. He could see their mother suffer.
Brent's second stepfather, Jack, was equally abusive. He had a drinking problem and would hit Nancy mercilessly.
Brent remembers not liking all the abuse and assault. They did not have to worry about the bills, which was a relief.
Jack owned a drywall company. He brought financial stability for the first time to Brent's household. Brent describes himself as a very naïve and less smart child.
His elder brothers became the victim of Jack's anger, but Brent escaped due to his naivety.
The marriage ended after a long seven years. There was a legit gun accident at the house. Brent was too young to understand the scenario. Moreover, he was asleep at the time of the incident.
He remembers waking up the other morning and not having to see Jack. One of his elder brothers showed him a hole in the floor. It must have occurred when Jack threatened his mother and pulled the trigger.
Brent used to beg his mother to get rid of that maniac. She never had the heart to do it but finally initiated it after the gun incident.
Getting rid of Jack was not that easy. He threatened to kill Brent's mother. She had to hide safely for the next few days while leaving the boys with a friend.
The Endless Sorrow
Nancy married again. Brent's third stepfather was Jim. His mother never had good luck with men.
Jim was a heavy drinker but had a full-time job. Moreover, he also turned out to be a verbal abuser. The family had to face the same old problems again.
Brent's eldest brother, Kirk Venables, was old enough to understand things by this time. He developed a feeling of resentment. He chose not to stay around the family.
Venables further developed the idea that their mother chose Jim and herself over the boys. However, Nancy consoled herself, saying how lonely and miserable she was.
Their mother never let them stay behind in any field. The family had endless problems, but Nancy still managed everything for her boys, from vacations and field trips to clothes and movies.
Brent always hoped for his dysfunctional family to get better. But it never did.
You Can Give Read To This Article On Bill Belichick Bio – Early Life, Coaching Career & Net Worth>>
A Little About Little Brent
Brent played varsity football in his freshman year of high school. He was 6 foot and 190 pounds as a freshman.
His brothers, Kirk and Ken, were excellent footballers. Kirk was in his senior year, Ken was in his sophomore year, and Brent got into his freshman year.
The three brothers played together for a brief period. Brent believes that sports were such a big part of his life while he grew up. However, He liked baseball compared to other sports.
There were few baseball teams, but they charged heavily, which Brent's family could not afford then. His mother also insisted on soccer. At this point, Brent started dedicating his time to football.
Kirk, the elder one, got into alcoholism due to whatever he had faced and the resentment he had developed. Ken ended up in the Navy. He was the relatively stable brother at that point.
Brent Venables | Amateur Playing Career And Education
Brent Venables went to Garden City Community College on a football scholarship. He played football for them for years.
He then received a couple of scholarship offers from Division I-AA schools. His coaches at Garden City suggested he take the money and take advantage of those opportunities.
But Brent, in his mind, knew that he would earn a scholarship at Kansas State. He played for Coach Stoops and Coach Jim Leavitt for a semester. He then received the scholarship.
His team went 7-4 that first year. They also had two wins over I-AA teams, so they could not go to a bowl game.
His football eligibility expired while he still had a semester left at Kansas State. He was a political science major. Hence, he made plans to join law schools and become a general practice lawyer.
Meanwhile, he was offered to be a student assistant for football last semester. He agreed and received a taste of coaching. He was at every practice and went to games.
The semester came to an end, and he got afraid of imagining life without football. He was then offered a graduate assistant position.
There has been no going back since then. Brent Venables loves what he does.
Brent Venables | Coaching Career
Oklahoma
Venables served as a coach at the University of Oklahoma from 1999 to 2011. He was in the position of associate head coach, defensive coordinator, and linebacker. Bob Stoops was the head coach.
It was not the first time partnership or working together for Venables and Stoops. They had previously worked together at Kansas State. Moreover, Stoops brought Venables to Oklahoma.
Venables coached the Linebackers from 1996-1998. He was also the Defensive Run Game Coordinator in 1998. He had served as a Graduate Assistant earlier, from 1993-1995.
Brent Venables was one of five finalists for the Broyles Award for the nation's top assistant coach in 2006.
The team announced that Mike Stoops would return to Oklahoma to resume the defensive coordinator position in January 2012. He held the position until 2004.
Clemson
Venables then accepted the position of defensive coordinator at Clemson. Reports expected his salary at Clemson to be between $750,000 and $1 million.
Many believed that controversy caused Venables to leave Oklahoma and join Clemson. However, the coach has never commented on those rumors.
Nevertheless, Brent thrived with the Clemson Tigers and was praised for his exceptional defensive philosophy. They were included in the top 25 in Defensive Efficiency and finished in first place twice.
Further, it is reported that Venables would be a candidate for the head coaching position at several schools, including Miami, Kansas, Arkansas, Kansas State, Clemson, and Texas Tech.
Venables won the 2016 Broyles Award for the nation's top assistant coach on December 6, 2016.
Clemson Diehards reported that Venables was the second-highest-paid assistant football coach in college football on December 6, 2017.
He was said to receive a whopping $1.7 million from Clemson. Dave Aranda of Louisiana State University was the only coach to receive more money. He was said to earn $1.8 million.
Clemson football defensive coordinator Brent Venables is probably the most reliable in the nation, but that detail clearly doesn't reign true with every Tiger fan. As, there were times when few Clemson football fans had apparently given up on Brent Venables.
Further,
Notwithstanding the Clemson football team ending the 2020 season with one of the nation's top defenses, many Tiger fans believe the unit is no more the same and is parted.
At the initial position, assessing the defense based on the Ohio State game alone is not fair. Ryan Day had clearly schemed for months on what he would do if the Buckeyes saw Clemson over.
That being said, we can still accept that there is a problem, but the response is offbeat.
There's no doubt the Clemson football defense wasn't as dominant in 2020 as in years past, but to give up on Brent Venables seemed like a mistake. Therefore, the team didn't accept the decision, and soon the violent fans went offbeat.
Second Stint At Oklahoma
Brent was again appointed as the 23rd head coach at the University of Oklahoma on December 5, 2021, after the departure of Lincoln Riley. Riley went on to take on the position of head coach at the University of Southern California.
The 2022 Oklahoma season was not as most Sooner fans would have wanted. After hiring Venables, the offense was exciting, fast, and explosive but inconsistent.
However, their defense was worrisome; they played bad football compared to what Sooner fans were used to witnessing from an Oklahoma defense.
Oklahoma Sooners will play against Florida State Seminoles in the 2022 Cheez-It Bowl on December 29, 2022. In an interview, Venables confirmed that the players who either declared for NFL Draft or accepted invitations to Senior Bowl will not play the games against Florida.
Brent Venables | Net Worth
Venables is among the highest-earning people in the business he is into. He has seen a lot in life and still manages to stay stable and motivated. This hard-working man deserves every bit of success.
Brent Venables' net worth is estimated to be around $2 million.
Thomas signed a six-year contract with Oklahoma worth $43.5 million. The Sooners' head coach is set to make $7 million in his first year, and annual compensation increasing by $100,000 each year until his contract terminates on January 31, 2028.
He will also earn $400,000 for winning a national championship and other additional bonuses too.
Brent Venables | Wedding, Wife, And Children
Brent Venables is married to Julie Venables. The couple looks astonishing together.
They have two sons: Jake Venables and Tyler Venables. Both of Brent's sons play at Kansas. The couple also has two daughters.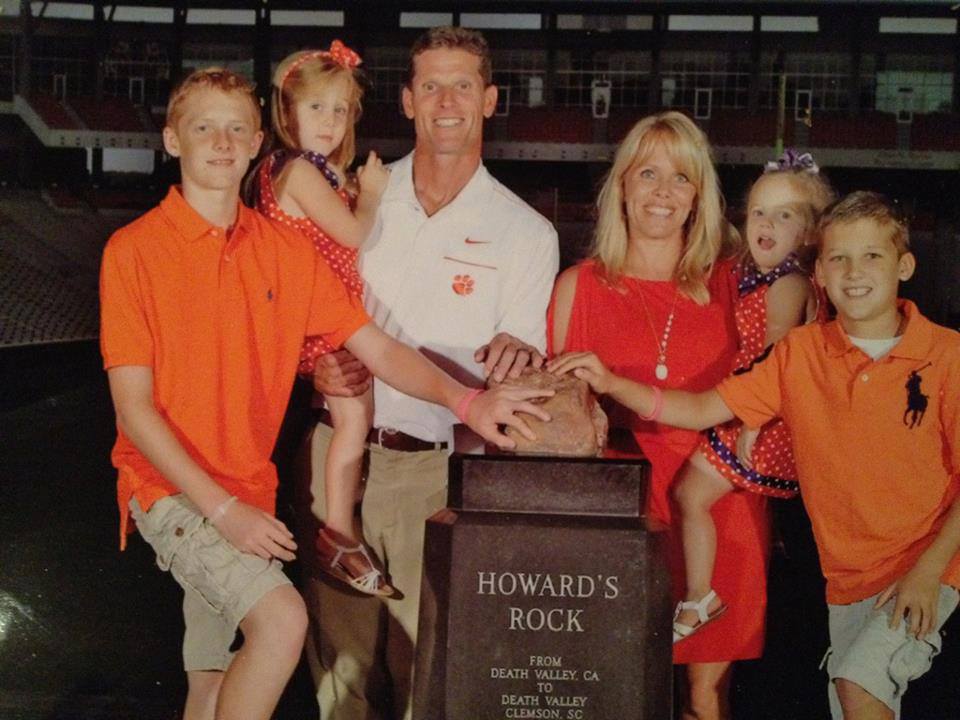 Thomas finally has the peaceful and normal family that he always wished for.
Brent Venables | Social Media Presence
Brent Venables is very active on his social media handles. He frequently posts on his social media. Venables can be found on Twitter under the handle @CoachVenables.
Twitter: 70.5k followers
TEAM 128⏳There's Only ☝🏾⭕️U #OUDNA #ChampionshipStrain #EmbraceTheCHASE

OUDNA All-Access with OU Football – Episode 2 – Real Brotherhood https://t.co/Imbo8KzDVf via @YouTube

— Brent Venables (@CoachVenables) September 1, 2022
Brent Venables | Popularity
Oklahoma's head coach is quite a popular face among college football fans.
The above image gives information about the popularity of Brent in the U.S. over a year.
Brent Venables | FAQs
What's between Brent Venables and Jeff Lebby?
According to the sources, Brent Venables has verbally agreed to stand as the next head coach of the Sooners. In the meantime, he is said to be targeting Jeff Lebby as his offensive coordinator.
Has Brent Venables had a heart attack?
No, the Sooners' coach is as healthy as he could ever be.
How many national championships does Brent Venables have?
The coach has three national championship titles under his name, winning championships with Sooners in 2000 and Tigers in 2016 and 2018.
You Can Also Read About Sterling Sharpe's Bio: Career, Family, Injury, Net Worth & Wiki>>