Cameron Jerrell Newton is an American football quarterback who played with the Carolina Panthers of the National Football League (NFL) for 11 seasons and is currently a free agent.
Cam Newton has gained a huge fan following and honors, alongside which he also has an impressive net worth of $75 million as of 2023.
Since his debut, Newton has had a huge effect on the field. He also stands as the NFL leader in rushing touchdowns by quarterbacks with 70 touchdowns.
Newton is one of the four African-American quarterbacks to win the NFL MVP.
Besides, he was named to the Pro Bowl three times, First-team All-Pro one time, NFL Offensive Player of the Year, and NFL Offensive Rookie of the Year.
At present, Newton has NFL career statistics of 5,628 yards, 75 touchdowns in rushing and 32,382 yards, and 194 touchdowns in passing.
On February 3, 2023, after the NFL posted a graphic honoring Black quarterbacks, the netizens bashed NFL for not featuring Cam Newton in that photo.
In this article, we will be looking into his net worth, investments, and assets. But first, let's look at the quick facts table;
Quick Facts
Full Name
Cameron Jerrell Newton
Date of Birth
May 11, 1989
Birth Place
Atlanta, Georgia
Nick Name
Super Cam
Religion
Christianity
Nationality
American
Ethnicity
African-American
Zodiac Sign
Taurus
Age
34 years old
Height
6'5″/1.96 m/196 cm
Weight
111 kg/245 lb.
Hair Color
Black
Eye Color
Black
Build
Athletic
Father's Name
Cecil Newton Sr.
Mother's Name
Jackie Newton
Siblings
Two Brothers, Cecil Newton Jr. and Caylin Newton
Education
Westlake High School
University of Florida
Blinn College-Brenham Campus
Auburn University
Marital Status
Single
Ex-girlfriend
Kia Proctor
Kids
7 Children
Profession
Football player
Position
Quarterback
NFL Draft Year
2011
Affiliations
Carolina Panthers
New England Patriots
Active Years
2011-Present
Career Completion Percentage
59.9%
Net Worth
$75 million
Social Media
Instagram, Twitter, YouTube
Merch
MVP Card, Signed Merch
Last Update
November 2023
Where Do Cam Newton's Earnings Come From?
As of 2023, Cam Newton has a staggering net worth of $75 million and has been featured in Forbes' Highest-Paid Athlete list repeatedly.
Contract
Cam Newton was drafted by Carolina Panthers as the 1st overall pick in the 2011 NFL Draft. He signed a four-year/$22 million rookie contract with the Panthers.
Following it, his next deal amounted to $103.8 million over 5 years. On March 24, 2020, he was released by the Panthers. Later, the quarterback signed a year-long deal worth $1.75 with the Patriots.
The following year, he signed a contract extension with the Patriots worth $5.1 million but was later released.
After being released by the Patriots, he signed a 1-year/$6 million contract with the Panthers.
His per-game active bonus was $187,235, while his incentive for playoff games was $8.5 million.
As per his contract, with each playoff win, Newton gets $500,000, and a Super Bowl win brings him $1.5 million. And for being the Super Bowl MVP, he earns $1 million.
Brand Endorsements
Cam Newton is a huge brand endorser and has many deals and sponsorship under his name.
Gatorade
In February 2012, Cam Newton signed a multiyear brand endorsement deal with Gatorade.
Alongside appearing in their commercials and advertisements, Newton also contributed to the awareness of the importance of sports nutrition and worked with the leading scientists from the Gatorade Sports Science Institute (GSSI).
Under Armor
Cam signed the largest shoe deal ever for a rookie before he was drafted in 2011. In fact, he was one of Under Armour's top-paid football stars, earning $11 million just from endorsements.
He also gained royalty for every pair of shoes (UA Highlight cleats) that was sold.
Dannon
Newton had an endorsement deal with the Greek yogurt company Dannon from 2015 to 2017.
He pitched for their Oikos Greek yogurt and renewed his contract after he bagged the MVP title.
However, they cut all his commercials and advertisement after he aroused a sexist statement in an interview.
"We are shocked and disheartened at the behavior and comments of Cam Newton towards Jourdan Rodrigue, which we perceive as sexist and disparaging to all women. We have shared our concerns with Cam and will no longer work with him." – Michael Neuwirth (senior director of external communications for Dannon)
Belk
Cam Newton had also worked in partnership with the Charlotte retailer Belk and started a clothing line for men named MADE by Cam Newton.
His product had a huge line of outfits ranging from casual wear to formal wear.
Investments & Other Ventures
Apart from those brands, Cam Newton also signed endorsement deals with brands like Carolina Health Systems, Buick, Beats by Dre, and many more.
He has invested $3 million in Apparis and $41.2 million in the Ultimate Fighting Championship.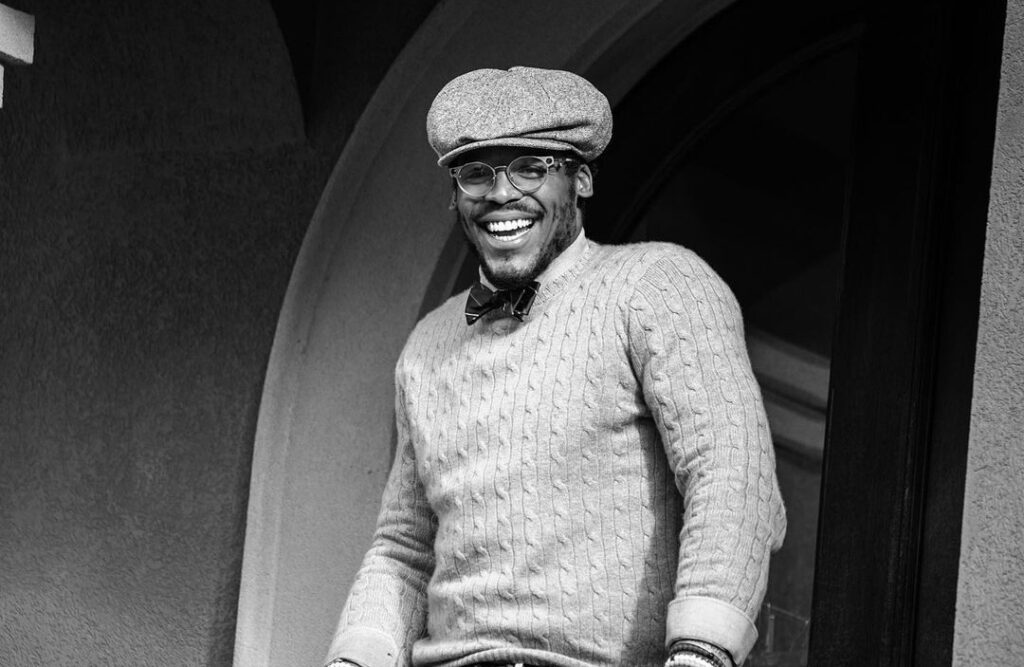 The former Panthers quarterback has hosted a reality TV series called 'All in With Cam Newton.' This show depicted Newton helping kids get close to accomplishing their dreams.
This show premiered on June 6, 2016, and consists of twenty episodes in total.
Cigar Lounge, Fellaship
In May 2019, Newton launched his cigar lounge in his hometown, Atlanta, called Fellaship. It is located near the Mercedes-Benz Stadium.
It is created with an elegant Prohibition Era theme but with a modern twist. Moreover, the lounge also serves exotic cocktails like an Old Fashioned, SideCar, and Passion Fruit Mojito.
Besides, they have meal choices like barbacoa tacos, crispy sesame shrimp, prime rib, or seafood pasta. This place, indeed, portrays Newton's love for cigars.
Lifestyle
Newton leads a lavish and active life. As per Cam, he is a Christian and often speaks about his faith. Back in the day, he also stood to speak his faith in the 2011 BCS National Championship Game.
Workout Routine & Diet Plan
When it comes to Newton's workout, he is quite thorough. As a basic fact, he relies on core circuits, light conditioning, flexibility training, and mobility.
Also, his coaches, Jason Benguche and Joe Kenn assist him with his training.
Moving on to his diet, Newton used to be a self-proclaimed pescatarian. However, he has been a vegan since 2019.
In a day, he eats oatmeal for breakfast, pickles, meat-free burgers for lunch, and salad and potatoes for dinner.
Also, he consumes plenty of vegan juice, smoothies, and protein shakes.
Condo In Charlotte
Cam Newton first put his condo for sale in 2019 for $3.2 million, which he bought in 2012 for $1.6 million.
Later, the price dropped to $3 million and eventually reached $2.9 million.
It featured a 3,335-square-foot area, including three bedrooms, three and a half bathrooms, and a 315-square-foot enclosed balcony.
It also consisted of a personalized Pepsi vending machine and a kitchen with new high-end gadgets as a unique factor.
Beverly Hills Mansion
In 2016, Cam Newton rented a mansion in Beverly Hills for two months. During his stay here, Newton caused damage of over $90,000.
As for the compensation, the owner, Jared Pobre, sued Newton for $270,000, including $180,000 in lost rent.
The Beverly Hills property, designed by Los Angeles-based architect James Schmidt, comprised five bedrooms, a small yard, an infinity pool, and a dual-sided see-through fireplace.
Internally, this mansion is decorated with marble, white terrazzo floors, and French oak floors in the bedrooms.
Customized 1970 Oldman 442 Cutlass
Cam Newton has a 1970 Oldman 442 Cutlass car which he customized later in 2016 with 24-karat gold plating. The interior of the vehicle was done with Alcantara with gold stitching in a diamond pattern.
The front grill of the car portrays the C1N logo and a Panther's head. He added new carpets, a steering wheel, a stereo system, and a rebuilt tank.
Other Cars
Apart from it, Cam Newton also owns five other luxury cars, which are Corvette, Chevrolet, Cadillac, Audi, and Range Rover.
Help & Charity
Besides huge earnings, Cam Newton makes equally huge contributions to society. He had donated more than $130,000 to various organizations and schools.
Additionally, he has also provided free Under Armour backpacks to local kids. Often, he visits local shelters and distributes food, and signs autographs for his fans.
Newton also donated $15,000 to Phillip O. Berry High School for their athletic department.
The former Panthers quarterback stood forward to donate $100 gift cards to the staff at Westerly Hills Elementary and $25,000 to the Urban Promise Charlotte After-School and Summer Camp.
In 2019, Newton won the 2019 Walter Payton Man of the Year Charity Challenge and received $25,000 for the charity of his choice.
Cam Newton Foundation
Newton launched his line of charity services under the name Cam Newton Foundation in 2012. Basically, it aims to support strategic programs, events, and partnerships.
The foundation's three pillars of focus are: EVERY 1 PLAYS (youth activity, mentoring high school players), EVERY 1 GIVES (donations and community outreach), and EVERY 1 LEARNS (diversity and societal education).
Interesting Fact About The Former Patriots Quarterback
Cam is a proud father of 7 kids; five biological and two stepchildren. Newton and his ex-girlfriend, Kia Proctor, share four kids; Chosen, Sovereign Dior, Camidas, and Cashmere. Kia had a daughter named Shakira from her previous relationship.
The former Patriots quarterback also had a son, Caesar, with La Reina Shaw, former Miss Azerbaijan, and Instagram model. The Instagram model had a son Jaden with another partner.
Brief Glance on Cam Newton's Awards & Accolades
As an NFL player, Newton has surpassed numerous records and bagged several accolades. Some of his achievements to date are listed below.
NFL MVP (2015)
NFL Offensive Player of the Year (2015)
Best NFL Player ESPY Award (2016)
PFWA All-NFC Team (2015)
Bert Bell Award (2015)
All-Iron Award (2015)
NFL Offensive Rookie of the Month (September 2011)
10× NFC Offensive Player of the Week
Consensus All-American (2010)
First-team All-SEC (2010)
Sporting News College Player of the Year (2010)
Quotes
"Word of mouth travels faster than anything else."
"I'm an example of why people deserve second chances."
"Playing this game, you cannot have nothing holding you back. If you're thinking, you're wrong automatically."
Social Media Presence
If you are more into his personal uploads and posts, do check out his social media.
He is available on Instagram under the handle @cameron1newton, Twitter @CameronNewton, Facebook @Cam Newton, and he also runs a YouTube channel @CamNewton.
Instagram: 4.7m followers
View this post on Instagram
Twitter: 1.1m followers
Facebook: 1.9m followers
YouTube: 628k followers
Popularity
After being drafted as the first pick and making numerous records, Cam has gathered millions of fans worldwide.
The above graph gives brief information about the popularity of Cam Newton based on Google searches in the United States over a year.
Frequently Asked Questions (FAQS)
What team does Cam Newton play?
As of February 2023, Cam Newton is a free agent. However, he previously played for the Carolina Panthers and the New England Patriots until he was released in 2021.