"It's not about money. It's not about statistics. It's about the romance kindled by playing the game the way it was supposed to be played." Walter Payton. Considered one of the greatest football players in history, the first round and the fourth overall selection of the Chicago Bears in the 1975 draft Walter Payton played in the National Football League for 13 seasons.
Payton played his entire professional career with the Bears as a running back, setting numerous franchise as well as overall records. In 1993 he was elected into the Pro Football Hall of Fame.
He is the second all-time leading rusher in the NFL as of 2022 and is ranked fifth in rushing touchdowns score.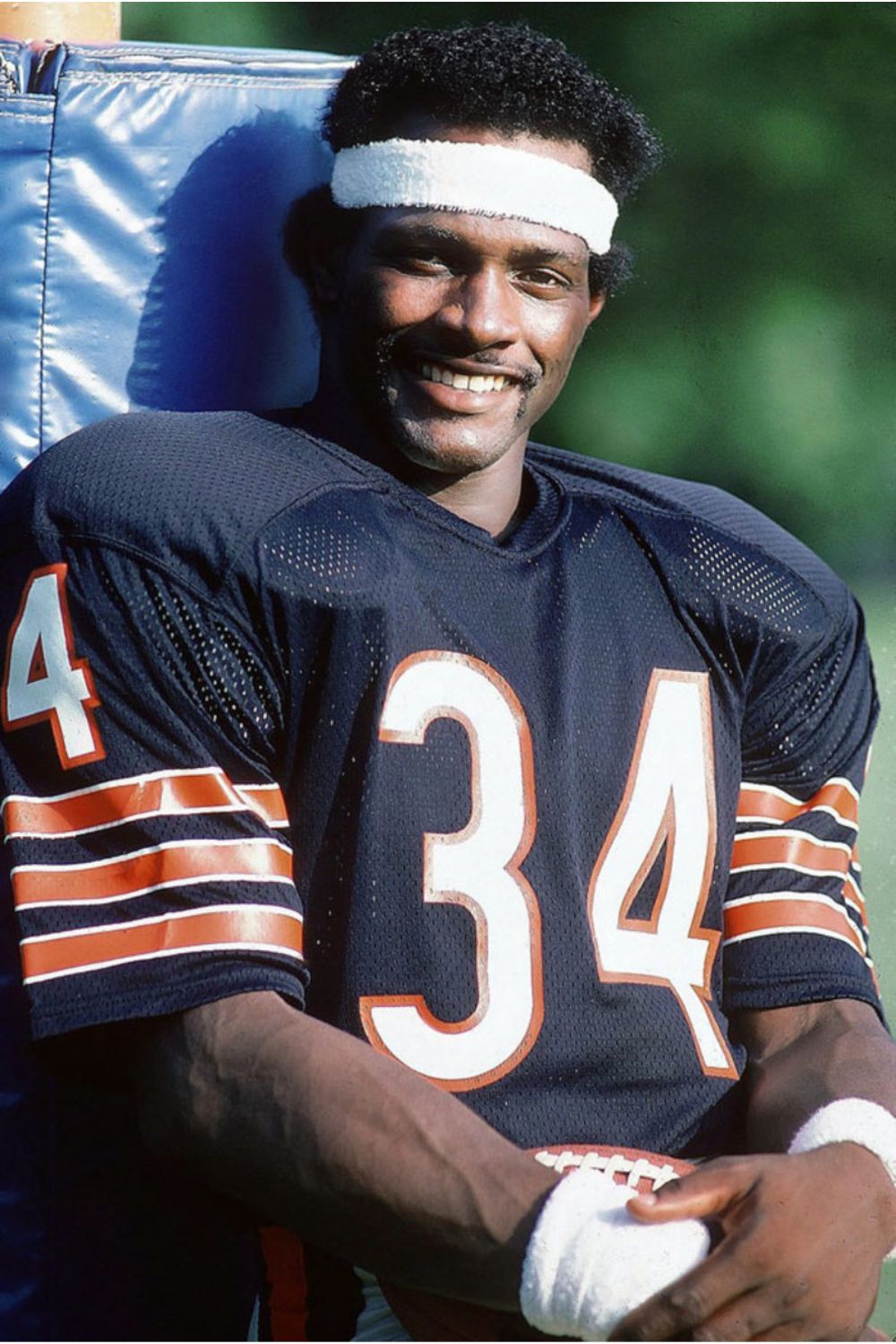 Despite his small stature, he had established himself as one of the greats in the sport of football, and his legacy includes being the namesake of the Walter Payton Award and Walter Payton Man of the Year Award.
Walter Payton Award is affectionately known as the Heisman of the FCS, and its recipients include the football legends such as Tony Romo, Brian Westbrook, Cooper Kupp, and Steve McNair, among others.
His son Jarrett Payton played organized football, too but was not as successful as his father.
Walter Payton | Quick Facts
Birth Name
Walter Jerry Payton
Known As
Walter Payton
Nickname
Sweetness
Date of Birth
July 25, 1953
Date of Death
November 1, 1999
Birthplace
Colombia, Mississippi, United States
Place of Death
South Barrington, Illinois, United States
Religion
Catholic
Sexual Orientation
Straight
Father Name
Peter Payton
Mother Name
Alyne Payton
Gender
Male
Age When Died
46 Years Old
Profession
Professional NFL Player
Nationality
American
Education
Colombia High School, Jackson State University
Height
5 ft. 10 in/1.78 m/178 cm
Weight
200 lb./91 kg
Eye Color
Black
Hair Color
Black
Build
Medium
Marital Status
Married
Wife
Connie Norwood (m. 1976-1999)
Children
Two (Jarrett Payton and Brittney Payton)
Siblings
Eddie Payton, Pam Payton
Zodiac Sign
Leo
Team
Chicago Bears
Position
Running Back
NFL Stats
Rushing Yards: 16,626

Rushing Touchdowns: 110

Yards Per Carry: 4.4

Receiving Yards: 4,538

Receiving Touchdowns: 15

Receptions: 492

NFL Draft
1975 / Round: 1 / Pick: 4
Career Highlights
Super Bowl XX Champion

9X Pro Bowl Selections

5X First-team All-Pro

NFL 1970s, 1980s All-Decade Team

100 Greatest Bears of All Time

Bert Bell Award

NFL Most Valuable Player (1977)

Jersey Number
34
Net Worth
$3 Million
Social Media
Instagram, Twitter, Facebook
Merch
Signed Chicago Bears Helmet, Signed Wilson Football
Last Update
May 2023
Walter Payton | Early Life, Education & More
Early Life
The nine-time Pro Bowl selectee Walter Payton was born on July 25, 1953, in Colombia, Mississippi, United States, to his father, Peter Payton, and his mother, Alyne Payton.
Walter's birth year is disputed. Many thought it to be 1954, but upon researching SI's, Jeff Pearlman discovered his actual birth date to be July 25, 1952.
Moving on, Payton grew up with his brother Eddie Payton and sister Pam Payton.
His father, Peter, played semi-professional baseball and worked in a factory.
Peter was wrongfully accused of DUI and died in jail after a few hours of being in custody.
Education
Payton was an active young man and participated in a variety of school activities. He attended John J. Jefferson High School, which later integrated into Colombia High School.
He was a member of a local church, played drums in the marching band, sang in the school choir, and also played drums in jazz-rock groups.
Interestingly, Payton also played basketball and averaged 18 points a game for the school's basketball team.
And after his brother encouraged him to play football, Walter joined the team, where he achieved instant success.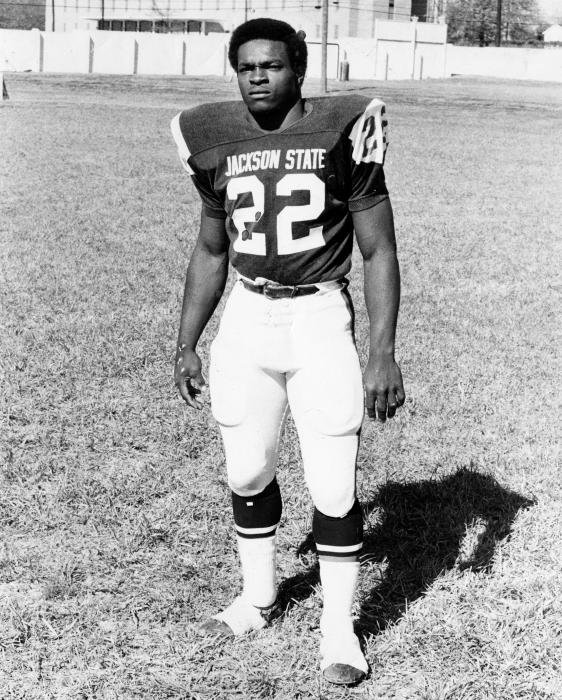 After high school graduation, Payton originally committed to Kansas State University but later decided to enroll at his brother Eddie's alma mater Jackson State University.
Throughout his college career with Jackson State Tigers, Payton rushed 3,600 yards and recorded 63 touchdowns.
He not only excelled in sports but also in academics and graduated with a bachelor's degree in communications in 1975.
Also Read About Bob Boone's Father: All About Ray Boone!
Walter Payton | Height, Weight & Death
Not especially large, the 1.78 meters tall Walter's strength and speed made him one of the team's featured players.
Also, he weighed around 200 lbs.
In February 1999, it was announced that Payton had a rare liver disease that may have led to bile duct cancer (cholangiocarcinoma).
In November of the same year, Walter Payton died at the age of 46 from the complications that arose from his illness.
His last recorded public appearance was at a Chicago Cubs game in April of that year, where he gave the game's ceremonial first pitch.
The National Football League held special ceremonies in each game to honor Walter's career and legacy after the week of his death.
Similarly, Chicago Bears wore his jersey number 34 patches on their jerseys to honor Walter.
Several well-known football personalities, including Dan Hampton, and Paul Tagliabue, spoke at his public memorial service held at Soldier Field.
Likewise, more than 1,000 mourners attended the private service, including his friends and family and Governor George Ryan, Mayor Richard M. Daley, and John Madden, among others.
Also Read About Lofa Tatupu Father: Mosi Tatupu's Career, Family & Net Worth
Walter Payton | Career
After college graduation in 1975, Payton declared for NFL Draft. And not to anyone's surprise, the Bears drafted Payton fourth overall in the first round of the 1975 NFL Draft.
His first season with the team was not particularly successful since he recorded only 679 yards and seven touchdowns. But the best was yet to come!
His gameplay eventually improved over time, and after the 1976 season, Payton not only got selected to play in the 1977 Pro Bowl but was declared the Pro Bowl MVP.
Despite his improved gameplay, the Bears struggled to put together consecutive winning seasons.
Nevertheless, on October 7, 1984, Walter broke Jim Brown's career rushing record of 12,312 yards in a game against the New Orleans Saints.
In 1985, Payton won his first and only Super Bowl with the Bears in a 46-10 victory over the New England Patriots.
Throughout his 13 seasons with the Bears, Payton rushed for 16,726, scored 110 touchdowns, and caught 492 passes for 4,538 yards.
With this, Payton broke the record for most rushing yards by any NFL player in history.
In 1993, he was enshrined into the Pro Football Hall of Fame, and the Bears retired his jersey number 34 in his honor.
Walter Payton | Awards & Achievements
Walter Payton was perhaps the most decorated player in football history.
Some of his most impressive highlights and awards include:
Super Bowl XX Champion
1977 NFL Offensive Player of the Year
1977 NFL Most Valuable Player
1977 NFL Man of the Year
NFL 75th Anniversary All-Team Team
NFL 100th Anniversary All-Team Team
NFL Rushing Yards Leader (1977)
NFL Rushing Touchdown Leader (1977)
Also Read About Bob Griese Son: Brian Griese's Career, Net Worth & More
Walter Payton | Wife & Children
Walter Payton met his wife, Connie Norwood, at Jackson State. They got married in 1976.
They initially resided in the home in Arlington Heights, Illinois, and after they had two children, Jarrett and Brittney, they moved to South Barrington, Illinois.
After 18 years of staying married, Walter unexpectedly served Connie divorce papers and asked for joint custody of the kids.
Nevertheless, their divorce was never made official.
Talking about his kids, Walter's son Jarrett followed in his father's footsteps and pursued football professionally.
Jarrett played four seasons in NFL and CFL combined and, after retirement, pursued a broadcasting career.
Similarly, Walter's daughter Brittany is a television host and appears on a local weekly news program, Good Day Chicago, on FOX-32.
She formerly co-hosted Chicago's Best in WGN-TV for 250 episodes.
Walter Payton | Net Worth
One of the greatest players in football history Walter Payton had a net worth of $3 million at the time of his death in 1999.
Payton made the most money during his active playing days. Besides NFL salaries and incentives, Payton had several other income sources which continuously flooded money to him.
In 1995, he, along with a group of investors, pursued to bring an NFL expansion team to St. Louis, Missouri.
During the same time, Walter expressed his interest in becoming the first minority owner in NFL history.
Aside from these, during his retirement, Payton co-owned several businesses, including Dale Coyne Racing.
Similarly, he also co-owned a roundhouse in Aurora, Illinois, in 1995, which was later renamed Walter Payton Roundhouse. The roundhouse hosted restaurants, a brewery, a museum, a meeting facility, and many more.
Furthermore, he owned a nightclub in Schaumburg, Illinois.
Walter Payton | Night Club Shooting
In 1987, Walter accidentally shot a manager of his nightclub in Schaumburg, Illinois.
He had recently bought a 9mm pistol for his collection and was unsure if it was loaded.
During the incident, the manager Elmer Ray Hutson Jr., suffered knee damage.
You Might Be Interested In Howie Long's Bio: Career, Net Worth, College & Wife
Walter Payton | Injuries
Walter Payton was extremely strong and hardly missed games because of injury.
Despite being known as of the best blockers among RBs, he was never severely injured.
Over the course of his 13 professional seasons, he missed just one game during his rookie season when he had an injured ankle.
Similarly, in 1983, he underwent arthroscopic surgery on both knees, which he referred to as an 11,000-yard checkup.
Walter Payton | Ring Incident
In 1996, Payton was coaching a high school basketball team in Chicago, and in an exercise in trust, gave his diamond-studded 1986 Super Bowl ring to one of the boys, Nick Abruzzo, to hold for a few days.
The boys passed the ring in awe and lost it.
Five years later, Phil Hong found the ring while searching for his dog toy on the couch sold by his friend Joe Abruzzo, Nick's brother.
Unfortunately, Walter had already died by this time, but Hong returned the diamond Super Bowl ring to Connie Payton, Walter's widow.
Popularity Graph
Even decades after his death, fans and admirers still look for him over the internet. The above graphs show Walter Payton's popularity over the past twelve months.
Fun Facts About Walter Payton
Payton broke O.J Simpson's most rushing yards in a single game record in 1976 when the Bears faced the Vikings through a 101-degree fever and severe flu.
Even though he was not a mainstream media star like other NFL guys of that era in early 1987, he and Joe Montana co-hosted Saturday Night Live.
In 1994, Walter appeared at the World Wrestling Federation's SummerSlam event in the corner of Razor Ramon.
In the years after retiring from football, Walter attended the non-denominational Destiny Church in Hoffman Estates, Illinois.
Walter's son Jarrett was just 12 when he delivered the speech at his father's induction to the Pro Football Hall of Fame.
The asteroid 85386 Payton is named in Payton's memory. It was discovered by Air Force Maui Optical and Supercomputing observatory in 1996. The official naming citation was published on 20 May 2008 by the Minor Planet Center.
Frequently Asked Questions (FAQS)
What records does Walter Payton still hold?
Payton retired as the career leader in receptions for a running back with 492 for over 4,500 yards. He still holds the career record for a running back, with eight touchdown passes.
Is Walter the best RB of all time?
Walter Payton is one of the best RBs of all time, for sure. But calling him the best of the best might cause some biases among fans. So, it's a matter of personal choice. I rank him third on my list after Jim Brown and O.J. Simpson.
Who is the best Chicago Bears football player of all time?
Walter Payton, without a doubt. In 2019, the Chicago Tribune named Walter, the greatest Bear of all time.
You Might Want To Read About Matthew Slater's Father: Jackie Slater's Bio!