Carmelo Anthony son, Kiyan, was born to the NBA star and his ex-wife Alani "La La" Vazquez, a famous Hollywood actress in 2007.
Being the child of renowned personalities in their respective fields, Kiyan has been a public figure since a young age. As a result, he has always been the talk in media and online sources.
He has been often praised for his athletic abilities and for steadily filling the shoes of his NBA star father as a true prodigy and successor.
Carmelo has been active as a professional basketball player, so watching him growing up, it's natural for Kiyan to incline towards the sports.
Kiyan plays basketball for his school team. It seems that he picked up his athletic abilities from his fathers. He is pretty good at it.
Please read the full article to learn more about Carmelo Anthony son, his childhood, family, and playing career.
Now, let us go through some quick facts about Kiyan.
Quick Facts
Full Name
Kiyan Carmelo Anthony
Date of Birth
March 7, 2007
Zodiac Sign
Gemini
Age

16 years old

Hair Color
Black
Eye Color
Dark Brown
Birth Place
Denver, Colorado
Nationality
American
Ethnicity
Unknown
Religion
Christianity
Mother's Name
Alani "La La" Vazquez
Father's Name
Carmelo Anthony
Education
Lakeridge Junior highschool

The Calhoun School

Social Media
Instagram, Twitter
Merch of Carmelo Anthony
Cards
Last Update

November, 2023
Kiyan Carmelo Anthony Early Life, Family & Education
Kiyan was born on March 7, 2007, in Denver, Colorado, to Carmelo Anthony and Alani Vazquez.
His parents were just dating each other at the time he was born. His parents got married after three years of his birth.
As mega basketball star Carmelo Anthony son, Kiyan was naturally inclined toward basketball from a very young age. Kiyan used to play basketball with his father since his elementary school days.
The teen rising star had been living with his parents till 2021 when the couple filed for divorce. Despite being divorced, the couple has taken reasonable measures to meet the child's needs and provide the necessary infrastructure for upbringing.
After the divorce, Kiyan has been living with his mother in New York. He attended Lakeridge junior high school and later transferred to The Calhoun School in New York.
Kiyan Carmelo Anthony: Age, Height & Weight
Kiyan is 16 years old.
Being only 15 years old, Kiyan stands tall at 6ft 3 inches, as his mother shared on her social media handles.
Well, it is not strange news in the case of Carmelo Anthony son that he would grow tall as his father, who has an incredible height of 6ft 7 inches.
Kiyan weighs around 77kgs which is good as per his height.
With the perfect jawline and impressive physique, Kiyan has been one of a celebrity figure at such young age.
LeBron James is a legendary basketball player. He is also known for his excellent parenting skills and fatherhood. Click here to learn about his kids, family, and more>>>
Kiyan Carmelo Anthony Father: Carmelo Anthony
Carmelo Anthony is a pro basketball player in NBA and plays for the Los Angeles Lakers. The NBA star has been active as a professional for almost two decades.
Throughout his career, Carmelo has reigned as the star player and is one of the highest-paid NBA players.
The NBA prodigy was born in Brooklyn, New York, on May 29, 1984. He has four siblings and is the youngest of them all.
Anthony had a tough childhood as his father passed away when he was two. His mother was the sole earner of the household. It was very tough for her to raise four kids with limited finances.
The family went through several hardships and struggles. Emerging from such harsh living conditions, Carmelo never gave up and dedicated his life to basketball. As a result, he achieved his dream of being a professional basketball player.
Anthony has played college basketball for Syracuse University. He was drafted into NBA in 2003 by the Denver Nuggets.
Carmelo Anthony has played for the US in Olympics. In 2004 the team won a bronze medal. With his presence on the team, the US won gold medals in 2008, 2012, and 2016.
Carmelo Anthony: Net Worth
Anthony's net worth is estimated to be $120 million. His income sources are the contract deals he had with many clubs throughout his playing career. He also endorsed many sports brands like Nike and Panini.
Kiyan Carmelo Anthony Mother: Alani "La La" Vazquez
Alani is a US television personality, author, businesswoman, producer, and actor. She is a famous actress in Hollywood.
On June 25, 1979, Alani was born in Rochester, New York. The TV personality has two younger sisters and one younger brother.
Alani was active in her career from a very young age. She worked at WHTA-FM, HOT 97.5 in Georgia, which was the start of her radio career.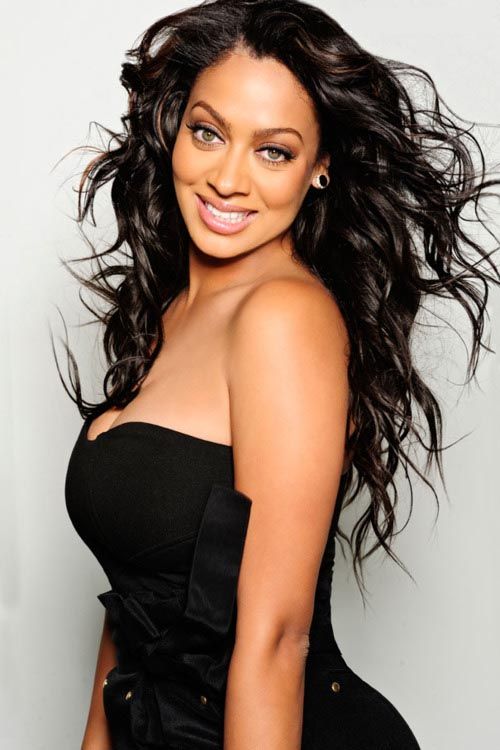 She worked as MTV VJ on Total Request Live in the early 2000s. In 2003, Alani left the channel and became the producer of Mike Tyson's documentary. The documentary was praised by the audience and received Regard Knockout Award, and was shown at Cannes Film Festival in 2009.
Alani has appeared in TV programs like NYC 22 and Single Ladies. The beautiful TV personality has also featured in films such as Urban Massacre, Monster Island, and You Got Served.
She also launched her cosmetic brand and clothing line in 2013, introducing herself as a businesswoman.
Alani "La La" Vazquez: Net Worth
Alani's net worth is estimated to be around $30 million.
She worked for MTV networks before her marriage to Carmelo, which added to her fortune. Alani is a famous TV personality, and the show's remuneration boosts her net worth.
Alani has launched her business, and the cash flow and finances add to her assets. She lives a comfortable life with her hard-earned money and career.
Carmelo Anthony and Alani "La La" Vazquez Relationship
Carmelo and Alani started dating in 2003 and a year later got engaged. They were engaged for six years before getting hitched in 2010.
After three years of engagement, the couple welcomed their son, Kiyan, in 2007. The couple married three years after childbirth on July 10, 2010, in New York City.
The power couple's relationship was the talk of the town as they were very much in love with each other. But, as nothing lasts forever, their marital life also followed a similarly fated trail.
In 2016, the news of the couple's separation became viral, but they remained silent on the case. Infidelity rumors of Carmelo surfaced around that time, but any sources did not prove the information.
Finally, in June 2021, Alani filed for divorce. The cause for the separation was Carmelo's relationship with another woman and fathering a daughter. However, the rumors were not addressed formally by the couple.
Juwan Howard is a two-time NBA Champion and a Michigan Wolverines men's team coach. He has two sons who are also playing professional basketball. Click here to learn more>>>
Carmelo Anthony's Alleged Daughter
Carmelo Anthony has an alleged daughter, Genesis Harlo Anthony, with Mia Angel Burks. The rumors of the affair started going viral during the separation news of Carmelo and Alani in 2016.
Genesis Harlo Anthony was born to Mia and her alleged father, Carmelo, on August 1, 2017.
Carmelo denied being the child's father, so to prove the case, Mia did the paternity test, which confirmed the allegation of Carmelo being the father.
Despite the test, Carmelo denied accepting Genesis Harlo Anthony as his daughter. Mia has been raising the child alone.
There has not been confirmed information about the case and if they have reached any solution for the allegations.
Kiyan Carmelo Anthony: Career
Kiyan plays basketball like his father, Carmelo. The coaches often praise his athletic abilities.
He holds the point guard position in the team and plays pretty well. Because of his skills and techniques, Kiyan is rated one of the top 25 recruits in the Class of 2025.
Kiyan played for the Bryant Bulldogs. On April 29, 2022, he announced on his social media handle that he had received an offer from Coach Kim English and George Mason University.
Besides his basketball career, Kiyan has also been endorsing different brands. In 2016, the teen star appeared in a Carmelo commercial for the Jordan sneaker brand.
The rising star has also appeared with his parents in a VH1 reality show; La la's Full Court Life. He has also featured in many films, such as:
2008 Tyson
Amazing 2013
Basketball man 2007
Unbanned: The legend of AJ1 The legend of sweet pea 2015
Finally Orange: The official 2003
2003 NCAA Championship
NBA street series vol 4, Class of '03 2006
Kiyan Carmelo Anthony: Net Worth
The estimated net worth of Kiyan is $1 million. He is a model and basketball player.
His primary source of income includes the earnings from modeling and being a basketball player.
Kiyan Carmelo Anthony: Girlfriend
Kiyan is single right now. There have been no new updates about him being in a relationship in the media.
He is a handsome teenager and blessed with talent and abilities from his star parents. So, as he grows older, without a doubt he will attract romantic companions like he is garnishing attention as a rising star now.
Currently, Kiyan is focused on basketball and has been playing passionately to stand in the shoe of his father.
Andre Drummond is a famous basketball player and known for his excellent parenting skills for his two children. Click here to learn more about his family life>>>
Social Media Presence
Carmelo Anthony son, the rising star and successor of the NBA star father, has already amassed an impressive number of fan following on his social media handles.
He holds verified accounts on both Instagram and Twitter.
As of June 2022, he has 428k followers on Instagram and 1k+ followers on Twitter.
Kiyan often shares about his basketball matches and professional life on online platforms. Looking at the young star's social media accounts, we can say that he has immense love for basketball and works hard for his games.
Frequently Asked Questions (FAQs)
What is the rank of Kiyan Carmelo Anthony?
Kiyan is ranked 21st in the Class of 2025. In a recently updated data of the American sports website, Elitebasketball, the teen star ranked 21st in all United States 2025 ranking and 3rd in New York ranking.
Where does Kiyan live?
Since the divorce of his parents, Kiyan has been living with his mother in New York City. However, he is also often seen hanging out with his father too, which indicates the strong father-son bond.
Does Kiyan have any siblings?
Kiyan is the only son of his parents, Carmelo and Alani. However, he has a half-sister from his father's side. But, it has been speculated that he might not be close with his half-sister Genesis Harlo Anthony.