When we talk about childhood, we often remember watching television shows without family. Among many children's shows, WWE or wrestling match was also a staple of every household.
From there emerged Chad Gable, who is a professional wrestling player currently signed to WWE.
Likewise, the now professional wrestler performs on the SmackDown brand under the alias Shorty G. Even before WWE, Gable was a prolific wrestler.
He competed at the 2012 Summer Olympics held in London.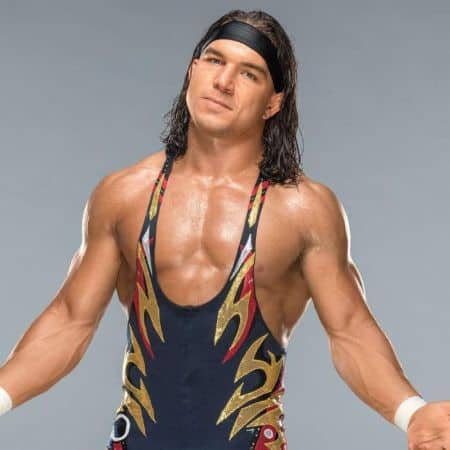 Shortly after his debut in the ring, Gable took part in many events and has since then won various titles, including NXT, Raw, and SmackDown Tag Team Championships.
But aside from his professional career, not much is known about his personal life.
Today, we will be disclosing everything there is to know about this prolific wrestler and his life, such as his married life, children, family, and so on.
Chad Gable: Quick Facts
| | |
| --- | --- |
| Full Name | Charles Betts |
| Birth Date | March 8, 1986 |
| Birth Place | Saint Michael, Minnesota, the United States of America |
| Alias | Chad Gable, Shorty G, Shorty Gable |
| Religion | Unknown |
| Nationality | American |
| Ethnicity | Caucasian |
| University | Northern Michigan University |
| School | St. Michael- Albertville High School |
| Horoscope | Pisces |
| Father's Name | Pete Betts |
| Mother's Name | Pam Betts |
| Siblings | N/A |
| Age | 37 years old |
| Height | 5 feet 8 inches (173 cm) |
| Weight | 92 kgs (202 lbs) |
| Build | Athletic |
| Profession | Professional Wrestling Player |
| Active years | 2013-present |
| Debut | September 5, 2014 |
| Net Worth | $1.8 million |
| Salary | $700,000 |
| Marital Status | Married |
| Wife | Kristi Oliver |
| Children | Three |
| Social Media | Twitter |
| Merch | Trading Cards, WWE Toys |
| Last Update | June, 2023 |
Who is Chad Gable?- Family and Nationality
Currently the active wrestler in WWE and SmackDown, Chab Gable was born as Charles Betts in his small town in Saint Michael, Minnesota, the United States of America.
He is the son of Pete Betts and Pam Betts.
Sadly, there is no information regarding his siblings, so we assume he is mostly an only child to his parents. But much can not be said about it.
As for his education, Gable completed his early studies at St.Michael-Albertville High School. Later he graduated from Northern Michigan University.
Chad was a well-trained wrestler who used to participate in many wrestling events and competitions from his early life. Back in 2004, he won the Minnesota High School State Championship.
Likewise, Chad is an American citizen, while his ethnic background is Caucasian.
Age and Body Measurements- How old is Chad Gable?
Chad Gable, who goes by the name Shorty G in the ring, was born in 1986, which makes him 35 years old.
Not to mention, Gable celebrates his birthday every year on the eighth of March. Also, Chad's sun sign happens to be Pisces.
From what we know, people of this sign are emotional yet passionate about their work. Likely so, Chad is one of those who have been doing what he does ever since he was a child.
Similarly, professionally as a wrestler, Gable is always training; weight lifting, cardio, and such. With proper diets and exercise, Chad has maintained a well-toned and trained physique.
Shorty G stands at 5 feet 8 inches(173 cm) and weighs around 200 lbs, which is equivalent to 92 kgs. The professional wrestler has got long dark brown curls and a pair of brown eyes along with it.
Amateur Days
Chad Gable is a graduate of Northern Michigan University. He has been wrestling ever since his high school days. Well, he is also a 2004 Minnesota high school state champion.
In 2012, Chad defeated Jordan Holm 2 for the 84 pkg category of the 2012 U.S. Olympic Trials.
Likewise, in the 2012 Summer Olympics, he again defeated Keitani Graham from the Federated States of Micronesia.
Professional Wrestling Career- Debut in the WWE
Already a state championship and Olympic participant, Chad was destined to make it big as a professional wrestler.
And what could be better than the WWE? Hence in November 2013, Gable, who still went by his original name, signed a contract with the professional wrestling promotion WWE.
Right after getting assigned to the WWE Performance Center in Orlando, Florida, he opted for the ring named Chad Gable.
Then finally, on September 5, 2014, Chad made his debut at an NXT house show where he defeated Troy McClain. However, in his television debut next year, he lost to Tyler Breeze.
Just a newcomer, Chad then began coaxing Jason Jordan to form a new partnership after his dissolution with Tye Dillinger.
In July, the two made their debut as a team and went against Elias Samson and Steve Cutler; it was a success.
Likewise, the duo became a fan favorite even after eliminating the Dusty Rhodes Tag Team Classic tournament. Their fighting spirit and resilience were what made them enjoyable.
By the NXt match in January, the duo, Jordan, and Gable began using the name American Alpha. They won the NXT Tag Team Championship at the NXT TakeOver: Dallas but failed to keep it.
Moreover, on July 19, the American Alpha was drafted to the SmackDown brand. In their debut match, the pair faced The Vandevillians and emerged victoriously.
The two then teamed up with The Usos and The Hype Bros at the SummerSlam to defeat The Ascension.
During the SmackDown Tag Team Champions, Gable injured his knee, making American Alpha unable to take part at Backlash. Because of the injury, the team lost many future matches as well.
However, on December 27, American Alpha became the new SmackDown Tag Team Champions after defeating Randy Orton and Luker Harper of The Wyatt Family.
After that, the two successfully defended their title against other teams, including The Ascension, Usos, Breezango, and more.
In July, the American Alpha officially disbanded as Jason Jordan moved to the Raw brand as a single fighter.
Tag Team Specialist and Shorty G
After the disbandment of American Alpha, Gable teamed up with Shelton Benjamin. For their first tag team debut, the two claimed victory over The Ascension, followed by another victory against The Hype Bros.
Since the formation, Gable and Benjamin took part in many tag team championships but had yet to earn the victory. Because of it, the two grew more and more villainous.
Similarly, on April 16, Gable moved to Raw as part of the 2018 WWE Superstar Shake-Up. There he teamed up with Bobby Roode and changed his attire to trunks and a robe.
After failing to claim the tag team championship, the two began wrestling as heels until their split by the Superstar Shakeup back in 2019.
During the 2019 WWE Superstar Shake-Up, Chad moved to SmackDown and continued as a solo act.
In his debut match, he defeated Gentleman Jack Gallagher and emerged victorious in their rematch as well.
He was also one of the 16 competitors to take part in the King of the Ring. After remaining victorious till the finale, Gable was defeated by Baron Corbin, shattering his dream to win the title.
To make fun of him, Corbin asked the announcer to call him 'Shorty G,' which he certainly did. Since then, it became his ring name.
After the survivors series, Chad again continued making teams and competing in Team challenges.
WAIT WHAT!?!#SmackDown #ShortyG @BaronCorbinWWE @SuperKingofBros @WWEGable pic.twitter.com/s7LLiCdY2E

— WWE (@WWE) August 1, 2020
Moreover, it was announced that Gable might finally shed the name 'Short G' from his introduction. Not to mention, fans were not so happy with the name in the first place.
According to them, the name not only is ridiculous but makes Chad a gimmick and joke, who happens to be one of the hard-working wrestlers out there.
What is Chad Gable's salary?- Net Worth and Income
Since his debut in the year 2014, Chad has earned but an impressive amount of wealth. Seemingly, wrestling is not a child's play and certainly not safe.
Hence, we can assume anyone would want to risk it without fair pay or at least more.
The WWE star Chad Gable has an estimated net worth of $1.8 million. With his rise as a wrestler, Gable's income has surely ascended as well.
Not to mention, some sources claim, Gable makes around $700,000 as his average annual salary. Even though the figures are not the same, we are sure his wealth matches these numbers, if not more.
However, Gable, who goes by the name Shorty G has yet to publicize his assets and wealth. Because of it, we are not totally sure about his wealth and income.
Who is Chad Gable married to? Wife and Children
Shorty G, or should we call Chad Gable, the talented wrestler in the WWE is a fan favorite. Since his debut in 2014, he has made a safe spot for himself in the wrestling world and earned insurmountable fame.
But many fans have been curious about his personal life as well. How is he with his family and kids? Wait, is he even married?
Well, to clear things out, Chad is a married man as of now. Gable is married to his beautiful wife, Kristi Betts, whose further details are not available for public knowledge.
Likewise, the two have been dating for a long time before they officially tied the knot on June 19, 2011. Same with other information, not much light has been shed regarding their wedding and marriage as a whole.
Nonetheless, the couple is happy with their life at the moment. Besides being a caring husband, Chad is also a father of not one but three beautiful children named Clay, Ann, and Meadow.
The small family seems to be enjoying their life to the fullest and are comfortable with keeping their life away from the prying eyes of the media.
Also, either of them has never been linked with dating rumors or anything like that.
Social Media Presence
Twitter– 272.2k Followers
Chad Gable | FAQs
Did Chad Gable also get inked?
As a fact, Chad Gable does have a tattoo from way earlier hence, he didn't get inked with the six-ring tattoo.
What's with Dave Meltzer of the Wrestling Observer?
As per Dave Meltzer of the Wrestling Observer, Chad Gable isn't getting as much respect as he deserves from WWE. Hence, if he leaves the arena, WWE will come running after him.
"Gable is so talented. If he left, anywhere he went he would do freaking great. Then WWE would want him back and respect him more." -Dave Meltzer
Is Chad Gable a gold medalist?
Yes, Chad Gable is a gold medalist and features one gold from the Pan-American games in 2012. The same year, he also gained gold for the Dave Schultz Memorial International Gold medal.
Did Chad Gable turn heel?
Everyone was shocked when in February 2021, Chad and Otis appeared as a heel. Together, they went against Rey Mysterio and many stated that it reminded them of the heel Kurt Angle.
Also, his heel character might give him a career boost now.
Is Chad Gable Kurt Angle's son?
Indeed, everyone expected WWE to resent Chad Gable's illegitimate son however, they present Jason Jordan. Many fans say this storyline was hard to digest.
What is Chad Gable's win-loss record?
At present, Chad Gable depicts 95 wins (54.60%) with 78 losses (44.83%) in the NXT. For WWE, he has 165 wins (60.89%) and 180 losses (40.45%).
Altogether his win-loss record amounts to 260 wins (58.43%) and 180 wins (40.45%).