Cheryl Esiason is basically famous as former football quarterback turned sports analyst Boomer Esiason's wife.
Cheryl Esiason is the co-founder and co-chairman of the Boomer Esiason Foundation. She has risen to fame after giving her best input in building her family and the foundation.
There is a crucial reason for Cheryl to work so hard and raise money for the foundation. The initiation occurred when her son (Gunner) suffered from Cystic Fibrosis in 1993.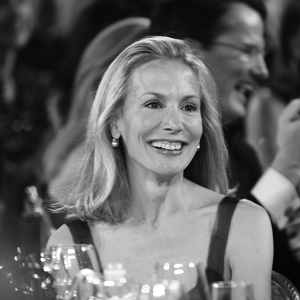 What's her birth name? What are her priorities in life besides her husband and kids? How was the foundation established? And most importantly, why does Boomer call her a world-class mom?
Let's get to know Cheryl more, but before that, how about taking a quick check on her facts?
Cheryl Esiason | Quick Facts
| | |
| --- | --- |
| Full Name | Cheryl Esiason |
| Birth Date | Not Known |
| Birth Place | United States of America |
| Birth Name | Cheryl Hyde |
| Religion | Not Known |
| Nationality | American |
| Ethnicity | Caucasian |
| Education | Not Known |
| Age | Above 40 |
| Parent's Name | Not Known |
| Marital Status | Married |
| Husband | Boomer Esiason |
| Children | Gunner (son), Sydney (daughter) |
| Profession | Co-founder and a Home-maker |
| Net Worth | $20 million |
| Works For | Boomer Esiason Foundation |
| Social Media | Not Available |
| Merch of Boomer Esiason | Boomer Esiason's Autographed Helmet (Cincinnati Bengals) and (Jets) |
| Last Update | February 2023 |
Cheryl Esiason | Birth Name
Everyone grips over their initial name for a long time. The only thing that might get changed is the last name in a fair few cases.
Cheryl Esiason is the name that she took when she got married to Boomer Esiason. Her maiden name is actually Cheryl Hyde.
Besides her maiden name, some specific details about her parents, education, and childhood are still not disclosed.
Read about 10 Biggest NFL Busts of the Last 10 Years >>
Cheryl Esiason | Marriage & Relationship
It is a well-known fact that Cheryl is in a marital affair with Norman Julius 'Boomer' Esiason.
We are still not aware of the story, how the duo met, and how the process of getting to know each other went further, but we know that they tied the knot on 24th May 1986.
And as of now, it seems like they are living a happy married life. They also share a son and a daughter together. Gunnar was born on April 6th, 1991, and Sydney landed on August 5th, 1992.
Who is Boomer Esiason?
You can surely recognize him if you are a legit Cincinnati Bengals fan and a typical sports fanatic.
Boomer has given his fourteen years of career to football as an NFL quarterback and now serves as a sports analyst for the CBS network.
Boomer headed his team to the Super Bowl in 1989 and was a four-time Pro Bowl selection during his tenure. At the time of retirement (1997), he had 37,920 and 2,969 completions.
Besides CBS Sports, Boomer has worked as a sports analyst with ABO, HBO, and Westwood Ones and has done a radio program on WFAN in New York.
Cheryl Esiason | Setting up Boomer Esiason Foundation
Mr. and Mrs. Esiason's two-year-old son, Gunnar, was diagnosed with Cystic Fibrosis in 1993. (Cystic Fibrosis is a disease where the body generates sticky mucus that causes congestion in the lungs).
Gunnar was tested previously at birth, but the reports were negative. After a year, he faced difficulty in breathing and was rushed to the hospital immediately.
Cheryl and her husband tried their best to acquire the treatment, but there was no cure. Thereafter, they established the Boomer Esiason Foundation in 1993 to increase awareness about the disease.
The prime objective is to collect funding for the research activity that would lead to a proper treatment of cystic fiber.
Not to mention, the foundation has already raised $100 million and supported various hospitals and research-based programs. They have also offered scholarships worth $400K to around a hundred students.
The "Bike 2 Breathe" Event
Cheryl always furthered the dimensions to help promote the foundation in the best possible way. She always made sure that she justified the reason for establishing the foundation.
Jerry Cahill united with The Boomers Foundation in 2020 and initiated the Bike 2 Breathe event, an activity to create awareness about Cystic Fibrosis. The event also promoted exercising as a means that cures the disease.
The event was held on September 15, 2020, in Boston, MA, and ended on the 25th of September in Pittsburgh, PA. Jerry and Em again recreated the event in 2021.
Not to mention, John Pirozzi, a representative of Chelsea Financial Services, took part in the TCS New York City Marathon and stood next to the Boomer Esiason Foundation to raise funds for Cystic fibrosis.
Find out The Top 25 NFL Free Agents of this Year >>
Cheryl Esiason | All About Her Kids
We all know Cheryl as a co-founder and wife of Bommer Esiason. However, we cannot forget that she is a devoted mother of two. Fair enough to tag her as a world-class mom.
Son, Gunner Esiason
Aforesaid, we already know now for what reason the foundation was established and how challenging was Gunner's life initially.
Moving on, Gunnar tried to lead a normal and healthy life with the support of his parents. However, he intakes daily doses of medications to live a healthy life. He must be blessed beyond to have such a loving mom and dad.
Keeping his health issues aside, there is a lot to talk about Gunner. He served as a quarterback for their football team at Friends Academy in Locust Valley, New York.
Gunner also served as a forward for the Manhasset/Rosyln varsity ice hockey team of Boston College.
Not only that, but Gunner also owns and writes on a personal now-famous blog, "Gunner Esiason." He is also a spokesperson for cystic fibrosis patients and has discussed his experience in a podcast.
Gunner has delivered a true spirit of strength with might and main. Surprisingly, the player has coached a high school football team and a hockey team.
Gunner also works as a Director of Program Outreach at the Boomer Esiason Foundation. How can we forget to mention his love life after all of this?
Yes, the young, light-hearted guy is booked. He proposed to his girlfriend Darcy Cunningham in February 2020 while they were ice skating.
Daughter, Sydney Esiason
"Like Brother Like Sister," Sydney Esiason also completed her graduation in Communications and English from Boston College in 2014. She is a model and a future broadcaster.
Sydney has also done some game highlights for nhl.com. Bringing up her relationship, she is in a marital relationship with New York Islander player- Matt Martin. They started dating in 2012 after he caught her on Twitter.
The duo got engaged in March 2018 and finally tied the knot in June 2019. They share a daughter, Windsor Grace Martin. Grace landed on 14 July 2020.
Cheryl Esiason | Rumor About Death
Cheryl was rumored to be dead due to her reserved and unsociable nature. She was out of public reach, news, media, and paparazzi. Maybe, she just wanted to be on her own and let her kids and husband grab the spotlight.
Nevertheless, Cheryl offers her best as a wife, mother, and co-founder in the end. What is more required than that?
Cheryl Esiason | Net Worth
Cheryl's source of self-income is not known. However, she rightfully enjoys a net worth of $20 million secured by her spouse.
Nevertheless, Cheryl lives a happy and luxurious life with her husband and her kids.
Cheryl Esiason | Social Media Presence
Aforesaid, Cheryl is quite a private person. She has stepped behind the cameras and let her husband and kids do the dealing with the media and tabloids.
Fair enough, one has the right to live the way one likes. That must be why she is not available on any social networking sites.
Be that as it may, we can surely catch Cheryl's husband, Boomer Esiason, on Twitter. Also, Boomer Esiason Foundation is equally popular among his fans on Instagram, with 8665 followers as of Dec 2021.
Get to know about Ranking 15 Best NFL Edge Rushers >>
Frequently Asked Questions (FAQs)
Is Boomer Esiason still married?
He is married to his long-time partner Cheryl Esiason. They exchanged vows in 1986 and share two kids, Gunner and Sydney. Touchwood, there is no news or rumors of their separation to date.
The duo is truly living up to the quote, "And they lived happily ever after."
What is Boomer Esiason's salary?
Well, nothing is revealed about his financial figures.