In 2016 granny-style free throw made a comeback to the NBA game after 35 years. It was none other than Chinanu Onuaku who reintroduced the famous shooting style.
Moreover, Onuaku made headlines and waves. Mainly thanks to his underhand free throw.
Chiannu Onuaku is 24 years old professional American basketball player. He currently plays for Zadar as center/ power forward. Previously, he also played in NBA for Houston Rockets.
Onuaku's older brother Arinze has an influential role in his basketball career.
Besides basketball, he likes to play video games, watch movies and enjoy parties during his free time. To find out more about Chinanu, Onuaku stays with us until the end.
Quicks Facts
| | |
| --- | --- |
| Name | Chinanu Michael Onuaku |
| Date of Birth | November 1, 1996 |
| Birth Place | Lanham, Maryland, USA |
| Nick Name | Bam Bam |
| Age | 26 Years Old |
| Gender | Male |
| Religion | Unknown |
| Nationality | American |
| Ethnicity | Black |
| Horoscope | Scorpio |
| Body Measurement | Unknown |
| Height | 6 ft 7 in (2.06m) |
| Weight | 111 kg (244 lb) |
| Body Mass Index (BMI) | 27.5 |
| Build | Muscular |
| Wingspan | 7'3 inches |
| Shoe size | Unavailable |
| Hair Colour | Black |
| Eye Colour | Black |
| Tattoo | No |
| Father name | Cristopher Onuaku |
| Mother name | Nwaneka Onuaku |
| Siblings | Ify Onuaku (sister) Arinze Onuaku and Chukwunwike Onuaku (brother) |
| Relationship | Single |
| Ex-Girl friend | Unknown |
| Children | No |
| Profession | Basketball Player |
| Position | Centre/ power forward |
| Education | Riverdale Baptist School (Highschool), University of Louisville (College) |
| High School Ranking | 75 in the nation (ESPN) |
| Draft | 2016 (37th Overall Pick) |
| NBA Debut | December 26, 2016 |
| Team | Zadar |
| Current Affiliations | Croatian League, ABA League |
| Previous Teams | Houston Rockets, Rio Grande Valley Vipers, Greensboro Swarm, Wonju DB Promy |
| Jersey Number | 32, 21, 35 |
| Social media | Instagram/ Twitter |
| Salary | Under Review |
| Net worth | $1 million |
| Merch | Rookie Basketball Card, Team Collection Card |
| National Team career | 2015 FIBA U-19 World Championship Greece/ First Place |
| Last Update | March, 2023 |
Chinanu Onuaku | Background and Personal Life
Chinanu Onuaku was born on November 1, 1996, in Lanham, Maryland, USA. Since childhood, Onuaku pretended himself be in the NBA.
Onuaku is the youngest child of Cristopher Onuaku and Nwaneka Onuaku.
He has older siblings named Ify, Arinze and Chuk. Arinze Onuaku is also a professional basketball player.
Furthermore, Arinze played four seasons in NBA for four different teams. Onuaku mentioned that Arinze had a huge influence on his basketball career.
Likewise, Ify played collegiate basketball for Florida A&M from 2004-08.
As of 2021, Onuaku is single. Also, his past relationship history is not disclosed yet. Onauku's hobbies are watching movies, enjoying parties, and playing video games.
Moreover, he can also cook. But only a few peoples are aware of that.
Chinanu Onuaku | Body Measurement & Playing Style
Onuaku has a size and height that perfectly fits the center position. He stands 6 ft 7 inches (2.06m) and weighs around 111 kgs (244 lb).
Similarly, his BMI is 27.5. Also, Onuaku has a standing reach of 9'1 inches.
Onuaku does a great job of moving up and down the floor. Chinanu effectively uses his size and strength to seal off defenders and score in the deep post during the offense. He has a good understanding of pick & roll cutters.
Defensively, Onuaku is an excellent rebounder. He perfectly uses his size, long arms, and reliable hands to grab balls. Likewise, he also displays good timing while blocking shots.
Read Also: Allonzo Trier Bio: Mother, Drug Test, NBA & Net Worth >>
Granny Style Free Throw
It was 35 years ago when someone took an underhand free shot. But it was none other than Houston rookie Chiananu Onuaku who reintroduced granny-style back in NBA.
During his professional debut in 2016 against the Pelicans, Onuaku attempted and made both free throws using granny style.
Onuaku started shooting an underhand free throw after Cardinals coach Rick Pitino suggested him. As he was shooting only 46.7% from the foul line.
Moreover, Onuaku's shooting improved to 58.6 in his sophomore season. Later in the G League, he shot 67.4 percent from the free-throw line.
Although many may criticize his free throw style, but one thing is for sure it has definitely helped him to improve his free throw percentage.
Chinanu Onuaku | High School and College Career
High School
Onuaku went to Riverdale Baptist School. In his junior year, Onuaku averaged 8.2 points, 10.6 rebounds, and 3.4 blocks. Furthermore, Riverdale won the Capital Beltway League title with a 26-10 record.
Break Through Season
In his senior year, Onuaku registered 12.4 PPG, 12.7 RPG, and 5.5 BPG. Later, his high school won the Capital Beltway Conference title going 30-9.
He recorded 13 points and 11 rebounds in the championship game in a 71-66 win over Maryland Private School.
Moreover, he also won back-to-back conference player of the year. Likewise, he was named in All-state first team. Similarly, Onuaku was ranked as the 75th best player in the nation.
Onuaku narrowed down his college options to Georgetown, Miami, and Louisville. Later, on April 10, 2013, he committed to join Louisville.
Two Years of College
Onuaku played two seasons of collegiate basketball for the University of Louisville. In his freshman year, he played 35 games, starting in 26 of those.
Besides it, he averaged 3.0 points, 4.6 rebounds, and 1.2 blocks.
Later in his sophomore year, Onuaku started in 29 of 31 games he played. Moreover, he became the perfect replacement for Montrezl Harrell.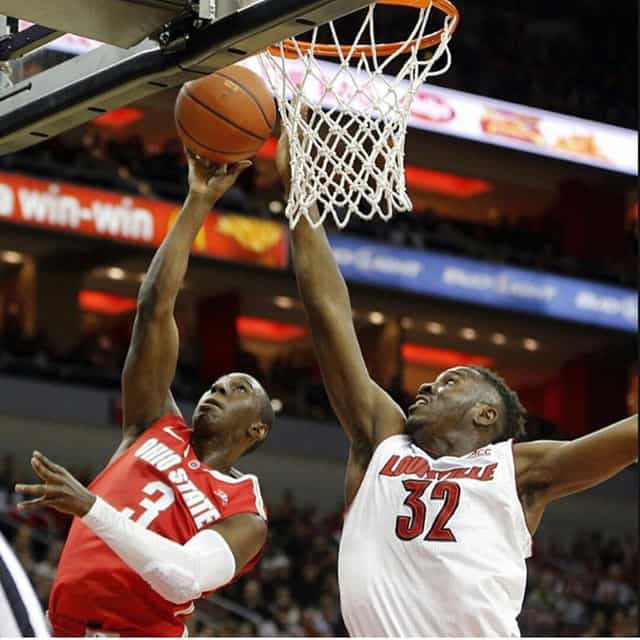 Likewise, he averaged 9.9 points, 8.4 rebounds, 2.0 blocks. For his performance, he was later honored with All-ACC honorable mention and All-ACC defensive team.
In that season, he recorded 11 double-doubles.
Overall in his two years with the Cardinals, Onuaku finished with a 49-17 record. Likewise, he averaged 6.2 points, 6.4 rebounds, 1.1 assists, and 1.6 blocks over 66 games.
Chinanu Onuaku | Professional Career
NBA Draft and Debut
In May 2016, Onuaku declared for the NBA draft. Later on June 23, 2016, Houston Rockets selected Onuaku as the 37th overall pick. He also played the 2016 summer league for the Rockets.
On December 26, 2016, Onuaku made his NBA debut in a 131-115 victory over Phoenix Suns. In his debut, Onuaku scored six points and grabbed3 rebounds.
Moreover, he spent most of the time in G-League affiliate Rio Grande Valley Vipers. On May 1, 2017, Onuaku was suspended for pushing match officials.
This incident occurred during the final seconds of a 122-96 loss against the Raptors 905.
Later on November 22, 2017, Onuaku registered his first career triple-double. In a 138-124 win against Memphis Hustle. He posted 12 points, 15 rebounds, and 11 assists for Vipers.
Series of Trade
Firstly on August 2, 2018, the Rockets traded Onuaku to Dallas Mavericks for Maarty Leunen. However, Dallas waived him just four days later.
Later, on September 4, 2018, Onuaku signed with NBA side Portland Trail Blazers. But in the next month, he was again waived.
On October 20, 2018, Greensboro Swarn selected Onuaku in the 2018 NBA G League draft with a second overall pick.
On November 25, 2018, Onuaku scored career-high 27 points in a 107-100 loss against Raptors 905.
Later, on December 13, 2018, Onuaku recorded career-high 21 rebounds in a 117-140 win over Wisconsin Herd. Onuaku overall recorded 13.9 points, 12.4 rebounds, and 2.9 assists for Swarm.
Overseas
In the 2019-20 season, Onuaku played in the South Korea league for Wonju DB Promy. There he averaged a double-double. Onuaku registered 14.4 PPG, 10.3 RPG, 2.5 APG, 1.4 SPG and 1.5 BPG.
Next Stop Europe
On October 14, 2020, Onuaku signed with Croatian club Zadar. In his Zadar debut, on October 26, 2020, he just played 6 minutes.
Onuaku recorded 3 points and one rebound in a 77-55 win over Koper Primorska.
Later on February 14, 2021, Onuaku won the first title of his professional career.
Onuaku won Croatian Cup and also collected the MVP award. In the final, he scored 16 points against Split.
Chinanu Onuaku | National Team Career
U-19 World Cup
Onuaku was a member of the gold-winning USA Basketball team for the 2015 U-19 World Cup in Greece. Over seven games, the USA perfected with a 7-0 record.
Moreover, Onuaku started six games averaging 4.6 PPG, 5.0 RPG, and 1.7 BPG.
In the final against Croatia, he scored 6 points, eight rebounds, and four blocks in a 79-71 overtime victory.
World Cup Qualifiers
On February 19, 2019, Onuaku was called up for the USA Basketball World Cup Qualifiers squad. Later, he started in both the match against Panama and Argentina.
Likewise, Onuaku averaged 8.5 points, 5.5 rebounds, and 1.5 steals to help the USA secure victory in both matches.
Read Also: Fran Belibi Bio: Parents, Dunk, Stats & ESPN >>
Chinanu Onuaku | Salary and Net Worth
Chianau Onuaku signed guaranteed 3 years deal of $2,498,982 in 2016
Breaking down his salary contract in the first year, he earned $543,47. This was followed by $9,05,249 in the second year. Finally, in the last year of the contract, Onuaku earned $1,050,262.
The salary details of his playing time with other clubs are not disclosed.
In G League, he must have made 5 figure salary. Furthermore, looking at average yearly salary pay in the Korean and Croatian leagues, Onuaku must be making 6 figure salary.
Onuaku is a shoe-free agent, and details regarding his other endorsement deals are also not disclosed yet.
The exact net worth of Onuaku is not published. But as per various sources, Onuakau estimated net worth is 1 million.
Social Media Presence
Onuaku currently has Instagram, and Twitter handles. He is quite active on both platforms. On Instagram, he has 34.8k followers, whereas he has 4.6k followers on Twitter.
Onuaku usually posts and tweets basketball-related photos and videos of his matches training. Moreover, he also has made good use of these platforms to raise his voice against racial abuse.
Trivia
His name is pronounced as chih-NAH-noo on-ooh-AHH-Koo.
Onuaku's favorite player is Carmelo Anthony, whereas he is a fan of the New York Knicks.
Andrew Wiggins is the best player Onuaku has ever faced.
He wears jersey number 32 because of Magic Jhonson.
Onuaku's favorite vacation destination is Puerto Rico.
You might be interested in buying Chinanu Onuaku's signed card; click to follow!
Frequently Asked Questions
What is the net worth of Chinanu Onuaku?
According to various online sources estimated net worth of Onuaku is $1 million.
Who shot underhand free throw?
Firstly, George Mikan shot the underhand free throw later, Rick Barry followed it.
Furthermore, in 2016 Chinanu Onuaku shot the underhand free throw for the first time since the late 70s.
When was Chinanu Onuaku drafted?
Onuaku was drafted in the 2016 NBA draft by Houston Rocket as the 37th overall pick in the second round.
Where is Chinanu Onuaku now?
At present, Onuaku plays for Zadar in Croatian League. Besides it, he has already played for four clubs.
What are Chinanu Onuaku's career statistics like?
During his regular season, Chinanu Onuaku has played a total of six games in the regular season while saving a single one of them and averaging 12.3 minutes per game. Likewise, he has a field goal percentage of .583 and a free throw percentage of 1.000.
In the meantime, he maintains an average rebound of 2.3, assists of .7, steals of .5, and points of 3.0 per game. As of his playoff season, Chinanu has played only a single game where he maintained an average rebound, assist, and steal of 1.