Chris Berman has been one of the USA's most admired and adored sportscasters and is famous for the nickname 'Boomer.' He is known for his work as a host in popular shows such as Sunday NFL Countdown and NFL PrimeTime.
Boomer also anchored well-known programs such as Monday Night Countdown, U.S. Open golf, the Stanely Cup Finals, and other ESPN and ABC Sports programs.
He has been the man of SportsCenter on ESPN since October of 1979 – a month after the network's inception.
Chris announced the 2022 Hall of Fame Class at the event hosted by NFL.
Berman has hosted since 1985 on the same network. Besides, he is the six-time awardee of the National Sportscaster of the Year honor from the National Sports Media Association.
With his catchy commentary phrases and peculiar mien, he contributed exceptionally to planting ESPN's popularity during its early ages.
Although he would remain at the company, in January 2017, he was announced to be bowing out of many NFL-associated duties from ESPN.
Chris Breman | Quick Facts
| | |
| --- | --- |
| Full Name | Christopher James Berman |
| Birth Date | May 10, 1955 |
| Birth Place | Greenwich, Connecticut, U.S. |
| Nick Name | Boomer |
| Religion | Judaism (Jewish Parents) |
| Nationality | American |
| Ethnicity | White |
| Education | Brown University (BA History) |
| Horoscope | Taurus |
| Father's Name | James Kleiner Berman |
| Mother's Name | Peggy Shevell |
| Age | 67 Years Old |
| Height | 6 ft 4 in / 1.95 m / 195 cm |
| Weight | 95 kg / 209 lbs |
| Shoe Size | Not available |
| Hair Color | Brown |
| Eye Color | Brown |
| Body Measurement | Not available |
| Build | Chubby |
| Married | Married (Spouse Deceased 2017) |
| Girlfriends | No |
| Spouse | Katherine Ann Berman (m.1983-d.2017) |
| Profession | Sportscaster |
| Position | Anchor, Play-By-Play Commentator, Journalist |
| Net Worth | $30 Million |
| Broadcasting Affiliations | ESPN, ABC Sports |
| Social Media | Twitter |
| Merch | Podcasts |
| Last Update | March, 2023 |
Chris Berman | Early Life, Family & Education
Berman was born in Greenwich, Connecticut, on the 10th of May 1955.
He is the son of Peggy Shevell and James Kleiner Berman. Peggy was a reporter and researcher in Time magazine. Likewise, James was a corporate executive vice president.
Boomer was raised Jewish. Similarly, he spent most of his childhood in Irvington, New York.
He studied at the Hackley school and received his degree in history from Brown University in 1977. He was the sports director of the school's radio station.
During those times, he developed an immense interest in sports and built impressive presentation skills.
Chris Berman | Career
Early Days
Berman began his job as a weekend sports anchor at Hartford's WVIT-TV. It was markedly significant in his sportscaster career.
Eventually, ESPN was aware of his unique style of presentation. Accordingly, the network hired him in October 1979, when he was 24.
He commenced his first assignment as a daily sports news presenter. Only Berman and a few people believed he would remain in the network for four decades.
The man was to become one of their longest-tenured personnel. The only working SportsCenter anchor from 1979 besides him is Bob Ley.
SportsCenter
Berman regularly hosted SportsCenter until 1990 (for 11 years). During the network's early four years, he worked the overnight shift.
He was made the host of ESPN's NFL Gameday in 1986. A year after the show's initiation, the pregame show was later renamed Sunday NFL Countdown.
Baseball Commentaries
In 1990, he marked his first appearance on ESPN's MLB All-Star Games and Home Run Derby coverage. He has remained in the position for 31 years and did the job for 30 years.
Boomer served as a play-by-play commentator for Major League Baseball games and host of Baseball Tonight on ESPN from 1990.
National Football League Coverage
Berman was the host of Monday Night Football. He was also the leading man for live coverage of three Super Bowls for ABC Sports during 1995-2006.
Then ESPN got the broadcasting rights. Accordingly, he continued the program with the network.
During 2006-2015, he presented NFL highlights during the 7 pm edition of SportsCenter with three other presenters.
Notably, he hosted NFL PrimeTime every Sunday night during the 1987-2005 fall.
Tom Jackson was his partner there. According to ESPN, the program still detains the record as cable television's highest-rated sports studio show.
Interviews
In his career, Berman had the privilege of conducting final interviews with the presidential candidates.
Notably, he interviewed then-presidential candidates Barack Obama and John McCain in 2008.
Also, he interrogated Barack Obama and candidate Mitt Romney in 2012. The latter was during the Monday Night Football halftimes on election eve.
In 2009, he hosted ESPN's two-hour documentary The Greatest Game Ever Played. It demonstrated the legendary 1958 NFL Championship game between the Colts and Giants.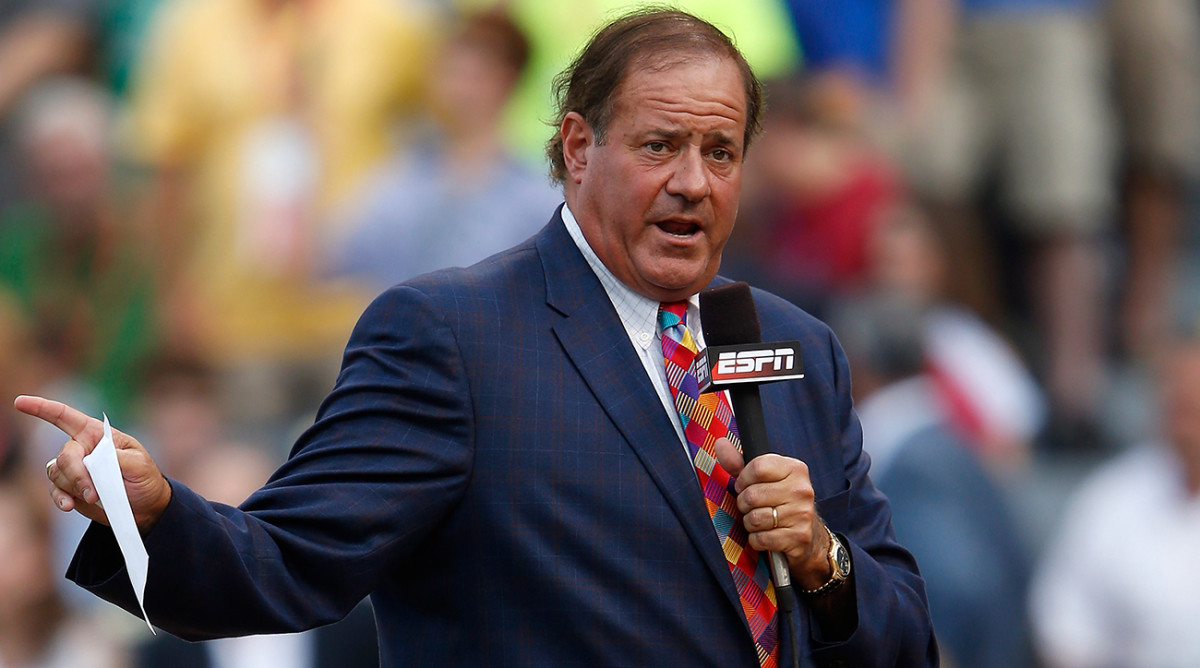 Berman was a nightly show host of U.S. Open golf from 1986 until 2014 and began a play-by-play role in 2003.
He has been a Master of Ceremonies for the Pro Football Hall of Fame induction events since 1999.
The rebirth of NFL PrimeTime in 2019 presented Berman and Jackson as hosts on ESPN+. He has reduced his duties at ESPN since 2017 but still serves there.
Berman worked as the on-field emcee for Thurman Thomas's number retirement ceremony on 29 October 2018.
In 2019, he announced a three-game series for the Boston Red Sox Radio Network with Red Sox broadcaster Joe Castiglione.
The same year, Breman and Tom Jackson united for a revival of NFL PrimeTime, streamed exclusively on ESPN+. They also hosted the"fastest three minutes" segments on the Monday Night Football halftime show.
ESPN Contract
Boomer had a multi-year contract with ESPN in May 2021 to continue hosting NFL PrimeTime. He said, "ESPN has been almost two-thirds of my life. I'm honored that what I do till works."
Chris Berman, a legendary sportscaster, announced the 2022 Hall of Fame Class on the stage at the event.
According to reports on 6 December 2022, NBC Chris Berman's NFL PrimeTime ended, as NBC gave rights to Sunday Night Football.
In one of the podcasts of The Adam Schein Podcast, Berman discussed the various moments of NFL PrimeTime.
He expressed, "Pissed. It's my favorite thing that I do." He added NBC had the right to do it, they tried to do another show, but they were limited in what they could show.
Sadly, fans are quite disappointed with the decision made by NBC.
Associations
During his career, he has been a season ticket holder for Hartford Whalers. He is found citing the team by singing its theme song.
Lately, he has been a "Bills Booster," an admirer and supporter of the Buffalo Bills.
Furthermore, he has taken part in many events involving the Bills. It includes the presentation of the club owner Ralph Wilson in the Pro Football Hall of Fame.
Chris Berman | Peculiarities
Berman is renowned for humor and vitality, with detailed reporting as a host, anchor, and commentator.
Perhaps his trademark phrase is his prediction of a touchdown run: ''He could..go..all..the..way!''. It was one of the first he endorsed.
Also, he is well known for using nicknames during his voices in Major League Baseball highlights.
Some famous nicknames are Chuck New Kids on Knoblauch, Sammy says it is not Sosa, and Barry US Bonds.
He has received numerous praises from his fellows, the media, viewers, and players all over the nation. The veteran is loved for his cheery and amusing style of delivery.
Berman makes predictions on the Sunday NFL Countdown using his alter ego 'The Swami.'
However, his prediction of a Super Bowl between the San Francisco 49ers and the Buffalo Bills is a fun fact.
One or the other has never come true for seven consecutive years, as neither of them made it.
Other Domains
Apart from the core profession, Berman has made cameos in 14 films and various television shows.
The appearance in Adam Sandler's comedy The Waterboy (1998) was the most notable.
In The Longest Yard (2005), he played the role of the play-by-play announcer of the prison football game.
Playing as himself, he made appearances in Necessary Roughness (1991), The Program (1994), Eddie, and Kingpin (1996).
Besides, he appeared in the single 'Only Wanna Be With You (1995) video by Hootie and the Blowfish.
Also, he was featured in the comedy Grown Ups 2 (2013).
Besides these, he has also appeared in commercials for a weight loss product company Nutrisystem.
He uses some of his signature phrases and nicknames to demonstrate the product's efficiency on some renowned footballers.
Berman has appeared on three late-night shows – Late Night with David Letterman, The Tonight Show with Jay Leno, and Jimmy Kimmel Live.
Chris Berman | Award & Achievements
Berman's career as a veteran sportscaster has always been admired by all the related media, players, and viewers.
He was honored by numerous sports institutions during his longest tenure at ESPN.
Berman has been the 'National Sportscaster of the Year honoree by the National Sportscasters and Sportswriters Association six times.
He also received the honor of the American Sportscasters Association's 'Sportscaster of the Year – Studio Host.' CableACE Awards honored him with 'Cable's best sports host' four times.
Berman was honored by People magazine's 'TV's Most Fascinating Stars 1997'. Furthermore, he achieved Maxwell Football Club's 'Reds Bagnell Award in 2001'.
Remarkably, Berman is an honorary Doctor of Humane Letters degree. He received it from Brown University in May 2007.
Moreover, in 2010 he received his star on the Hollywood Walk of Fame.
The Hollywood Chamber of Commerce welcomed him there. It was a tribute to his more than 30 years of service in the sports television industry.
Alongside, he was provided with Pete Rozelle Radio-Television Award by the Pro Football Hall of Fame in 2010.
Chris Berman | Criticism
The longtime front of ESPN is well aware of his critics and the multiple studies of his lies.
On the latest SI Media Podcast, Berman was questioned on how he feels about the strong reaction he makes from people who are not fans.
"I don't poo-poo it, but as long as we do the job to the best of our brains."
"When a critic — and there weren't very many — said, 'boy, he's unprepared.' Whoa, whoa, whoa, woooaahhh, whoa, whoa, whoa, whoa."
"I don't like the nicknames.' Fine. 'He's too loud.' Fine. 'He makes it about himself.' False, but if you want to write that, okay."
"But you didn't see me every night in the '80s and the '90s to know that I'm at least true to myself."
"It's like if you met me on the street, and probably on the air, it'd sound like we've been for the last 40 minutes. So I'm not smart enough to be an actor."
"But if everyone says, 'he's unprepared, he's out of touch – do you know who I talk to during the week? Don't be writing that. And there hasn't been a lot of that. People are smart enough for that."
Berman further talked about his will to join Twitter. He mentions that he wants to avoid the toxic platforms that drive his focus away from his work and life goals.
He is still not officially on Twitter, but many of his fan accounts exist.
Chris Berman | Age, Height, & Nationality
Born in 1955, Berman is 65 years of age as of 2020. He is Taurus, according to horoscope charts.
He was born and raised, spent his professional career in America, and has the nation's passport. Berman and his family practice Judaism and live in Chesire, Connecticut.
He is 6 feet and four inches or 195 centimeters. Likewise, he has a chubby body weighing 95 kilograms or 209 pounds.
Chris Berman | Net Worth & Salary
Berman has had around four decades of service in ESPN. Besides, he has made cameos in different shows and movies.
Berman is expected to have a net worth of $30 million as of 2023.
He currently makes $8 million annually as an anchor of different sports shows.
It is pretty much evident because of his plenty of honors and popularity. Henceforth, the 65 years old veteran deserves every penny he makes.
Chris Berman | Wife & Children
Berman married Katherine Alexinski in 1983. They have two children: a son Douglas and a daughter Meredith, who lives in Brooklyn.
Besides, Douglas is married. Both of his children attended Ivy League institutions.
Katherine died in a car collision in Woodbury on May 9, 2017. It was the day before Chris's 62nd birthday.
Moreover, she had killed the driver of the other car too. Reports confirm she was driving drunk.
Currently, there are no reports or rumors about Berman in a relationship. It seems he enjoys his profession and success and gets no time for affairs in the late half of his life.
Social Media Presence
Berman is not quite active on social media. Maybe the man is busy in his profession. Besides, he wants to keep his life private. It seems that Berman has only a Twitter account.
Twitter: 2768 followers (@BoomsFreshTakes)
Popularity Graph
Christopher James Berman is an American sportscaster for ESPN.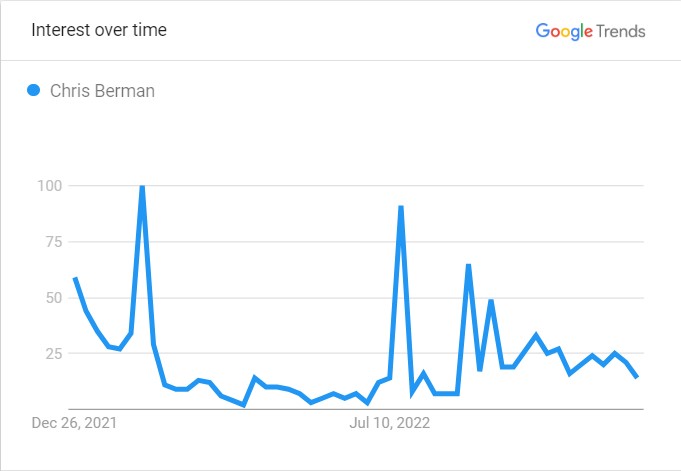 His search graph has movement as information regarding his net worth and wife was highly searched on the internet.
Frequently Asked Questions(FAQs)
Did Chris Berman have a stroke?
ESPN legend Chris Berman, who hasn't made many features on the network in the past couple of years, was at the Super Bowl and had an incredible display.
He either had too much to drink during the game or was experiencing some stroke.
Why is Chris Berman called Boomer?
Chris is a significant cause why.
Berman assisted in putting ESPN on the map in the 1980s as the network's first breakout lead. The young anchor had a big cynosure that met his nickname, "Boomer." He filled the screen with his appearance and energy.
Back then, most sports on TV were told in a reasonably straightforward way.
Is Chris Berman a Baseball host?
Chris Berman has hosted Baseball Tonight on occasions from the year 1990 to 2016.
He was involved in various other shows in his career.