At one point, Chris Johnson was among the top running backs in the NFL. He participated in the league for ten years, mainly with the Tennessee Titans.
In 130 games throughout his career, he accrued 9,651 running yards, 2,255 receiving yards, and 64 total touchdowns. A remarkable six-year span by the East Carolina product propelled him to the league's top.
He set a new record in the 40-yard sprint at the NFL Combine with a time of 4.24 seconds and was selected by the Tennessee Titans. The Titans selected him during the first round of the 2008 NFL Draft.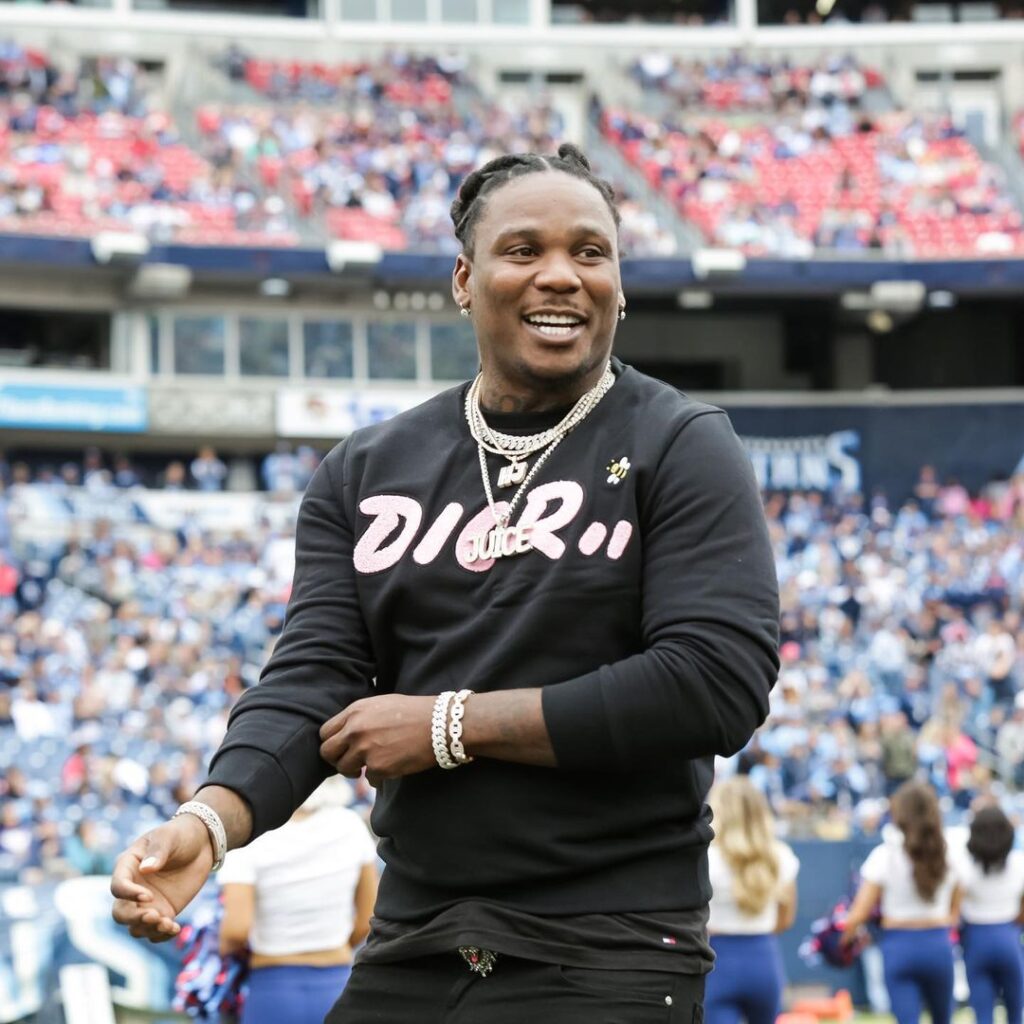 In his 1st three seasons in the league, he was chosen for the Pro Bowl. He became the sixth of only eight players to ever rush for more than 2,000 yards in a season in 2009, winning the NFL rushing title with 2,006 yards.
He also broke Marshall Faulk's record for most yards from scrimmage with 2,509 yards. As a result, Chris was given the nickname CJ2K and was named the 2009 Offensive Player of the Year.
Chris Johnson: Quick Facts
Full Name
Christopher Duan Johnson
Nick Name
CJ2K
Date of Birth
September 23, 1985
Age
37 years old
Birth Place
Orlando, Florida
Nationality
American
Ethnicity
African-American
Zodiac Sign
Libra
Religion
Christian
Height
5 ft 11 in (1.8 m)
Weight
203 lb (92 kg)
Hair Color
Black
Eye Color
Black
Father's Name
Not Available
Mother's Name
Della Johnson
Siblings
Not Available
High School
Olympia (Orlando, Florida)
Education
Graduate
University
East Carolina (2004–2007)
Marital Status
Not Married
Relationship Status
In a relationship
Girlfriend

Brittany Anne Usher

Children
3;

Honey Love Johnson (daughter) and twin sons

Profession
NFL Player
Position
Running back
Jersey Number
28, 21, 23
Leagues
National Football League (NFL)
NFL Draft
2008 / Round: 1 / Pick: 24
Debut Year
2008
Playing Teams
Tennessee Titans (2008–2013)
New York Jets (2014)
Arizona Cardinals (2015–2017)
Net Worth
$33 million
Social Media
Instagram, Twitter
Merch
Jersey
Last Update
June 2023
Early Life
Chris Johnson was born on September 23, 1985, in Orlando, Florida. At Orlando's Olympia High School, he participated in football. Johnson was only rated as a two-star recruit by Rivals.com.
Moreover, he was not regarded as one of the top running back prospects in the country in 2004. In preference to Eastern Kentucky, USF, and UConn, he chose East Carolina.
Johnson excelled in the track program at Olympia High School. At the Florida 4A state championships in the 100 meters during his senior year, he came in second to Walter Dix.
Johnson also concluded his senior year with personal bests in the 100 and 200 meters. Similarly, he recorded 10.38 in the former and 21.28 in the latter (the nation's 24th quickest in 2004).
He ran a preliminary mark of 10.83 seconds in his junior year to make the Florida State meet final. His 100 and 200 meters best are 10.38 and 21.28 seconds, respectively.
Johnson played for the East Carolina Pirates while attending East Carolina University on a scholarship and majored in communications. He returned to school after retirement and earned his degree in 2020.
Professional Career
In the 2008 NFL Draft, Chris was selected by the Tennessee Titans in the 24th overall choice. Over the subsequent six seasons, he became a star for the Titans.
Johnson led the league with 2,006 running yards in 2009 after rushing for 1,228 yards and nine touchdowns in his 1st season, earning him a Pro Bowl nomination.
He had 503 yards receiving and added 14 touchdown runs on the ground. All of this contributed to his winning the honor of the AP Offensive Player of the Year.
Chris spent six seasons with the Titans before spending one season each with the New York Jets and Arizona Cardinals (2015–2017).
In his six seasons with the Titans, Johnson rushed for 1,000 yards or more, but he never achieved it again after leaving the team. Johnson had a brief heyday, but when he was at his best, he was one of the league's best running backs.
Famous NFL defensive lineman Derrick Brown plays for the Carolina Panthers. He is regarded as one of the top draft picks and possibly the best defensive lineman. Learn about him here>>
Chris Johnson Got Shot In 2015
Chris Johnson, a former All-Pro running back, will never forget what happened on March 8, 2015. Johnson, most recently a player for the New York Jets, was shot while leaving an Orlando, Florida, concert when a shooter opened fire on the vehicle he was riding in.
The NFL player was wounded in the shoulder, and the incident claimed his companion's life. Rollie, a buddy of Chris, died in the shooting.
Chris, one of the best running backs of his period and a 10-year veteran of the NFL, suffered severe injuries from the shooting and worried they would end his football career.
Chris claims he was just in Florida to attend a concert organized by a friend who was going to enter a lengthy prison sentence. CJ wanted to hang out and say goodbye to his friend before leaving for prison.
But things went wrong that night, and Chris almost lost his life. He eventually located a physician who assisted in his recovery so he could pick up his playing again.
Accused of Plotting Murder
According to TMZ Sports, Chris Johnson was associated with a murder-for-hire scheme that claimed the lives of two men in 2016.
According to TMZ, Johnson wasn't charged but is suspected of paying "a well-known Florida gang member" to kill two guys in 2015 who he thought were shooting at him and a companion.
In court papers, it is stated that "information acquired indicates [the gunshot] was a gang connected murder attempt on Chris Johnson," according to the TMZ article.
One was killed in January and the other in June of 2016 – they were shot as suspects in the Orlando tragedy.
According to TMZ, Johnson gave Dominic Bolden, the alleged gang leader, "funds and an individual" who could aid him in forming a drug trafficking organization as payment for killing the claimed shooters.
One of the few players who could alter the course of a game was Anthony Carter. He was a wide receiver who caught impossible balls with lightning speed. Click here to learn about him>>
Chris Johnson Never Returned To His Older Form
Given how Chris Johnson's career ended, it's simple to forget how talented he was. The Orlando, Florida native dominated the league when he joined the Tennessee Titans.
The first-round draft choice from 2008 went over 1,000 yards in his first six NFL seasons.
He amassed 2,006 yards and 14 touchdowns in 2009, winning the rushing championship. Johnson added 50 receptions for 503 yards and two more scores. He presently holds the record for most scrimmage yards in a season (2,509).
Johnson was named the 2009 NFL Offensive Player of the Year, made three Pro Bowls, and was once called to the First-Team All-Pro. Sadly, he didn't experience the same success after leaving Tennessee.
In 2014, the running back, who is 5 feet 11 and weighs 195 pounds, was a member of the New York Jets. He then spent his final three seasons playing for the Arizona Cardinals.
During that time, Johnson only carried for 1,686 yards and five touchdowns. Chris Johnson is content with how things turned out, even though his prime didn't continue as long as he had intended.
Wife
Many people believe Johnson and Mioshi Johnson are wed; however, the reality is slightly different.
Mioshi is Chris Johnson's wife, although Chris isn't an NFL running back; instead, he's a cornerback who spent the latter portion of his career playing for the Baltimore Ravens and Oakland Raiders.
When it comes to the ex-NFL running back's romantic life, Brittany Anne Usher is his girlfriend, and the two are happy together. Although there is little information available regarding Brittany's occupation, several web sources imply that she is a stylist.
Chris appears to be an avid social media user, yet he rarely discusses his romantic life there. He hardly ever posts photos on Instagram or Facebook with his girlfriend, Brittany.
On the other hand, his girlfriend occasionally tags her boyfriend in images she shares with him on Facebook.
We know very little about how and when they met and how love bloomed between the two because Johnson likes to keep his love life a secret.
However, given that the couple's beautiful baby girl was born in April 2018, we can be sure they had been together longer than in 2017.
Chris Johnson: Daughter
The couple, who primarily keep their relationship private, are very public regarding their kid. On April 1, 2018, they welcomed their sole child together.
Their daughter was given the name Honey Love Johnson. The happy father has frequently posted pictures of his daughter on social media since birth.
Numerous posts depict the father-daughter team having fun together at home and occasionally outside. Additionally, Chris appears to celebrate both significant and insignificant events with his daughter.
He posted pictures of his daughter Honey celebrating her six-month birthday and her other two birthdays. Additionally, Chris posts pictures of his daughter enjoying holidays like Halloween, Christmas, and Easter.
J.J. Watt embodies the ideal gentleman. Since his first draft, the top NFL player of 2015 has played for the Houston Texans. Here's everything you need to know about him>>
Chris Johnson Also Has Sons
Chris Johnson is the father of two twin sons in addition to his wonderful daughter. But regrettably, he hasn't given his twins' names away. The boys were born in Orlando, Florida, on June 18, 2012. Online sites cite Chris' ex-girlfriend Carla as the mother of his twins.
He has a close relationship with his boys, and the father-son trio has taken trips together. Chris frequently posts pictures of his youngsters' activities on Facebook and Instagram.
Johnson refers to his sons as "twin juices" in the meantime, and they each have an Instagram account with the same name.
We can see Chris's sons are already interested in football by looking at his Instagram. The boys have begun preparing to follow in their father's footsteps and play football.
It's interesting to note that they have already achieved something, encouraging them even more to pursue their desire. According to a photo their father shared on Instagram, they won the mid-Florida championship in November 2020.
Net Worth
Chris Johnson, a professional American football player, is thought to be worth $33 million.
The Titans inked him to a five-year, $12 million contract with a $7 million guaranteed salary. He was chosen to participate in the Pro Bowl in 2009.
The Titans signed him on September 1, 2011, to a four-year extension deal worth $53.5 million with a guaranteed $30 million payment. The athlete became the highest-paid running back in the league as a result.
Johnson's deal stipulates that he will earn $8 million in 2012, which became guaranteed in March, and $9 million starting on the fifth day of the 2013 league year.
Johnson would have become a free agent, and the Titans would have saved $17 million if they had released him before the March 2012 deadline.
Johnson earned $45.68 million with the Titans, Jets, and Cardinals throughout ten seasons, according to Spotrac.
Social Media Presence
Below is the link to his social media accounts;
Instagram– 365k followers
Twitter– 854.3k followers
FAQs
Why did Chris Johnson leave the Titans?
The subject was Johnson's contract. Three seasons ago, he received a $30 million guarantee, and the Titans cut him as soon as it expired.
Although Johnson's style is too boom-or-bust, he has been a good starter over the past few seasons. He doesn't produce the 5-yard runs that keep offenses going.
Is Chris Johnson Retired?
After ten seasons in the NFL, Johnson retired from the league office on November 5, 2018. On April 24, 2019, Johnson committed to retiring from the Tennessee Titans as part of a one-day contract.