Charles Wepner is an American former professional boxer with a record of 35-14-2. Bayonne unveiled a statue of boxing legend Chuck Wepner on November 12, 2022.
What can you do when your life is a movie? Though most people can not relate, they still wish their real life to be like some movie.
On the contrary, Chuck Wepner's life has been the source of inspiration for numerous Hollywood hits. Do you guys know 'Rocky'?
Most of his life is documented in reels and presented in major cities. There are rarely any people left who have not heard about the movie, Rocky.
This article will discuss this amazing personality who influenced movie makers throughout the decades.
Anything from his life, including his sketchy past, childhood, family, wife, and more. Make sure to read till the end. But first, quick facts table;
Chuck Wepner | Quick Facts
| | |
| --- | --- |
| Full Name | Charles Wepner |
| Birth Date | February 26, 1939 |
| Birth Place | Bayonne, New Jersey, United States |
| Nickname | The Bayonne Bleeder |
| Religion | N/A |
| Nationality | American |
| Ethnicity | Mixed(German, Ukrainian, Belarusian) |
| Education | Bayonne High School |
| Horoscope | Pisces |
| Father's Name | Charles William Wepner |
| Mother's Name | Dolores (née Hrynko) Wepner |
| Siblings | Brother |
| Age | 83 Years Old |
| Height | 6'5″/1.96 m/196 cm |
| Weight | 101 kg/222.6 lb. |
| Shoe Size | Updating Soon |
| Hair Color | Blonde |
| Eye Color | Dark Brown |
| Build | Average |
| Marital Status | Married |
| Wife | Linda Wepner |
| Children | Two Daughters and A Son |
| Profession | Professional Boxer |
| Active Years | 1964-1978 |
| Stance | Orthodox |
| Weight | Heavyweight |
| Net Worth | $400k |
| Merch | Posters, DVD |
| Last Update | January 2023 |
Chuck Wepner | Early Life, Family, And Education
The former heavyweight boxer Chuck was born on February 26, 1939, as Charles Wepner to his parents in Bayonne, New Jersey, the United States of America.
He bears American citizenship, while his ethnicity is mixed, i.e., German, Ukrainian, and Polish.
The boxing champion is the son of Charles William Wepner and Dolores Wepner (nee Hrynko).
Chuck grew up in the city along with his parents and brother, Don. Growing up in the sketchy streets of Bayonne, New York, taught Wepner to be a brawler as a way to defend himself.
Likewise, he was just a year old when he and his mother relocated to his maternal grandmother's house on 28th street near Hudson Boulevard.
Until he was 13, Wepner lived in a room, formerly a coal shed, with his mother and grandmother.
As for his education, Chuck went to Bayonne High School and actively played for the school basketball team. Not to mention, Chuck was athletic since childhood.
Chuck Wepner | Age And Body Measurements
As we mentioned, Chuck has always been an avid sports enthusiast. His physique and stamina allowed him to play basketball for the Police Athletic League.
The former boxer stands at 6 feet 5 inches (1.91 meters) while he weighs around 101 kg (222.6 pounds). In addition to that, Wepner has dark brown eyes and used to have short blonde hair back in the day but is now bald.
Likewise, the sports prodigy was born in the year 1939, which makes him 83 years old, and he celebrates his birthday every year on the 26th of February. Also, his zodiac sign happens to be Pisces.
Though the body measurements are unknown, there is no denying he has got an athletic physique.
Chuck Wepner | From Street Fights To The Ring
Right after his high school graduation, young Wepner joined the U.S. Marines, where he gained a reputation as a boxer.
With the ability to withstand other boxers' punches, Chuck even became a military champion.
As his marine tenure ended, Chuck debuted as a professional boxer in 1964 and won the New York Golden Gloves Heavyweight Novice Championship.
In his amateur years, Chuck has a record of 16 wins and 0 losses, which is commendable. With his mammoth stamina and physique, Chuck quickly made a name for himself as a boxer.
His win against George Cooper in his first professional match brought him more limelight and attention.
Throughout the years, Wepner fought all over the states and defeated names like Rudy Pavesi, Jerry Tomasetti, and Ray Patterson.
Not to mention, he also suffered from back-to-back losses against Bob Stallings and Buster Mathis.
However, Chuck redeemed himself on April 28, 1967, when he won the first title, defeating Don McAteer with a fifth-round technical knockout.
The following year, he defeated Forest Ward three consecutive times to a higher automatic stoppage.
Further
Next year, he faced rookie George Foreman at Madison Square Garden. Unfortunately, the newbie crushed giant Chuck in the third round, winning via technical knockout.
Compared to that, he had a more gruesome and exciting match against fellow American boxer Randy Neumann. The bout against Randy on December 9, 1971, got him the USA New Jersey State Heavyweight title.
The two rivals met again on April 15, 1972, and back on March 8, 1974, at Madison Square Garden. The match ended with six rounds after Neumann was knocked out cold.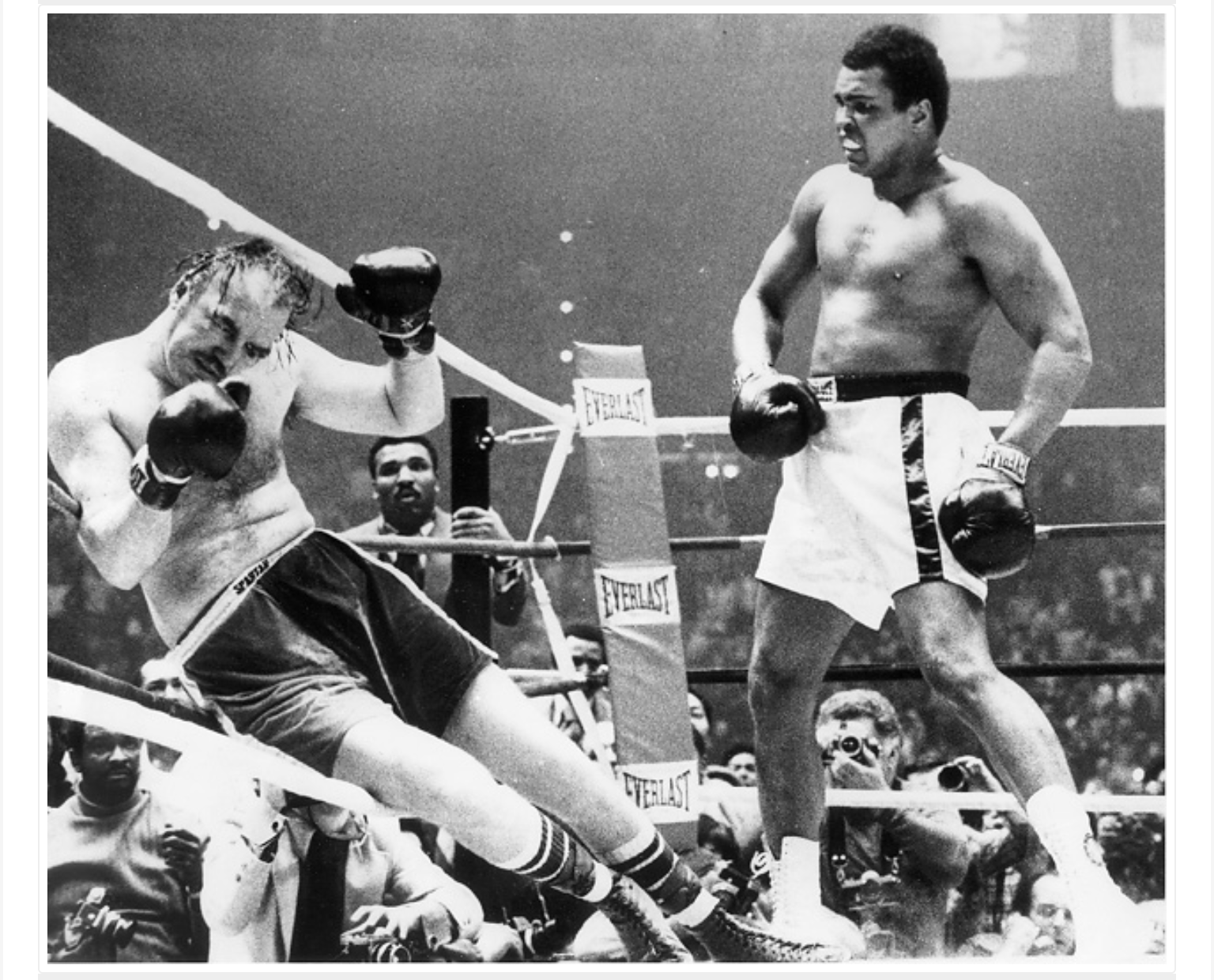 But his career's highlight match must be with the then WBC and WBA Heavyweight Champion Muhammad Ali. Chuck challenged the titleholder Ali, and the event took place on March 24, 1975, at Richfield Coliseum, Richfield, Ohio.
Though Ali dominated most of the match, the 1.91 meters giant knocked the World Champion in the ninth round. But as expected, the legend Muhammed Ali got up and won the game with only seconds to spare.
Chuck Wepner | The Heavyweight Boxer Who Inspired 'Rocky'
The 'Rocky' movie that started the franchise and put then-struggling actor Sylvester Stallone in the limelight was based on none other than Chuck Wepner.
Apparently, Stallone was awe-struck by the fight between Muhammad Ali and Wepner.
"It was like a bolt of lightning from some Greek god in the sky, and, almost instantly, Wepner became the crowd favorite," said Stallone.
He further added, "Suddenly, he went from being a complete joke to being somebody whom everybody watching could identify with- because everybody's thinking,' Yes, I'd like to do that! I'd like to do the impossible, even if only for a moment, and be recognized for it- and have the crowd cheer."
Soon Stallone put out the screenplay for 'Rocky,' the ultimate sport, about an underdog boxer that won the Best Picture Academy Award. However, Stallone has denied many times that Wepner inspired the movie.
But the story with Stallone did not just end there. In 2003, Wepner, now a retired boxer, sued Sylvester Stallone for using his name in the promotion and Rocky franchise.
Luckily, the matter was settled in 2006, as Chuck reported that he did not receive a single penny despite his $15 million lawsuit, and they both became friends.
Chuck Wepner | Boxing Record
| | | | |
| --- | --- | --- | --- |
| Date | Opponent | W-L-D | UD |
| 1969-12-19 | Pedro Agosto | 4-0-0 | UD |
| 1969-08-18 | George Foreman | 3-0-0 | TKO |
| 1969-06-22 | Jose Roman | 20-5-1 | PTS |
| 1969-04-28 | Mike Bruce | 7-19-2 | PTS |
| 1969-03-14 | Roberto Davila | 20-11-0 | MD |
| 1968-12-13 | Jerry Tomasetti | 15-6-0 | TKO |
| 1968-11-09 | Mert Brownfield | 9-12-0 | MD |
| 1968-09-26 | Forest Ward | 4-0-2 | TKO |
| 1968-05-20 | Mike Bruce | 7-12-1 | PTS |
| 1968-04-30 | Eddie Vick | 11-11-3 | SD |
| 1968-01-22 | Clay Thomas | 15-10-3 | TKO |
| 1967-11-27 | Charlie Harris | 1-2-1 | TKO |
| 1967-07-19 | Jerry Tomasetti | 8-4-0 | TKO |
| 1967-04-28 | Don McAteer | 19-8-2 | TKO |
| 1967-01-18 | Lou Hicks | 6-9-0 | UD |
| 1966-10-21 | Dave Centi | 11-9-0 | PTS |
| 1966-08-03 | Johnny Deutsch | 9-2-0 | TKO |
| 1966-04-06 | Cleo Daniels | 7-13-1 | PTS |
| 1966-02-22 | Jerry Tomasetti | 3-2-0 | UD |
| 1966-01-07 | Buster Mathis | 5-0-0 | TKO |
| 1965-10-19 | Bob Stallings | 7-5-0 | SD |
| 1965-03-23 | Everett Copeland | 2-7-2 | PTS |
| 1965-01-19 | Ray Patterson | 10-1-0 | SD |
| 1964-12-18 | Jerry Tomasetti | 3-1-0 | UD |
| 1964-10-27 | Everett Copeland | 1-6-1 | PTS |
| 1964-08-14 | Rudy Pavesi | debut | PTS |
| 1964-08-05 | George Cooper | debut | KO |
What Happened To Chuck Wepner? Where Is He Now?
Chuck proved to be a worthy opponent in every fight though he lost a few along the way.
On May 2, 1978, after his fight with rising star Scott Frank, Wepner announced his retirement from boxing.
He ended his career with an impressive record of 51 fights with 35 wins, 17 wins by KO, 14 losses, and 2 draws.
Instead of indulging in other ventures, Chuck began abusing drugs. Wepner was charged with felony drug possession as he was found with four ounces of cocaine in November 1985.
He served 17 months in Northern State Prison, Newark, and another 20 months in New Jersey's Intensive supervision program.
His drug addiction was also why he failed the audition as a sparring partner in Rocky II.
The documentary named 'The Real Rocky' was made and aired on ESPN on October 25, 2011.
Besides Rocky, Chuck has been the subject of another 2016 biographical sports drama, Chuck. In the drama, Liev Schreiber portrayed his character and was well-received by critics. He was also the subject of the movie 'The Brawler' in 2019.
Moving on, Wepner has been working with his third wife, Linda, in the liquor sales field for Majestic Wines and Spirits, located in New Jersey, U.S., since 2010.
Chuck Wepner | Net Worth, Income, & Salary
Chuck Wepner, the former American heavyweight boxer, has an estimated net worth of $400k as of 2023.
Most of his income was from his profession as a boxer.
One of the most influential boxers in American history, he has received multiple awards. However, the star boxer has yet to disclose his total income and earnings, including his assets.
Chuck Wepner | Wife, Family, & Personal Life
Unlike his professional career, Chuck's married life has suffered a series of drawbacks. Not to mention, he has been married three times now.
He was first married to Lorma Wepner, with whom he has two children, Charlene and Chuck Jr. For some reason, the marriage did not work, and the two parted ways.
Then for his second, Chuck married Phyllis Wepner and had a daughter named Kimberly.
But even his second marriage failed, and in 1995, for the third time, Wepner tied the knot with Linda Wepner. The two are still together and live in his hometown of Bayonne.
The two seem to be going strong and are far from any rumors or controversies regarding their separation.
Chuck Wepner | Popularity
Despite being out of the sport for many years, he still has not lost his popularity. He is forever remembered for his exceptional boxing career and brutal fights.
The above graph shows brief information about the popularity of former professional boxer Chuck in the United States based on Google searches over a year.
Chuck Wepner | FAQs
Where is Chuck Wepner from?
Chuck Wepner is from Bayonne, New Jersey, United States.
Is Chuck Wepner the real-life 'Rocky'?
Yes, Chuck Wepner is the real-life 'Rocky Balboa.'
How much did Chuck Wepner sue Sylvester?
Wepner sued for $15 million. However, he did not receive a single penny.