Collin Johnson is an aspiring American football player who currently plays for the New York Giants of the National Football League. The 1.98 meters athlete is also known for being the tallest wide receiver in NFL.
His intense gameplay and skills have made him a valuable asset for the New York Giants.
Unfortunately, the rising Giants star Johnson will miss the entirety of the 2022 season because of a torn Achilles.
Jacksonville Jaguars drafted him in the fifth round of the 2020 NFL Draft.
He was raised in an athletic background, as his father was involved in the same sport. This may have influenced Johnson's dedication to football.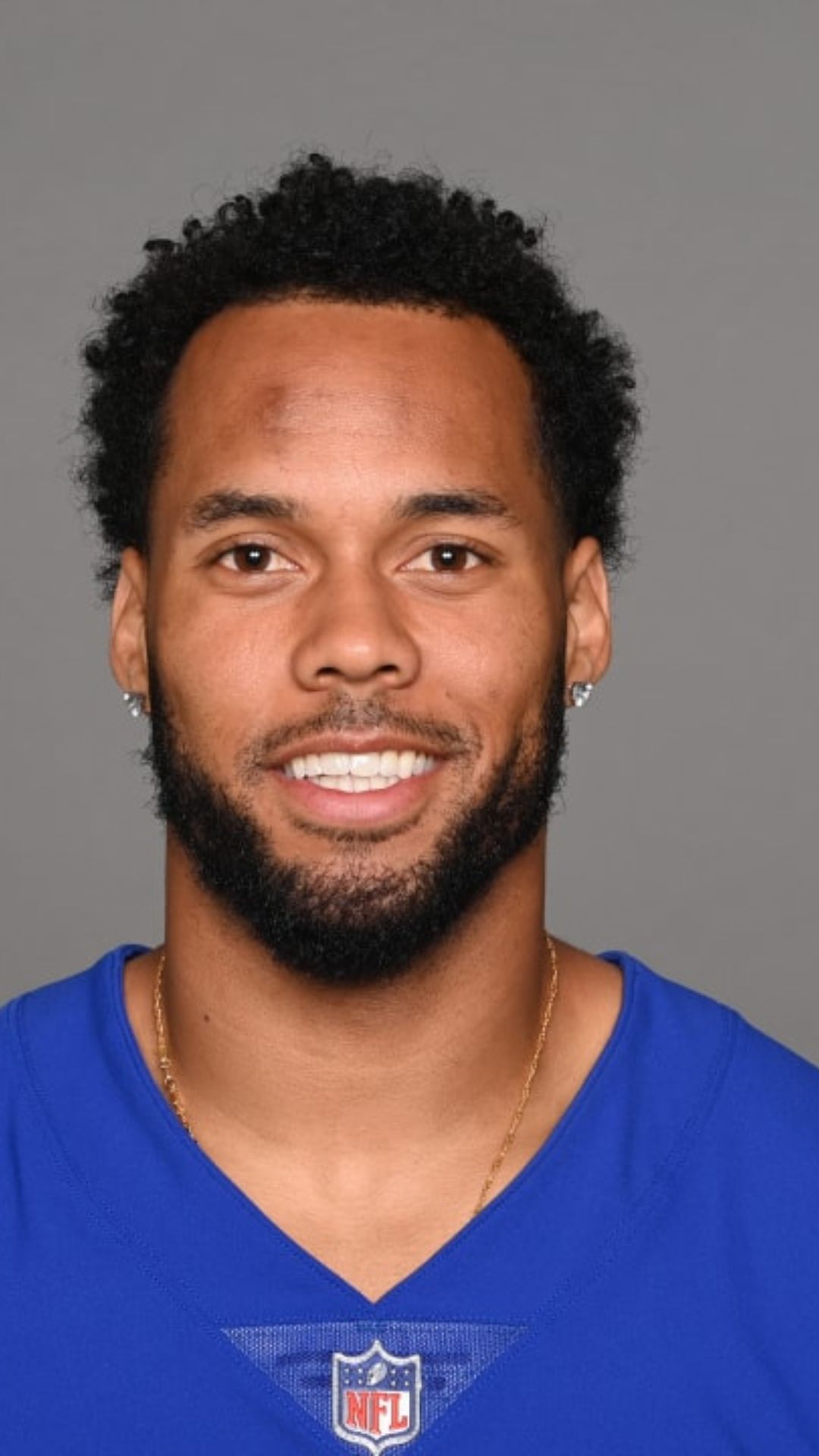 Collin Johnson is one of the rising stars of the NFL. He makes the most of his height and broad reach to make himself a deadly target for quarterbacks.
Johnson is a lot more than a famous NFL player. In this article, we will discuss his early life, fiancé, and net worth.
But first, let us take a quick peek at the basic facts.
Collin Johnson | Quick Facts
| | |
| --- | --- |
| Full Name | Collin Johnson |
| Birth Date | September 23, 1997 |
| Age | 25 Years Old |
| Birth Place | Los Angeles, California |
| Nationality | American |
| Ethnicity | Mixed |
| Education | Valley Christian High School, University of Texas |
| Horoscope | Libra |
| Father's Name | Johnnie Johnson |
| Mother's Name | Julie Johnson |
| Siblings | Kirk Johnson, Camille Johnson |
| Height | 6 feet 6inches/1.98 meters/198 cm |
| Weight | 220 lbs./100 kg |
| Hair Color | Black |
| Eye Color | Black |
| Build | Athletic |
| Spouse | Sara Machado |
| Profession | Football Player |
| Net Worth | $1.5 Million |
| Salary | $780,000 |
| Affiliations | NFL |
| Active Since | 2020-Present |
| Social Media | Instagram, Twitter |
| Merch | Signed Photograph |
| Last Update | May 2023 |
Collin Johnson | Early life, Family, & Education
The NFL player was born on September 23, 1997, to parents Johnnie Johnson and Julie Johnson.
He was raised with his two siblings, Kirk Johnson and Camille Johnson, in Los Angeles, California.
Johnson attended high school at Valley Christian in San Jose. More than 5 football programs offered him scholarships just in his sophomore year.
Growing up, his favorite teams were the 49ers and the Rams. But he used to follow the 49ers more than any other team.
Collin's older brother Kirk is also a football player in Texas, whereas his sister Camille is a member of the track and field team.
Father
Collin's father, Johnnie Johnson, is a former college and professional football player.
Johnnie played 10 seasons as a cornerback and safety in the National Football League (NFL) in the 1980s.
He was drafted in round 1 in 1980 by the Los Angeles Rams. Later, Johnnie signed a 6-year contract for $1 million with the Rams.
Collin Johnson | Age, Height, & Weight
The 25 year-old player stands 1.98 meters tall and weighs around 220 lbs.
Johnson works out frequently before and after his NFL games to maintain his lean athletic physique.
Collin Johnson | Professional Career
After graduating from Valley Christian, Collin attended The University of Texas at Austin. There he started 9 matches and completed the season with 54 catches.
In his senior year, he remarkably improved his skills, according to his coach Tom Herman. He later went on to win the National Player of the Week Award.
Collin Johnson's professional career started soon after the Jaguars drafted him in 2020.
Johnson made 14 appearances in 2020 as a rookie and finished with 18 receptions for 272 yards and 2 touchdowns.
On August 31, 2021, Johnson's time as a Jaguar came to an end.
Johnson was signed by the New York Giants on September 1, 2021.
In his Giants debut against Atlanta, he recorded season-high 5 catches for 15 yards, including a 16-yarder.
He started one game out of 12 during his first campaign with the Giants in 2021. With a 16-yard reception, he caught 11 passes for 105 yards.
You Might Want To Read About Keenan Allen: Career, Net Worth & Personal Life
Collin Johnson | Fiancé
Collin Johnson and his now fiancé Sara Machado met in high school.
The NFL player popped the question on June 26, 2020. His fans were very excited when the couple posted about their engagement online.
The proposal took place at the couple's favorite getaway spot on the beach. Johnson proposed at the end of June, but he had bought the ring about 6 months earlier.
The whole proposal was heartwarming, and afterward, they celebrated with some champagne.
Collin Johnson And His Fiancé Celebrating With Champaign (Source: instagram.com)
Although they met in high school, the couple attended different universities. When Collin enrolled in the University of Texas at Austin, Sara was a student at St. Edward's University.
She graduated with a bachelor's degree in business administration and economics. Sara later studied business administration and management at Stanford continuing the studies in 2021.
Sara often shares photos of herself and her fiancé on her Instagram handle, where she has 11.7k followers as of this writing. The couple also shares lovely photos online with their pet dog, Molly.
Collin Johnson | Net worth
Collin Johnson's net worth as of May 2023 is about $1.5 million. His major source of income is his NFL salaries, bonuses, and incentives.
Similarly, the NFL star earns well from brand deals.
In 2021, his total earnings were $780,000. Johnson lives in a luxurious house with his fiancé and their dog.
Collin Johnson | Injuries
The NFL player does not have many recorded injuries. However, on January 2nd, 2021, he was placed on injured reserve.
It was because he suffered a hamstring injury in Week 15 against the Baltimore Ravens.
Due to the injury, he was ruled out from the match against the Eagles and other games against the Bears.
After his recovery, Collin Johnson got quickly back in the game, catching one of two targets for seven yards winning against Carolina Panthers.
Moreover, in August 2022, the wide receiver was carted out of the field after suffering a season-ending torn Achilles.
Read About About NFL Player Rashaan Evans And His Life!
Collin Johnson | Strengths
When it comes to playing with strategies, every player has their own skills that they master. For Collin, his height and size have always been advantageous.
His primary strategies involve the use of length to open up late catch space. He is also aware of route leverage and knows how to use it.
Collin specializes in tight spaces, overcomes press with hand use and strength, and displays a wide grab radius to block poor throws.
The 1.98 meters NFL player makes high-point catches appear simple and uses his hands to block press jabs.
Limitations
According to BBC's Ryan Day, his flaw is that he plays too defensively and allows mental obstacles on the field to defeat him.
Although Collin Johnson is a good player with excellent size, he isn't particularly quick; his 40-yard dash time hovers around 4.5 or 4.6.
One of his limitations is that he allows opponents to stand in his deep catch space.
Collin Johnson | Workout
Collin Johnson believes that if you have a goal and a dream, you must keep working hard. As per him, he works out for his way of life.
The NFL player indulges in sports other than football, such as boxing, gymnastics, and basketball. For workouts, Johnson does balance exercises, handstands, weight lifting, and so on.
Johnson has shared some of his secret workout regimes in his vlog from 2018. During quarantine, he worked out in the gym he had built in his garage.
Diet
Collin starts off his day with scrambled eggs with some spinach. He adds some bacon and sausages for the protein intake.
After his daily workouts, Collin Johnson intakes a dairy-free protein shake. For athletes like himself, it's all about protein, so furthermore, he consumes more fish and fruits.
The athlete is against processed foods and lazy eating. He recommends eating dry fruits instead of processed foods.
Johnson blends spinach, cucumbers, celery, apples, carrots, lemon, ginger, and turmeric to prepare his juice.
Also, Read About Gordie Gronkowski Jr. Bio: Family, Net Worth & Career
Collin Johnson | Social Media
Collin Johnson has a growing Instagram with 84.4k followers. Similarly, his Twitter has 26.1k followers.
The NFL player also vlogs on his YouTube channel about his daily routine and sometimes his vacation with his fiancé.
View this post on Instagram
Although he is not very active on his channel, his videos still have thousands of views.
Collin Johnson's Popularity Over The Years
Frequently Asked Questions (FAQS)
Does Colin Johnson have children?
No, the young NFL player does not have any children yet.
Is Collin Johnson the tallest player of the New York Giants?
Collin Johnson is definitely very tall but not the tallest player among the Giants.
What number does Collin Johnson wear?
The NFL player wears jersey number 15 for the New York Giants.
You Might Also Want To Read About Leonard Fournette: Career, Girlfriend & Net Worth!