The man is known for his hothead, killer looks, and dead shot punches in the octagon. When it comes to the world of Mixed Martial Arts, no one has probably missed the name of the legend "Conor McGregor."
McGregor is a man with a legacy behind him, one of the biggest names in Mixed Martial Arts who took the Ultimate Fighting Championship to the next level.
Conor is also known by the nickname 'The Notorious,' which he has earned due to his severe & aggressive form. His aggressive form of boxing helped him to win several titles and championships.
Interestingly, his aggressiveness and attacking position in the octagon is known as one of the fiercest and nail-biting dispositions to watch.
Notably, he unified the featherweight division after joining UFC in 2015 and became a two-division champion by conquering the lightweight title.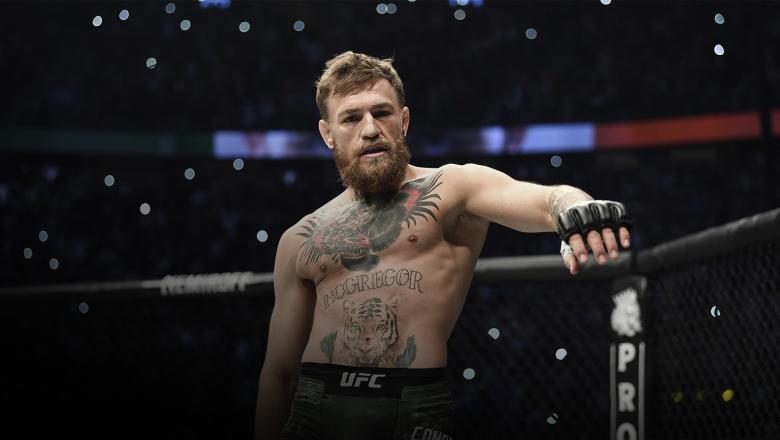 McGregor made his first fighting debut in 2008 and has fought 26 fights, winning 22 of them out of 22, dominating his opponent by the knockout.
He is a former UFC lightweight and featherweight champion. And during his career, he has shown participation in the featherweight, lightweight, and welterweight.
In 2019 March, Conor left all his boxing fans in despair and shock when he announced his retirement from Mixed Martial Arts.
McGregor is the first fighter in the history of the fighting business to draw millions of UFC PPV buys, an absolute favorite of the audience. In 2020, January he made his come back to fight with a victory.
Conor McGregor is an Irish Professional Mixed Martial Artist and boxer knew for being in MMA history's biggest pay-per-view draw.
Let's take a quick ride to the journey of this legendary boxer's early life, career, controversies, personal life, and net worth.
Quick Facts:
Full Name
Conor Anthony McGregor
Birth Date
July 14, 1988
Age
34 years old
Birth Place
Crumlin, Ireland
Nickname
The Notorious
Religion
Irish Catholic
Nationality
Irish
Ethnicity
White
Education
Coláiste De Híde
Horoscope
Cancer
Father's Name
Tony McGregor
Mother's Name
Margaret McGregor
Siblings
Two (Sisters)
Siblings Name
Erin McGregor, Aoife McGregor
Height
5 feet 9 inches (175 cm)
Weight
77 kg (169.75 lbs)
Build
Athlete
Body Measurement
Chest: 42.5 Inches

Waist: 33 Inches

Biceps: 16 Inches

Eye color
Dark Brown
Hair Color
Blonde
Profession
Mixed Martial Artist, Boxer
Debut
2008
Association
Ultimate Fighting Championship
Division
Lightweight, Welterweight
Reach
74 in (188 cm)
Stance
Orthodox, Southpaw
Style
Aggressive Striker
Retirement
March 2019
Sexual Orientation
Straight
Relationship Status
Mingle
Girlfriend
Dee Devlin
Children
Conor Jack McGregor Jr (Son)
Net Worth
$110 million
Favorite Boxer
Muhammad Ali
Social Media
Twitter, Instagram
Merch
Shirts, <ahref="https://amzn.to/398mrhs"target="_blank" rel="sponsored noopener>Funko POP &
Poster
Where is Conor McGregor from? Early Life, Parents & Education
Conor Anthony McGregor shortly, Conor McGregor was born in Dublin, Ireland, to parents Tony McGregor and Margaret McGregor. He has two sisters Erin McGregor and Aoife McGregor.
Being raised in an Irish Catholic family, he attended his primary school and secondary school in the South Dublin town of Ireland.
McGregor was interested in football during his school; he also played youth football for Lourdes Celtic Football Club.
Raised in Crumlin's harsh working environment, Conor gradually found an outlet to dispose of his aggression through boxing. He joined Crumlin Boxing Club at the age of 11 and won Dublin Novice Championship.
After his victory, Conor began to train for the little-known sport of that time Mixed Martial Arts, under John Kavanagh.
During that time, Conor also took a plumbing apprenticeship but left that profession to pursue his dream of becoming a professional fighter.
Further, Conor met Tom Egan when his family moved to Lucan, Dublin, and they started their MMA training together.
How old is Conor McGregor? Age, Height, Fighting Style, and Body Measurement
Having born in the year, 1988 makes Conor 34 years old at the time of writing. Similarly, he celebrates his birthday every year on the 14th of July under the sign of Cancer.
Also, this sign is known for being talented, brave, and passionate. Moreover, Conor stands 5 feet 9 inches tall with 77kg body weight. He has an athlete build-up and, also famous for his killer looks and smile.
Conor also has trained in different disciplines such as Karate, Capoeira, & Tae Kwon Do and has a brown belt in Brazilian Jiu-Jitsu.
However, he is most famous for the power punches, which sends his opponent flat on the mat. Interestingly, Conor earns his nickname 'The Notorious' for showcasing his aggressive performance in the octagon.
Moreover, he is a left-handed striker and fights out of the southpaw stance and plays with an orthodox stance. His left-hand counter strike is known as a dangerous strike in the history of MMA.
McGregor's strategy to confront the opponent is by using verbal trash talk, which often makes him compare with legend Muhammad Ali.
Tattoo
Conor McGregor is pretty famous for his tattoos. He has some impressive tattoos on his body. Conor had his first tattoo on his left heel, which is an 'Arabic Writing' Tattoo.
Likewise, he has a 'Crucifix' Tattoo on the nape of his neck. This tattoo represents the event of Jesus Christ's crucifixion.
Conor has Thorny 'Helix' Tattoo on his back, which continues down his spine. His back tattoo represents an homage to the sacrifice of Jesus Christ.
Moreover, he has a 'Gorilla' Tattoo on his chest. His chest tattoo is inked as a gorilla wearing a crown and eating a heart. When Conor was asked about the tattoo in an interview, he mentioned,
" My gym's logo is a Gorilla. So I wanted to get something along with that line. I feel like I am the king Gorilla, so I took the crown, and I had him eat a heart."
Moving on, Conor also has 'Rose Bush' Tattoo on his left forearm, 'Motto' Tattoo on his left arm,' Tiger' Tattoo, and a 'Name' Tattoo on his abdomen. All of his tattoos are very meaningful.
Conor made his debut in MMA on February 17, 2007, for the 'Irish Ring of Truth' in Dublin. McGregor faced Kieran Campbell in an amateur fight, but he marked his first fight.
Later, 'Irish Cage of Truth' signed him. Following year, after the win, he started his training under John Kavanagh.
On March 9, 2008, Conor made his first professional debut in an MMA bout, where he won against Gary Morris and next against Mo Taylor.
But unfortunately, Conor lost his debut featherweight against Artemij Sitenkov and bounced back with the win in his next featherweight against Stephen Bailey.
Conor McGregor became the first European professional MMA to hold titles in two divisions of the featherweight and lightweight championship between 2011 and 2012.
Conor's UFC Career
Following McGregor's remarkable Performance during his early career, UFC signed Conor in a multi-fight contract in February 2013.
He faced Marcus Brimage for his UFC debut. Conor won the face-off by knockout, which earned him the 'Knockout of the Night' award.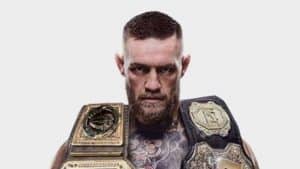 UFC Timeline
Conor fought against Max Holloway at UFC Fight Night 26. He won the fight leaving Holloway in full injure of the torn anterior cruciate ligament, which required surgery later.
At UFC Fight Night 46, Conor was faced against Diego Brandao in Dublin. He won the face-off as well as his first 'Performance of the Night' award.
After signing a second multi-fight contract with UFC, his fight was set against Dustin Poirier. Conor won the fight and his second 'Performance of the Night award.'
At UFC Fight Night 59, Conor faced Dennis Siver and won the fight, also entitling his third 'Performance of the Night' award.
Conor bagged the fourth 'Performance of the Night award' during the win against Mendes.
It was December 12, 2015, the most awaited day in UFC face-off, McGregor Vs. Aldo. The event was so huge that it broke all the previous records for the US's MMA event.
That was a time when Conor gained a new height of popularity. McGregor became the second undisputed 'UFC Featherweight Champion' in history.
The fight was over in a short time and known for its fastest finish. He also bagged his fifth 'Performance of the Night award.'
After that, Conor was set up for the 'UFC Lightweight Championship.'Conor faced Nate Diaz (former UFC Lightweight Champion) for the championship.
The fight was a whole struggle for Conor, as Diaz wobbled Conor, giving up by submission. It was Conor's first defeat in the UFC, but both won the 'Fight of the Night' bonus despite the defeat.
At UFC 205, Conor won the 'Lightweight Championship' with a face-off against Eddie Alvarez.
After winning the title, he broke UFC as his first child birthchild's birth was due. Due to his inactivity in the division, he was stripped off of his title at UFC.
Conor's Suspension & Retirement
In 2018, Conor returned to the octagon at UFC 229 for 'UFC Lightweight Championship' against Khabib Nurmagomedov to reclaim his title.
But unfortunately, he lost a fight and got himself in a post-match brawl that resulted in Conor's six-month suspension.
McGregor left all his fans in shock when he announced his retirement through Twitter on March 26, 2019, concluding his MMA career in 21 wins and four losses.
However, he again announced his comeback in January 2020. He faced Cerrone and bagged his win by TKO, the second-fastest win of his career.
Conor's Boxing Career
McGregor also faced Floyd Mayweather Jr for his professional boxing match on August 26, 2017. The fight was expected to be the biggest in boxing, and the bout was contested at super welterweight.
This fight was estimated on Mayweather to earn $ 100 million and McGregor to $ 30 million. The showtime announced that the fight recorded was the 2nd-highest buy rate in the United States and Canada.
However, Mayweather won the game via TKO in the 10th round. But, McGregor was praised for his first boxing performance and also against a legendary boxer.
You might also want to check: Who is Dan Hooker? Early Career, UFC, and Net Worth.
UFC Featherweight & Interim Featherweight Champion (1 time each)

Most Consecutive post-fight bonuses in UFC history (8 times)

Fastest title fight Victory in UFC history (13 seconds)

The receiver of most consecutive performance of the Night award in UFC history (7 times)

Most knockouts in UFC Featherweight Division history (6 times)
Conor McGregor | Professional Record Breakdown MMA
| | | |
| --- | --- | --- |
| 26 Matches | 22 Wins | 4 Losses |
| By Knockout | 19 | 0 |
| By Submission | 1 | 4 |
| By Decision | 2 | 0 |
Conor McGregor | Personal Life, Girlfriend & Children
Conor is in a long-term relationship with his girlfriend, Dee Devlin. They met back in 2008 in a nightclub in Dublin.
Dee has been with Conor since starting off his career and has supported him in every possible way. In August 2020, these two couples got engaged and are also planning to get married soon.
Dee and Conor have two lovely children together elder son named Conor Jack McGregor Jr. They had their second child Croatia McGregor on January 4, 2019.
McGregor is a catholic. He said in one interview that he doesn't believe in any pre-fight rituals.
McGregor is one of the fighters who is not only famous for his achievements & accomplishments but also his wealth and lifestyle.
He is one of the wealthiest sportspersons, and Forbes magazine ranked him one of the highest-paid athletes in 2019.
Conor's net worth is estimated at $ 110 million, as of 2023. Likewise, he earns approximately $ 32 million annually from the fights as a salary.
Not to mention, McGregor was alone offered $30 million for the boxing against Floyd Mayweather Jr. He also has received post-fight bonuses, which are not added to his net worth.
Here is a more detailed breakdown of Conor McGregor's Net Worth: Conor McGregor Net Worth | Earnings & Charity >>
Endorsements and Business Venture
Besides fighting and boxing, McGregor has many endorsements and sponsorship with many brands such as Reebok, Monster Energy, Burger King, and so on, which earns his additional revenue of $15 million annually.
He also has a fashion brand called "August McGregor" in partnership with David August that produces slim-fitted men's suits.
He is also the founder and owns Twelve Irish whiskeys distributed globally across Australia, New Zealand, Canada, Russia, UK, and the USA.
Conor McGregor | Facts and Controversies
Conor's boxing idol is Muhammad Ali, and his style is often compared to him.
McGregor is the richest UFC fighter.
He is also known as the king of combat sports.

Conor was called for the audition in the role of villain in the James Bond Series.

He is the first Non-American to hold two world titles in two different weight classes.

McGregor is a supporter of same-sex marriage, and he has lead several campaigns in Ireland to promote gay marriage.

McGregor is accused of several sexual assaults on a woman.

Conor was arrested for the robbery accusation in Miami Beach, Florida.

In 2019, he attacked a man with punches at a Dublin pub and was fined 1000 euro.

He has also been pleaded guilty to exceeding the speed limit and driving kill.
Conor also has several records of fights and verbal assaults against opponents in the game.
"Losing can be a great motivator but not if it drains your confidence. One of the reasons got into this game was because I wanted to learn how to get myself comfortable in uncomfortable situations." – Conor McGregor quotes.
Social Media Presence:
Conor McGregor is quite active on social media. He has successfully assembled millions of followers in his social account.
He posts regular stuff of fighting and boxing on his social media handles. You can follow him via these links.
Instagram: 39.7M followers
Twitter: 8.6M followers
Some FAQs:
What alcohol does Conor McGregor make?
Conor McGregor founded the whiskey brand Proper 12, which is Triple Distilled Irish Whiskey. It is an ultra-smooth blend of fine grain and single malt with hints of vanilla, honey, and toasted wood.
Has Conor McGregor sold his whiskey brand Proper 12?
Conor McGregor sold the majority stake of his whiskey brand, Proper 12, to Proximo Spirits in a $600 million deal.
How long is Conor McGregor's beard?
Conor McGregor's beard is about 6 to 8 inches long. He has a naturally ginger-colored beard. His beard develops into a shape known as the full beard with a tinge of the chinstrap.
What is Conor McGregor's hairstyle called?
Conor's hairstyle and beard style change regularly. However, MMA star's most popular short haircut is an undercut comb-over.
Most of the time, his hairstyle is usually kept short with a comb-over on top and undercut or fade on the sides.
Is Conor McGregor injured?
Conor McGregor sustained a leg injury during his fight with Dustin Poirier at UFC 257. Dustin continually kicked Conor in the right calf during the match.
Likewise, Poirier's hits were so devastating to Conor could barely walk for a couple of days after the fight. It was even considered that Conor was partially paralyzed for a few days.
In an interview after the fight, Conor said:
"My leg is completely dead. It's like an American football in my suit at the minute."
Did Conor McGregor respond to Jake Paul's call-out?
In December 2020, Jake Paul offered Conor McGregor $50 million (£36m) to step into the ring and fight with him. He kept on pestering Conor to fight and even insulted his fiancée Dee Devlin.
McGregor responded on Jake Paul call, tweeting: